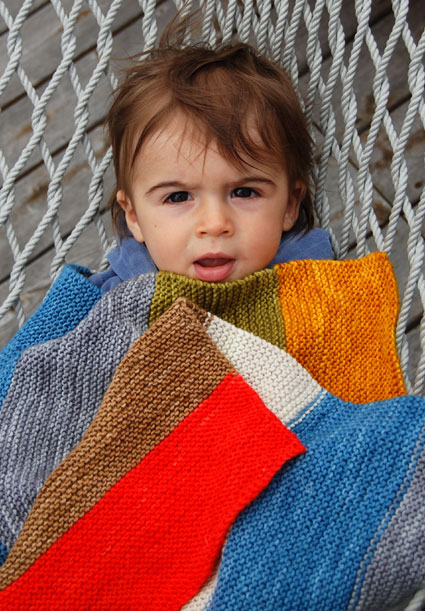 Every day at Purl at least one customer comes in looking for a really easy baby blanket pattern. It's such a basic request, and, yet, my co-workers and I have a hard time offering a basic solution. The reason is that not many knit designers bother to make patterns for simple rectangles or squares, assuming that, because it would be so easy for them to figure out, it must be easy for everyone else to figure out too! I designed this blanket using Alchemy's new yarn, Temple a super-wash, super-soft and super-beautiful hand dyed merino wool. HERE is a baby blanket that anyone who knows how to cast on, knit and cast off can make. No picking up stitches; no counting stitches; not even any purling! It's everything people ask for, machine washable, soft, fast, and easy. You don't need to be an expert knitter to make a beautiful heirloom blanket! I love garter stitch for a baby blanket because, besides being the same on both sides and lying flat, it is also very cushiony and cozy. My friend Roy really appreciated the cuddliness of garter stitch this weekend when the weather suddenly turned a bit chilly!- Whitney P.S. Happy first birthday to my model and buddy, Roy!
Update

Since making this pattern back in 2008, we no longer carry the Temple yarn we originally used, but we have knit Super Easy Blankets in many other yarns and sizes. In fact, Super Easy Blankets have become something of a Purl Soho institution! Explore some options…
We've even made a beautiful crocheted version, also Super Easy!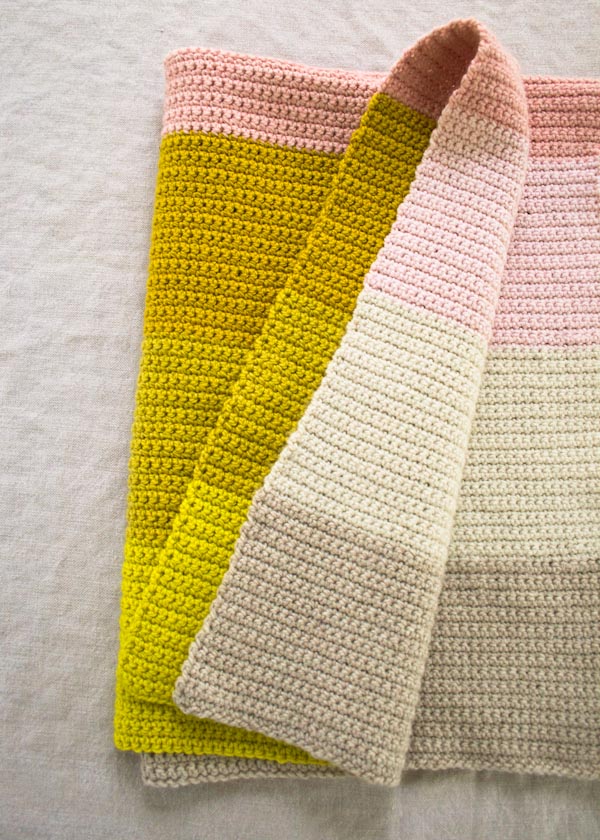 Materials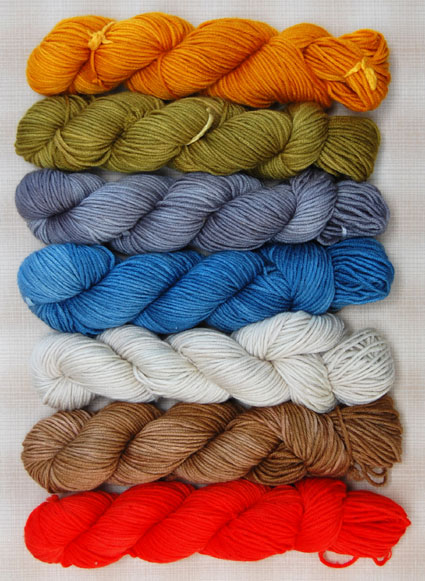 7 skeins of Alchemy Yarns' Temple, 100% superfine superwash merino wool. These colors from the top are Lantern, Citrine, Silver, Moonstone, Platinum, Topaz, and Kai's Goldfish
US 7 circular needle, 24 or 32-inch
Gauge
20 stitches and 20 ridges = 4 inches in garter stitch
Size
Finished Dimensions: approximately 26 inches x 28 inches
Note
This yarn is superwash which means you can safely put it in the washer and dryer. However, if you've used any bright saturated colors (especially reds), you may want to add white distilled vinegar to your first wash in order to "set" the dyes. I read somewhere to add 3 cups; that seems like a lot, but it can't hurt!
Pattern
With a US 7 needle (or size required by you to achieve the correct gauge) and the first color, loosely cast on 130 stitches.
Knit every row until you have knit the entire skein (which should be 18-22 garter stitch "ridges" [1 ridge = 2 rows]).
Switch to the second color at the beginning of the next row, and knit every row until you have knit the entire skein.
Repeat with each color, making sure to always switch colors on the same side.
After knitting the seventh color, loosely bind off.
Weave in the ends and you're done! Super easy!