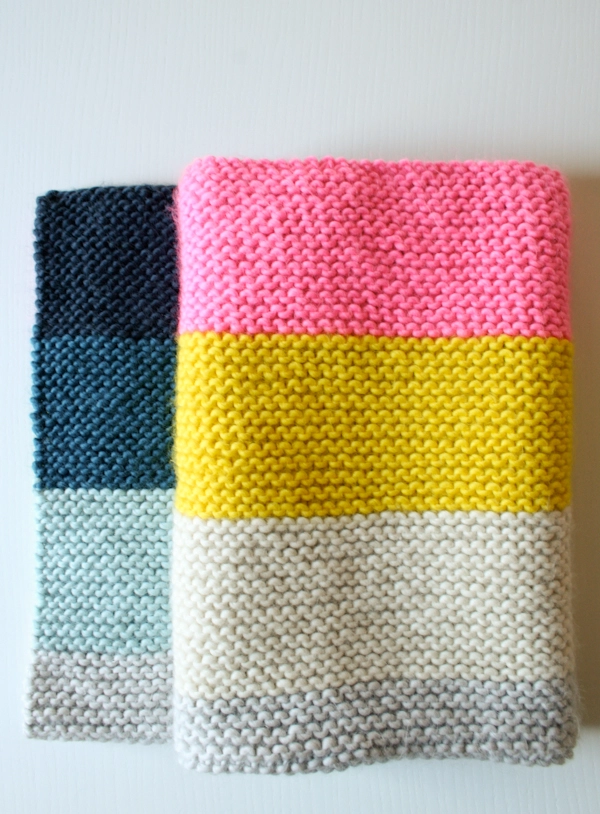 We've re-conceived the Purl Bee's classic Super Easy Blanket in Purl Soho's sumptuous Super Soft Merino! This Super Easy Crib Blanket borrows the simple striping from the baby-sized original, but at 2 3/4 stitches to the inch, it knits up bigger and faster. With voluminous stitches and luxurious loft, this blanket is as soft and gentle as a cloud!
Update: New Colors
OCTOBER 2014
Twelve new colors in our Purl Soho yarn palette inspired us to create new Super Easy Crib Blankets in Super Soft Merino! Read all about them here and browse our expanded collection of Super Soft Merino Bundles right here!
Update: New Colors
JANUARY 2017
Over the years we have riffed on the Super Easy Blanket many times, and as we start the New Year, we're revisiting our chunky weight version, dressed up in all new colors! Read all about our 2017 palette here!
Update: New Colors
November 8, 2019
With new seasons come new inspirations! We've created four new vibrant color options for our Super Soft Merino Bundles, in our classic and squishy Super Soft Merino!
Designed by Purl Soho designer, Whitney Van Nes.
Share your progress and connect with the community by tagging your pics with #PurlSoho, #PurlSohoBusyHands, #PurlSohoSuperEasyCribBlanket, and #PurlSohoSuperSoftMerino. We can't wait to see what you make!
Materials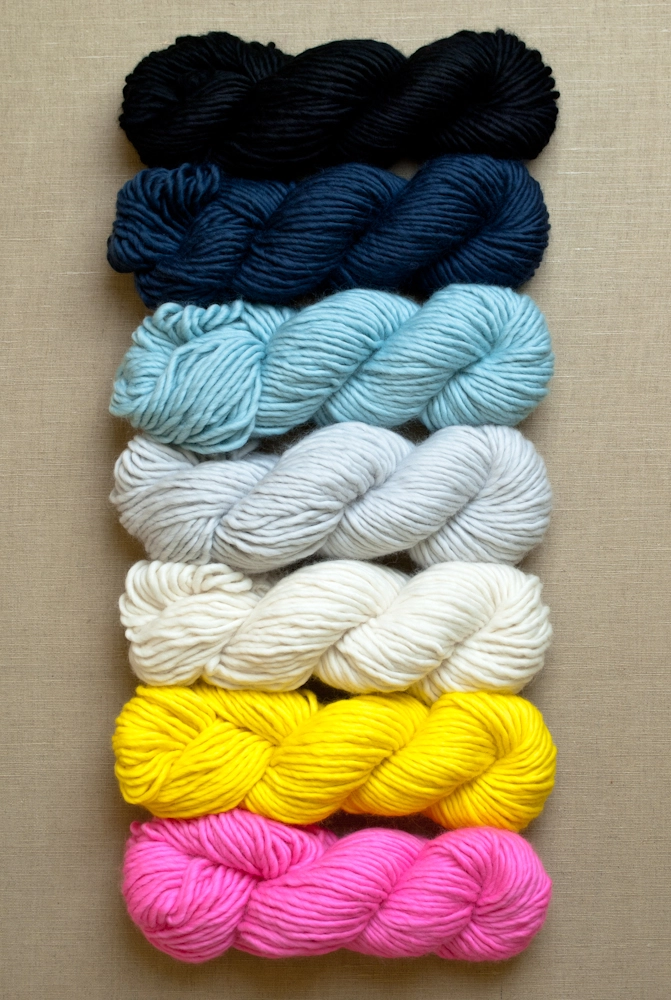 Our Super Soft Merino Bundle includes all the yarn to make your own Super Easy Crib Blanket…
7 skeins of Purl Soho's Super Soft Merino, 100% merino wool. Each skein is 87 yards/ 100 grams; approximately 609 yards required. We knit the palette Macaron (no longer available).
You will also need…
GAUGE
11 stitches = 4 inches in garter stitch
Size
Finished Dimensions: approximately 30 inches x 32 inches
NOTES
To get a nice, neat edge just slip the first stitch of every row knitwise with the yarn in back. (When you change colors, knit the first stitch of the row.)
PATTERN
With the first color, cast on 82 stitches. We used a basic Long Tail Cast On.
Knit every row until you have used the entire skein (or until there are 11 or 12 garter stitch "ridges" [1 ridge = 2 rows]).
Switch to the second color and knit every row, using up the entire skein.
Repeat with each color, making sure to always switch colors on the same side.
After knitting all but a couple of yards of the seventh color, loosely bind off.
Weave in the ends and you're done!