We're adding a continental touch to what's on your needles… Le Béret, designed by Tayler Harris, is a fun Fiddlehead twist on the traditional wool-felt hat!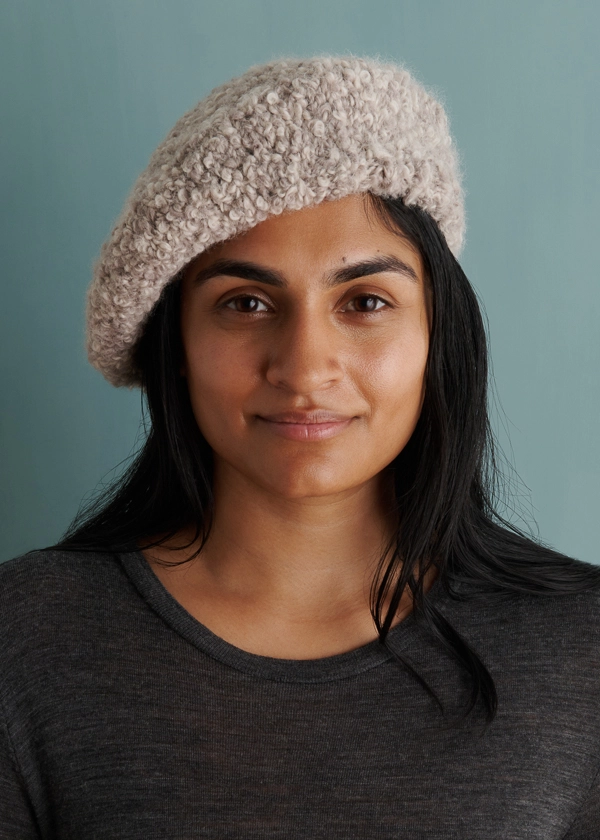 For this quick-as-a-wink knit, you work a ribbed brim, then a round of simple increases to widen the body of your beret. A spiral of basic decreases brings you back to the center, and you're done… From cast on to voilà in just a few hours!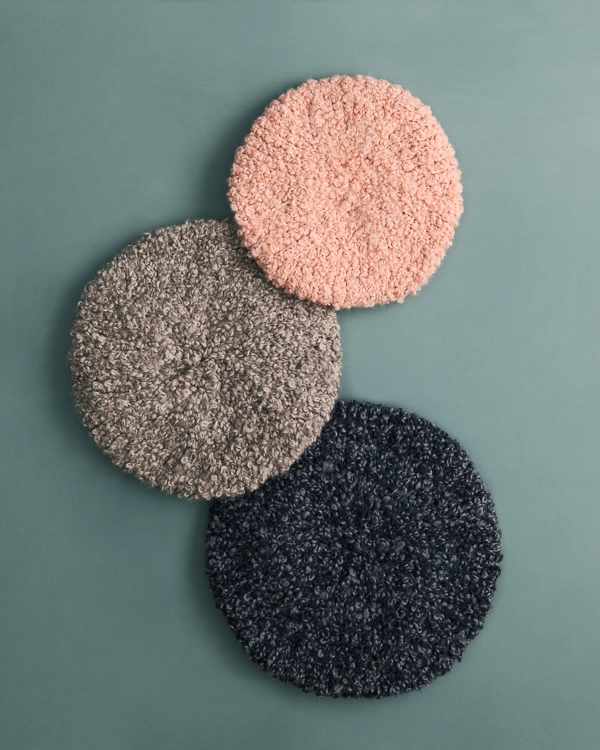 Our Fiddlehead is "super bulky" weight yarn, which ensures a speedy knit, but it's also incredibly lofty, so that, even knit on the denser side, it feels as light as a feather.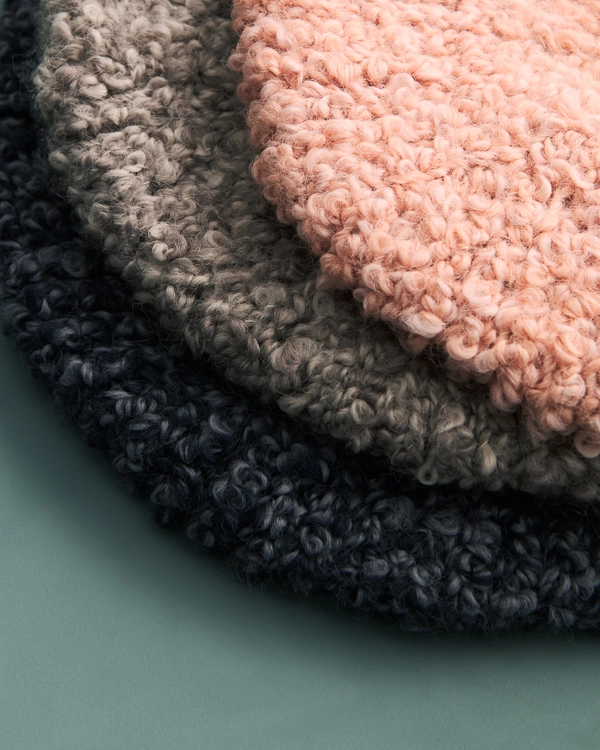 Fiddlehead's distinctive structure is similar to bouclé but, instead of loops, the alpaca roving runs in curly waves along central threads. All that loose roving and amazing 100% alpaca fiber mean that Fiddlehead is shockingly soft, as well as très chic.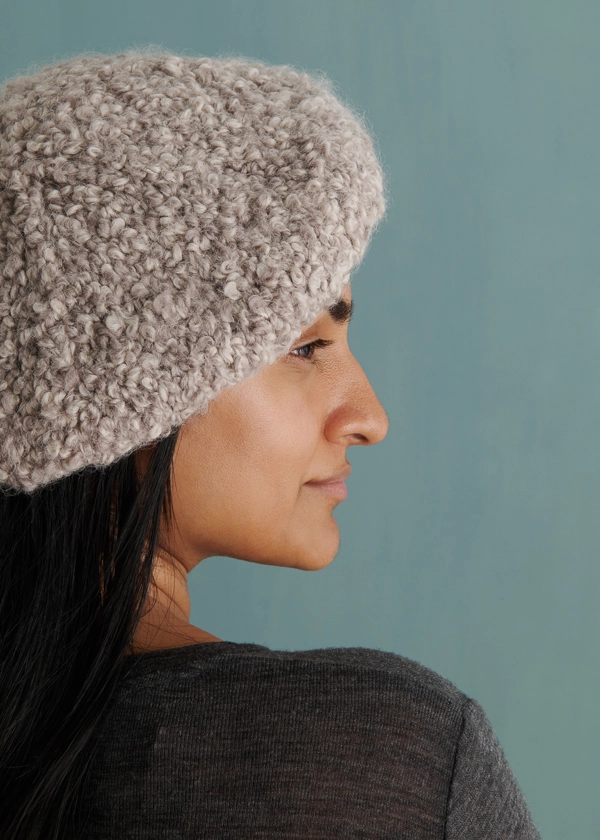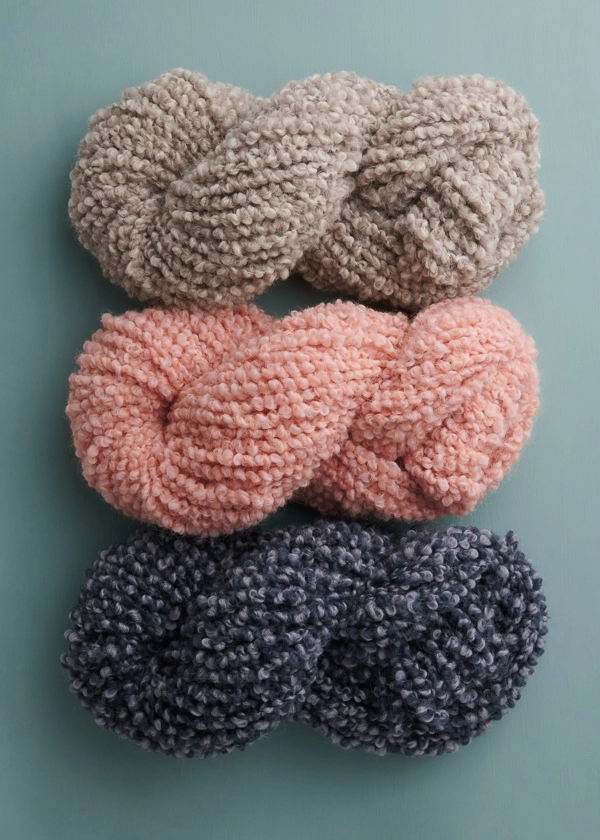 There are nine colors in Fiddlehead's palette. Each one is a mix of two shades of alpaca roving, which adds depth to the color and makes every stitch satisfying.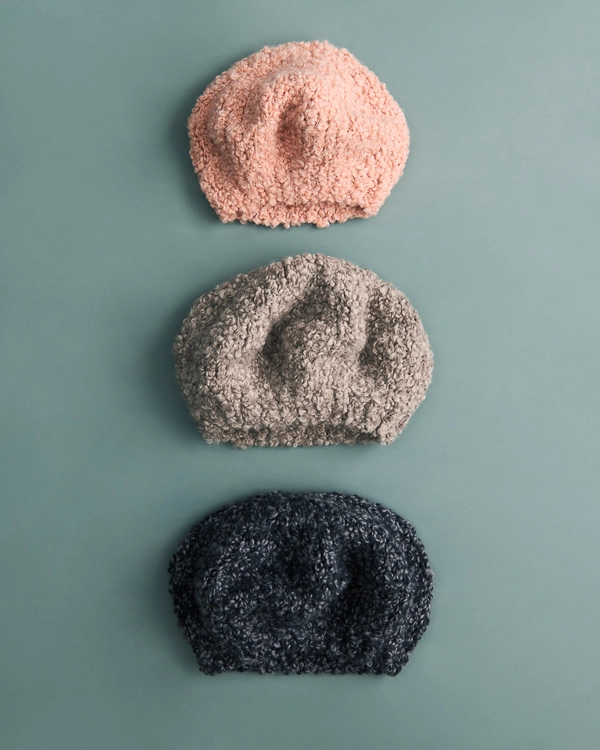 It only takes one skein of Fiddlehead to make a toddler or kids beret and two for an adult, so pick up a skein or a two-skein Fiddlehead Bundle, and vive la knitting!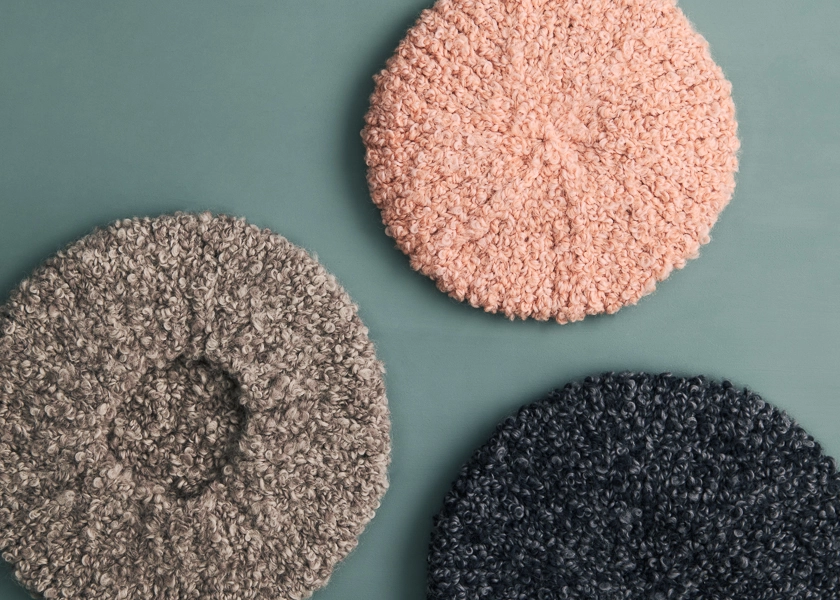 Designed for Purl Soho by Tayler Harris. Based in Utah, Tayler finds inspiration for her designs from the unique landscapes of her home state. From the beautiful mountains and canyons to the national parks and natural landscapes, she loves to incorporate the colors, textures, and shapes of her favorite places.
Share your progress and connect with the community by tagging your pics with #PurlSoho, #PurlSohoBusyHands, #PurlSohoLeBéret, and #PurlSohoFiddlehead. We can't wait to see what you make!
Materials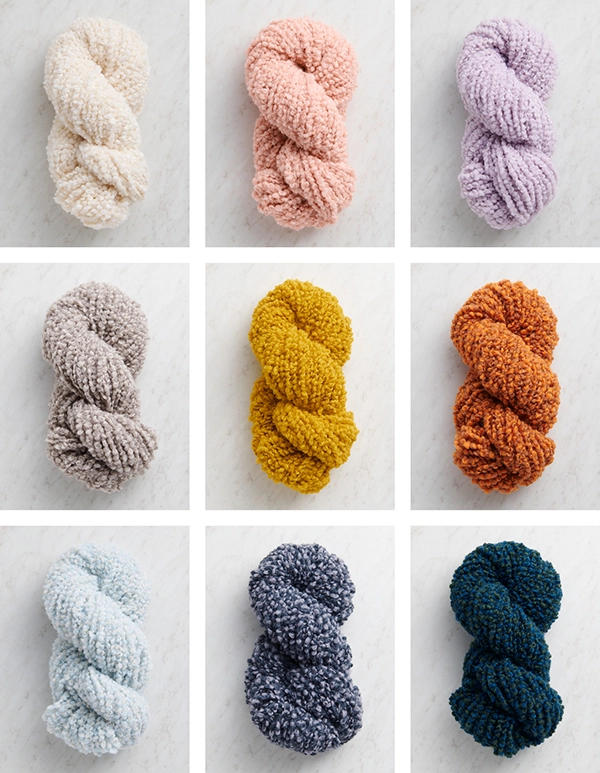 1 (1, 2, 2) skein(s) of Purl Soho's Fiddlehead, 100% alpaca. Each skein is 65 yards/ 100 grams; approximately 55, (65, 80, 100) total yards required. We used the colors Pink Sea, River Stone, and Desert Gray.
US 10 (6 mm), 16-inch circular needles (or double pointed needles for Toddler size)
US 11 (8 mm), 16-inch circular needles (or double pointed needles for Toddler size)
A set of US 11 (8 mm) double pointed needles
Jumbo stitch markers, including one unique
NOTE: Our Fiddlehead Bundle makes one Adult size hat, or two Toddler or Kid sized hats!
GAUGE
9 stitches and 14 rounds = 4 inches in stockinette stitch on larger needles
10½ stitches and 16 rounds = 4 inches in 1×1 rib on smaller needles, unstretched
SIZES
Toddler (Kid, Adult Small/Medium, Adult Medium/Large)
Finished Brim Circumference (at ribbing, unstretched): 15¼ (16¾, 18¼, 19¾) inches, comfortably stretching 1-3 inches
Finished Diameter: 8½ (9¼, 10, 11) inches
Samples: The Pink Sea hat is the Kid size, and the River Stone and Desert Gray hats are both Adult Small/Medium!
PATTERN
BRIM
Cast 40 (44, 48, 52) stitches onto smaller needles. We used a basic Long-Tail Cast On.
Place unique marker and join for working in the round, being careful not to twist the stitches.
Round 1: *K1, p1, repeat from * to end of round.
Repeat Round 1 until piece measures approximately 1¾ inches from cast-on edge.
BODY
Switch to larger circular needles (or double pointed needles, if working Toddler size).
Increase Round: *Knit front and back, k1, repeat from * to end of round. [60 (66, 72, 78) stitches]
Continue in stockinette stitch, knitting every round, until piece measures approximately 4½ (4¾, 5, 5¼) inches from cast-on edge.
SHAPE CROWN
NOTE: Change to double pointed needles when necessary.
Set-Up Round: [K10 (11, 12, 13), place marker] 5 times, knit to end of round.
Decrease Round: *Knit to 2 stitches before next marker, knit 2 together, slip marker, repeat from * to end of round. [6 stitches decreased]
Continuing in stockinette stitch, repeat Decrease Round every other round 4 (5, 5, 6) more times, then every round 3 (3, 4, 4) times, removing markers on the last round. [12 stitches remain]
FINISHING
Cut yarn and thread tail onto a tapestry needle. Draw twice through remaining stitches, and pull tightly to secure. Bring tail to inside of hat and weave in all ends. Gently wet-block.