Thick, soft, and absorbent, our Twill Pot Holder in lovely Cotton Pure is a beautiful way to get a handle on your hottest, well, handles!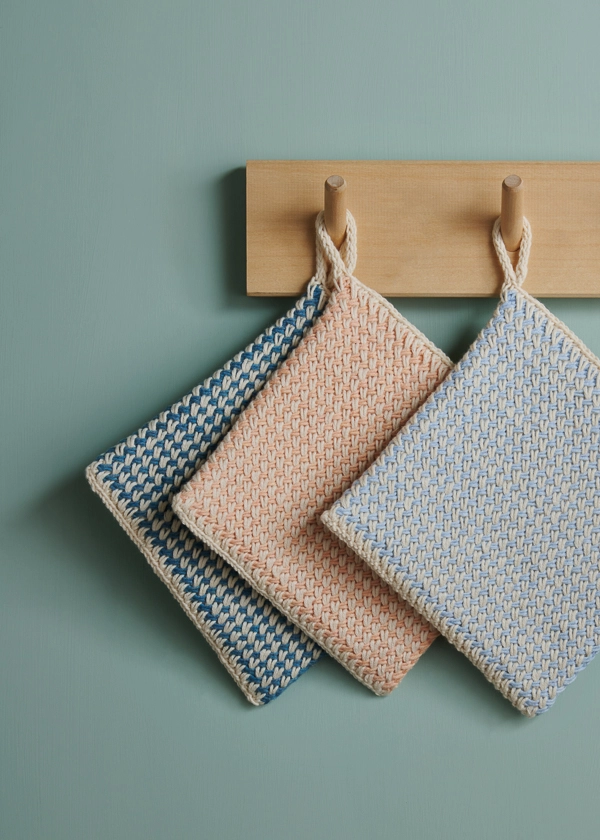 This may look like a woven fabric, but it's actually a simple cable pattern that's worked in a four-round repeat.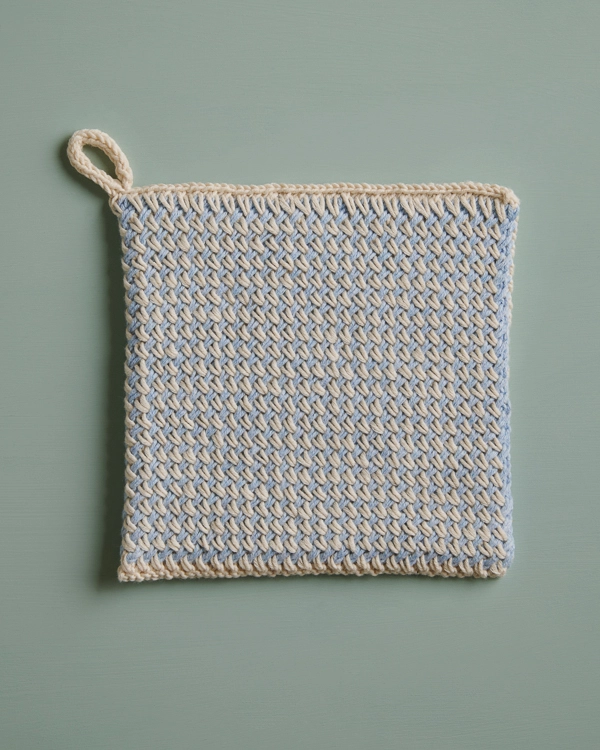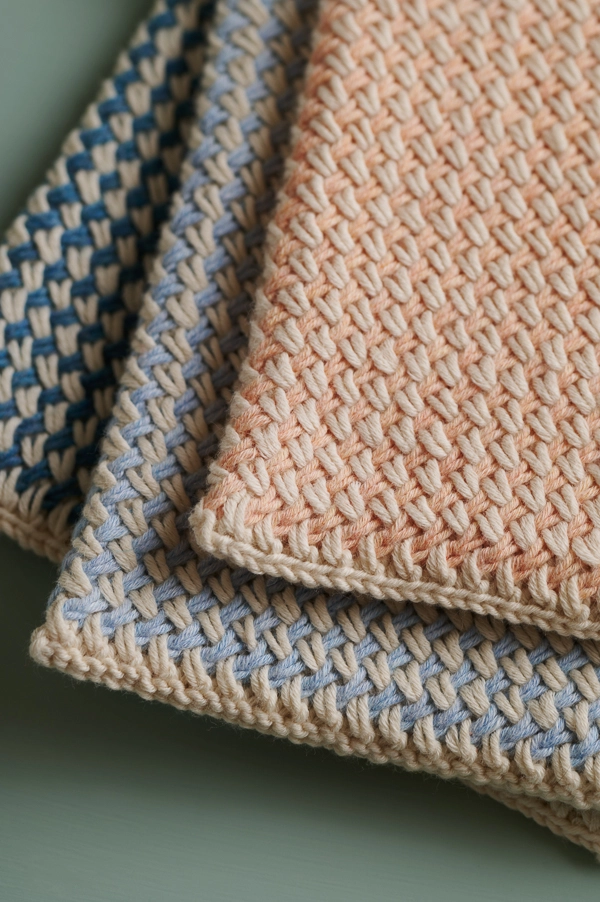 After a provisional cast-on and a few set-up rounds, you get into the rhythm, and as happens with pot holders, it'll be time to bind off before you even know it!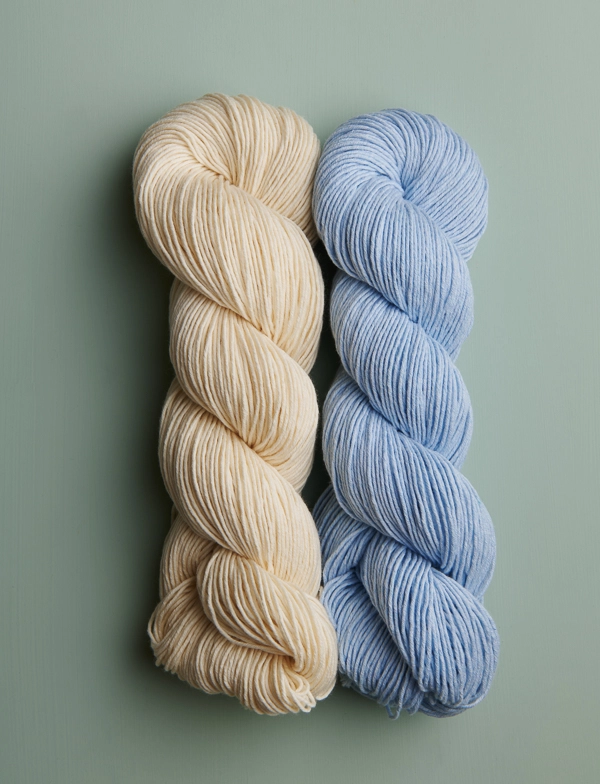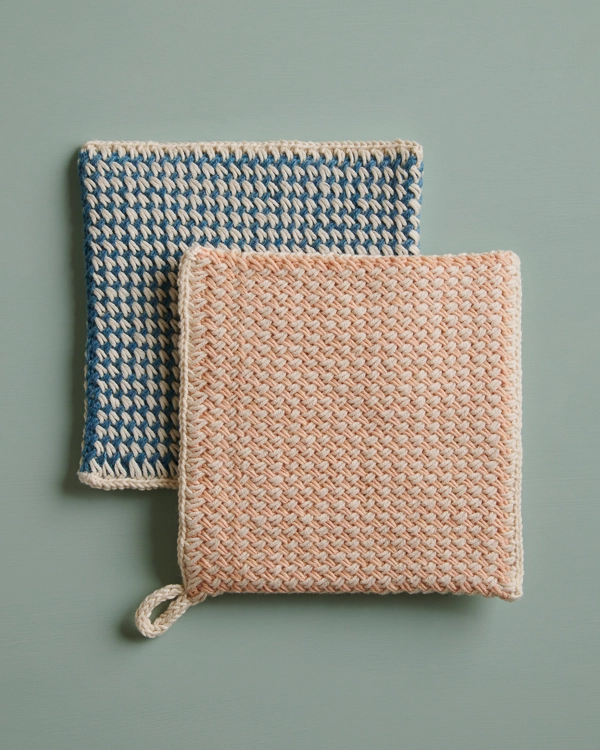 Soft and strong with a supple hand, our Cotton Pure is the perfect yarn for this Twill Pot Holder pattern. One hundred percent organically grown, Cotton Pure is unmercerized, giving it a pleasing matte finish, and also machine washable.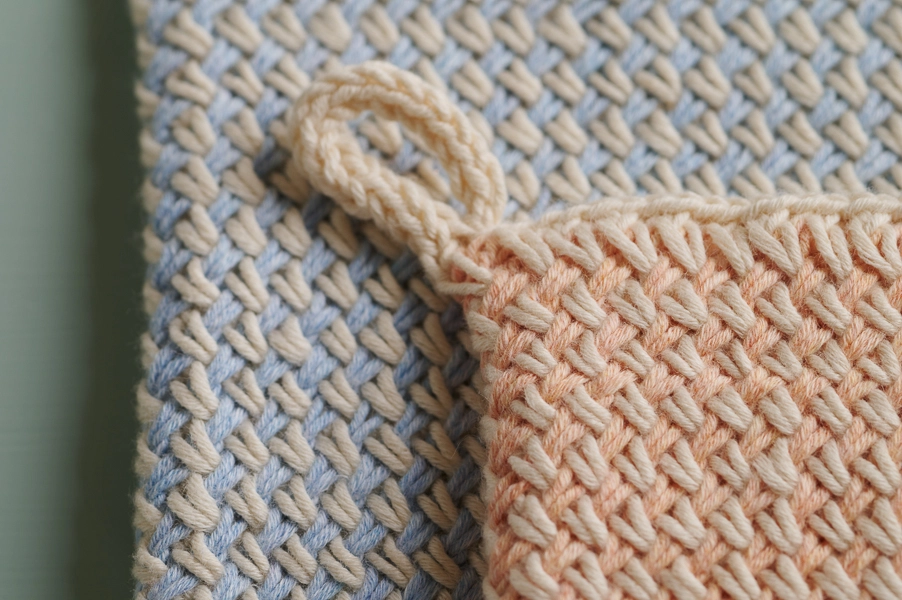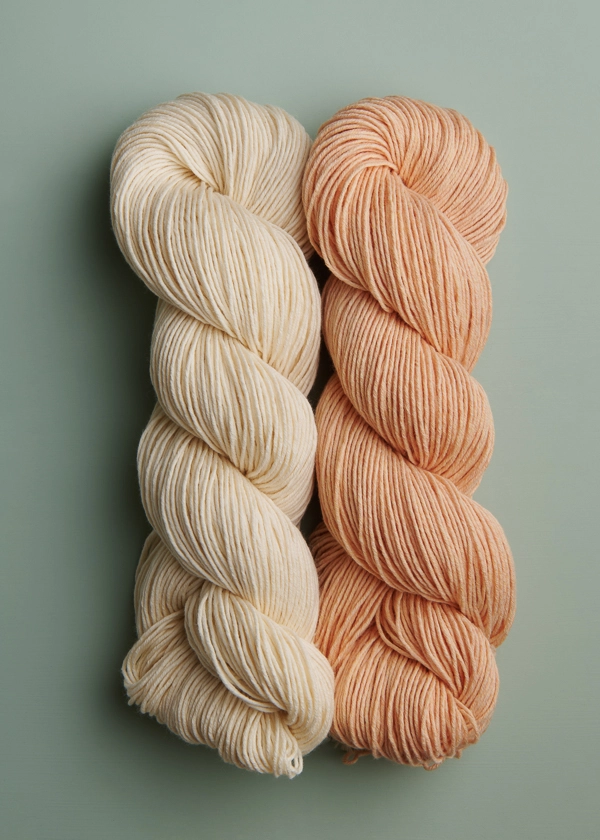 We're thrilled to introduce three new colors of Cotton Pure: Bright and lively Shiso Green, lush Hemlock Green, and the deep, cool Coastal Blue below.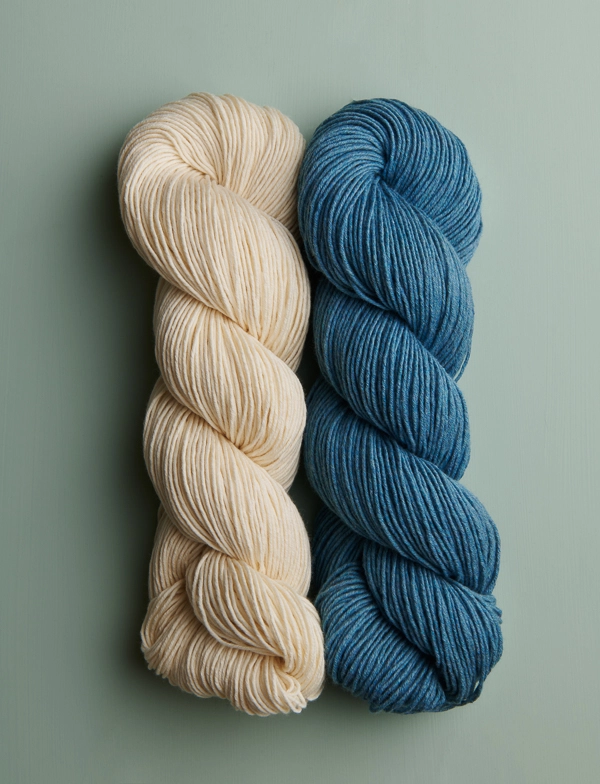 So, when the heat is high, pick two favorite colors of Cotton Pure, and keep your cool with these charming little pot holders!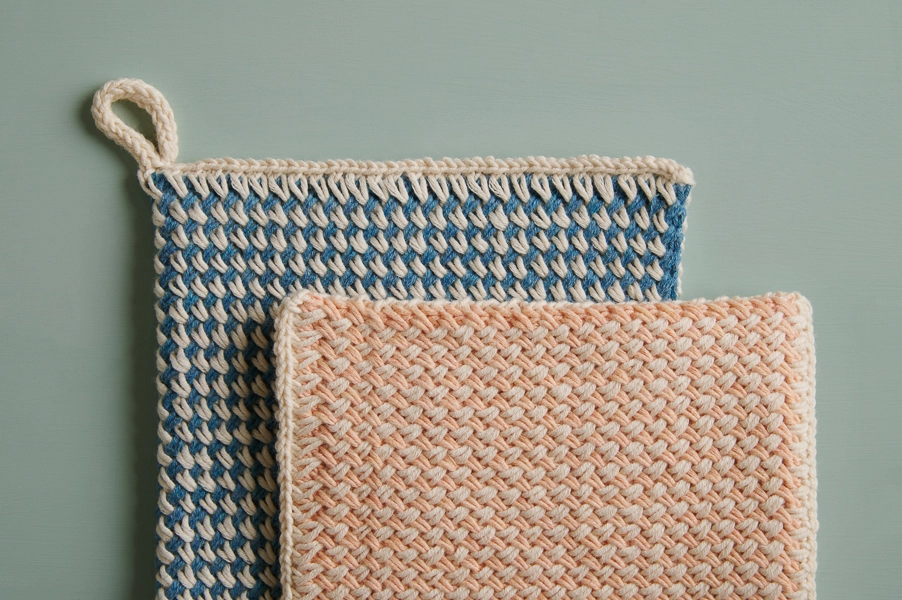 Designed by Purl Soho designer, Hiromi Glover. Click here to see even more of Hiromi's work!
Share your progress and connect with the community by tagging your pics with #PurlSoho, #PurlSohoBusyHands, #PurlSohoTwillPotHolder, and #PurlSohoCottonPure. We can't wait to see what you make!
Materials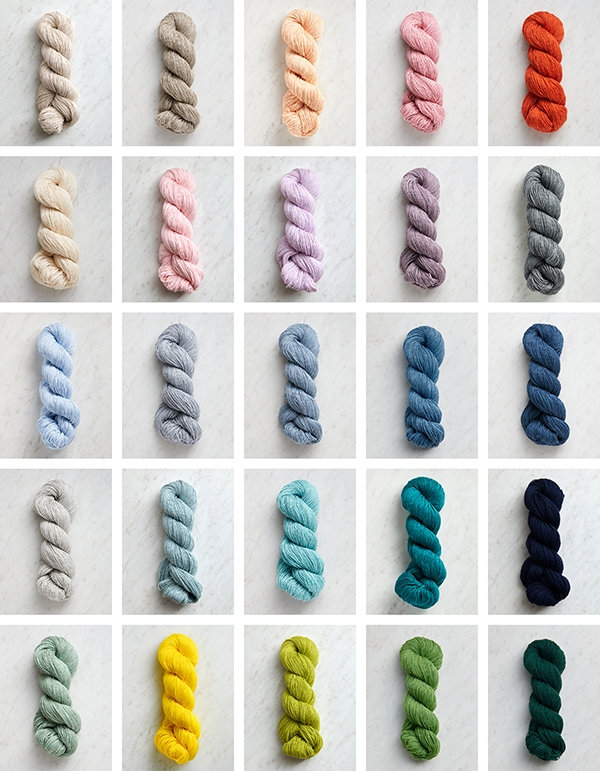 GAUGE
48 stitches and 54 rounds = 4 inches in stitch pattern
SIZE
Finished Dimensions: Approximately 6¾ inches square
NOTES
STITCH MULTIPLE
This pattern works over a multiple of 3 stitches plus 1.
PROVISIONAL CAST-ON
We used the Provisional Cast-On: One-Step Method to cast on our stitches, but for assistance putting live stitches back onto needles, please visit our Provisional Cast-On: A Two-Step Method Tutorial.
SLIP STITCHES
Slip all slipped stitches purlwise with yarn in back.
YARN OVERS
Work all yarn overs through the back loop as you come to them.
CARRYING UP THE YARN
For a few tips on carrying up the yarn, visit our Stripes in the Round Tutorial.
PATTERN
With scrap yarn, use a Provisional Cast-On (see Notes) to cast on 104 stitches.
Place a unique stitch marker for end of round and join for working in the round, being careful not to twist the stitches.
Join Main Color (MC).
Set-Up Round 1: Knit to end of round.
Set-Up Round 2: *K2, yarn over (yo), repeat from * to last 2 stitches, knit into front and back (kfb) 2 times. [157 stitches]
Join Contrast Color (CC).
NOTE: In Round 1, be sure to work yo's through the back loop as you come to them, and be sure to carry non-working yarn up inside of your work throughout. See Notes for more help.
Round 1: With CC, k1, *slip 1 (see Notes), k2, repeat from * to end of round.
Round 2: With CC, slip 1, *slip next (MC) stitch to cable stitch holder and hold in front, k2, slip stitch from cable stitch holder to right needle, repeat from * to end of round.
Round 3: With MC, *k2, slip 1, repeat from * to last stitch, k1.
Round 4: With MC, *slip 2 to cable stitch holder and hold in back, slip next (CC) stitch to right needle, slip 2 stitches from cable stitch holder to left needle, k2, repeat from * to last stitch, k1.
Repeat Rounds 1–4 until piece measures 6½ inches from cast-on edge, ending with Round 4.
Repeat Rounds 1 and 2 one more time.
Cut CC.
BIND OFF TOP
Set-Up Round: Remove marker, slip slip knit (ssk), replace marker to indicate new end of round, *k1, ssk, repeat from * to end of round. [104 stitches remain]
Remove marker and fold piece in half so that needles are parallel and 52 stitches are on each needle. With a double pointed needle, bind off using a 3-Needle Bind-Off until one stitch remains on each needle; k1 from front needle, k1 from back needle. [3 stitches remain on double pointed needle]
MAKE I-CORD
With remaining 3 stitches, work an I-Cord for 3 inches, working the last row as follows…
Bind-Off Row: K1, knit 2 together (k2tog), pass first stitch over second stitch and off right needle.
Cut yarn, leaving an 8-inch tail and pull through remaining stitch.
Thread tail onto a tapestry needle. Make a loop with I-Cord and weave tail into fabric at base of I-cord, then weave it through looped I-cord, and back into fabric.
Weave in all ends from I-Cord, bound-off edge, and CC.
BIND OFF BOTTOM
Carefully unravel Provisional Cast-On and slip live stitches onto 16-inch circular needles (see Notes). Place marker. Slip 52 stitches from left needle to right needle so the marker is dividing the stitches in half, 52 stitches per tip. Turn piece so needle tips point to the right and I-Cord loop is at bottom right.
Join MC and bind off using a 3-Needle Bind-Off.
FINISHING
Weave in remaining ends and gently wet block as desired.