With its soft, flowing surface and the gorgeous shifting color of our Nine-Note Bundle, our Rising Tide Scarf lifts all spirits!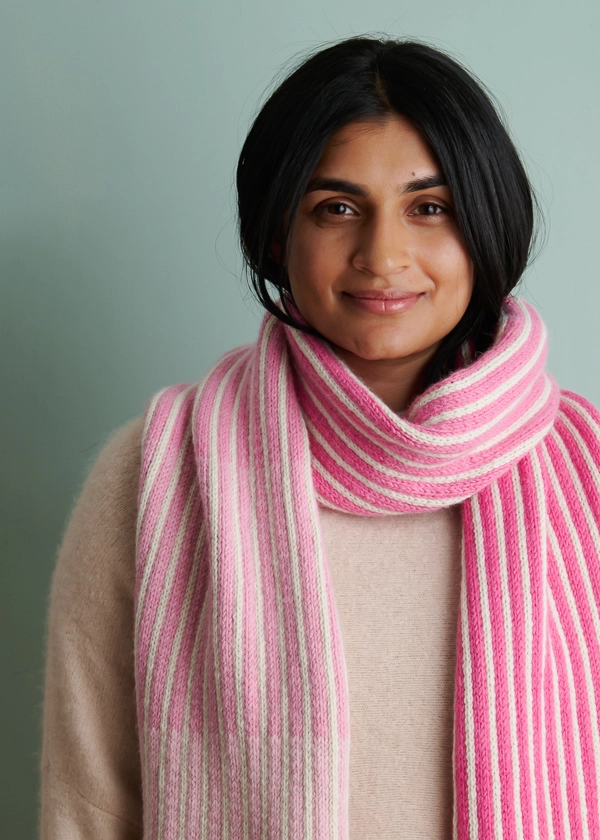 We have three gorgeous new Nine-Note colors for spring, including this cheery Dragon Fruit, plus crisp Apple and warm Penny. Now a grand total of twelve palettes, each bundle's current of color rolls from very light to very saturated, and for this simple slip-stitch design, we've also used our spectacularly beautiful Season Alpaca in Heirloom White, a solid ground to highlight the gradient beauty of the bundle.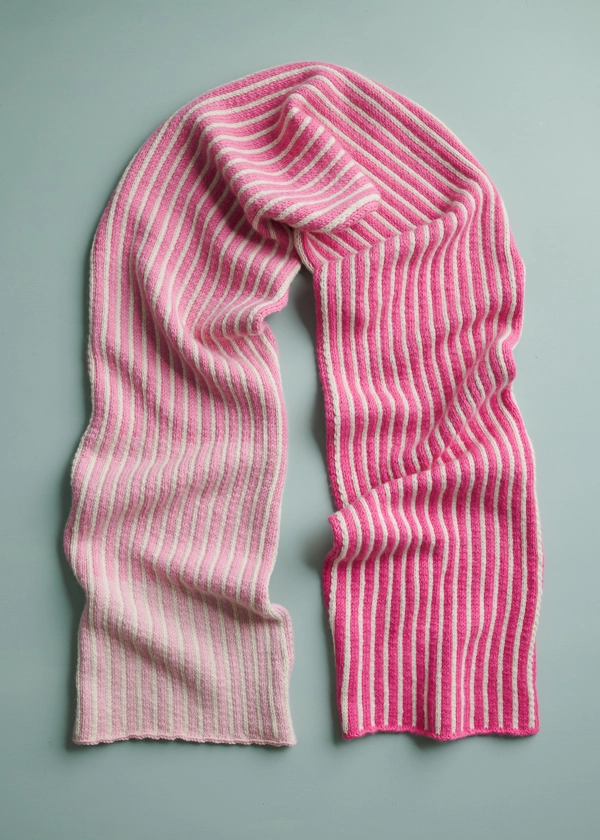 The design combines these yarns into what looks like stranded colorwork, but really, you just use one color per row, creating tidy stripes that are striking at one end and subtle at the other… Plain sailing all the way!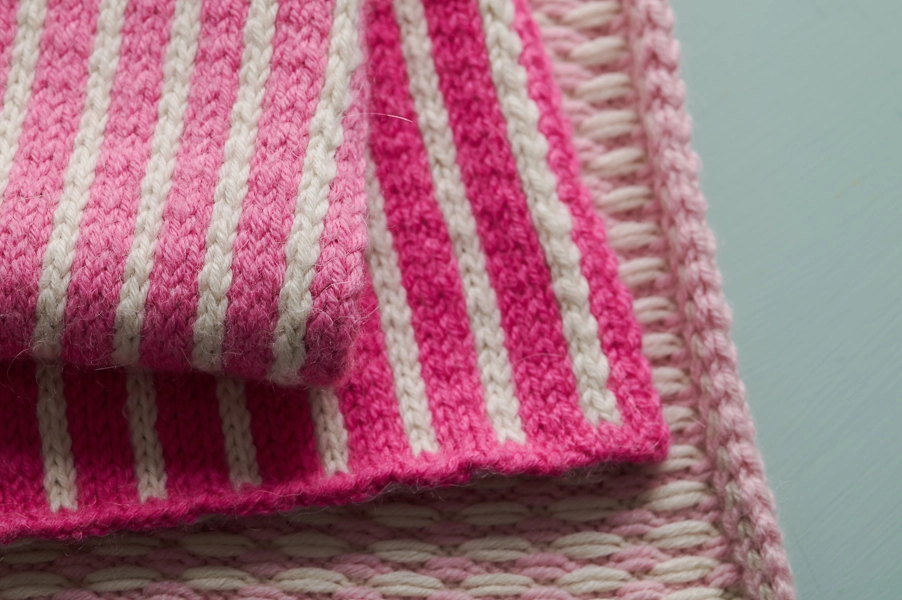 The Season Alpaca part of the Rising Tide Scarf is a very special 100% super baby alpaca. Its plied structure keeps the stitches smooth and even, and its pleasant heft lends just the right drape for a scarf.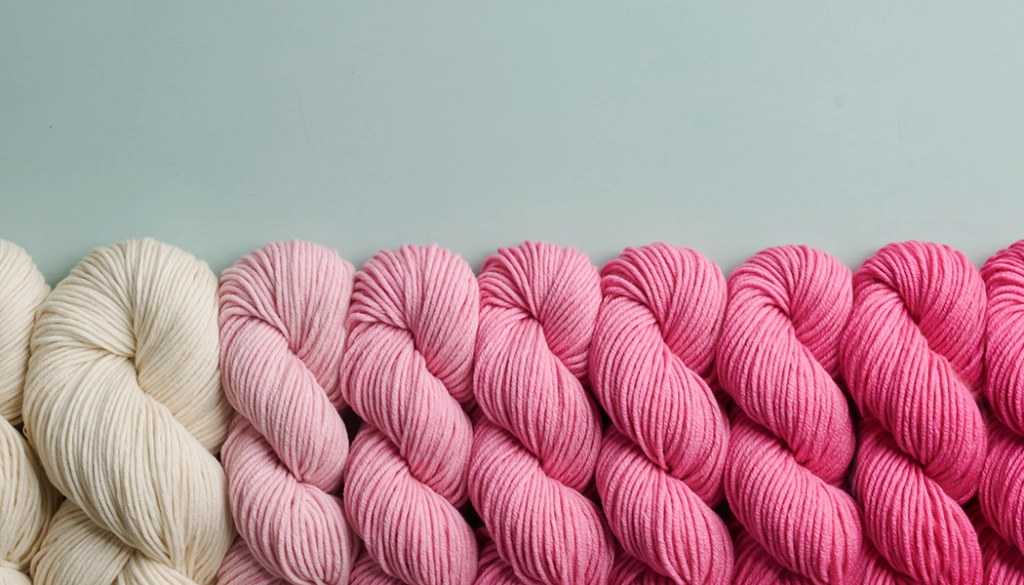 The Nine-Note Bundle brings drama and is a beautiful combination of 80% extra fine merino and 20% baby alpaca. Wonderfully plump with a satisfying and supple feel, this yarn is always gratifying to knit and stunning when complete.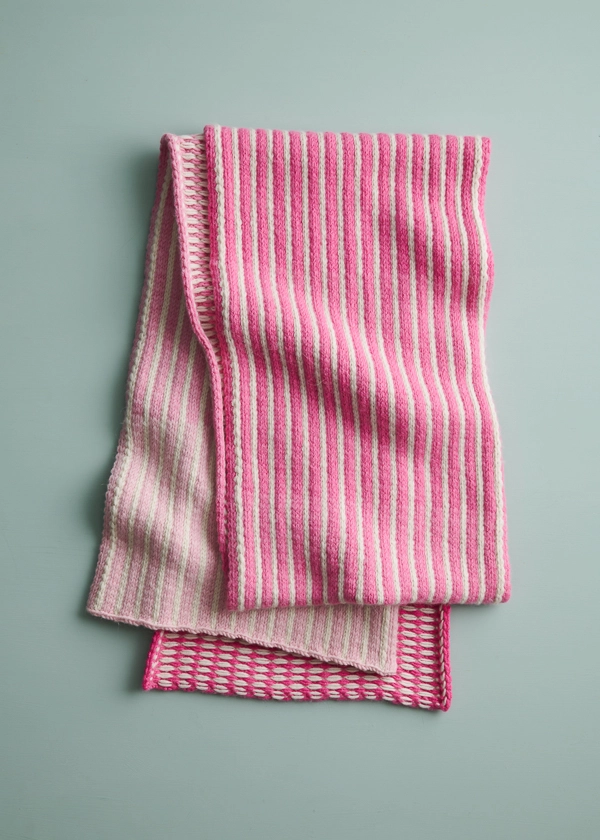 Both yarns are exquisitely soft and together make for twice the beauty in this striking, easy knit. So, pick your bundle, pick your contrast, and cast on!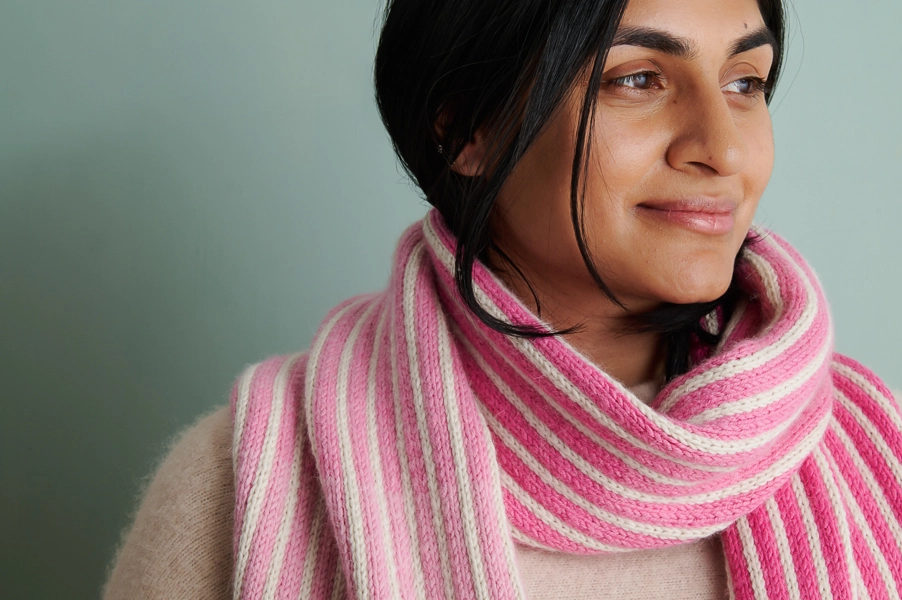 Designed by Purl Soho designer, Hiromi Glover. Click here to see even more of Hiromi's work!
Share your progress and connect with the community by tagging your pics with #PurlSoho, #PurlSohoBusyHands, #PurlSohoRisingTideScarf, and #PurlSohoNineNoteBundle. We can't wait to see what you make!
Materials
Yarn A: One of Purl Soho's Nine-Note Bundle, 9 skeins of 80% extra fine merino wool and 20% baby alpaca yarn. Each skein is 100 yards/ 50 grams; approximately 610 yards required. We used the Dragonfruit bundle.
Yarn B: 2 skeins of Purl Soho's Season Alpaca, 100% super baby alpaca. Each skein is 218 yards/ 100 grams; approximately 430 yards required. We used Heirloom White.
US 7 (4.5 mm), straight or 24-inch circular needles
With twelve stunning palettes to choose from, find the Nine-Note Bundle that sings to you!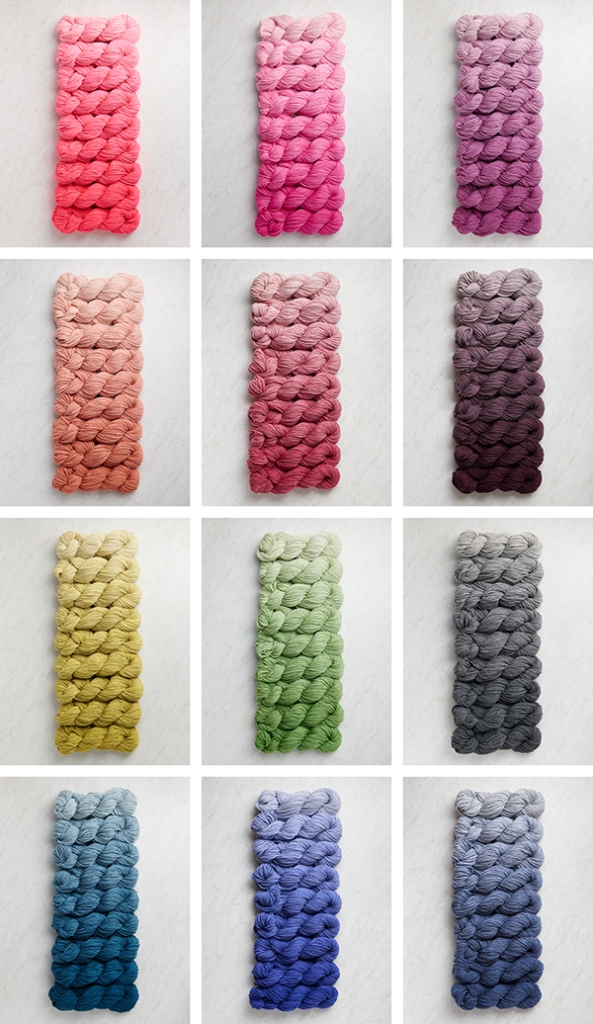 GAUGE
29 stitches and 46 rows = 4 inches in stitch pattern
NOTE: We used almost all of Yarn B to make this scarf. To avoid running short, please re-use your swatch yarn, double check your gauge, and be conservative with tails!
SIZE
Finished Dimensions: Approximately 11¾ inches wide x 72 inches long
NOTES
STITCH MULTIPLE
This pattern is worked over a multiple of 5 stitches.
SLIP STITCHES
Slip all stitches purlwise, except for the first stitch of Rows 1 and 3, which is a "slip 1 knitwise."
CARRYING YARN
When switching yarns, be sure to carry the old yarn up the selvage in front of the new yarn.
YARN A COLOR SEQUENCE
Start with the darkest color skein of the Nine-Note Bundle (Yarn A), then use the next lighter color, and so on to the lightest color.
PATTERN
With Yarn A (using the darkest color skein, see Notes), cast on 85 stitches. We used a Long Tail Cast On.
Set-Up Row (wrong side): With Yarn A, slip 1 (see Notes) with yarn in front (wyif), *p3, slip 2 wyif, repeat from * to last 4 stitches, p4.
Join Yarn B.
Row 1 (right side): With Yarn B, slip 1 knitwise with yarn in back (wyib), *slip 3 wyib, k2, repeat from * to last 4 stitches, slip 3 wyib, k1.
Row 2 (wrong side): With Yarn B, slip 4 wyif, *p2, slip 3 wyif, repeat from * to last 4 stitches, slip 3 wyif, p1.
Row 3: With Yarn A, slip 1 knitwise wyib, *k3, slip 2 wyib, repeat from * to last 4 stitches, k4.
Row 4: With Yarn A, slip 1 wyif, *p3, slip 2 wyif, repeat from * to last 4 stitches, p4.
Repeat Rows 1–4 until piece measures approximately 8 inches from cast-on edge, ending with Row 2.
**Cut current Yarn A and join next lighter color skein in the Yarn A Color Sequence (see Notes) for new Yarn A.
Beginning with Row 3, repeat Rows 1–4 for approximately 8 inches, ending with Row 2.
Repeat from ** working through entire sequence of Yarn A.
Cut Yarn B.
With right side facing you, bind off knitwise with lightest color of Yarn A.
Weave in all ends and gently wet block.