Like a favorite song, we delight in each return to the melodious, comforting beauty of our Nine-Note Bundle, and every time, we fall in love all over again.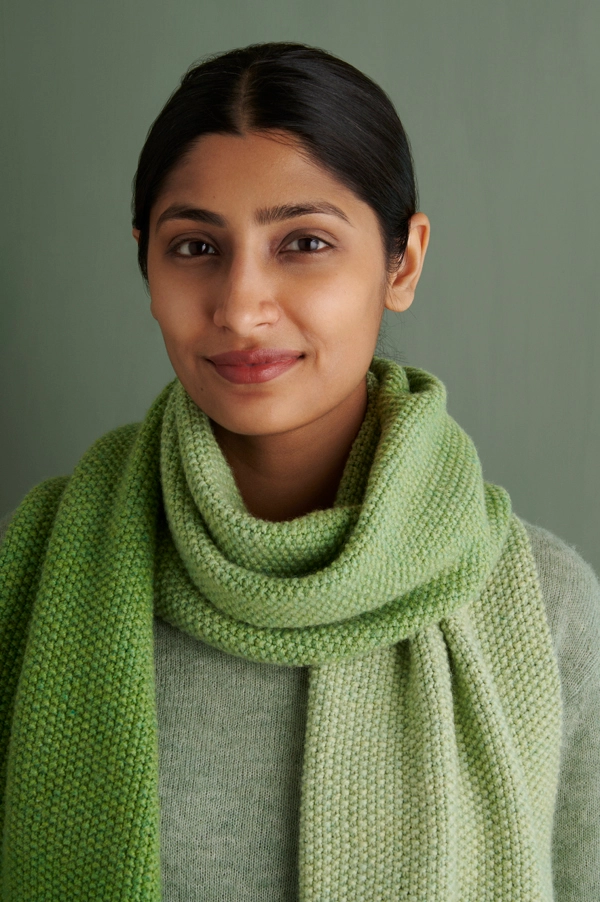 This spring, three new colors join the band! The crisp green of Apple, above, is as fresh as spring itself, and Dragon Fruit, below, is an exhilarating rush of the happiest pink we can imagine.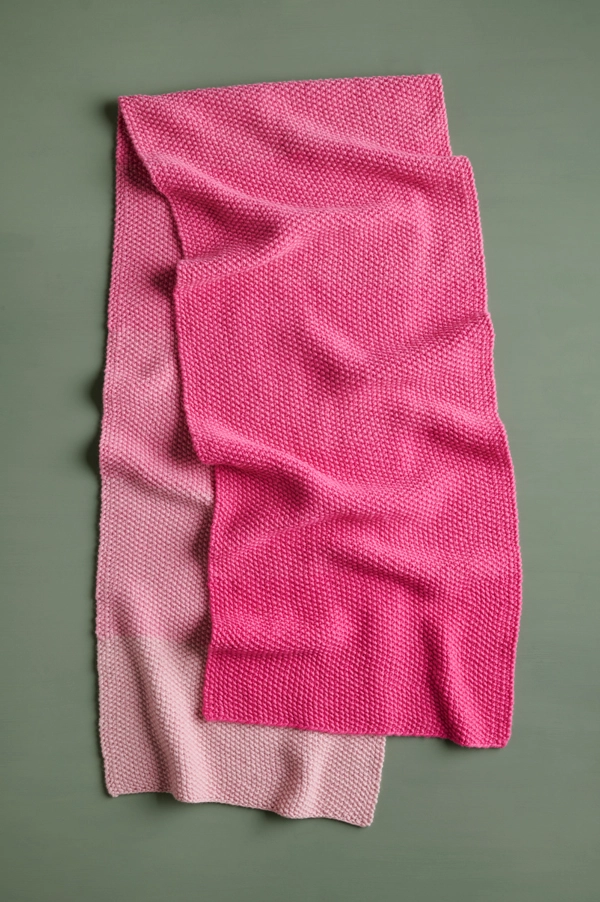 Penny, below, is a subdued orange, as pacifying and laid back as basking in the sun.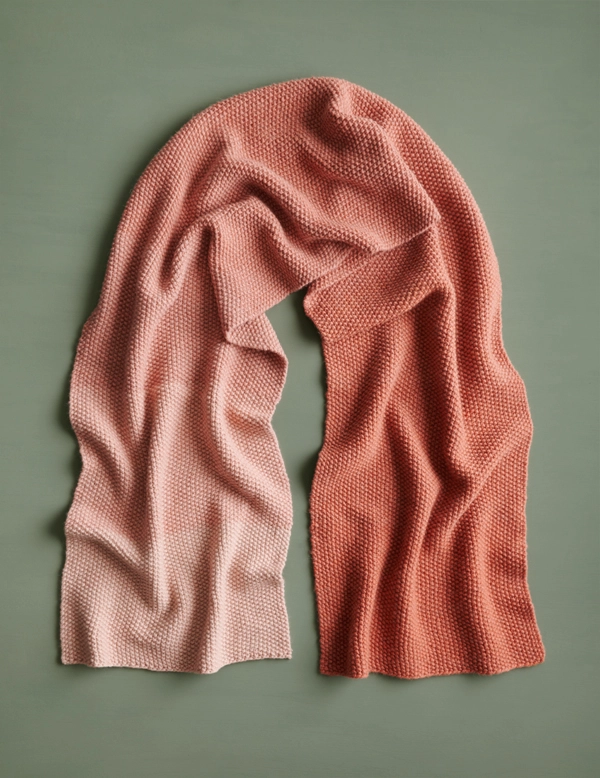 Our simple Nine-Note Seed Stitch Wrap hits just the right note, each knit and purl a pulse that builds into a captivating rhythm as the colors shift and deepen.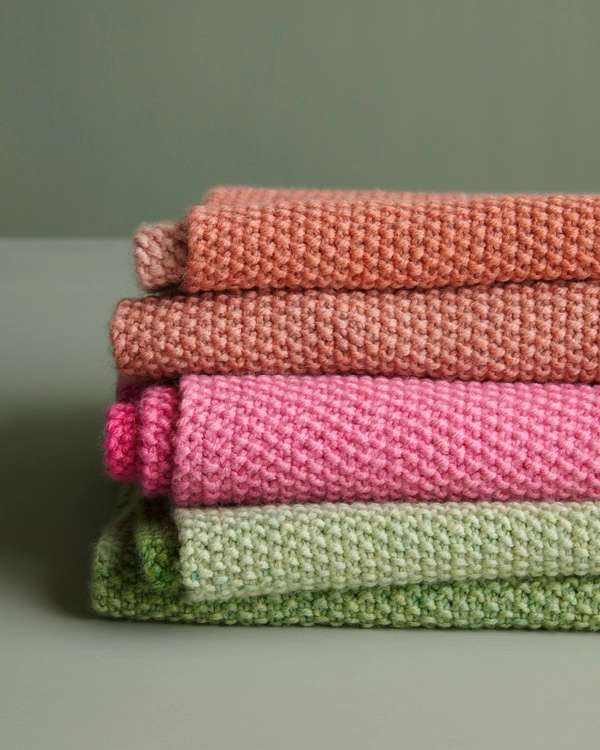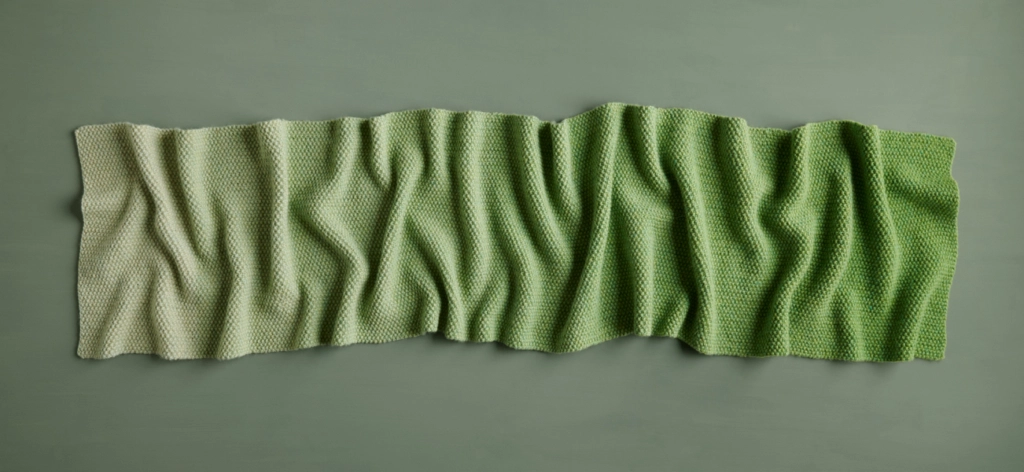 The yarn in our Nine-Note Bundles is also truly special. Eighty percent extra fine merino and 20% baby alpaca, it is remarkably and wonderfully soft.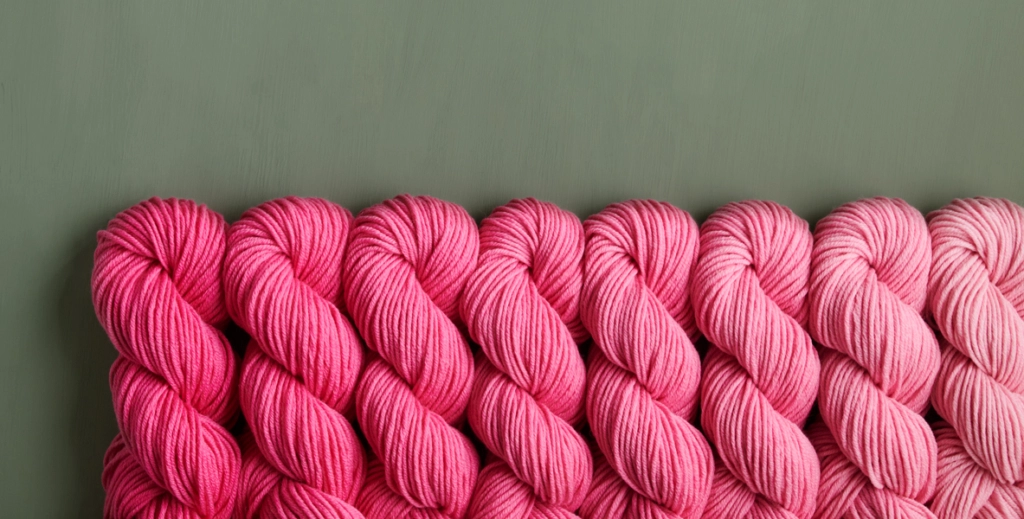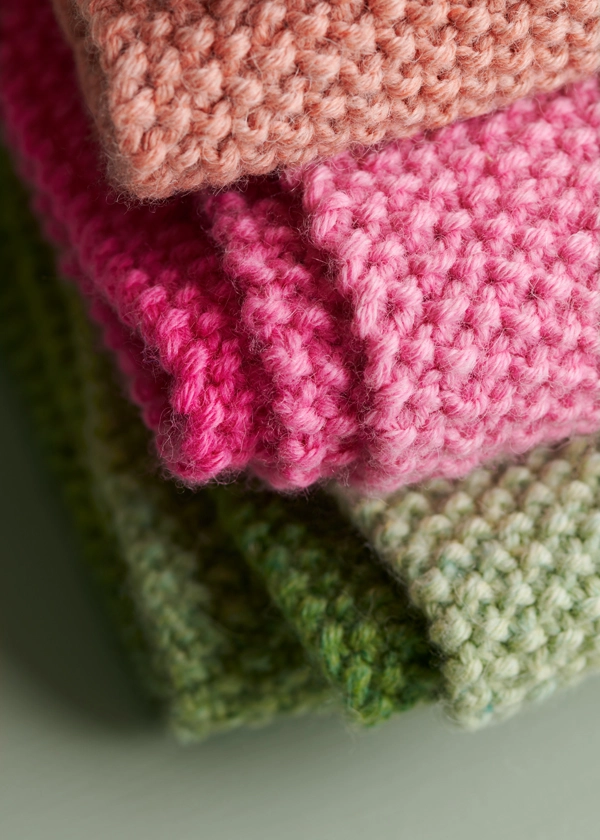 And its plump, squishy light-worsted weight is an absolute joy, satisfying in your hands and knitting up at an energetic pace.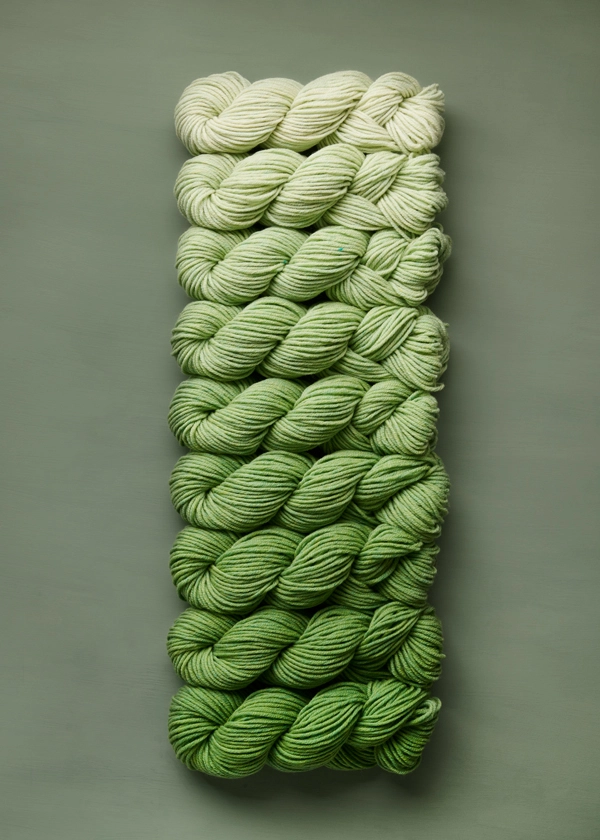 It also creates a dreamy fabric, sumptuous and warm, with a lovely drape.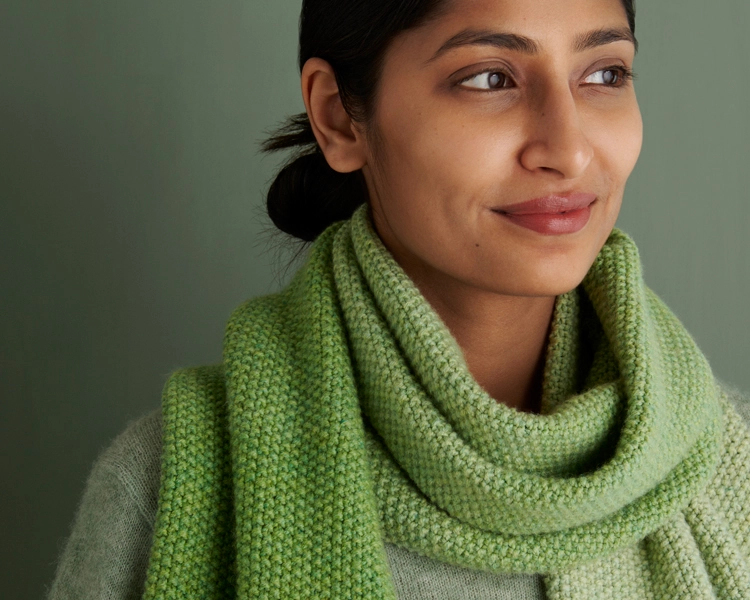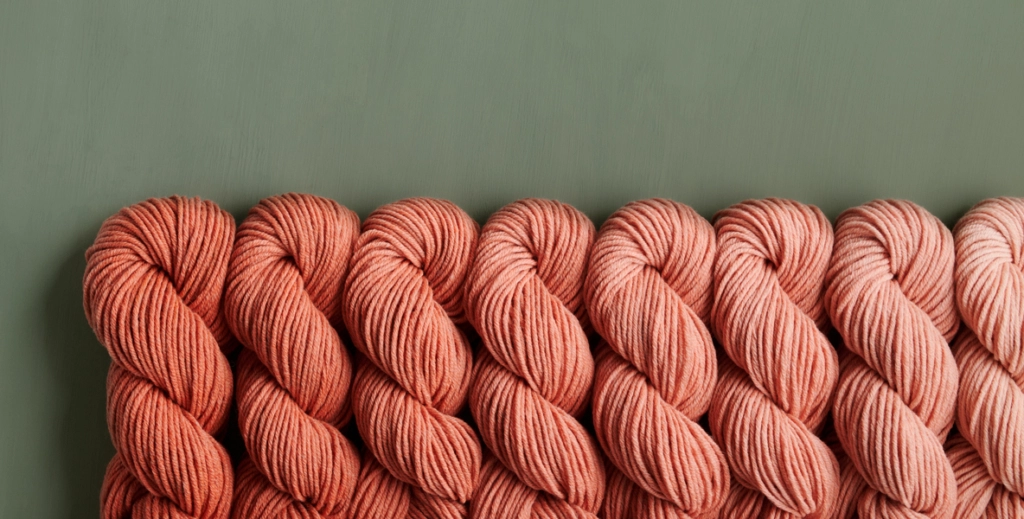 A time-tested classic or a new hit… We now have twelve gorgeous colors of our Nine-Note Bundle. Find your favorite tune!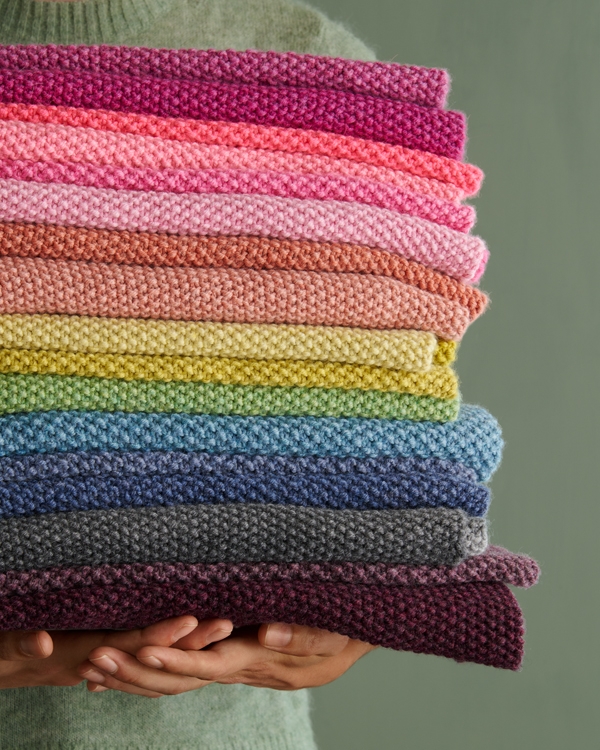 Share your progress and connect with the community by tagging your pics with #PurlSoho, #PurlSohoBusyHands, #PurlSohoNineNoteSeedStitchWrap, and #PurlSohoNineNoteBundle. We can't wait to see what you make!
Materials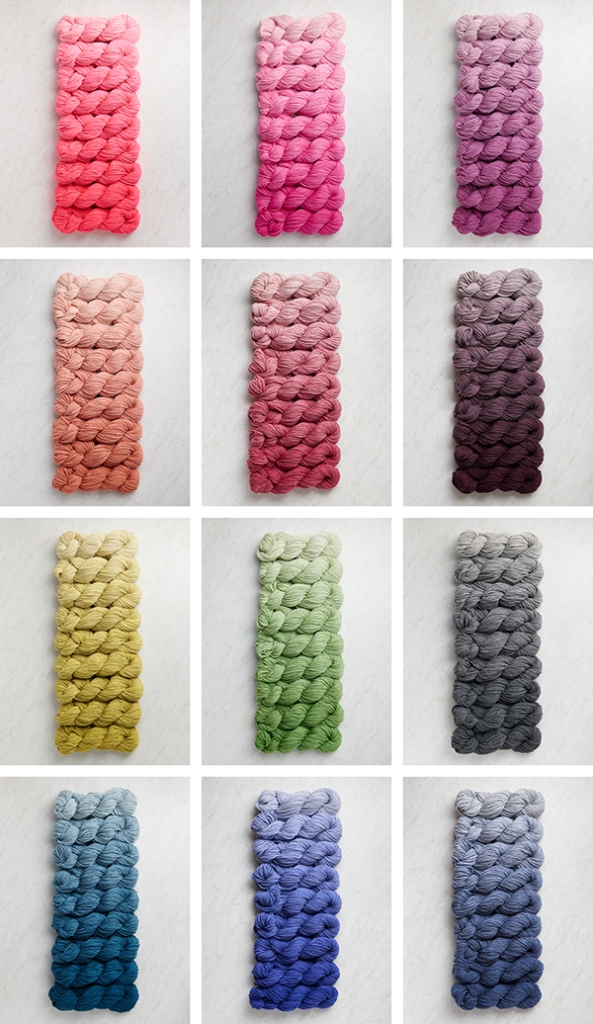 Our Nine-Note Bundle includes…
9 skeins of 80% extra fine merino wool and 20% baby alpaca yarn. Each skein is 100 yards/ 50 grams; approximately 900 yards required. We knit our samples in the colors Penny, Dragon Fruit, and Apple. (NOTE: This yarn is only available in the Nine-Note Bundle.)
A Purl Soho canvas tote bag
A postcard with a link to this free pattern
You will also need…
GAUGE
17½ stitches and 33 rows = 4 inches in seed stitch, blocked
NOTE: To ensure all your stripes are the same length, be sure to reuse your swatch yarn.
SIZE
Finished Dimensions: Approximately 15 inches wide x 68 inches long
NOTES
STITCH MULTIPLE
This pattern is worked over an odd number of stitches.
COLOR SEQUENCE
You will start with the darkest color in the color sequence, then move on to the color one shade lighter until you have used all nine skeins, from dark to light.
PATTERN
Starting with the darkest color, cast on 65 stitches. We used a basic Long Tail Cast On.
Row 1: *K1, p1, repeat from * to last stitch, k1.
Repeat Row 1 until piece measures about 7½ inches from cast-on edge or until skein nearly runs out.
*Right-Side Row: Join next lighter color in the sequence (see Notes), and work Row 1.
Repeat Row 1 until this stripe measures the same as first stripe, ending with a wrong-side row (i.e. on the same side you finished the first skein so that all tails are along the same selvage).
Repeat from * working through entire sequence of remaining seven skeins.
Bind-Off Row: K1, *p1, pass first stitch over, k1, pass first stitch over, repeat from * to end of row.
Weave in ends and gently block.