Our Nine-Note Seed Stitch Wrap is a gorgeous swath of fabric that plays a beautiful tune!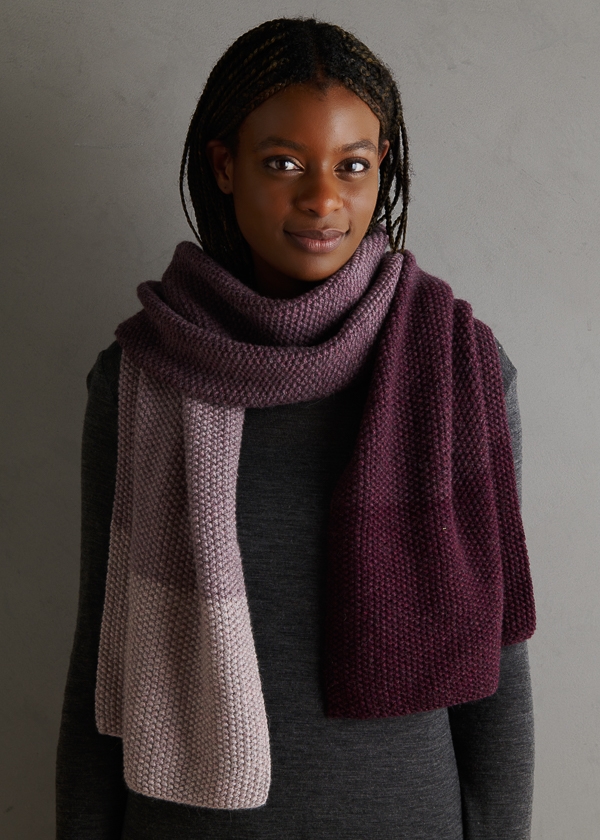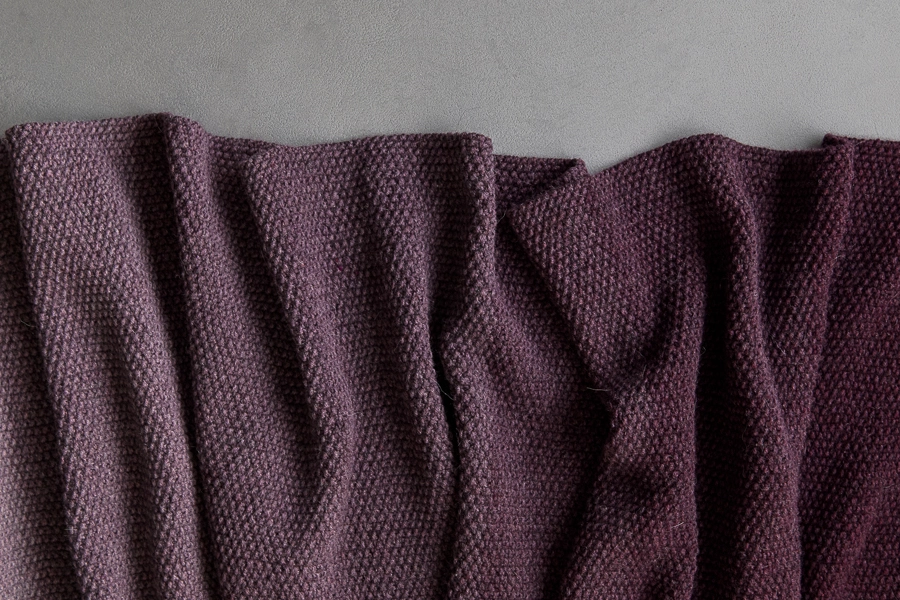 All you need to orchestrate this spectacular knit is our Nine-Note Bundle, a carefully calibrated scale of nine skeins ranging from very pale to very saturated.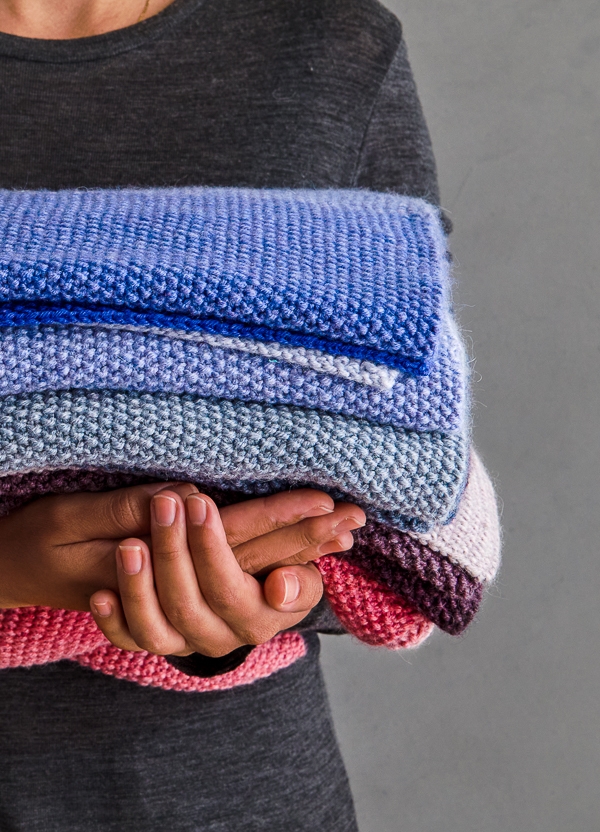 Similar to our Cashmere Ombré Wrap Kit but at a significantly lower cost, our Nine-Note Bundle is still super special. An incredibly soft mix of 80% extra fine merino and 20% baby alpaca in a wonderfully squishy light worsted weight, it has a beautiful drape and a start-to-finish time that's more ditty than dirge.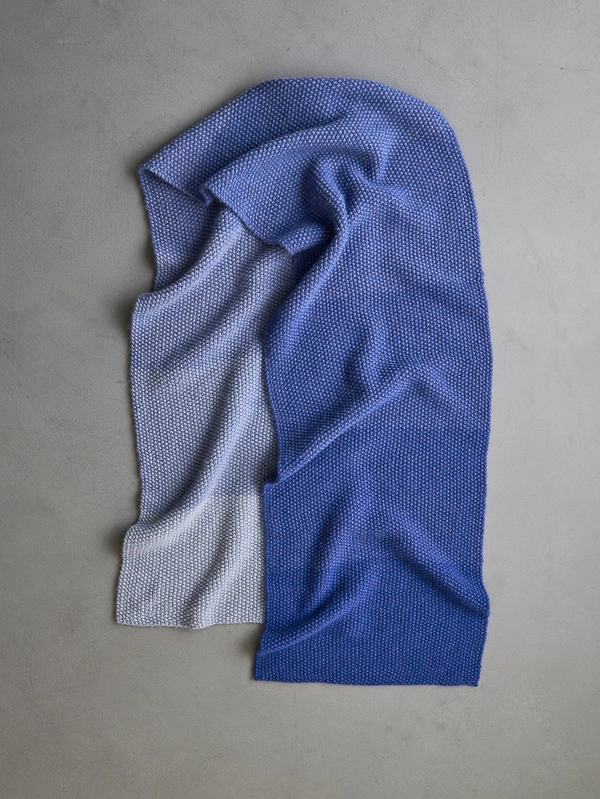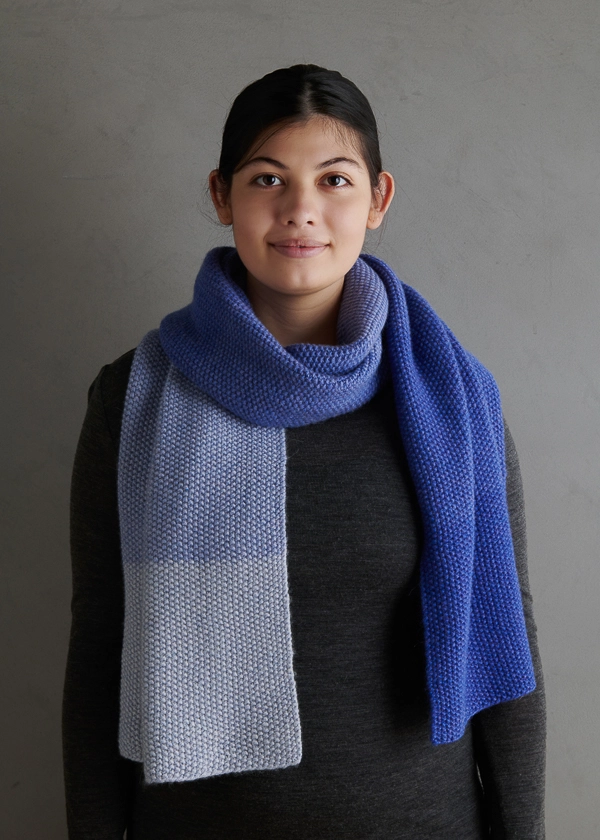 The Nine-Note Bundle is available in four dreamy colors. Mulberry (at the top of the page) is a reddish purple with a mysterious mood, and Hyacinth (right above) is a punchy blue that rides the purple border.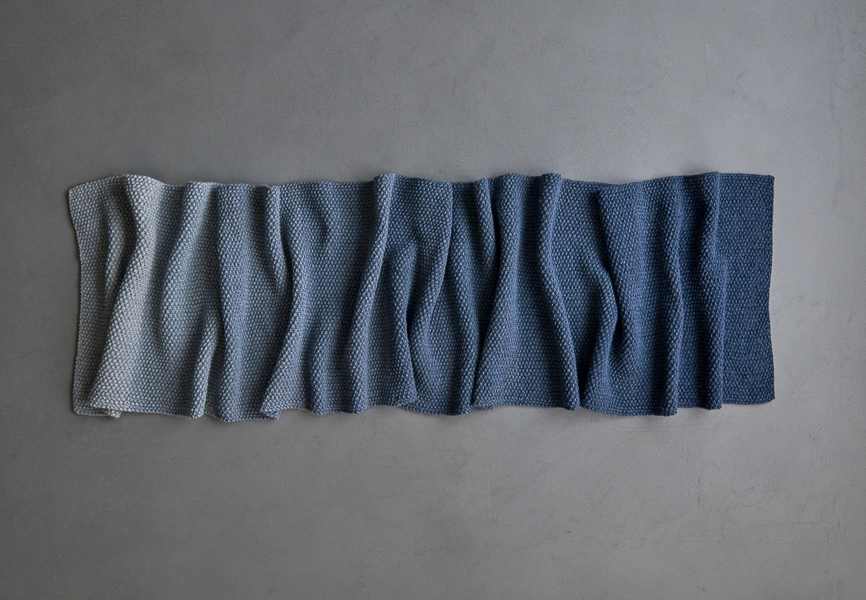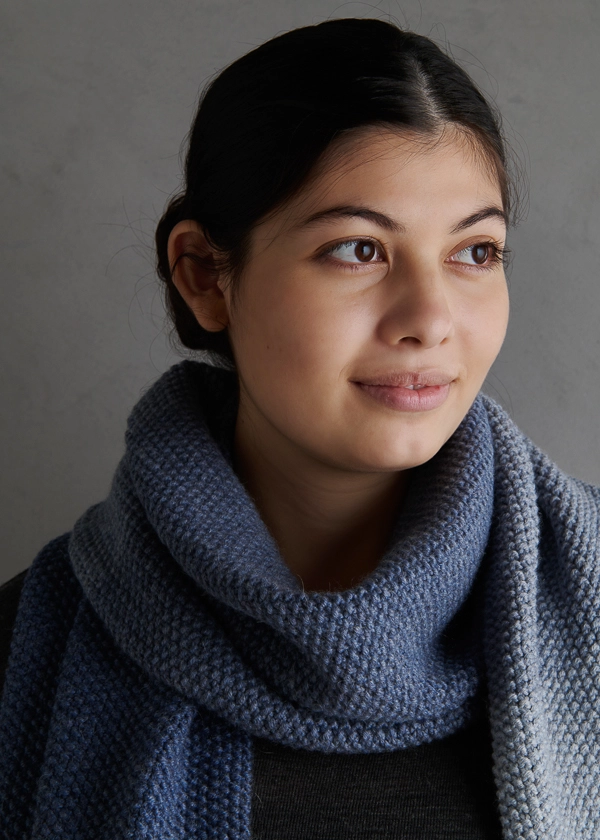 Tidewater (above) is a gentle ocean wave, and Rosebud (below) is a warm pink designed to brighten a winter day. All four colors are stunning from light to dark!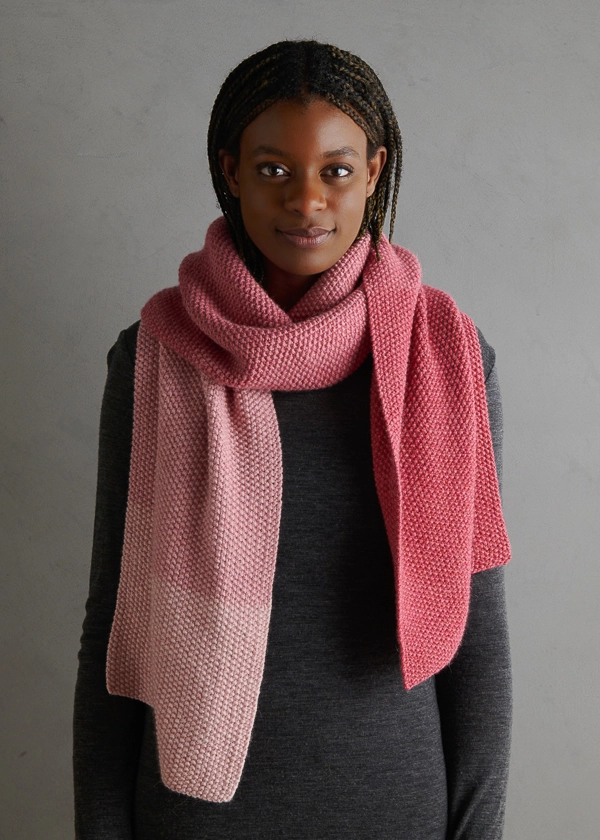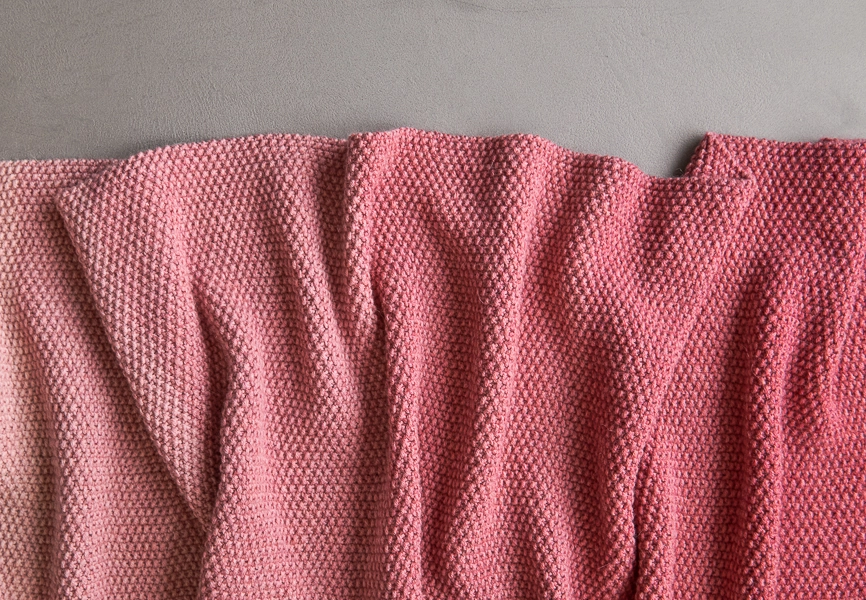 Whatever color strikes a chord, the Nine-Note Bundle comes in a Purl Soho canvas tote bag with a postcard that links to this free pattern. Ready for giving, it's just the song knitters love to sing!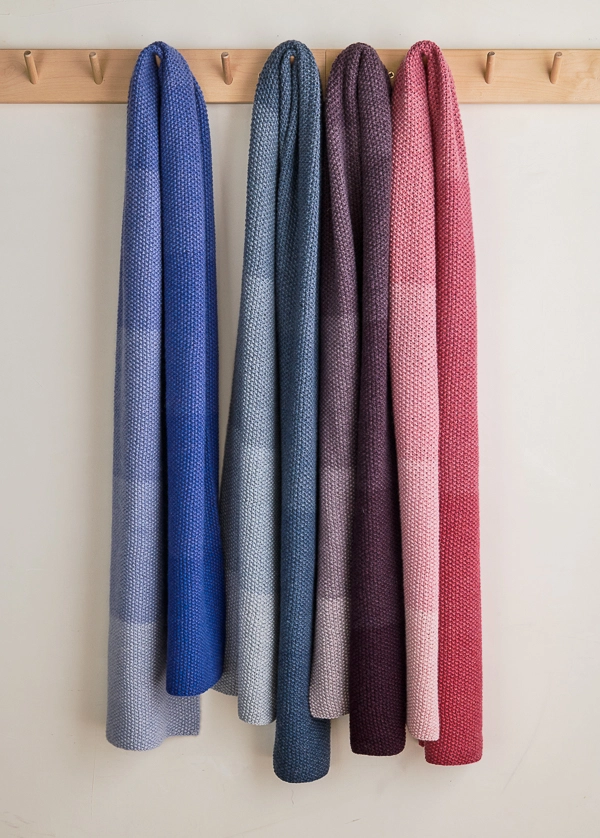 UPDATE: NOW IN NEW COLORS!
NOVEMBER 2022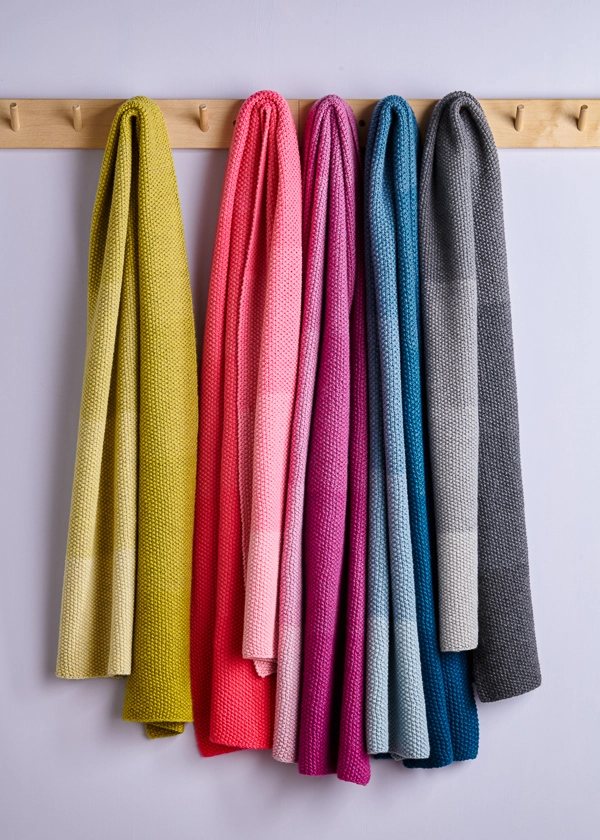 Because every great performance deserves an encore, we have revisited our beautiful Nine-Note Bundles and added five new tunes to the songbook. Please welcome the colors Pomelo, Begonia, Beautyberry, Bluegrass, and Sketchbook! They still come packaged in a Purl Soho tote bag, with a postcard that links to this free pattern. In every way, a gift that will get a standing ovation!
UPDATE: NOW IN MORE NEW COLORS
APRIL 2023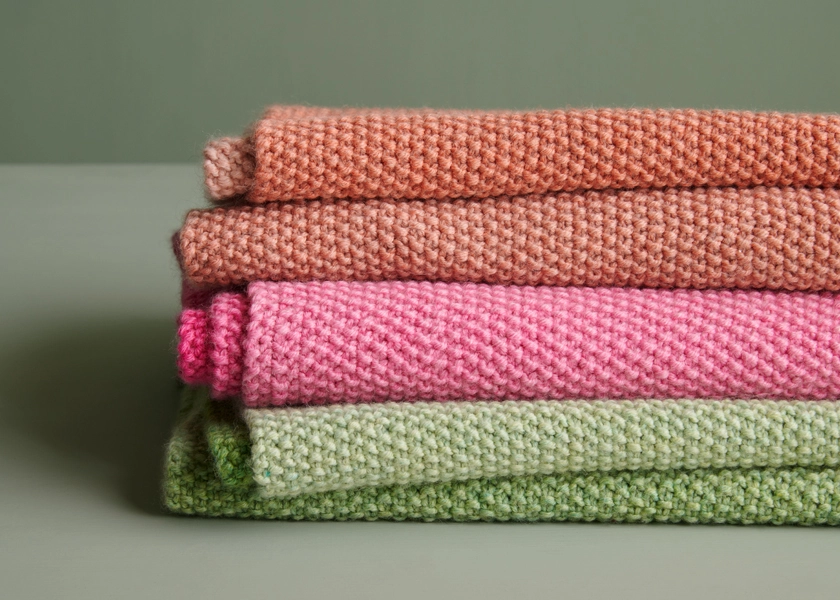 This spring three new colors join the band! The crisp green of Apple is as fresh as spring itself, and Dragon Fruit is an exhilarating rush of the happiest pink we can imagine. Penny, a subdued orange, is as pacifying and laid back as basking in the sun. A time-tested classic or a new hit… Pick a color and find your favorite tune!
UPDATE: WELCOME, WILD IRIS!
NOVEMBER 2023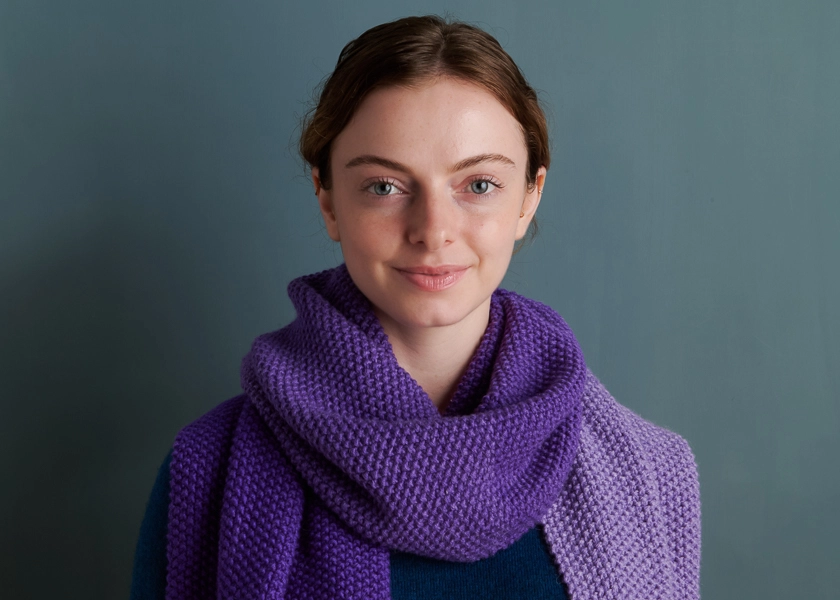 As regal Wild Iris joins our family of Nine-Note colors, we return to the rich, flowing color of our Nine-Note Seed Stitch Wrap! A complex brew of powerful and playful, this purple comes from nature's most surprising moments and appeals to your deepest color-loving self… Cast on, and you'll soon be singing the praises of this very special project!
Share your progress and connect with the community by tagging your pics with #PurlSoho, #PurlSohoBusyHands, #PurlSohoNineNoteSeedStitchWrap and #PurlSohoNineNoteBundle. We can't wait to see what you make!
Materials
Our Nine-Note Bundle includes…
9 skeins of 80% extra fine merino wool and 20% baby alpaca yarn. Each skein is 100 yards/ 50 grams; approximately 900 yards required. NOTE: This yarn is only available in the Nine-Note Bundle.
A Purl Soho canvas tote bag
A postcard with a link to this free pattern
You will also need…
GAUGE
17½ stitches and 33 rows = 4 inches in seed stitch, blocked
NOTE: To ensure all your stripes are the same length, be sure to reuse your swatch yarn.
SIZE
Finished Dimensions: Approximately 15 inches wide x 68 inches long
NOTES
STITCH MULTIPLE
This pattern is worked over an odd number of stitches.
COLOR SEQUENCE
You will start with the darkest color in the color sequence, then move on to the color one shade lighter until you have used all nine skeins, from dark to light.
PATTERN
Starting with the darkest color, cast on 65 stitches. We used a basic Long Tail Cast On.
Row 1: *K1, p1, repeat from * to last stitch, k1.
Repeat Row 1 until piece measures about 7½ inches from cast-on edge or until skein nearly runs out.
*Right-Side Row: Join next lighter color in the sequence (see Notes), and work Row 1.
Repeat Row 1 until this stripe measures the same as first stripe, ending with a wrong-side row (i.e. on the same side you finished the first skein so that all tails are along the same selvage).
Repeat from * working through entire sequence of eight skeins.
Bind-Off Row: K1, *p1, pass first stitch over, k1, pass first stitch over, repeat from * to end of row.
Weave in ends and gently block.