Whether a little two-gallon sack makes you think book, gym shorts, and an apple, or maybe work-in-progress, our Knit Drawstring Bag + Backpack serve your purpose!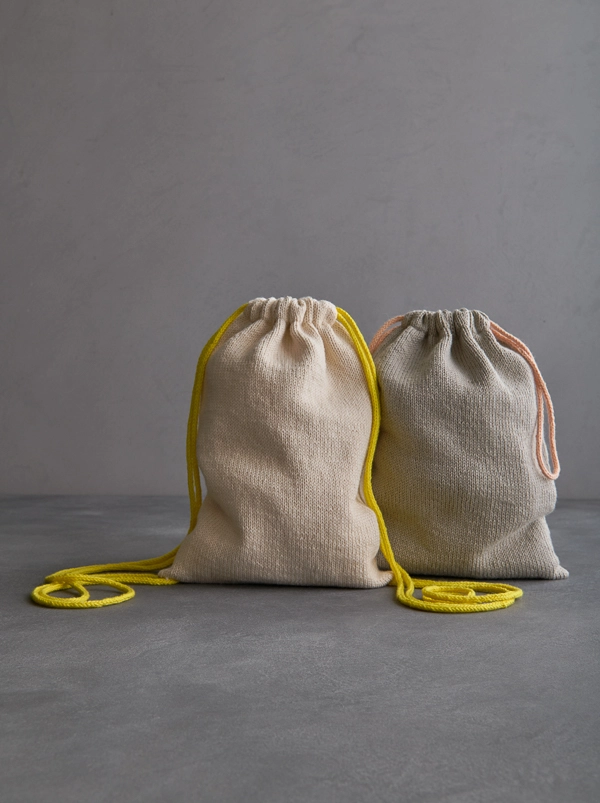 We love these little dumplings! Simple tubes with a drawstring channel at one end and a three-needle-bind-off seam at the other, the bag and the backpack only diverge in their use of I-cords. The bags are a simple drawstring, while the backpacks serve as both a drawstring and straps. Clever!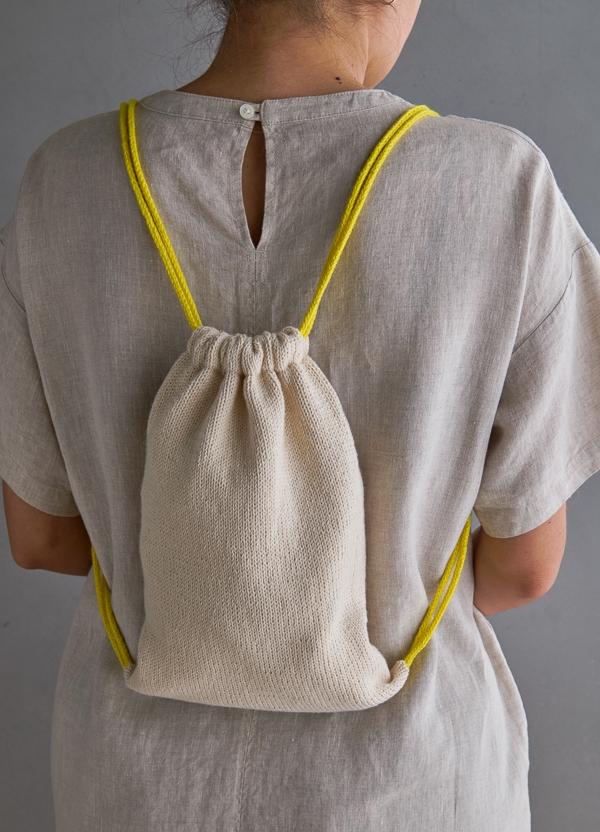 For durability, machine-wash-ability, and total cuteness, we used our brand new Buttercup Cotton. A 100% organically grown, non-mercerized cotton, its fingering weight keeps these sacks light and lends a very nice polish.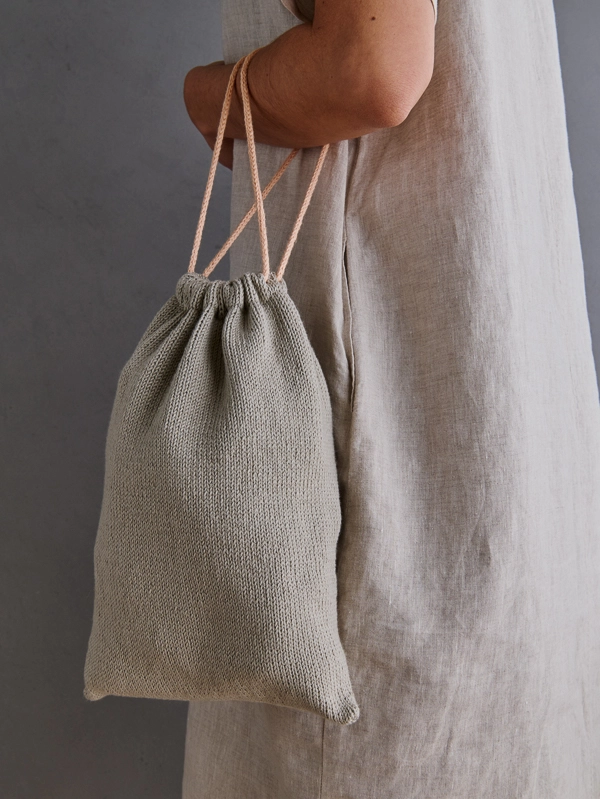 Buttercup Cotton comes in 18 lovely colors with many opportunities for striking bag-cord combos. Best news for last? You'll need just one skein of each for either the bag or backpack and will even have enough left over to make another in reverse colors!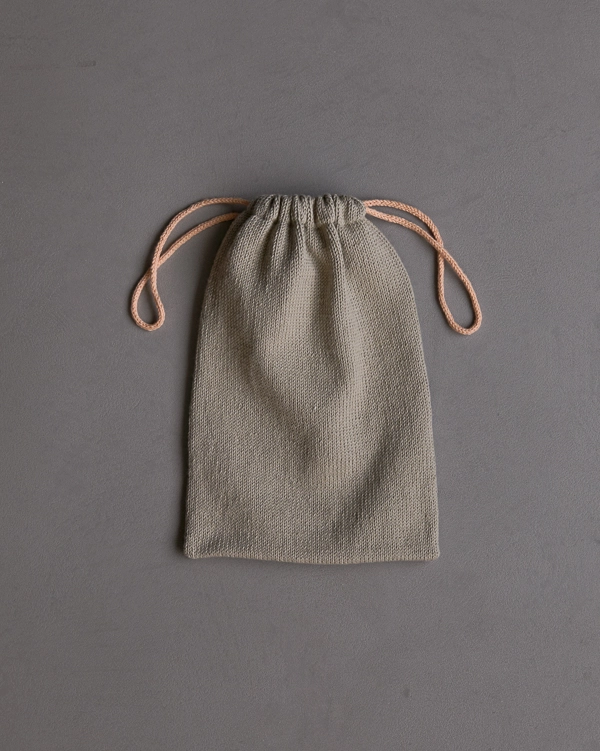 Designed by Purl Soho designer, Jake Canton. Click here to see even more of Jake's designs!
Share your progress + connect with the community by tagging your pics with #PurlSoho, #PurlSohoBusyHands, #PurlSohoKnitDrawstringBagAndBackpack, and #PurlSohoButtercupCotton. We can't wait to see what you make!
Materials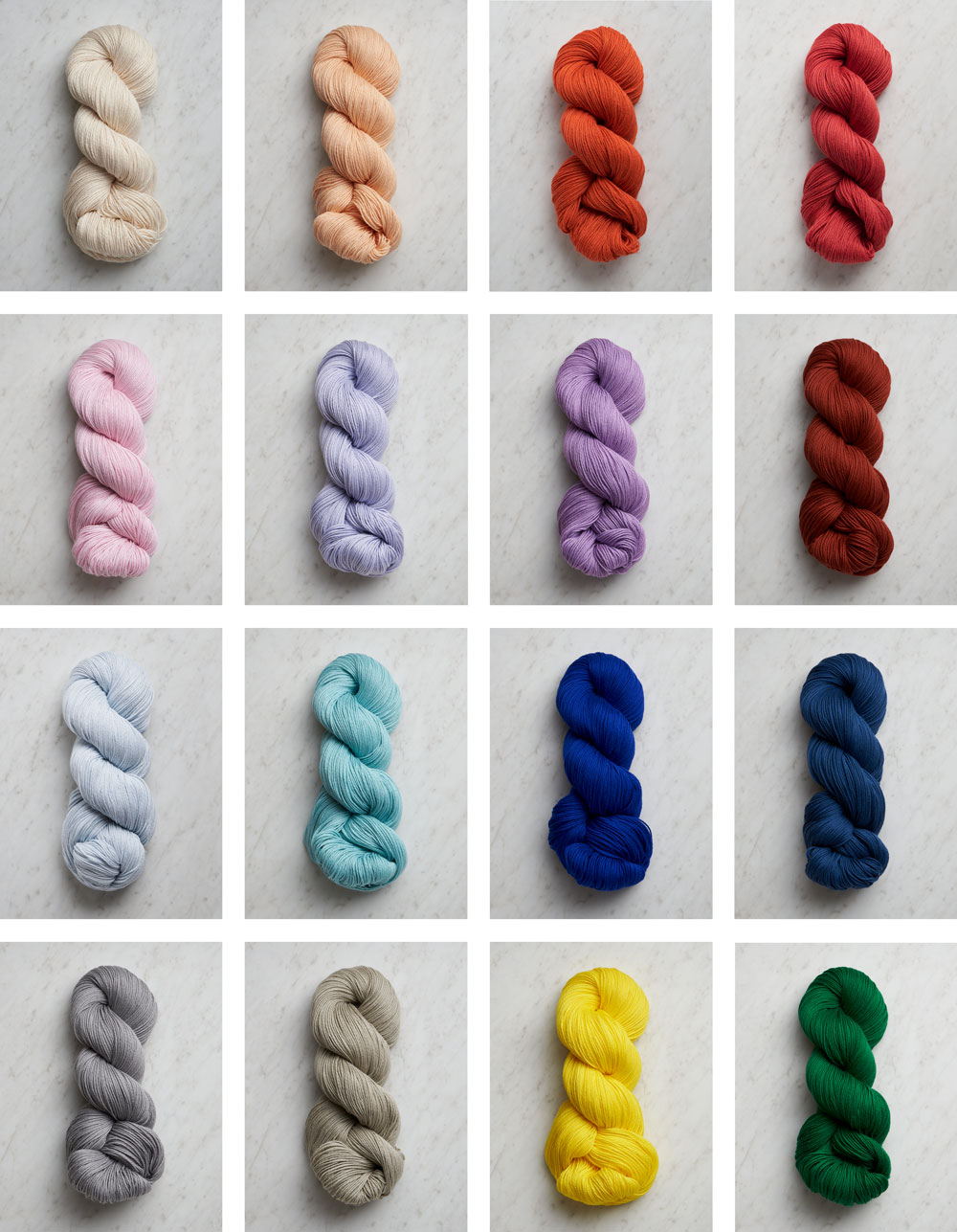 Main Color (MC): 1 skein of Purl Soho's Buttercup Cotton, 100% organically grown cotton. Each skein is 364 yards; approximately 272 yards required for either the bag or backpack. (NOTE: We no longer offer Buttercup Cotton, but choose from one of our other fingering weight yarns.)
Contrast Color: 1 skein of Buttercup Cotton. Approximately 16 yards required for the bag or 62 yards for the backpack.
US 1.5 (2.75 mm) 16-inch circular needles
Spare 16-inch circular needles, US 1.5 (2.75 mm) or smaller
A set of US 1.5 (2.75 mm) double pointed needles
Stitch holders or scrap yarn
A few yards of fingering weight scrap yarn
A size B–E (2.5–3.5 mm) crochet hook (for Provisional Cast On)
We made our samples in the following colors…
BAG SAMPLE: Main Color is Woodland Gray; Contrast Color is Summer Melon
BACKPACK SAMPLE: Main Color is Heirloom White; Contrast Color is Jonquil Yellow
Gauge
28 stitches and 40 rounds = 4 inches in stockinette stitch
Size
Finished Circumference: 18 inches
Finished Height: 12 inches
Length of Straps (Backpack Only): 31½ inches
Notes
Construction
You begin both the bag and backpack by making I-cords for the drawstrings. You then knit the body of the sack from top down and in the round, incorporating a hem that encases the I-cords and finishing with slightly different instructions for the bag or backpack.
Provisional Cast-On
For assistance, including how to put live stitches back onto needles, please visit our Provisional Cast-On: A Two-Step Method Tutorial.
Pattern
Make I-Cords
With Contrast Color (CC) and using a Provisional Cast On (see Notes), cast 3 stitches onto double pointed needle.
Knit an I-cord 19 inches long for the bag or 63 inches long for the backpack. Place three I-cord stitches on a stitch holder or scrap yarn. Cut yarn.
Make a second I-cord identical to the first and set both aside.
Begin Body
With Main Color (MC) and using a Provisional Cast On, cast 126 stitches onto circular needles.
Place marker and join for working in the round, being careful not to twist the stitches.
Work in stockinette stitch, knitting every round, until piece measures 1¼ inches from cast-on edge.
Next Round: [Knit 2 together, yarn over, k59, yo, slip slip knit] twice.
Continue knitting in stockinette until piece measures 1¾ inches from cast-on edge.
Create Hem
NOTE: For assistance with working this technique, visit our Knit Hem Tutorial.
With the right side facing you, slip Provisional Cast On onto spare circular needles (see Notes). [126 stitches on each set of circular needles]
Fold the cast-on edge inside the bag, wrong sides of fabric together and so the two circular needles are parallel to each other, working needles in front and spare needles behind.
Identify the two sets of eyelets created by the yarn overs: one set at the end of the round and the other set halfway through the round.
Beginning with the set of eyelets at the end of round, use a crochet hook to draw one end of an I-cord towards you, from the wrong side of the fabric to the right side, through the right-hand eyelet. Then draw the other end of the I-cord towards you through the left eyelet so that both ends are dangling out the side facing you.
Now, from the wrong side, pull the I-cord that is in between the two eyelets and sandwich it between the two layers of fabric along the entire circumference of the hem.
Do the same with the second I-cord through the opposite set of eyelets, laying this cord on top of the first along the entire circumference of the hem.
Next Round: Using the right needle of the working needles, *knit next stitch from front needle together with next stitch from back needle, repeat from * to end of round. [126 stitches on working needle]
Continue Body
Continue knitting in stockinette stitch, knitting every round, until piece measures 12 inches from the Hem's folded edge.
For Bag, go on to Finishing section below.
Backpack Only: Connect I-Cords To Body
Place the 3 stitches at each end of each I-cord (either from stitch holder or from provisional cast on) onto separate double pointed needles. [4 double pointed needles, each with three I-cord stitches]
Next Round: *Identify the I-cord that emerges from the hem eyelet directly below the next stitch on the left circular needle. Hold that I-cord's double pointed needle in front of the left working needle, [knit together one I-cord stitch from the double pointed needle and one Body stitch from the left needle] 3 times**, k57, repeat from * to **, k4, repeat from * to **, k49, repeat from * to **, k4.
Bag + Backpack: Finishing
Turn piece inside out so the right sides are facing each other. Holding the two ends of the working needles parallel to each other and sliding half the stitches to each end of the needles, use a spare needle to work a 3-Needle Bind-Off, closing the bottom of the Body.
Turn piece inside out again.
Bag Only: Finish I-Cords
Remove the scrap yarn from one I-cord's provisional cast on and place stitches onto a double pointed needle. Place on-hold stitches at the other end of the same I-cord onto a second double pointed needle. Hold the two double pointed needles parallel and use the Kitchener Stitch to graft the two ends of the I-cord together.
Repeat with other I-cord.
Bag + Backpack: Last Thing
Weave in ends and block, if desired!