Our Simple Pleasures Hat is surely simple and definitely a pleasure. Super soft, slightly slouchy, and 100% lovely, it's one of our favorite hats around!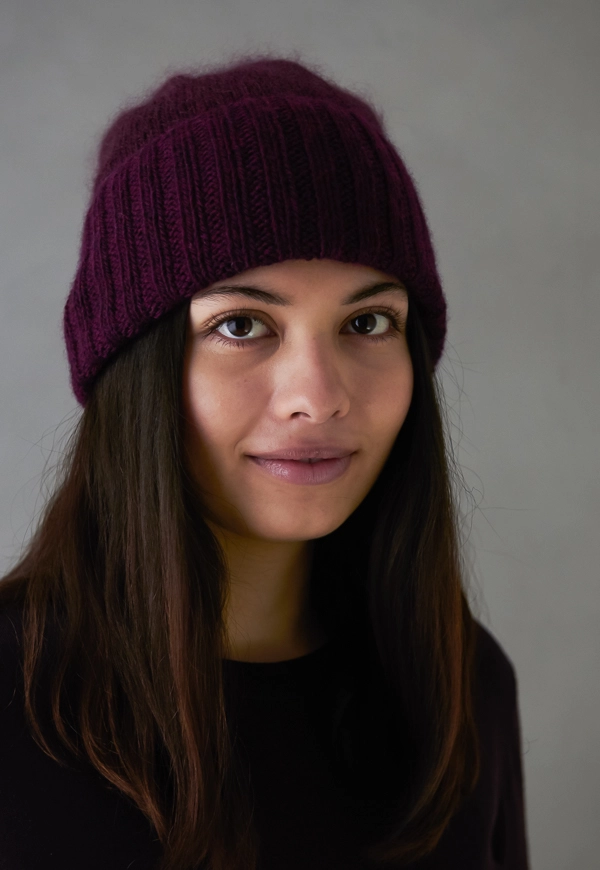 The first kicker here is the wide 2×2 rib cuff. Knit up holding two strands of Line Weight merino, it is thick and cozy right where you want it.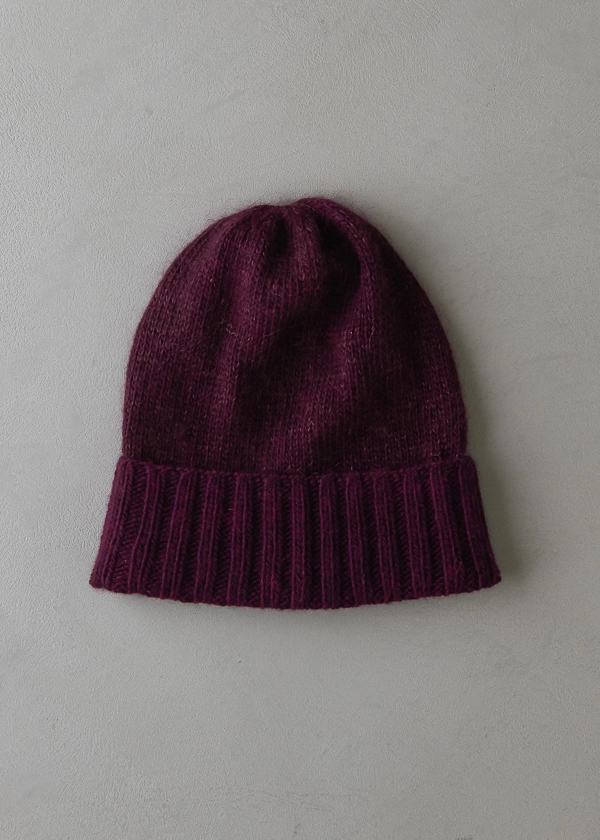 The second kicker is the soft halo that rises above the cuff. A mixture of one strand of Line Weight and one of mohair-silk Tussock, it is a fluffy little cloud that will never weigh you down. Get a skein of both with our Line Weight + Tussock Bundle, available in 16 beautiful color combos!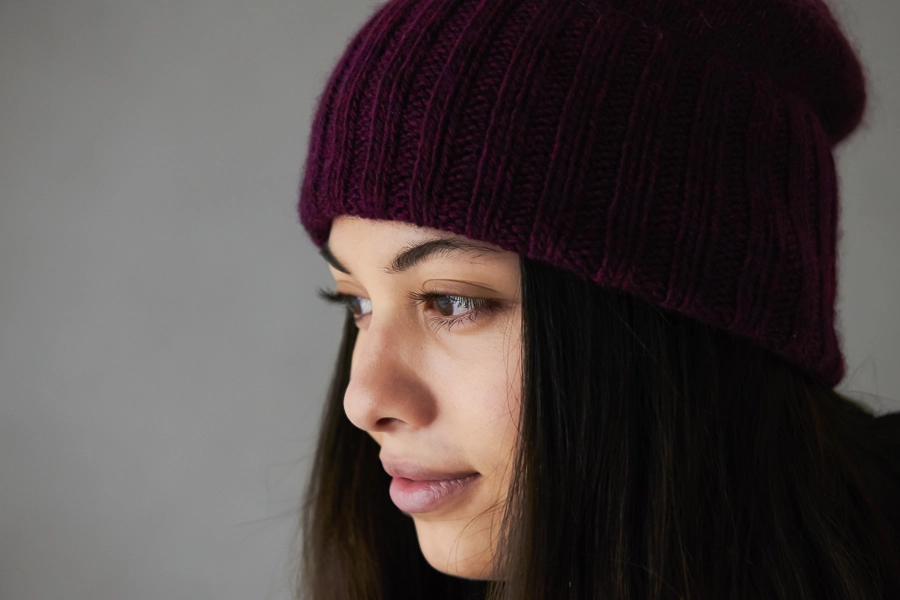 Share your progress + connect with the community by tagging your pics with #PurlSoho, #PurlSohoBusyHands, #PurlSohoSimplePleasuresHat, #PurlSohoLineWeight, and #PurlSohoTussock. We can't wait to see what you make!
Materials
Our Line Weight + Tussock Bundle includes…
Yarn A: 1 skein of Purl Soho's Line Weight, 100% merino. Each skein is 494 yards/ 100 grams; approximately 185 (225, 285, 345, 385) yards required. We used Red Plum.
Yarn B: 1 skein of Purl Soho's Tussock, 60% super fine kid mohair and 40% silk. Each skein is 328 yards/ 25 grams; approximately 70 (85, 105, 125, 140) yards required. We used Ripe Boysenberry.
There are lots of colors to choose from (NOTE: some palettes are no longer available)! Shown above, they are…
Top Row: Kiln Red + Orange Pekoe; Red Plum + Claret Pink; Red Plum + Ripe Boysenberry (we used this one for our sample!)
Second Row: Ballet Pink + Pale Orchid; Super Pink + Pink Joy; Lotus Flower + Bright Thistle
Third Row: True Turquoise + Blue Lagoon; Night Blue + Cerulean Sea; Blue Jeans + Blue Fjord
Fourth Row: Cosmic Yellow + Lightning Yellow; Frond Green + Bright Jade; Frond Green + Cypress Green
Bottom Row: Heirloom White + Heirloom White; Wheat Flour + Cloud Blue; River Rock + Gray Quartz
You will also need…
Gauge
39 stitches and 32 rows = 4 inches in 2 x 2 rib on smaller needles and holding two strands of Yarn A together
25 stitches and 34 rows = 4 inches in stockinette stitch on larger needles and holding Yarns A and B together
Sizes
Baby (Kid Small, Kid Large, Adult Small, Adult Large)
To fit actual head size of 16-18 (18½-19½, 20-21, 21¼-22½, 22¾-24) inches
Finished Ribbing Circumference (unstretched): 9½ (10¼, 11, 12, 12¾) inches
Finished Body Circumference: 14¾ (16, 17¼, 18½, 19¾) inches
Finished Height (un-cuffed): 8 (9¼, 11, 12½, 13) inches
Pattern
Cuff
Holding two strands of Yarn A together, cast (92 (100, 108, 116, 124) stitches onto smaller circular needles. We used a basic Long Tail Cast On.
Place marker and join for working in the round, being careful not to twist the stitches.
Round 1: *K2, p2, repeat from * to end of round.
Repeat Round 1 until piece measures 3 (4, 5, 6, 6) inches from cast-on edge.
Body
Cut one of the strands of Yarn A and add one strand of Yarn B (so that you're knitting with one strand of A and one strand of B).
Change to larger circular needles.
Knit every round until piece measures 4¾ (5, 5¾, 6¼, 6¾) inches from top edge of Cuff.
Crown
NOTE: Change to double pointed needles when necessary.
Next Round: *K2, knit two together (k2tog), repeat from * to end of round. [69 (75, 81, 87, 93) stitches
Knit 2 rounds.
Next Round: *K1, k2tog, repeat from * to end of round. [46 (50, 54, 58, 62) stitches]
Knit 2 rounds.
Next Round: *K2tog, repeat from * to end of round. [23 25, 27, 29, 31) stitches]
Cut yarn and thread tail onto a tapestry needle. Thread tail through remaining stitches. Pull taught and bring tail to inside of hat to weave in.
Finish
Weave in the ends and block as desired.