Using a combo of smooth, refined Burnish and shimmery Mineral Silk, our Mineral Wrap transforms a simple swath of garter stitch into a very special something!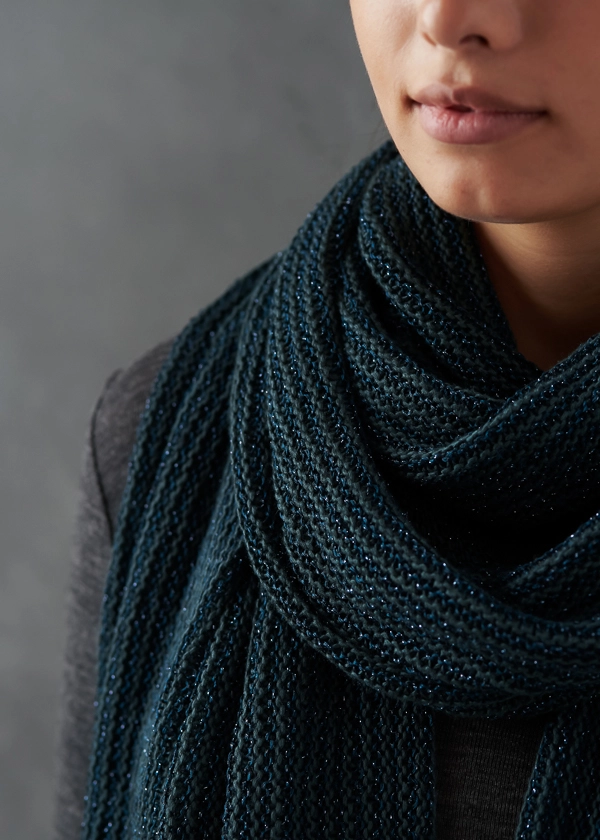 Grounded by the pattern's simplicity, the Mineral Wrap is all about the interplay super pretty fibers. In alternating stripes, the blend of Burnish and Mineral Silk is like a rippling moonlit ocean reflecting a galaxy of stars.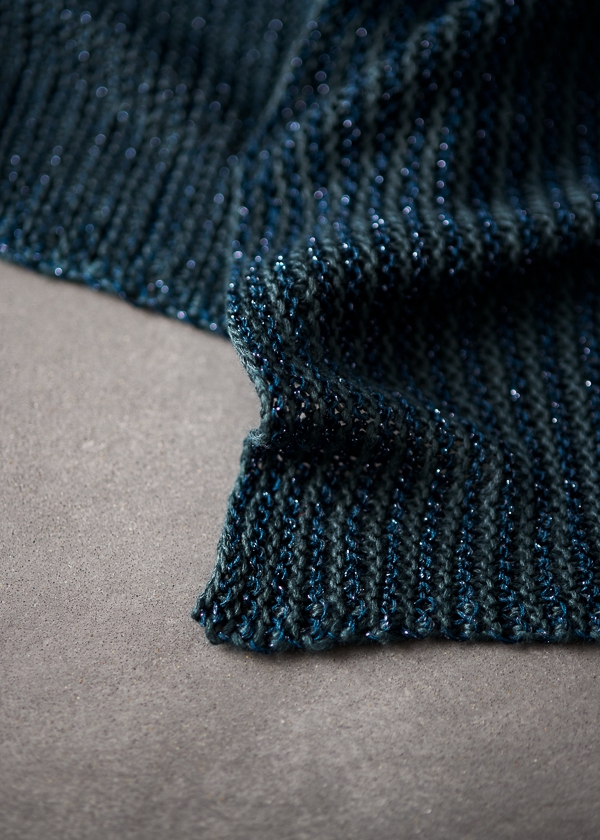 Hard to believe a fabric this soft and comforting is made without wool, but it's true! Burnish is bamboo-based, and Mineral Silk is 75% silk, 25% synthetic sparkle… Wonderful news for people with wool allergies!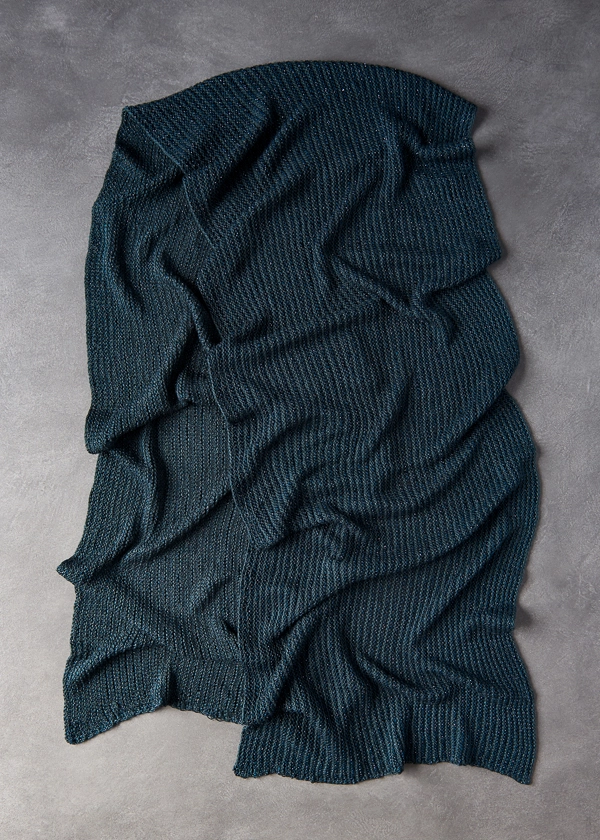 Cast on for this enchanting beauty with any combination of colors, each one a sparkling gem!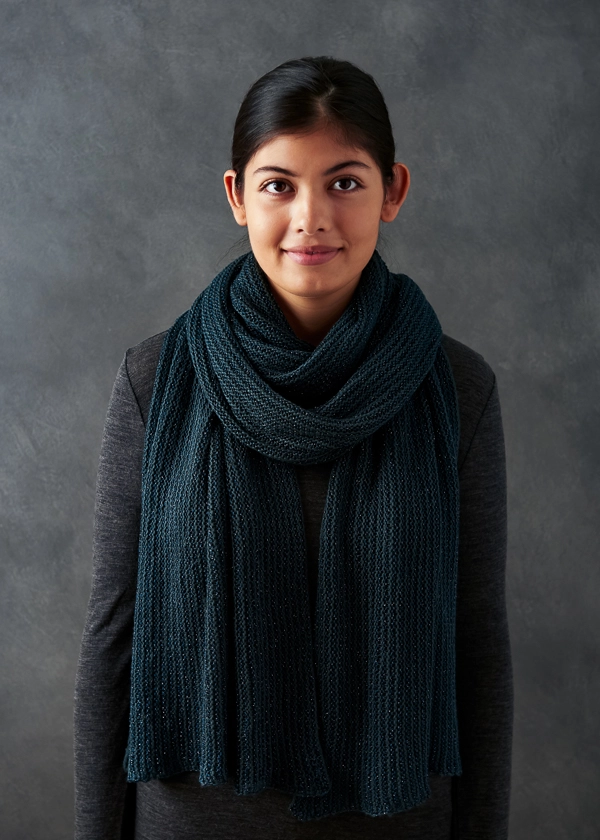 Designed for Purl Soho by Adam Aronowitz.
Share your progress + connect with the community by tagging your pics with #PurlSoho, #PurlSohoBusyHands, #PurlSohoMineralWrap, #PurlSohoBurnish, and #PurlSohoMineralSilk. We can't wait to see what you make!
Materials
To knit your own Mineral Wrap, you will need…
Yarn A: 3 skeins of Purl Soho's Burnish, 100% rayon from bamboo. Each skein is 339 yards/100 grams; approximately 780 yards used. We used Prussian Blue.
Yarn B: 2 skeins of Purl Soho's Mineral Silk, 75% silk and 25% synthetic sparkle. Each skein is 394 yards/50 grams; approximately 780 yards used. We used the color Starry Night.
(NOTE: We no longer offer Burnish or Mineral Silk, but choose from our other fingering/sport weight yarns.)
You will also need…
Gauge
23 stitches and 24 rows = 4 inches in garter stitch
Size
Finished Dimensions: 18 inches wide x 82 inches long
Notes
Construction
You will cast on the length of the wrap and work in pattern to create the width.
Slip Stitches
Slip all stitches purlwise with yarn in front unless pattern indicates otherwise.
Stripes
You will switch between Yarn A and Yarn B every 2 rows. In order to avoid weaving in too many ends, carry the yarn up the selvage of the work.
Pattern
With Yarn A, cast on 468 stitches. NOTE: When casting on so many stitches, we recommend placing a stitch marker (or piece of scrap yarn) every 50 stitches. That way, if (when!) you lose count, you don't have to count from the very beginning of the row. Remove the markers as you work the first row.
Set-Up Row (wrong side): With Yarn A, knit to end of row.
Row 1 (right side): Slip 1 (see Notes), with Yarn B, knit to end of row.
Row 2 (wrong side): Repeat Row 1.
Row 3: Slip 1, with Yarn A, knit to end of row.
Row 4: Repeat Row 3.
Repeat Rows 1-4 until piece measures 18 inches from cast-on edge, ending with Row 2.
With Yarn A, bind off loosely knitwise.
Weave in ends and block gently.