Remember the Robert Frost classic, Stopping by Woods on a Snowy Evening? Our Snow Tracks Scarf reminds us of that poem's lovely mood, the hushed silence of a winter wood and "the sweep of easy wind and downy flake."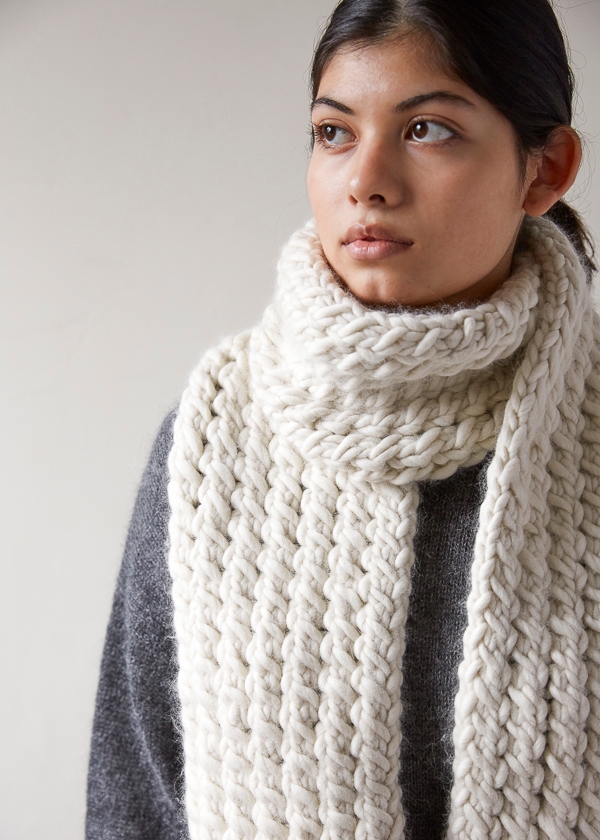 With its animal-track texture and cushion-y depth, this scarf really is like a thick blanket of snow, except that in our Gentle Giant 100% merino wool it's super warm and cozy! We chose Heirloom White for the ultimate in snowiness, but our palette of unusual colors means you can choose from a wide range of moods.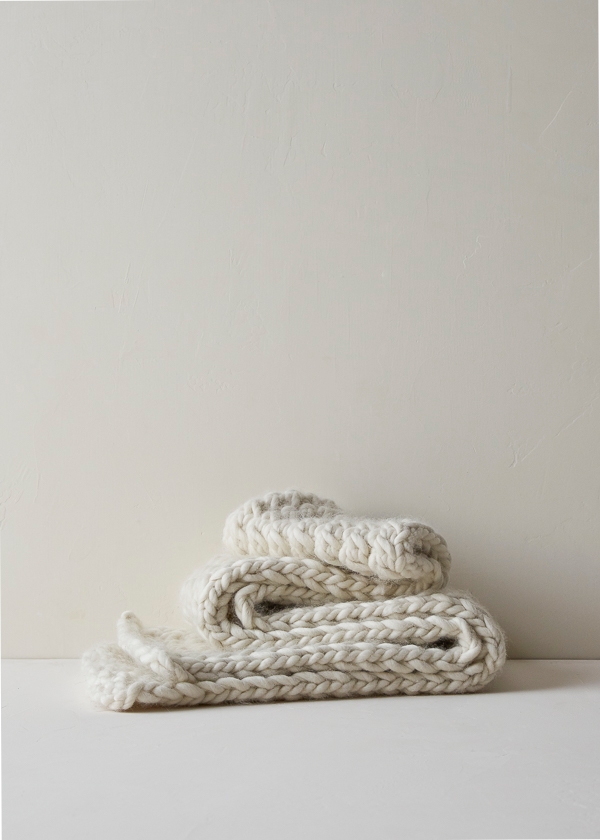 A very simple pattern creates the Snow Tracks Scarf's inimitable texture. A mock cable stitch, there's no fussing around with a cable needle, and our new Elongated Mock Cable Stitch video tutorial shows you just how to do it!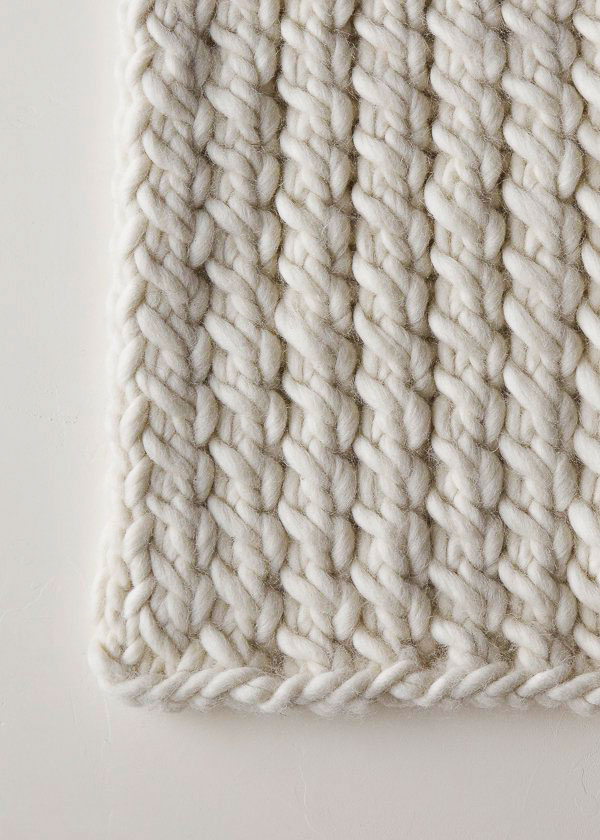 On US 17 needles, you can easily whip up this lovely, long wraparound in time for the next snowstorm… and for a quiet communion with nature!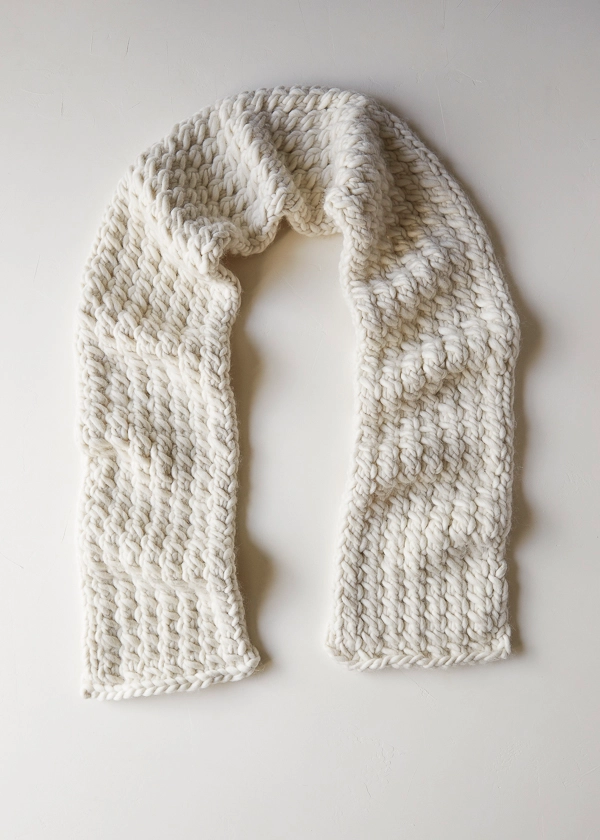 Designed by Purl Soho designer, Jake Canton. Click here to see even more of Jake's designs!
Share your progress and connect with the community by tagging your pics with #PurlSoho, #PurlSohoBusyHands, #PurlSohoSnowTracksScarf, and #PurlSohoGentleGiant. We can't wait to see what you make!
Materials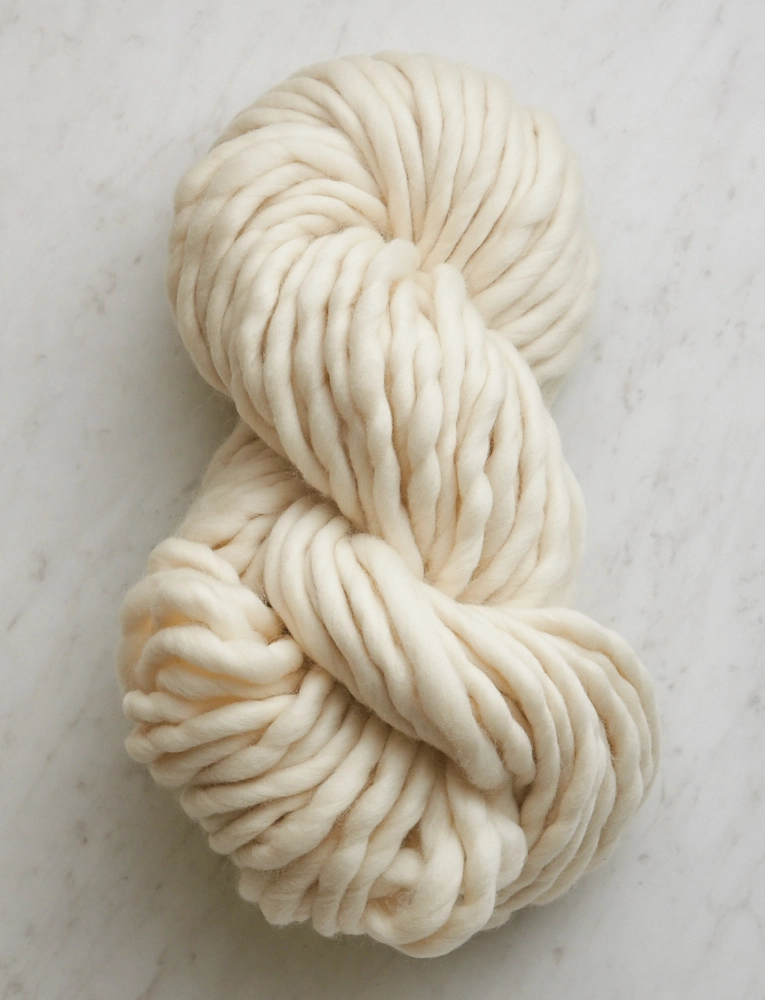 Gauge
8 stitches and 8 rows = 4 inches in Elongated Mock Cable Stitch
Size
Finished Dimensions: 8½ inches wide x 72 inches long
Notes
For a demonstration on how to work this stitch pattern, please watch our Elongated Mock Cable Stitch video tutorial.
Pattern
Using Long Tail Cast On, cast on 18 stitches.
Row 1 (wrong side): Slip 1 knitwise with yarn in front, p3, *yarn over, p2, repeat from * to end of row. [25 stitches]
Row 2 (right side): Slip 1 purlwise with yarn in back, k1, *let yarn over fall off needle, knit second stitch on left-hand needle through the back loop, leaving stitch on needle, knit first stitch on left-hand needle and let both stitches fall off needle, repeat from * to last 2 stitches, k2. [18 stitches]
Repeat Rows 1 and 2 until piece measures about 72 inches from cast-on edge, ending with a right-side row.
Bind off loosely purlwise and weave in ends.