Just because the clock says it's the eleventh hour, doesn't mean you have to put away the needles! Our Eleventh Hour Scarf in Gentle Giant is a project that you can truly knit at the very last minute, and because it's beautiful, you can do so without shame or sheepishness!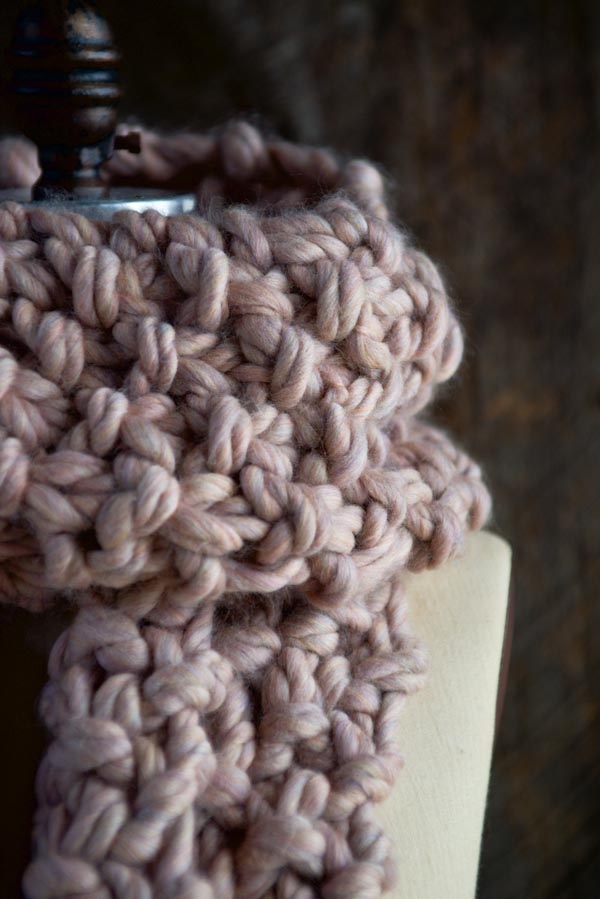 We shared our original Eleventh Hour Scarf seven years ago (!!), and so from the deep archives comes this update to our classic pattern. This version is a little bit wider and longer and uses Purl Soho's incredibly soft and lovely Gentle Giant. Normally a jumbo weight, we used two strands for a super jumbo, super last-minute knit.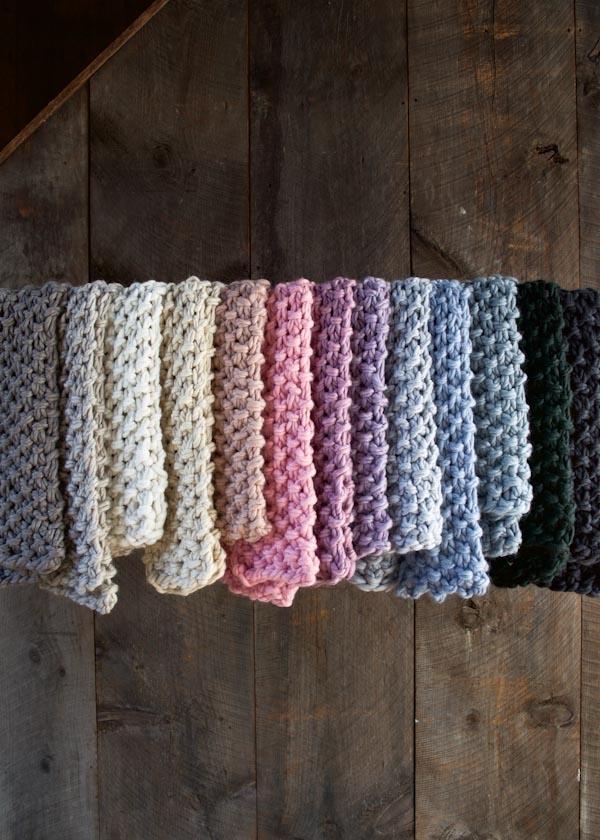 Gentle Giant's palette of pretty heather colors is inspired by winter's landscape: snowy forests, pink morning skies, and slumbering lakes. In any color, this Eleventh Hour Scarf in Gentle Giant fights the winter blues!

Update: New Colors
December 2017
Try mixing two different-color strands of Gentle Giant in our new Eleventh Hour Marled Scarf for a mega seed stitch that is wonderfully modern!
Designed by Purl Soho designer, Whitney Van Nes.
Share your progress and connect with the community by tagging your pics with #PurlSoho, #PurlSohoBusyHands, #PurlSohoEleventhHourScarf, and #PurlSohoGentleGiant. We can't wait to see what you make!
Materials

4 skeins of Purl Soho's Gentle Giant, 100% merino wool. Each skein is 48 yards/ 125 grams; approximately 192 yards required. We used the colors Wolf Brown, Winter Bark, Heirloom White, White Peppercorn, Calico Pink, Pink Sky, Silver Berry, Purple Lupine, Pigeon Gray, Weathered Blue, Elephant Gray, Poseidon Green, and Graphite Gray.
US 50 (25mm), straight or circular needles
Gauge
Several of us knit up these scarves, and when we brought our finished work together, we were quickly reminded of the nuances of hand knitting. With such thick yarn on such large needles, an individual's knitting tension gets magnified quite a bit. And when the next needle size down is so much smaller and the next needle size up is so much larger, you get what you get! The samples pictured here show the range of gauge you can expect to achieve when you make your own Eleventh Hour Scarf in Gentle Giant.
On the left…
3 1/2 stitches = 4 inches in stitch pattern with yarn doubled
On the right…
4 1/2 stitches = 4 inches in stitch pattern with yarn doubled

Size
These gauge differences of course affect the finished dimensions. If your gauge is closer to the scarf on the left your finished pieces will measure approximately…
8 inches wide x 82 inches long
If your gauge is closer to the scarf on the right, your finished piece will measure approximately…
6 inches wide x 78 inches long
Note
The yarn is doubled throughout this pattern.
Pattern
With two strands of yarn, cast on 7 stitches. We used a basic Long Tail Cast On.
Row 1: *K1, p1, repeat from * to last stitch, k1.
Repeat Row 1 for every row.
Bind off loosely in pattern.
Weave in the ends. We found it neater and easier to weave each strand in separately, rather than keeping the ends doubled.