Purl Soho has a tradition at this time of year that involves warm and tasty treats from the kitchen. From meringues to marshmallows, the week before Christmas we post our favorite holiday recipe, knowing that home-cooked food is truly the last last-minute gift! This year we're very happy to share a recipe from our favorite place for cooking inspiration, Food52.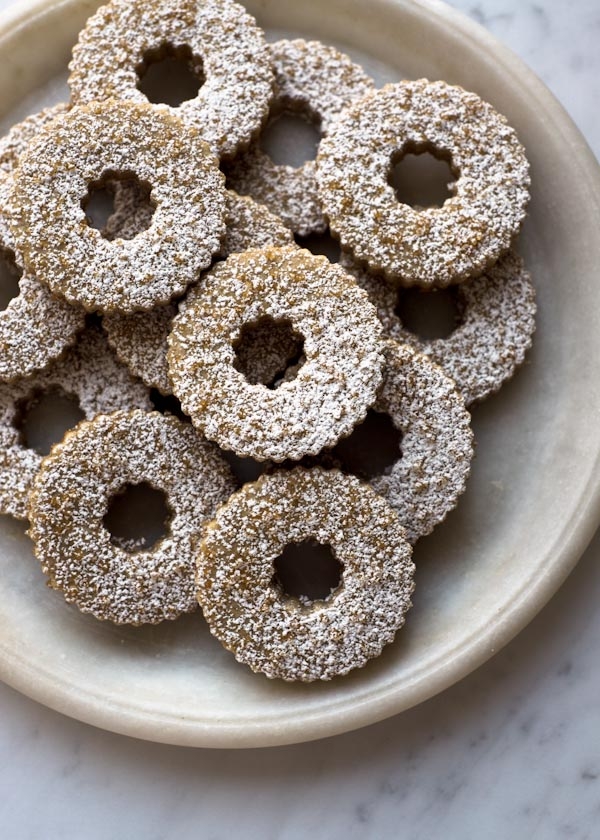 These beautiful Swedish Rye Cookies are a Community Pick on Food52 and come from Heidi Swanson's popular recipe journal, 101cookbooks.com. Rye flour and a butter-cream cheese combination give these cookies a slightly savory kick, and a dusting of powdered sugar give them a wintry touch. On a plate for guests (including the one who arrives by sleigh!) or in a box as a gift, we think these cookies are just right for right now!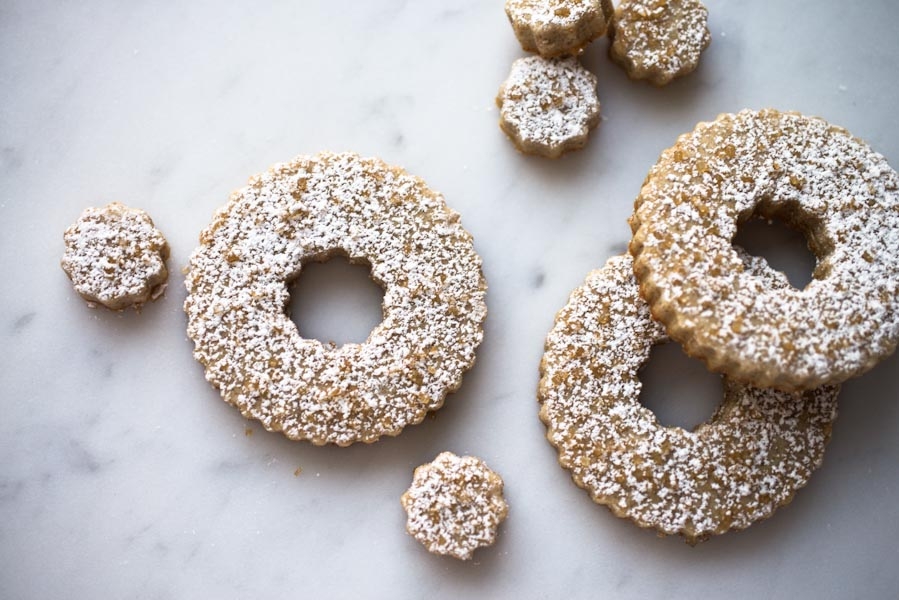 Ingredients
1 cup rye flour
1 cup whole-wheat pastry flour
1/2 teaspoon fine-grain sea salt
1/2 cup cream cheese, room temperature
1/2 cup unsalted butter, room temperature
1/2 cup fine-grain natural cane sugar, sifted
Large-grain sugar for sprinkling
Organic powdered sugar for snow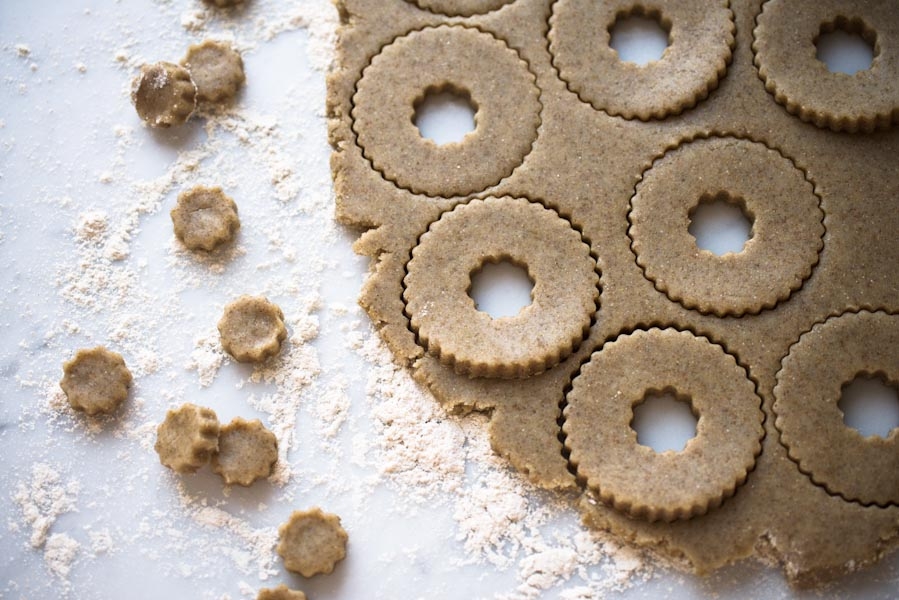 Recipe
1. Line a couple baking sheets with parchment paper.
2. In a medium-sized bowl combine the flours and salt. Set aside. In an electric mixer (or by hand) beat the cream cheese until light and fluffy, add the butter, and mix until the two are well combined. Beat in the sugar and mix until well incorporated. Add the flour mixture to the butter mixture and stir only long enough to combine the two. The dough should no longer be dusty looking. Turn the dough out onto the counter, knead once or twice to bring it together, shape into a ball, flatten, wrap in plastic, and chill it in a refrigerator.
3. Heat your oven to 350° F degrees, and arrange the racks in the top and bottom thirds. When you are ready to roll out your cookies do so on a lightly floured work surface. Roll the dough out to 1/4-inch thickness, and cut into shapes with the cookie cutter of your choice. Place on the prepared baking sheets an inch apart, and sprinkle each cookie with a bit of large-grain sugar. Bake for six or seven minutes, just until cookies are fragrant, and getting a bit golden at the edges—avoid over-baking or they will come out on the dry side. Allow to cool, and dust cookies with a bit of powdered sugar.
Purl Soho's Notes
For our version of these cookies, we used a 2 1/2-inch biscuit cutter for the outer edge of the cookie and a 1-inch biscuit cutter for the inside ring.
We used Turbinado Raw Cane Sugar for sprinkling on top.
The recipe calls for 6-7 minutes baking time or until golden brown, but we had to bake ours for 15 minutes to get them to brown, and we were happy with the taste!
The recipe yielded approximately 20 large cookies, plus the same number of little cookies from the inside cutouts.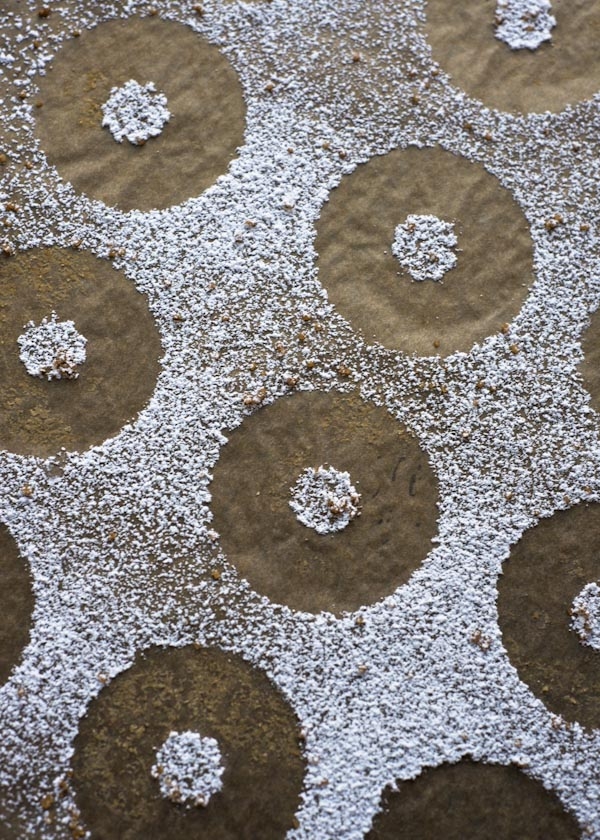 Lovely, seasonal, and very yummy, your friends and family will thank you for these Swedish Rye Cookies! Happy holidays!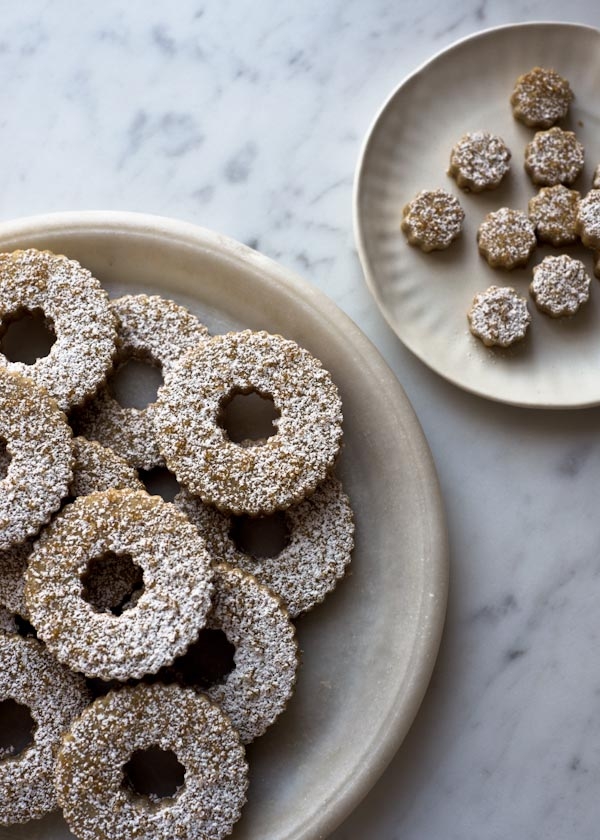 P.S. The inside cookie cutouts are pictured here on Food52's pretty little 5-inch Porcelain Paper Plate, which can buy right here!