Our budding collection of Purl Soho yarn is growing… Introducing our latest inspiration, Worsted Twist! Worsted Twist pays homage to a classic 2-ply farm yarn with its straightforward earthiness and deep sophistication. Spun in one hundred percent of the softest merino wool you can imagine, our newest yarn is so fresh and simple that all of our fall ideas start here!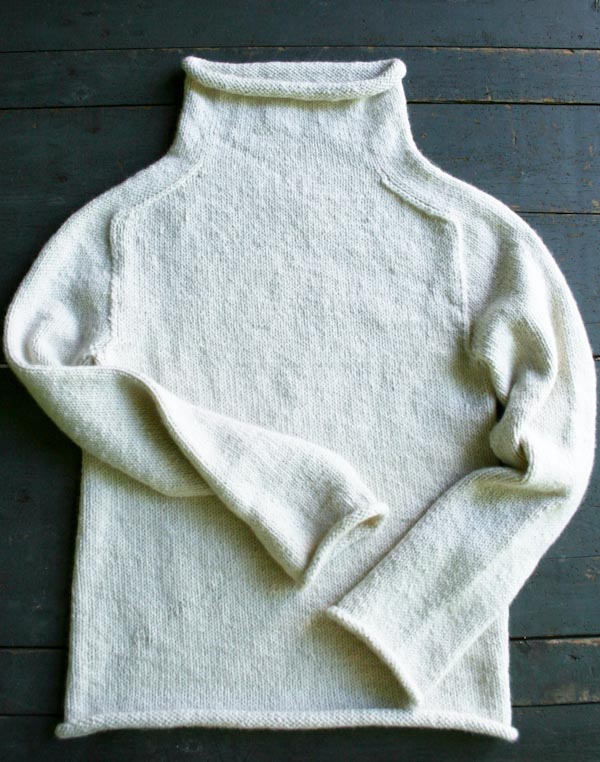 Its smooth finish makes Worsted Twist a fabulous choice for interesting stitch patterns, and its amazing softness makes it just right for everything that you wear close: cowls, scarves, hats, mittens, sweaters, and blankets. Choose from a palette of moody blues and evocative neutrals, animated by pops of our favorite brights.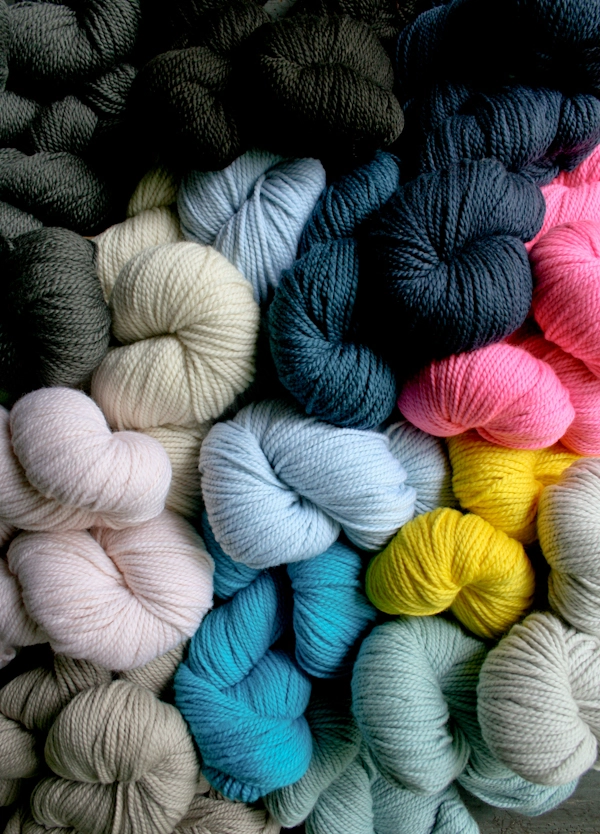 Worsted Twist's timeless look and toasty touch reminded us immediately of our favorite sweater from college. Remember it? The one that kept you cozy at bonfires and football games, on autumn walks and winter adventures? The Purl Soho Pullover is that sweater… only better: classic, comfy and totally beautiful!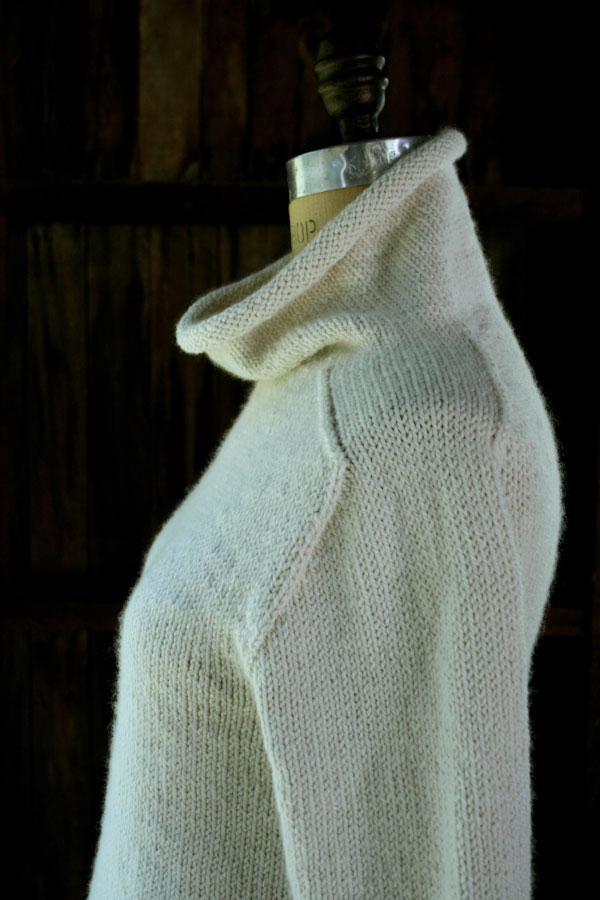 With ingenious shoulder shaping and simple design details, the Purl Soho Pullover is a super fun and quick knit. Joelle actually whipped up the prototype in one trans-Atlantic flight! It is knit in one easy piece and is sized for everyone with sizes Child's 2 (4, 6, 8, 10, 12/Women's XS, S, M, L/Men's S, Women's 1XL/Men's M, Women's 2XL/Men's L).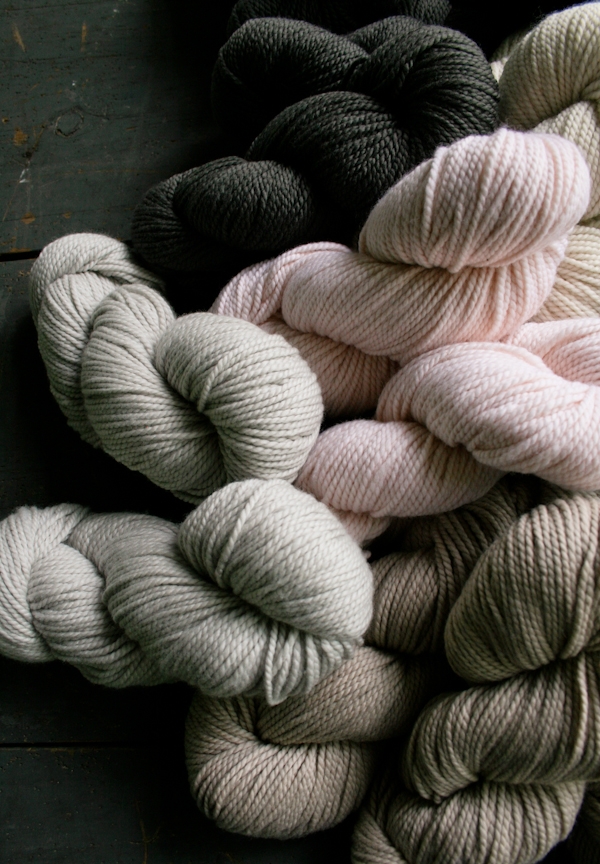 Pick up the Purl Soho Pullover pattern and get ready for autumn's first frost! And browse our whole gorgeous collection of Worsted Twist. From gentle Sea Salt and Ballet Pink to rich Peacock Blue and Dark Loam, we can't wait to find out your favorites!
Designed by Purl Soho founder and co-owner, Joelle Hoverson.
Share your progress and connect with the community by tagging your pics with #PurlSoho, #PurlSohoBusyHands, #PurlSohoPullover, and #PurlSohoWorstedTwist. We can't wait to see what you make!
Materials
In addition to a Purl Soho Pullover pattern, you'll need…
3 (4, 4, 5, 5, 6, 7, 8, 9, 9, 10) skeins for Purl Soho's Worsted Twist, 100% Merino Wool. Each skein is 164 yards/ 100 grams; approximately

492 (656, 656, 820, 820, 984, 1148, 1312, 1212, 1476, 1640) yards required.

(NOTE: We no longer offer Worsted Twist, but choose from one of our other worsted/aran weight

 yarns.)

A US size 8 (5 mm), 20-inch to 32-inch circular needle  for body of sweater
A US size 8, 16-inch circular needle for neck of sweater
A set of US 8, double pointed needles or 12-inch circular needle for sleeves
A US 7 (4.5 mm), 16-inch circular needle for neck of sweater
Removable stitch markers (including 1 in contrasting color)
Stitch holders of scrap yarn
Gauge
4¼ stitches = 1 inch in stockinette stitch, using larger needle
Sizes
NOTE For help picking a size, please check out our Understanding Ease + Selecting Size Tutorial!
Child's 2 (4, 6, 8, 10, 12/Woman's XSmall, Woman's Small, Woman's Medium, Woman's Large/Man's Small, Woman's 1X-Large/Men's Medium, Woman's 2X-Large/Man's Large)
Finished Chest Circumference: 20¼

(22, 24, 26¼

, 28¼

, 30, 32, 36¼

, 40, 44¼

, 48) inches

Finished Length from Shoulder to Bottom Edge: 16½

(17

½

, 19, 20, 21

½

, 22

½

, 26, 26, 28, 28

½

, 28

½

) inches

Finished Length from Underarm to Bottom Edge: 10¾

(10¾

, 12, 12¾

, 14¼

, 14

¾

, 17

½

, 16

¾

, 18

½

, 18

½

, 17) inches
Pattern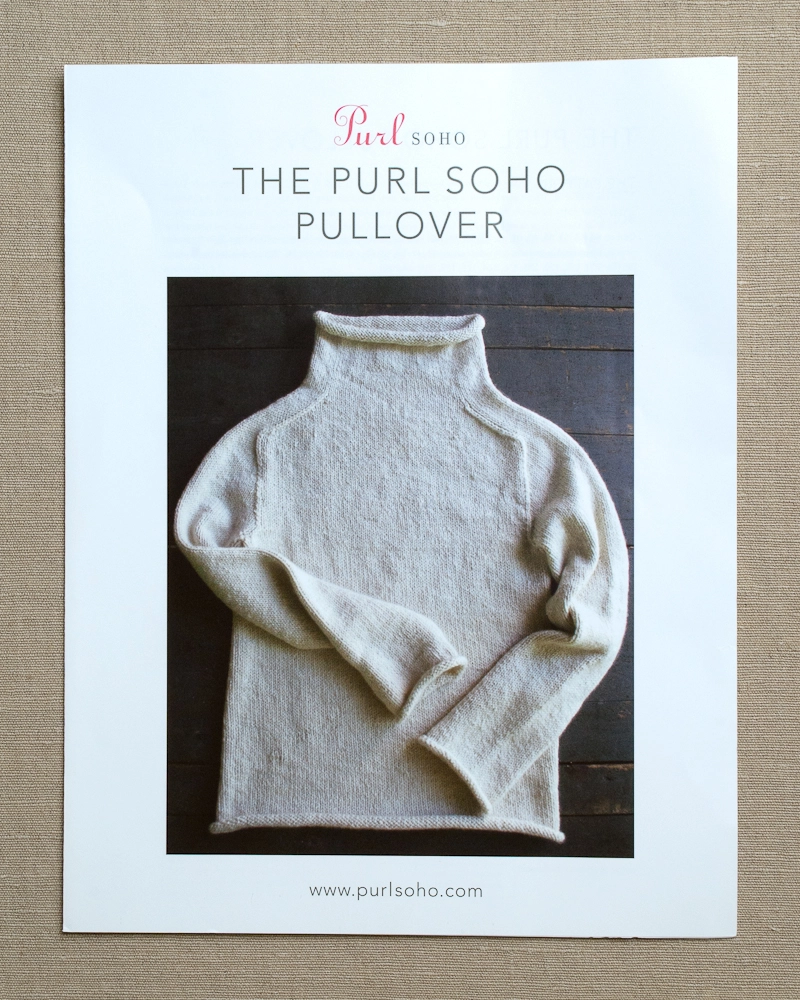 The Purl Soho Pullover pattern is available as a PDF download!
Update: New Yarn
March 2014
The Purl Soho Pullover is also beautiful in our gorgeous Alpaca Pure yarn! Alpaca Pure knits up at the same gauge as our Worsted Twist, but its unique qualities create a significantly different sweater. Alpaca, with its long fibers, is slightly downier than merino. It is also heavier and denser than merino, which means a super cozy Pullover with a drape like a warm waterfall. But a little goes a long way. For a child, the weight of an Alpaca Pure sweater feels snug and comfy, but for adults it might be a little much (stick with the Worsted Twist!).
Update: 2017
September 2017
Now with better sizing, clearer instructions, and fresh graphics, the Purl Soho Pullover remains an enduring classic… Only better! Like the original, we knit up this adult version in our Worsted Twist, now in warm and toasty Wheat Flour.
UPDATE: NOW IN PLENTY
MARCH 2022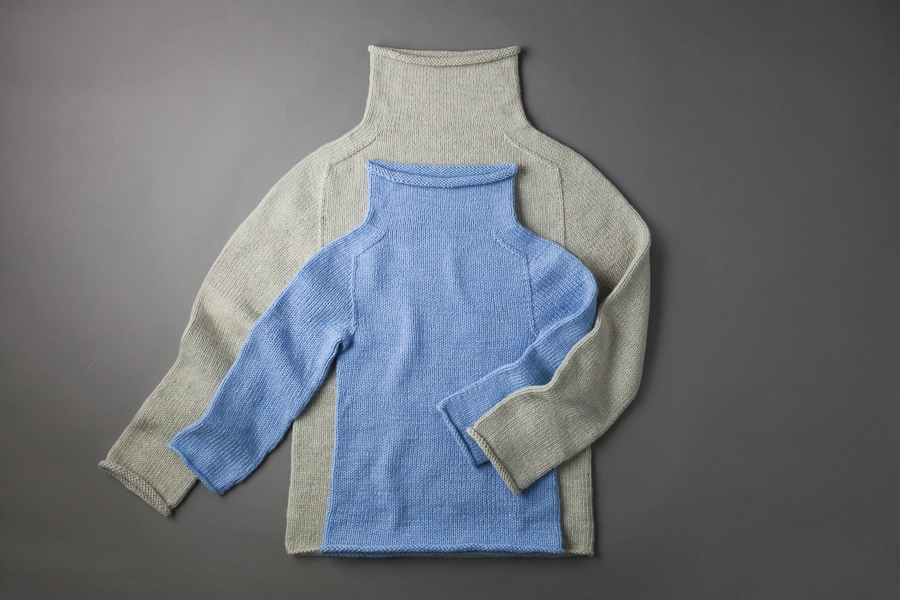 We're returning to this classic Purl Soho pattern in order to offer more adult sizes and because we couldn't resist knitting it up in our super-duper soft Plenty. One hundred percent extra fine merino with a distinctive spin and very lively bounce, Plenty knits up into a plump, smooth fabric, just perfect for this essential sweater!