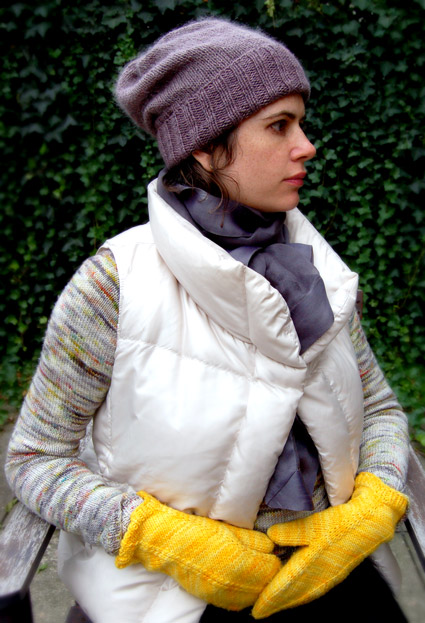 For this hat, I wanted to use the most luxurious fibers I could get my hands on and to let the yarn speak for itself by keeping the shape casual and the design simple. Jade Sapphire's 2 Ply Cashmere Silk answered the call. Doubled for the cuff and combined with a laceweight mohair (Rowan's Kid Silk Haze or Alchemy's Haiku) for the crown, the Cashmere Silk is one of Purl's gems. It is unbelievably soft and supple; it's beautifully hand dyed; its materials are of unparalleled quality; and it's surprisingly affordable. Whenever I knit with it, I spend as much time admiring what I've knit as I do actually knitting!
If you've never knit a hat before, this is a wonderful place to start. You will learn to knit in the round (with circular needles), but can delay the dreaded double pointed needles because they're not necessary for this pattern. Even if you've knit hundreds of hats, this may be welcome news!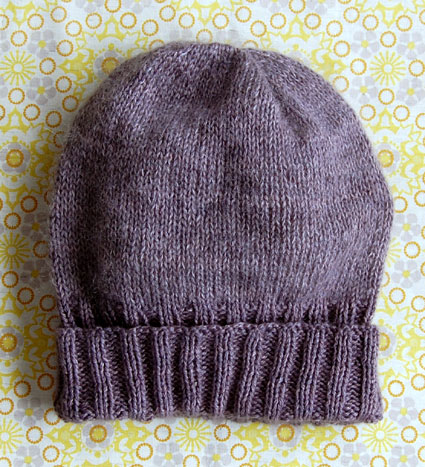 To get started, please visit keep on reading. If the yellow mittens are catching your eye, check out last March's EZ's Mitts entry – it's a great time of year to be thinking about mittens! -Whitney
Update: A New Simple Pleasures Hat
AUGUST 2012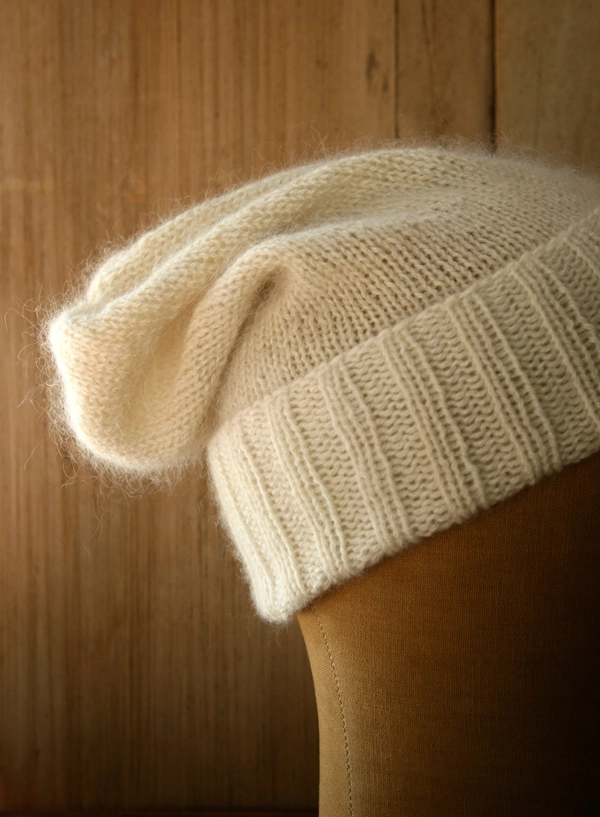 Over the years, thanks to the feedback of our wonderful readers, we found that dropping down a couple of needle sizes is a good idea. Cashmere blooms quite a bit with wear, so at first, the 14 1/2-inch circumference may seem a bit small, but after a wear or two, it will feel just right! For more information on the New Simple Pleasures Hat, click here.
Update: Our Newest Simple Pleasures Hat
February 14, 2020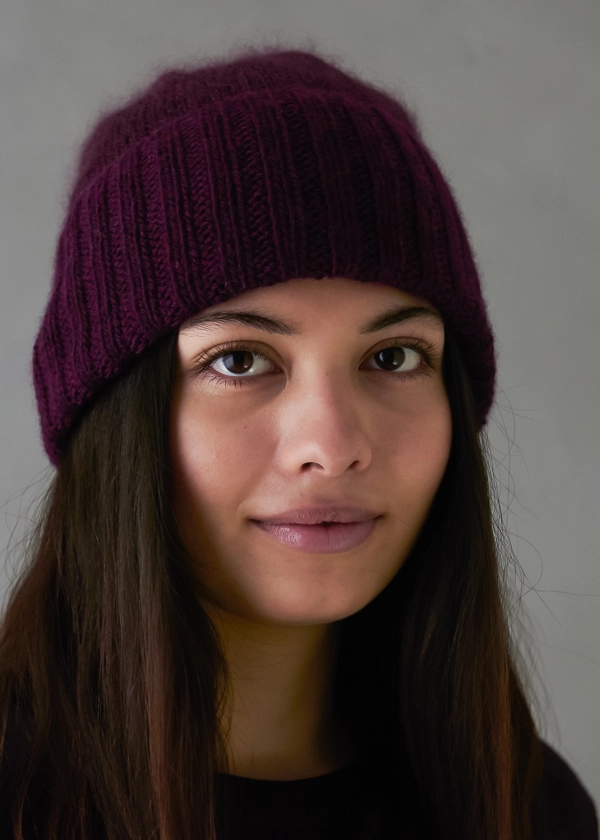 Our Simple Pleasures Hat is surely simple and definitely a pleasure. Super soft, slightly slouchy, and 100% lovely, it's one of our favorite hats around! Now knit at a slightly different gauge using our Line Weight and Tussock, this beloved Purl Soho classic is back and better than ever! View the updated pattern here!
Designed by Purl Soho designer, Whitney Van Nes.
Share your progress and connect with the community by tagging your pics with #PurlSoho, #PurlSohoBusyHands, and #PurlSohoSimplePleasuresHat. We can't wait to see what you make!
Materials

1 ball of Rowan's Kid Silk Haze, 70% super kid mohair, 30% silk (This color is "Majestic", #589.) (For more color options, consider Alchemy's Haiku mohair/silk blend. The equivalent gauge of Kid Silk Haze, it's a beautifully hand dyed alternative.)

1 skein of Jade Sapphire's 2 Ply Cashmere-Silk, 45% cashmere, 55% silk. This is color is "Tea Leaves". (NOTE: We no longer offer Jade Sapphire's 2-Ply Cashmere, but choose from one of our other fingering weight yarns.)
A US 8 (5 mm), 16-inch circular needle
A US 9 (5.5 mm), 16-inch circular needle
Gauge
4.75 stitches = 1 inch in stockinette stitch, using the larger needle and 1 strand of cashmere silk and 1 strand of mohair
Size
18 inches in circumference, unstretched. To fit an average woman's head.
Notes
For this pattern, I call the Cashmere Silk "Yarn A". (It is doubled for the cuff.) I call the Mohair "Yarn B". (For the crown, one strand of Yarn A is combined with with one strand of Yarn B.)
To double Yarn A, either wind the skein into two balls and pull one strand from each ball. Or, wind a center-pull ball (by hand or, more easily, on a swift) and pull one strand from the inside of the ball and one from the outside.
Pattern
Cuff
Using 2 strands of Yarn A, cast 92 stitches onto the smaller needle. We used a basic Long Tail Cast On.
Join for working in the round, being careful to not twist the stitches. Place marker to indicate the end of the round.
Round 1: *K2, p2, repeat from * to end of round.
Repeat Round 1 until the piece measures 6 inches from the cast on edge.

Crown
Cut one of the strands of Yarn A and add one strand of Yarn B (so that you're knitting with one strand of A and one strand of B).
Change to the larger needle, and knit every round until the crown measures 7 inches from the top edge of the cuff.

Next Round: *K2, k2tog, repeat from * to end of round. (69 stitches)
Knit 2 rounds.
Next Round: *K1, k2tog, repeat from * to end of round. (46 stitches)
Knit 2 rounds.
Next Round: *K2tog, repeat from * to end of round. (23 stitches) (This round will be a little tight on the circular needle. Feel free to switch to double pointed needles if you want, but I didn't find it necessary.)
Finish
Cut a 12 inch tail and thread it onto a tapestry needle.
Thread the tail through the remaining 23 stitches.

Remove the circular needle and pull the tail tight. Thread the tail through the center top to the inside of the hat.
Weave in all the tails. (Remember to weave in the cast on tail on the right side because the cuff will be worn folded up.)The hat looks a little funny…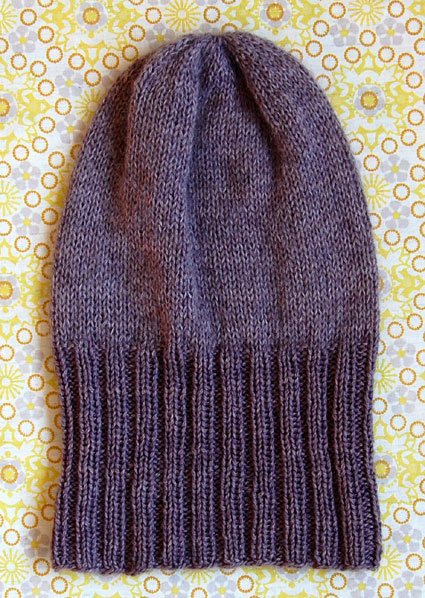 …but starts to look a little less funny when you fold the cuff…

…and then looks totally cute when you put it on!