Maybe you've seen some pretty spectacular looking knits, discovered that they were in brioche stitch, and then thought, "Oh well, too hard for me." Not so!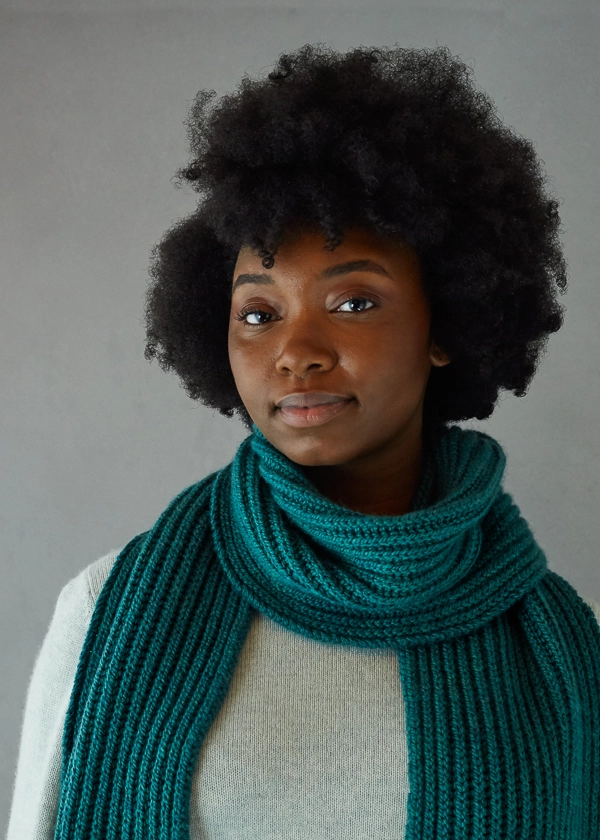 Dip your toe into this not-as-scary-as-you-think technique with our straightforward Brioche Scarf, and find out how lofty, squishy, beautiful… and easy the brioche stitch really is. And no fear, our One-Color Brioche Stitch Tutorial will hold your hand the entire way!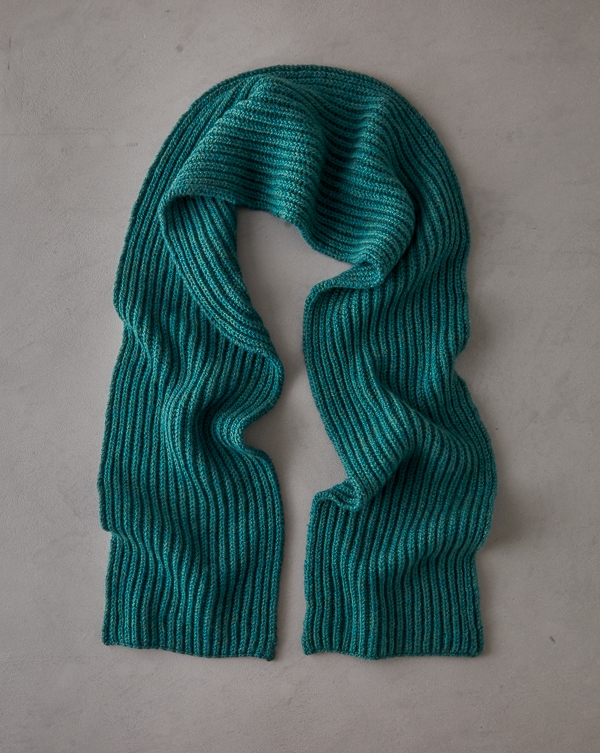 For a particularly cozy Brioche Scarf, we used our 100% merino Worsted Twist. Not only is it next-to-your-neck soft, but its crisp stitch definition rewards your efforts with the steep valleys and ridges that make brioche stitch so striking.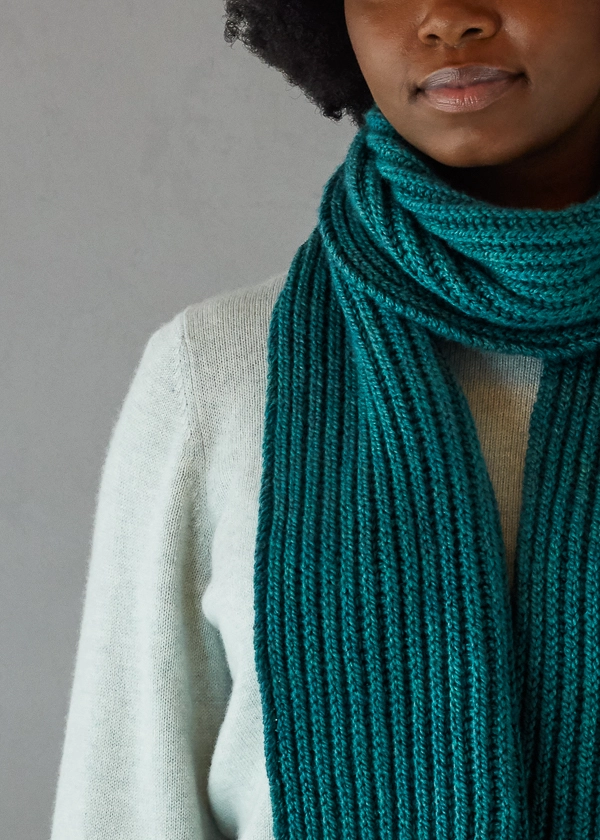 With over two dozen colors to choose from, we landed on this beautiful Reef Green. A gentle green with a blue cast, it puts us in warm waters and dreamy locations. Whatever color you choose, pick up four skeins for a scarf (shown here) or six for a wrap, and learn to love brioche!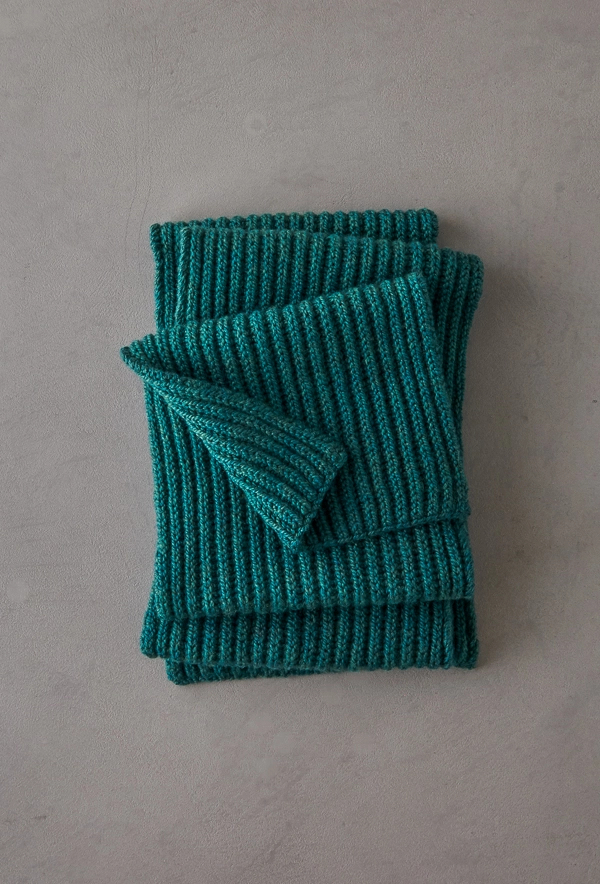 Designed by Purl Soho designer, Jake Canton. Click here to see even more of Jake's designs!
Share your progress + connect with the community by tagging your pics with #PurlSoho, #PurlSohoBusyHands, #PurlSohoBriocheScarf, and #PurlSohoWorstedTwist. We can't wait to see what you make!
Materials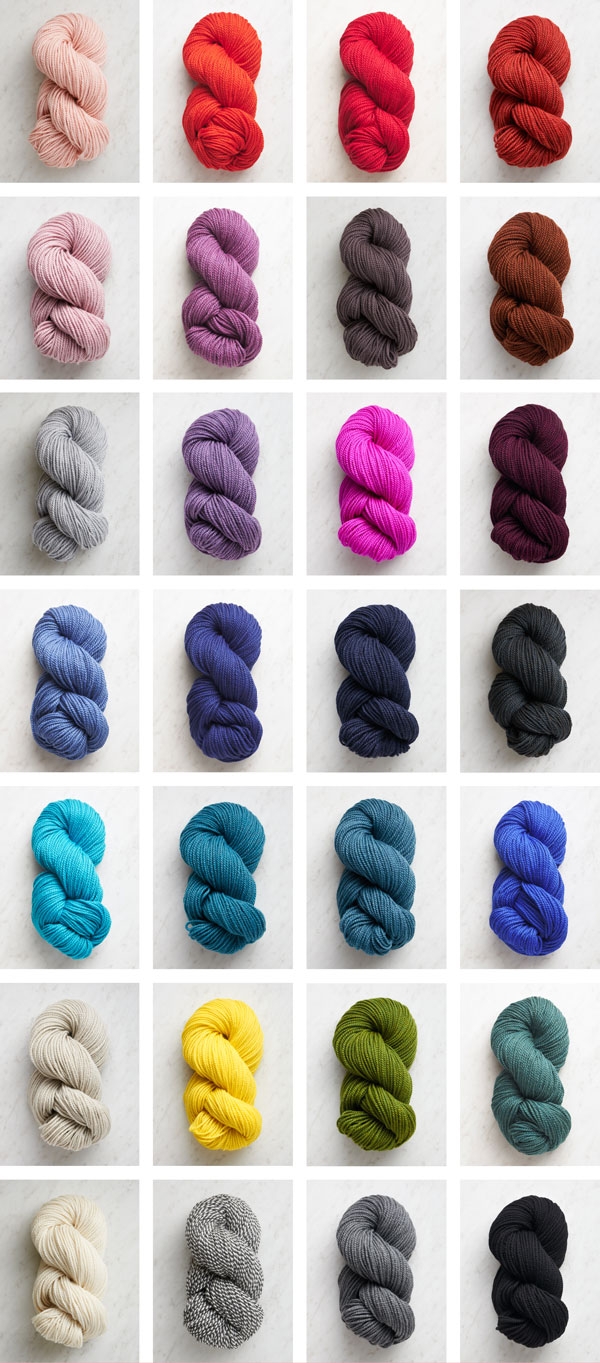 4 (6) skeins of Purl Soho's Worsted Twist, 100% merino wool. Each skein is 164 yards/ 100 grams; approximately 656 (984) yards required. We used the color Reef Green. (NOTE: We no longer offer Worsted Twist, but choose from one of our other worsted/aran weight yarns.)
US 7 (4.5 mm) straight or 24-inch circular needles
Gauge
15 stitches and 40 rows = 4 inches in stitch pattern
18 stitches and 28 rows = 4 inches in stockinette stitch
Sizes
Scarf (Wrap)
Finished Dimensions: 10½ (16) inches wide x 70 inches long
SAMPLE: We knit the scarf size.
Notes
Stitch Multiple
This stitch pattern works over an even multiple of stitches.
Brioche Abbreviations
YOS [yarn over slip]: Bring yarn forward, slip 1 purlwise, bring yarn over right needle.
Bk2tog (brioche knit 2 together): Knit the next stitch together with its paired yarn over.
For tips on working Brioche Stitch, please visit our Brioche Stitch Tutorial!
Pattern
Cast on 40 (60) stitches. We used a basic Long Tail Cast On.
Set-Up Row (wrong side): *K1, YOS (see Notes), repeat to last 2 stitches, k2.
Row 1: K1, *YOS, bk2tog (see Notes), repeat from * to last stitch, k1.
Repeat Row 1 until piece measures 70 inches from cast-on edge.
Bind-Off Row (right side): K1, *p1, pass first stitch over, k1, pass first stitch over, repeat from * to last stitch, p1, pass first stitch over.
Weave in ends and gently wet block.