Our elfin sweet High Point Hat is a take on the classic night cap, but this one isn't just for dreaming. Wear it anytime, anywhere: raking leaves, hiking mountains, going to the deli, or, fine, wear it to bed, too!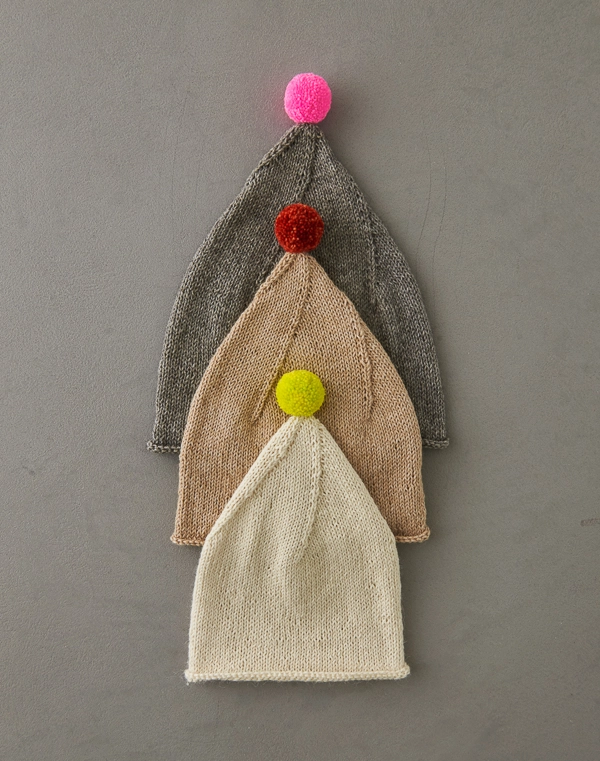 Gradual decreases create a gentle tapering that culminates in a pom pom pop of color. An adorable little light bulb, the pom pom also weighs down the summit of the hat into a perfectly nonchalant slouch.
For the hat itself we used our lovely Sweetgrass, a blend of 65% organic cotton and 35% superfine alpaca. Wonderfully soft and slightly understated, all six colors are undyed shades, just how nature grew them.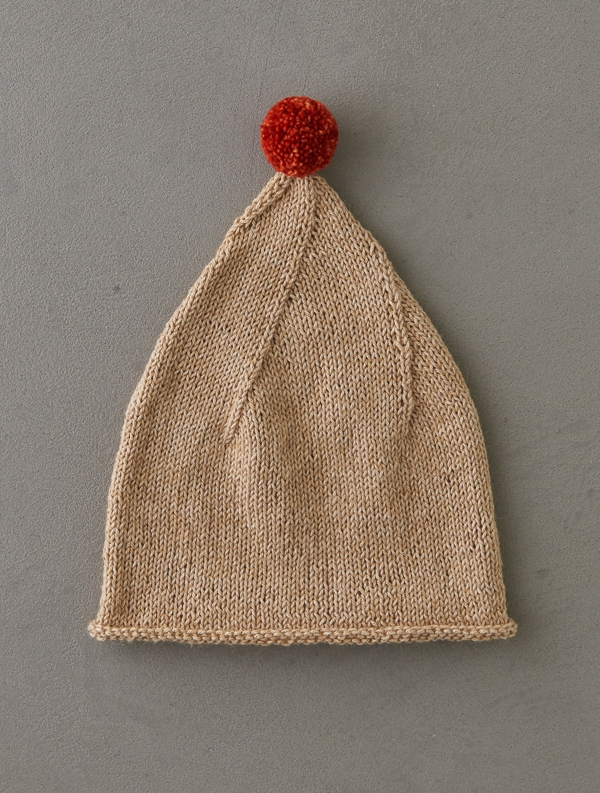 And the pom pom? Just a skein of hand-dyed Posy, a totally enchanting hat topper… Day or night!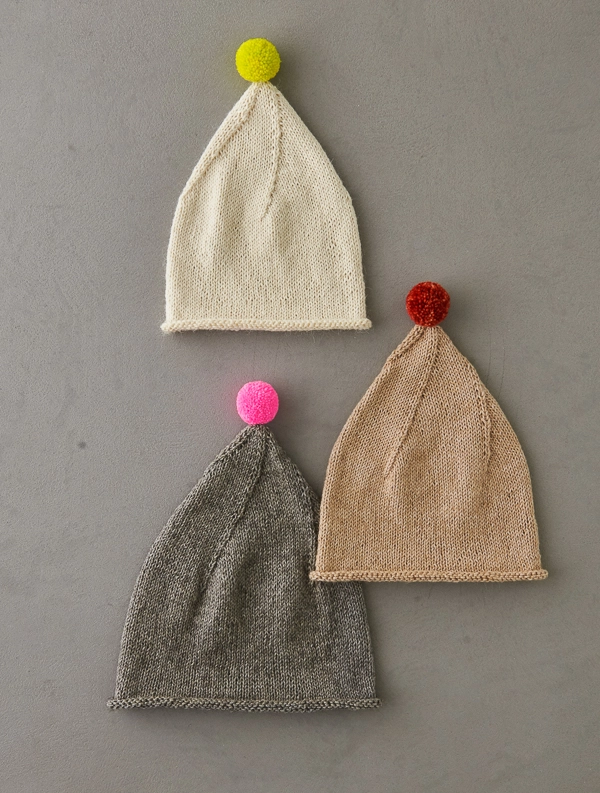 Designed by Purl Soho designer, Jake Canton. Click here to see even more of Jake's designs!
Share your progress + connect with the community by tagging your pics with #PurlSoho, #PurlSohoBusyHands, #PurlSohoHighPointHat, #PurlSohoSweetgrass, and #PurlSohoPosy. We can't wait to see what you make!
Materials
Main Color (MC): 1 skein of Purl Soho's Sweetgrass, 65% organic cotton and 35% superfine alpaca. Each skein is 437 yards/ 100 grams; approximately 85 (105, 125, 155, 185, 220) yards required. We used the colors Heirloom White, Buckwheat Beige, and Beech Bark.
Contrast Color (CC): 1 skein of Purl Soho's Posy, 75% superwash merino, 15% cashmere, and 10% nylon. Each skein is 159 yards/ 50 grams; approximately 20 yards required. We used the colors Sour Gooseberry, Maple Wood, and Azalea Glow. (NOTE: We no longer offer Posy, but choose from one of our other fingering weight yarns.)
NOTE: For the Pom Pom, our 25-gram skeins of Pocket Posy would also work great! You'll need just 1 skein.
You'll also need…
Gauge
25 stitches and 38 rounds = 4 inches in stockinette stitch
Size
Newborn-6 Months (6-12 Months, 12-24 Months, Kid, Adult Small, Adult Large)
Finished Circumference: 13½ (15¼, 17¼, 19¼, 21, 23) inches
Finished Height: 8 (8¾, 9½, 10¾, 11¾, 12¾) inches with edge unrolled (edge will roll approximately ½ inch)
Our samples are the Newborn-6 Months, 6-12 Months, and 12-24 Months sizes.
Pattern
Body
With Main Color (MC), use a basic Long Tail Cast On to cast 84 (96, 108, 120, 132, 144) stitches evenly onto 4 double pointed needles for Newborn-12 Month sizes or 16-inch circular needles for all other sizes.
Place unique marker and join for working in the round, being careful not to twist the stitches.
Knit every round until piece measures 4 (4, 4¼, 4¾, 5¼, 5½) inches from cast-on edge, with edge unrolled.
Crown
Change to double pointed needles, if necessary, and distribute 21 (24, 27, 30, 33, 36) stitches onto each of 4 needles.
Round 1: [Knit to last 2 stitches on needle, k2tog] 4 times. [4 stitches decreased]
Round 2: Knit to end of round.
Repeat Rounds 1 and 2 eighteen (21, 24, 27, 30, 33) more times, ending with Round 1. [8 stitches remain; 2 stitches on each needle]
Next Round: *K2tog, repeat from * to end of round. [4 stitches remain; 1 stitch on each needle]
Cut yarn, leaving an 8-inch tail. Thread tail on tapestry needle and draw through remaining stitches twice. Pull tight and bring needle to inside of hat.
Weave in the ends and wet block before attaching the pom pom.
Pom Pom
With the Contrast Color, make a 1-inch pom pom. If you're using Purl Soho's Pom Pom Maker Set, use the Small Pom Pom Maker and the 1-inch Trim Guide. Follow along with our Pom Pom Tutorial for all the how-tos!
Attach Pom Pom
Thread each pom pom tail separately through the top of the crown to the inside of the hat. Tie the tails into a knot, then thread the tails up through the pom pom itself and trim them flush with the pom pom. All done!