Although people like to say you can't have your cake and eat it too, in this case, you can. Our No-Purl Rib Hand Towel is for those of us who love a rib but don't have fond feelings for purling… And let's face it, that's most of us!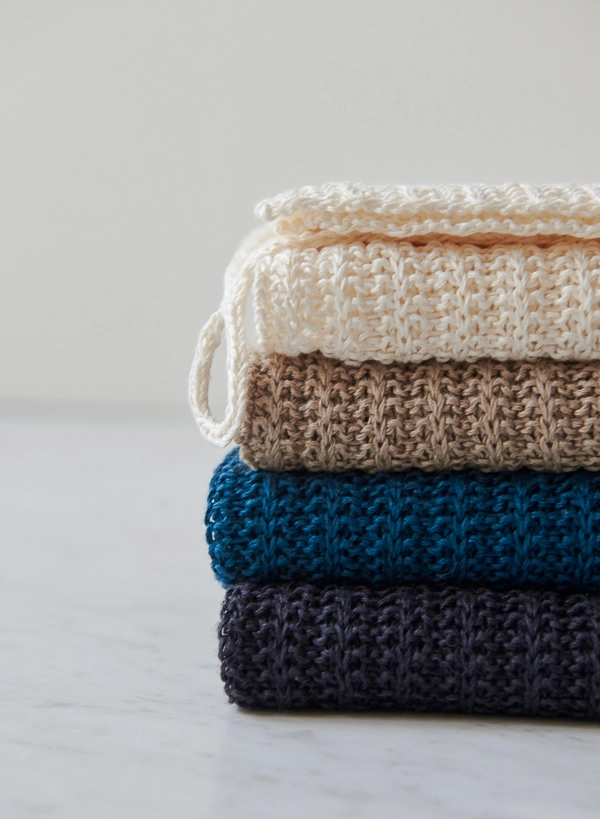 Our No-Purl Rib Hand Towel simulates the ridges and valleys of true ribbing but, instead of knits and purls, requires just knits and slips. Still lofty and cushy, squishy and ribby, just easier!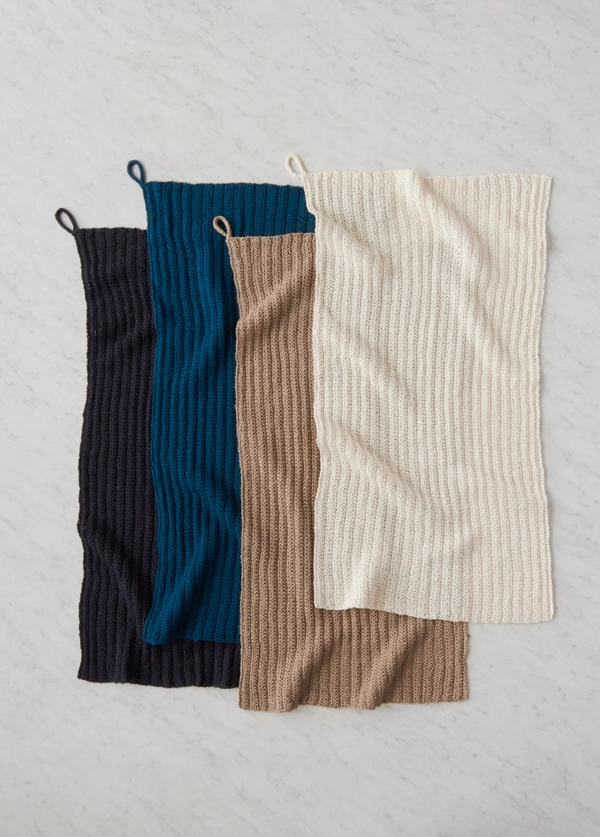 This knit is simple but also special in our beautifully refined Field Linen. One hundred percent linen, it has an untouched beauty that evokes a time when flax was turned into linen by hand. It is also a practical choice for hard-working knits, unflagging and machine washable.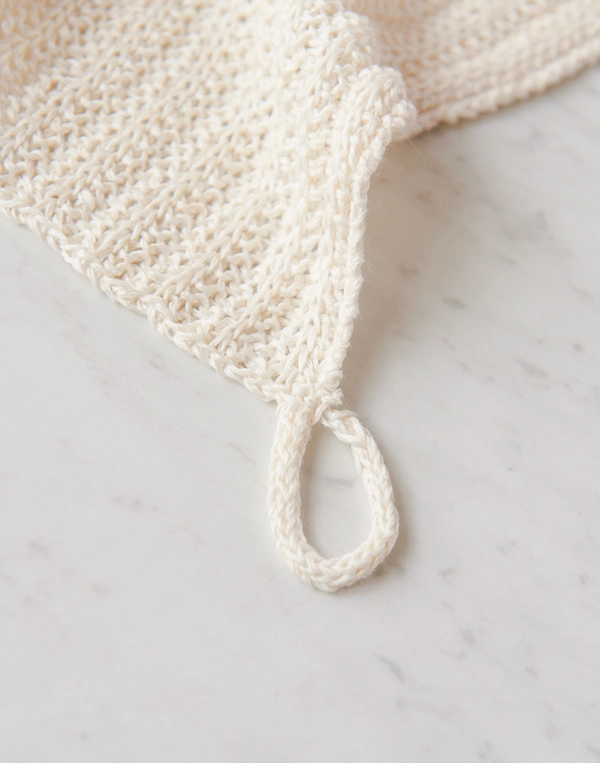 Our Field Linen collection has recently grown to include a handful of deep and stormy colors, like the surfaces of sunlit lakes just before the thunderclouds roll in. Here, Galapagos Teal and Ink Blue join two of our original neutrals, Queen Anne's Lace and Natural Flax, for a stack of colors pulled from nature herself!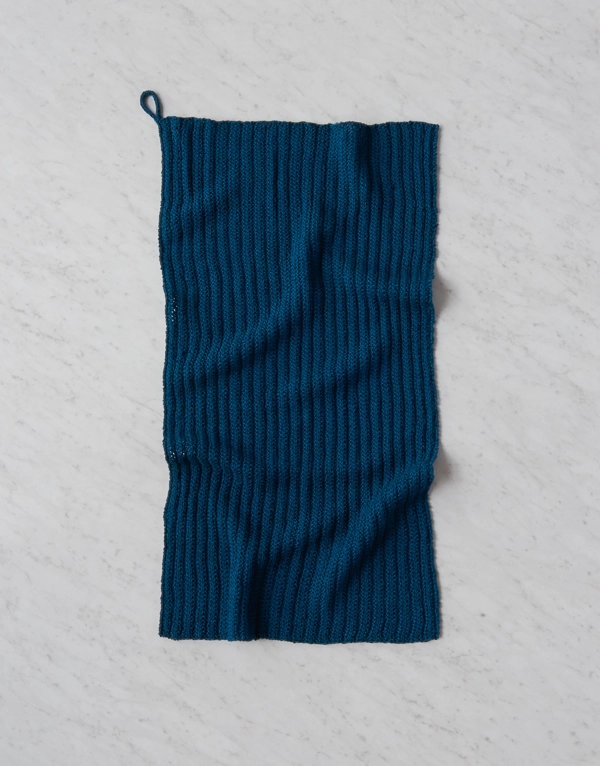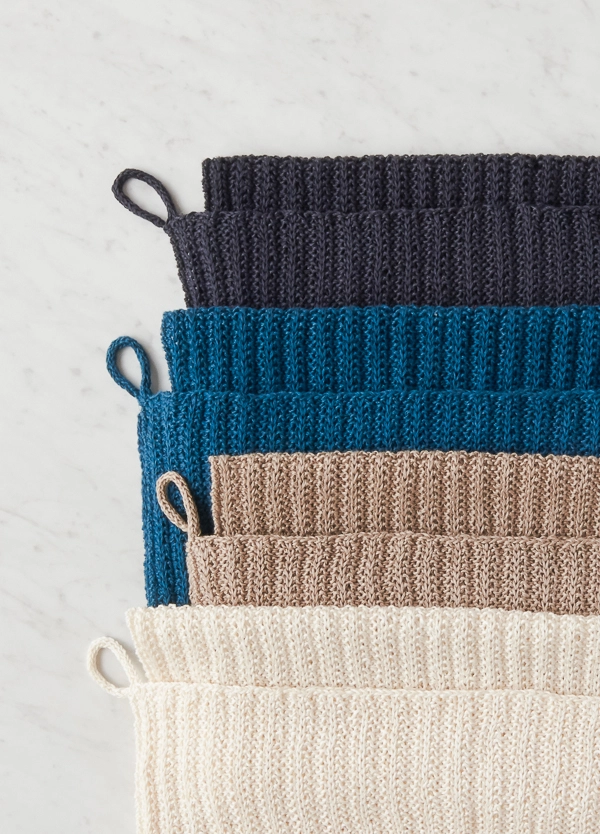 Designed for Purl Soho by Jake Canton.
Share your progress + connect with the community by tagging your pics with #PurlSoho, #PurlSohoBusyHands, #PurlSohoNoPurlRibHandTowel, and #PurlSohoFieldLinen. We can't wait to see what you make!
Materials

To make one hand towel, you'll need…
2 skeins of Purl Soho's Field Linen, 100% linen. Each skein is 295; approximately 444 yards required. We used the colors Ink Blue, Galapagos Teal, Natural Flax, and Queen Anne's Lace.
US 4 (3.5 mm) straight or 24-inch circular needles
If using straight needles: Two US 4 double pointed needles for I-Cord
Gauge
26 stitches and 48 rows = 4 inches in stitch pattern
Size
Finished Dimensions: 15 inches wide x 25 inches long
Notes
Stitch Multiple
This pattern works over a multiple of 4 + 3 stitches.
Slip Stitches
Slip all stitches purlwise.
Pattern
Cast on 99 stitches. We used a basic Long Tail Cast On.
Row 1 (wrong side): K3, *slip 1 with yarn in front (wyif), k3, repeat from * to end of row.
Row 2 (right side): K1, *slip 1 wyif, k3, repeat from * to last 2 stitches, slip 1 wyif, k1.
Repeat Rows 1 and 2 until piece measures 25 inches from cast-on edge, ending with Row 1.
Bind-Off Row (right side): K1, *p1, pass first stitch over, [k1, pass first stitch over] 3 times, repeat from * to last 2 stitches, k2. [3 stitches remain]
Make I-Cord
With the remaining 3 stitches, work an I-Cord for 3 inches, working the last row as follows…
Last Row: K1, k2tog, pass first stitch over the second stitch and off the right needle. Cut yarn, leaving an 8-inch tail and pull through remaining stitch.
Thread the tail onto a tapestry needle. Make a loop with the I-cord and weave the tail into the fabric of the Hand Towel at the base of the I-cord, then weave it through the looped I-cord, and back into the fabric of the Hand Towel.
Weave in the remaining ends and block as desired.