Feet are sensitive little energy fields, as any fan of acupressure or reflexology will tell you. A bout of hiccups? Try rubbing your second toe, just under the toenail. Insomnia? Press the point under your big toe joint. But even if ancient medicine isn't your thing, you have to admit that feet are full of feeling, and our Easy Heel Colorblock Socks touch on all the good spots!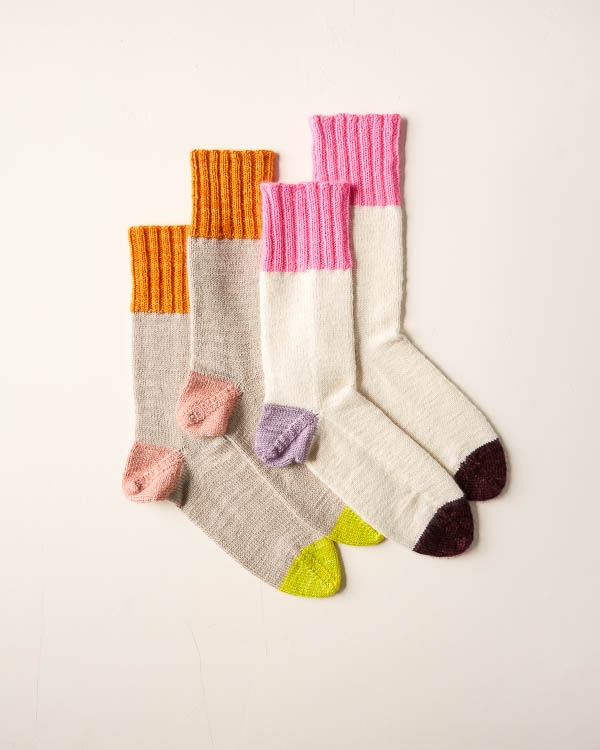 These easy-as-pie socks do an ingenious job of avoiding the potentially difficult heel- and gusset-shaping of traditional patterns. Here, you knit the whole leg and foot as a tube, stopping along the way for a couple of scrap-yarn half-rows, which you later pick up in order to knit the heel in the round… Amazing for first-time sock knitters, and anyone else who likes a simple trick!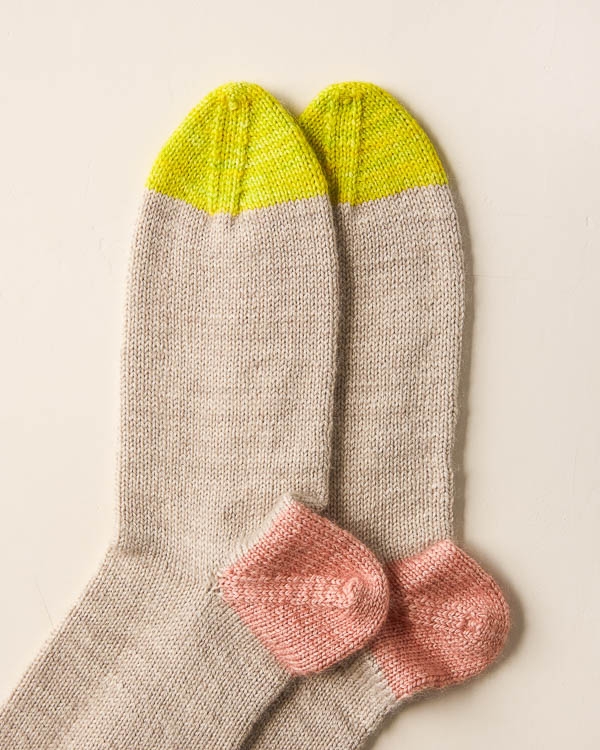 And it's even knitter's choice whether you're a top-down (cuff-to-toe) or bottom-up (toe-to-cuff) kind of person. Our Easy Heel Colorblock Socks Pattern has instructions for both directions and for both kids and adults!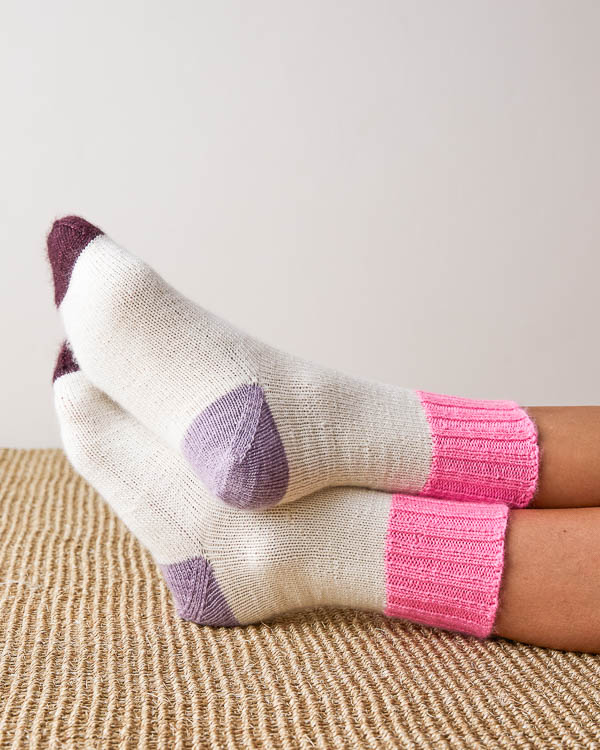 Any route you choose to knit these socks, they're a wonderfully soft and beautiful treat for your feet. We knit them up in our new hand-dyed, machine washable Posy and Pocket Posy, 75% superwash merino (for stretch and warmth), 15% cashmere (for utter coziness) and 10% nylon (for durability). Available in 18 extraordinary colors, put just the right feeling in all the right places!
NOTE: We no longer offer Pocket Posy, but our materials below have been updated to reflect our new Posy in 50g skeins!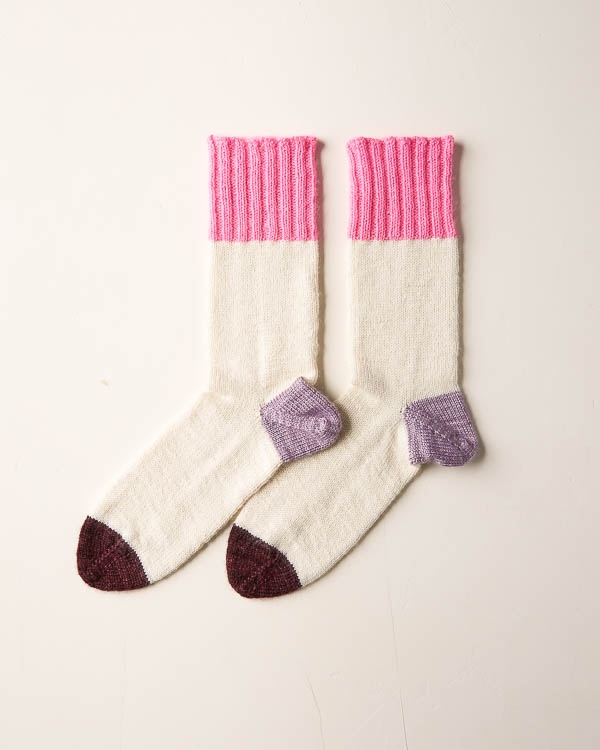 Update: New Colors!
April 9, 2021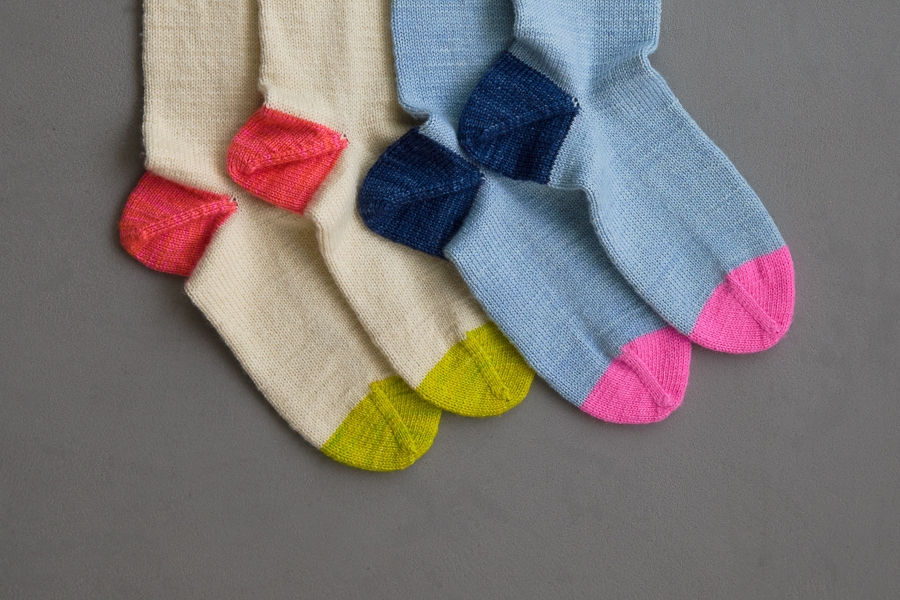 With new skein recommendations for Posy's new 50-gram skein size, our Easy Heel Colorblock Sock is fresh for spring! Click here to see the updated palette for Posy and see the refreshing new pattern here!
UPDATE: NOW IN QUARTZ
SEPTEMBER 2023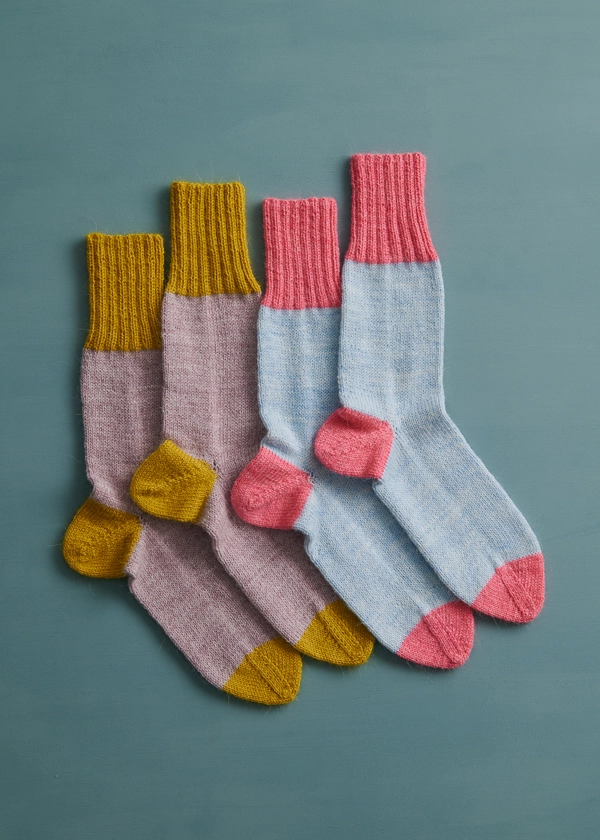 We went nylon-free for our newest version of the Easy Heel Colorblock Socks with our lovely Quartz, a radiant mix of 65% merino wool and 35% suri alpaca. Soft enough to spoil your feet, the suri in Quartz glows with a lustrous beauty and creates a lovely halo, while the merino offers breathability, durability, and elasticity to keep your socks snug. With twenty-nine colors to choose from, find a fetching pair and jump in feet first!
Designed by Purl Soho designer, Jake Canton. Click here to see even more of Jake's designs!
Share your progress and connect with the community by tagging your pics with #PurlSoho, #PurlSohoBusyHands, #PurlSohoEasyHeelColorblockSocks, and #PurlSohoPosy. We can't wait to see what you make!
Materials
Main Color: 2 (2, 2, 2 or 3, 2 or 3) skein(s) of Purl Soho's Posy, 75% superwash merino, 15% cashmere, and 10% nylon. Each skein is 159 yards/50 grams; approximately 210-240 (235-265, 265-295, 285-320, 310-355) yards required, depending on foot length. NOTE: Two skeins for largest size only required if making socks for men's size 12 or larger shoe. (NOTE: We no longer offer Posy, but choose from one of our other fingering weight yarns.)
Color A (Cuff): 1 skein of Posy; approximately 60 (75, 85, 100, 110) yards required.
Color B (Toe): 1 skein of Posy; approximately 20 (25, 35, 40, 50) yards required.
Color C (Heel): 1 skein of Posy; approximately 30 (35, 45, 50, 60) yards required.
NOTE: For the Cuff, Toe, and Heel, our 25-gram skeins of Pocket Posy would also work great! You'll need 1 skein each for Colors A and B, and 1 (1, 2, 2, 2) skeins for Color C.
For our samples we used…
PICTURED ABOVE, TOP:
Main Color: Heirloom White
Pocket Posy: Azalea Glow, Winter Heath, and Black Cherry
PICTURED ABOVE, BOTTOM:
Main Color: Mourning Dove
Pocket Posy: Marigold Orange, Pink Nectar, and Sour Gooseberry
And we also have these other lovely bundles imagined…
Pink Peppermint, Pink Papaya, and Chili Pepper
Weathervane Gray, Drizzle Gray, and Heirloom White
Fern Green, Beetle Blue, and Teal Twilight
You'll also need…
Gauge
34 stitches and 50 rows = 4 inches in stockinette stitch
Sizes
6 (7, 8, 9, 10) inches, to fit Kids to Adults
Foot Circumference: 6, (7, 8, 9, 10) inches, comfortably stretching 1-2 inches
Foot Length: Adjustable
SAMPLES: Both pairs pictured here are size 7 inches.
Pattern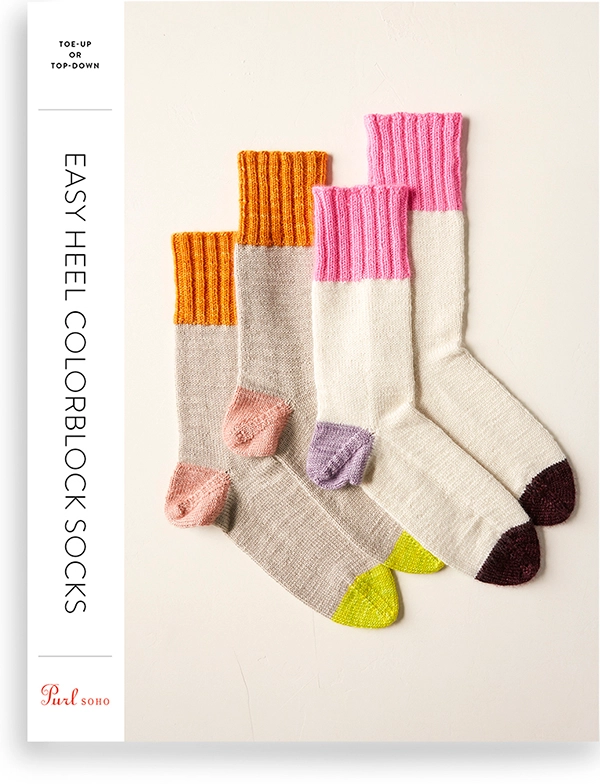 Our Easy Heel Colorblock Sock Pattern is available for purchase as a PDF download only.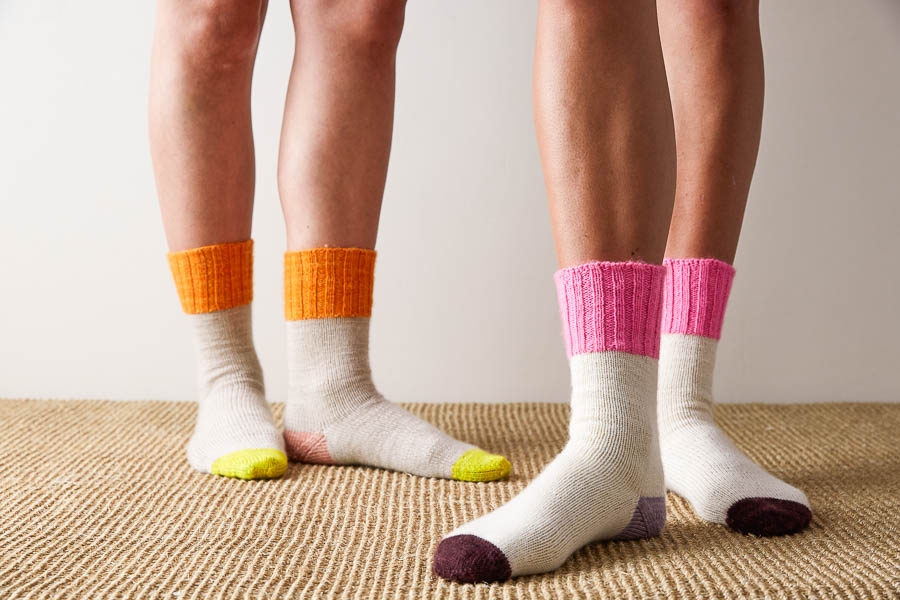 Update: Stripey Socks For Cri Du Chat Awareness
May 2019
A dear friend of ours brought to our attention that May 1-10 is International Cri du Chat Awareness Week. During this call to action period, the Cri du Chat community and those who care choose to wear one striped sock long and one striped sock short, representing one whole and one deleted chromosome. They don't have to be hand-knit socks, but since our friend is also one heck of a sock knitter, we teamed up to create eight versions for "stripey" socks! To view the free pattern variations for our Easy Heel Colorblock Socks, and to learn more about Cri du Chat Syndrome, click here!