The twists and turns of sock knitting are notorious, but what if we told you there's another way? Our Easy Heel Colorblock Socks eschew heel flaps, short rows, and gussets, and instead, do a little magic.
For these socks, you knit a tube, throw in a few dozen scrap yarn stitches along the way, then go back to those stitches, remove the scrap yarn, slip the live stitches onto four double pointed needles and knit the heel in the round, working regular decreases to the end, just like the crown of a kitten-size hat.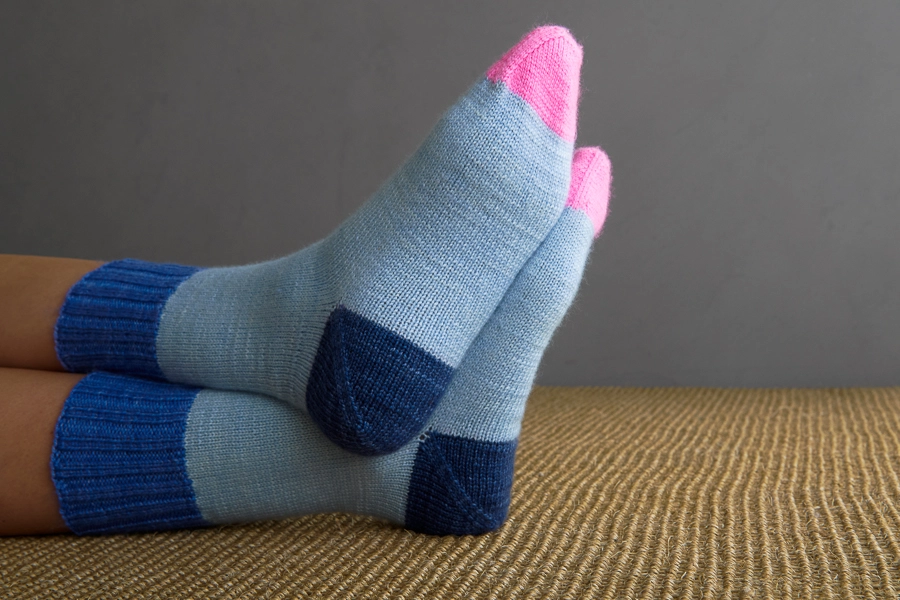 The simplicity of this technique is a real epiphany and so much fun to discover. You can experience the revelation either from the cuff to toe, or the toe to cuff. The Easy Heel Colorblock Socks pattern includes instructions for both approaches!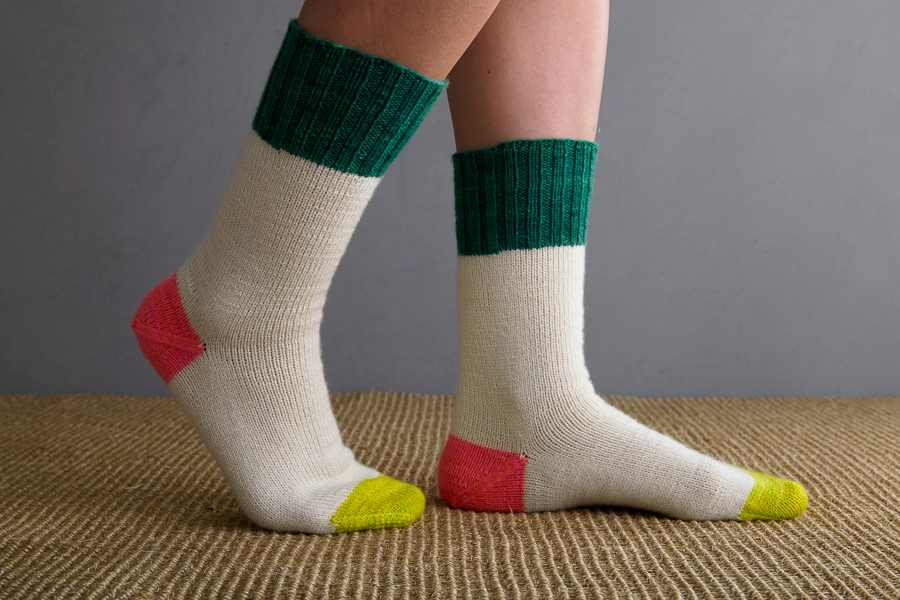 We could knit these socks over and over for the rest of our sock-knitting days, but the reason we knit up these pairs now was to recalibrate our skein requirements now that Posy comes in a new 50-gram skein size, as well as to celebrate five new colors in our Posy collection!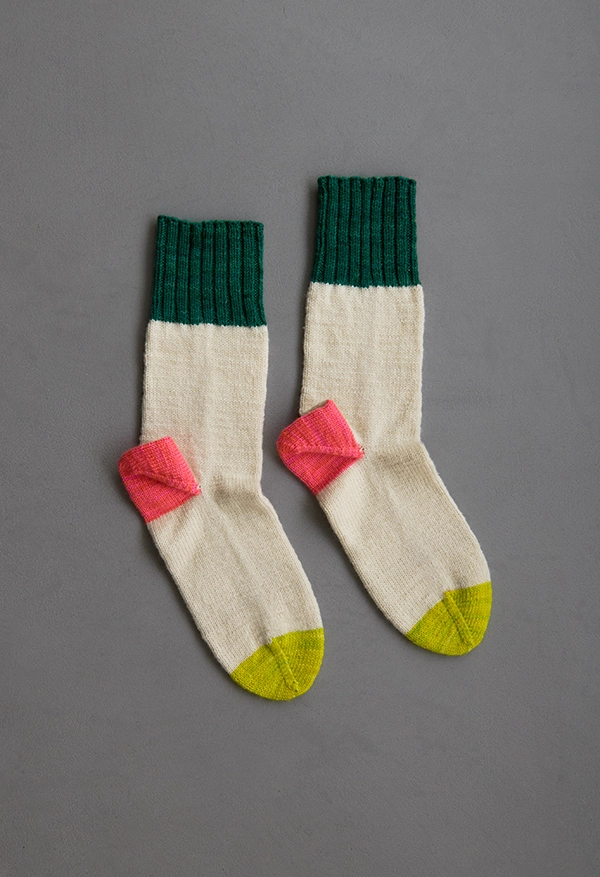 A rich new green, a range of three new blues, plus a pretty new purple, the Posy palette is now 16-colors beautiful. Pick a bouquet of happy colors for happy feet, and enjoy the knitting of an easy heel!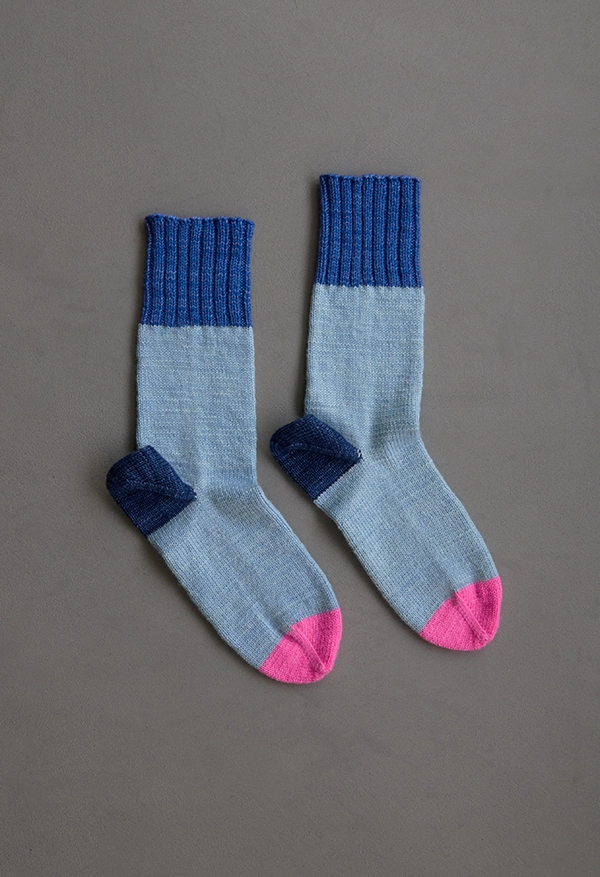 Designed by Purl Soho designer, Jake Canton. Click here to see even more of Jake's designs!
Share your progress + connect with the community by tagging your pics with #PurlSoho, #PurlSohoBusyHands, #PurlSohoEasyHeelColorblockSocks, and #PurlSohoPosy. We can't wait to see what you make!
Materials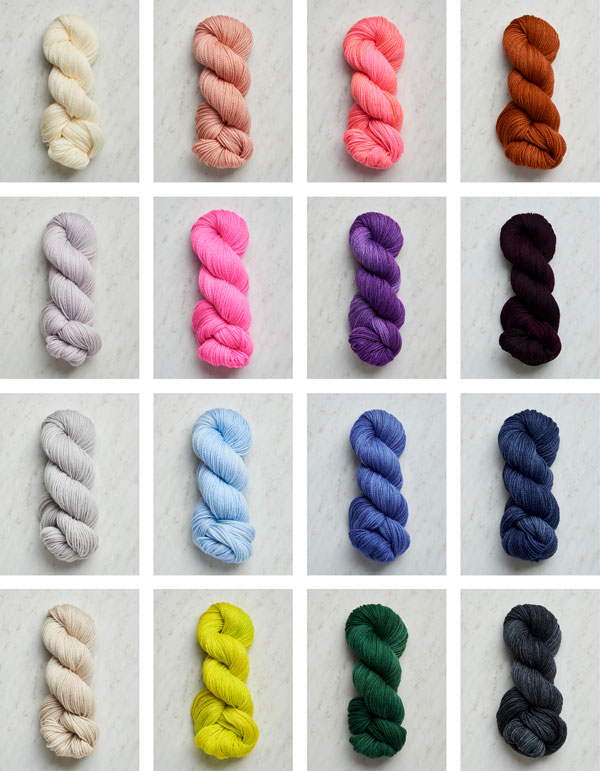 MAIN COLOR: 2 (2, 2, 2, 3) skeins of Purl Soho's Posy, 75% superwash merino, 15% cashmere, and 10% nylon. Each skein is 159 yards/ 50 grams; approximately 210-240 (235-265, 265-295, 285-320, 310-355) yards required, depending on foot length. We used Heirloom White for one pair and Cloudless Sky for the other. (NOTE: We no longer offer Posy, but choose from one of our other fingering weight yarns.)
NOTE: If making very long foot for size 9 socks, you may possibly need 3 skeins. If making short foot for size 10 socks, you may only need 2 skeins.
COLOR A (Cuff): 1 skein of Posy. Approximately 60 (75, 85, 100, 110) yards required. With the Heirloom White pair, we used Basil Green. With the Cloudless Sky pair, we used Bellflower Blue.
COLOR B (Toe): 1 skein of Posy. Approximately 20 (25, 35, 40, 50) yards required. With the Heirloom White pair, we used Sour Gooseberry. With the Cloudless Sky pair, we used Azalea Glow.
COLOR C (Heel): 1 skein of Posy. Approximately 30 (35, 45, 50, 60) yards required. With the Heirloom White pair, we used Pink Papaya. With the Cloudless Sky pair, we used Blue Dusk.
NOTE: For the Cuff, Toe, and Heel, our 25-gram skeins of Pocket Posy would also work great! You'll need 1 skein each for Colors A and B, and 1 (1, 2, 2, 2) skeins for Color C.
You will also need…
A set of US 0 (2 mm) double pointed needles
A few yards of fingering weight scrap yarn
For Toe-Up Version Only: A size B–E (2.5–3.5 mm) crochet hook for Provisional Cast On
Gauge
34 stitches and 50 rounds = 4 inches in stockinette stitch
Sizes
6 (7, 8, 9, 10), to fit kids to adults
Choose a size that is approximately 1–2 inches smaller than circumference of wearer's foot.
Foot Circumference: 6, (7, 8, 9, 10) inches
Foot Length: Adjustable
SAMPLES: Both pairs pictured here are size 8.
Pattern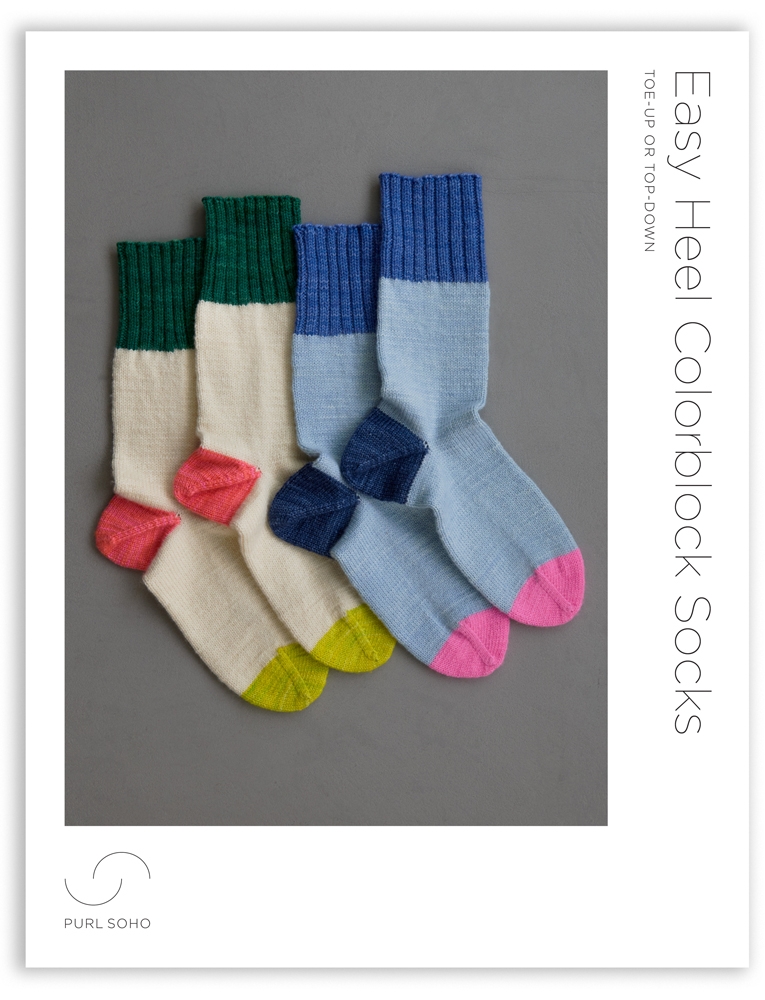 Our Easy Heel Colorblock Sock Pattern is available for purchase as a PDF download only.