With its raised vertical ridges on one side and smooth scallops on the other, I fell in love with both the appearance and name of Close Stitch, especially for washcloths. After all, what gets closer to you than your washcloths?!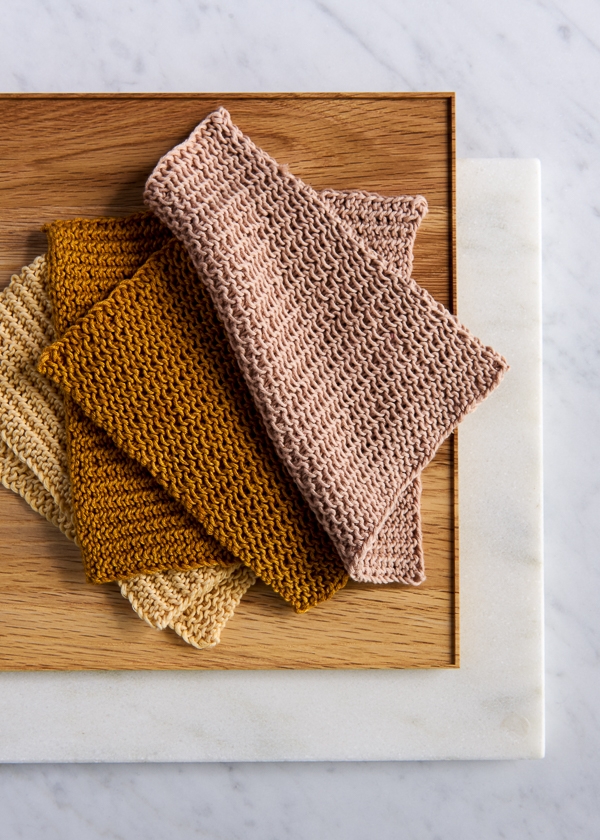 Perfect for sudsing and scrubbing, yet beautifully simple as an object alone, I have no doubt our Close Knit Washcloths would receive the approval of William Morris, who once said, "Have nothing in your house that you do not know to be useful, or believe to be beautiful."
The only challenging step of this project is choosing a color! With the help of several friends, we knit these washcloths in all forty-three colors of our newest yarn: Cotton Pure. Soft and gentle, simple and natural, Cotton Pure is just what you want a washcloth to be.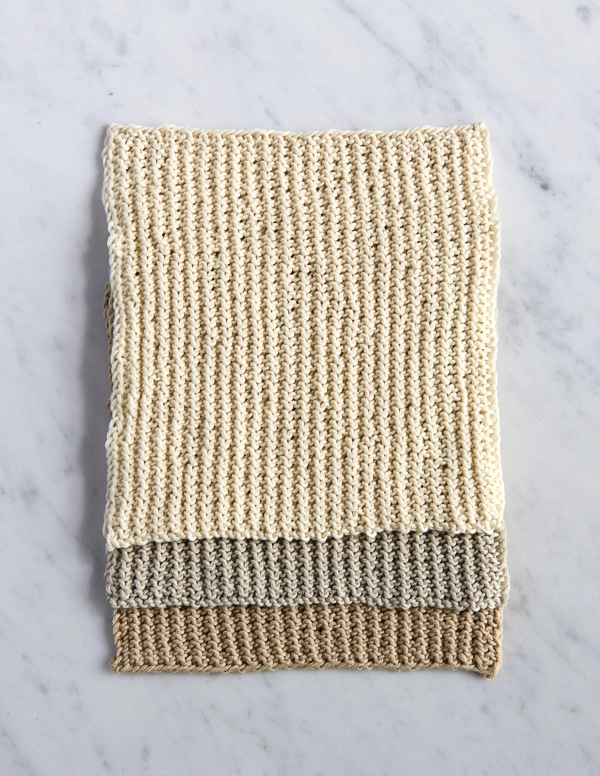 You may not be up for knitting all forty-three colors, but a trio of Cotton Pure is just the ticket for knitting nine washcloths in pretty colors. The perfect summertime knit, keep your stack of Close Knit Washcloths close by or gift them to your closest friends! -Laura
Materials
A trio of Cotton Pure. We've selected our favorite groupings of three skeins of Purl Soho's Cotton Pure, 100% organically grown cotton, in eight color combinations (pictured below). One skein of Cotton Pure has enough yarn to make three washcloths, and one trio has enough yarn to make nine washcloths.
US 6, straight or circular needles
Haystack
Melon
Conch Shell
Tea Rose
Prairie Aster
Well Water
Ice Pond
Rock Salt
Gauge
28 stitches = 4 inches in stitch pattern
Size
Finished Dimensions: 7 x 7 inches
Notes
How to Slip Stitches
Slip all slipped stitches purlwise.
How to Work the First Stitch of Each Row
Slipping the last stitch of the row can make working the first stitch of the following row a bit confusing. Here's how to do it…
Row 1
Note: This does not apply to the first time you work Row 1, just every time after that!
Insert the right needle into the first stitch, and bring the working yarn over the top of the needle.
Use the tip of the needle to pull the working yarn through the stitch, as you normally would when making a knit stitch.
Row 2
Again, insert the right needle into the first stitch from front to back, as you normally would when making a knit stitch. Be sure the needle is under the working yarn (not over), so you can easily pull it through the stitch.
Pattern
Cast on 49 stitches.
Row 1 (wrong side): Knit to last stitch, slip 1 with yarn in front (wyif).
Row 2: K2, *slip 1 with yarn in back (wyib), k1, repeat from * to last stitch, slip 1 wyif.
Repeat Rows 1 and 2 until piece measures approximately 7 inches from cast-on edge, ending with Row 2.
Bind off knitwise.
Weave in the ends and block as desired.