I love that color is at once systematic and inexplicable. There are the rational rules and theories of hue, saturation, value, tone, primary, secondary, tertiary; and there are the irrational impacts of color: how it makes us feel, which colors resonate together or complement each other, which colors express a certain mood or emotion.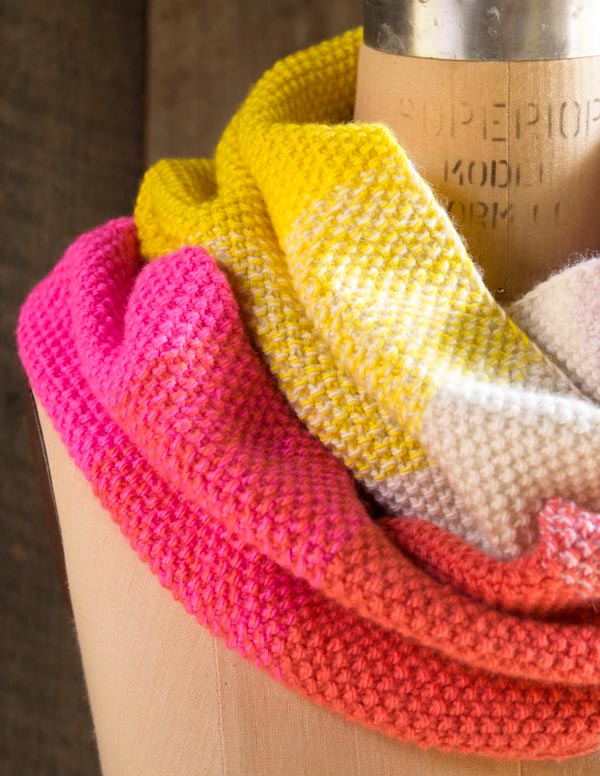 And because color is too special to be relegated to the world of just feeling or just reason, my Gradient Cowl embraces both aspects. Resembling a traditional color study, it progresses along a spectrum, mixing each color with its neighbor and forming a new color in the process. And simultaneously, I felt renewed with each change in color, eager to discover the new world of every stripe. The result is a cuddly color wheel that is organized and expressive.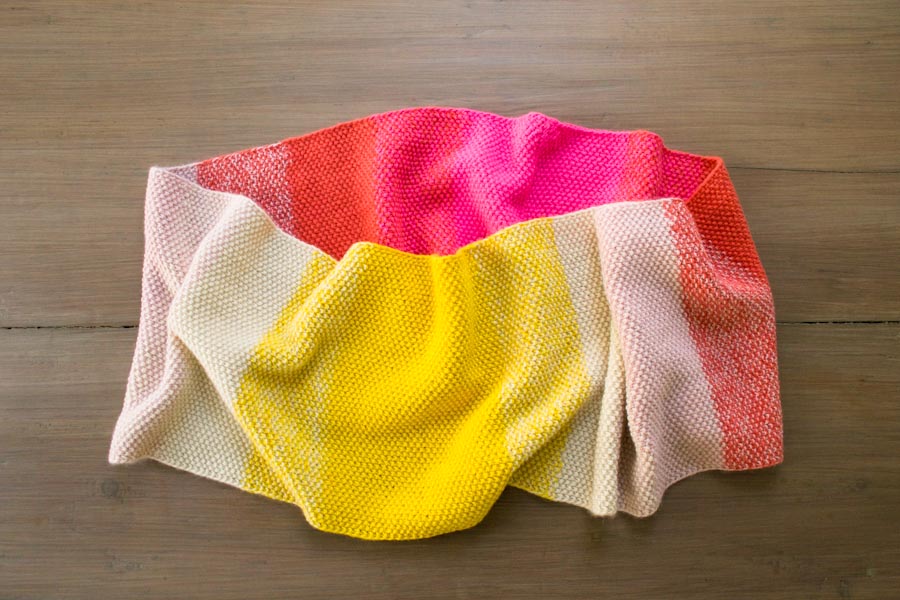 Purl Soho's Line Weight provides the perfect medium for this study. It comes in 35 gorgeous colors, and its single ply of exquisite merino forms a soft bloom over the finished cowl, blending the colors into a beautiful watercolor-like wash. Get all five skeins you need with our Gradient Cowl Bundle (no longer available), available in three lovely colorways. Pick one up here and celebrate your love of color with every stitch! -Gina
Update: New Yarn
March 22, 2016
Our Gradient Cowl in Linen Quill recreates the original with a whole new feeling! Pick up a Gradient Cowl Bundle (no longer available) in the Sweetgrass palette to make your own! Sweetgrass includes one of each of the following colors: Pale Oats, Pale Mushroom, Rose Granite, Oatmeal Gray, and Salt + Pepper.
Designed by Purl Soho designer, Gina Rockenwagner. Click here to see even more of Gina's designs!
Share your progress and connect with the community by tagging your pics with #PurlSoho, #PurlSohoBusyHands, #PurlSohoGradientCowl, and #PurlSohoLineWeight. We can't wait to see what you make!
Materials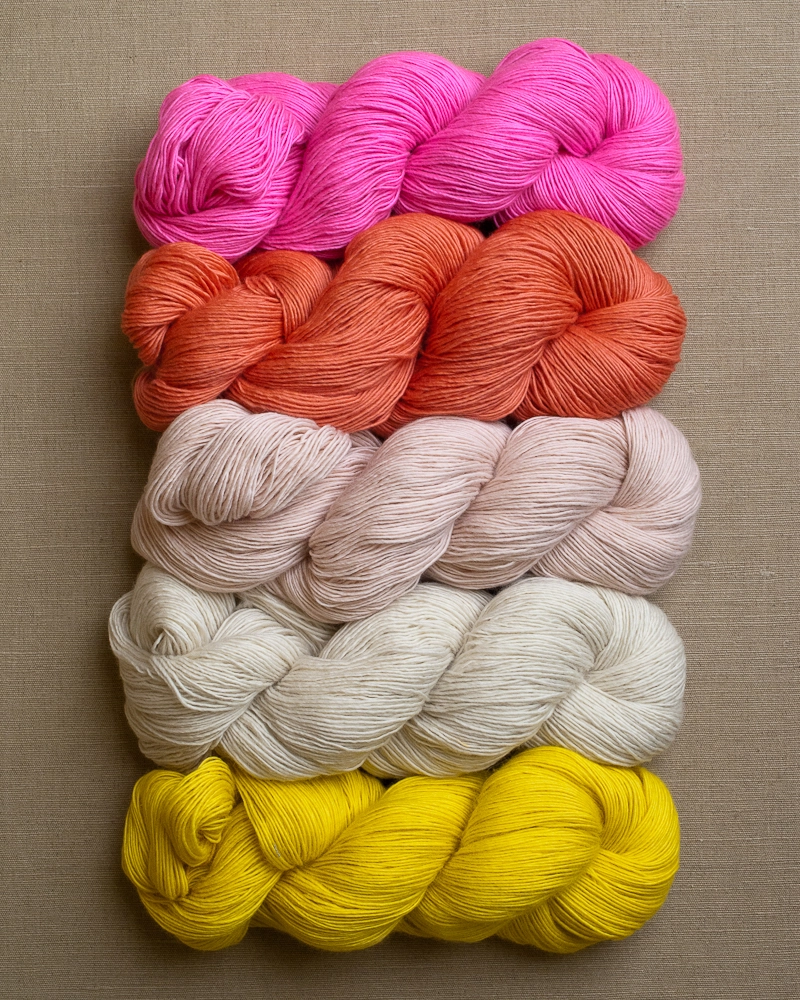 5 skeins of Purl Soho's Line Weight, 100% merino wool, in 5 colors. Each skein is 494 yards/ 100 grams; approximately 1610 yards required. These colors, from the top, are Super Pink, Pink Grapefruit, Ballet Pink, Heirloom White, and Yellow Yellow. (NOTE: Some colors are no longer available.)
US 7 (4.5 mm), 24-inch circular needles
Gauge
20 stitches = 4 inches in seed stitch with yarn doubled
Size
Finished Height: 12 inches
Finished Circumference: 58 inches
Notes
The pattern refers to each color by letter. Below are the letters we assigned to each color in our materials bundle. If you have chosen your own colors, arrange them in a pleasing order and name them letters A-E.
Grapefruit
A: Super Pink
B: Pink Grapefruit
C: Ballet Pink
D: Heirloom White
E: Yellow Yellow
For stripes that use two strands of the same color, you can either roll the skein into two equal-size balls and pull from both balls at once, or you can pull one strand from the inside of the ball and one strand from the outside. If you don't have a swift and ball winder to wind a center-pull ball, never fear, you can do it by hand! Click here for a great video that shows you how!
Pattern
Begin
Stripe 1
Using 2 strands of color A (see Pattern Note, above), cast on 60 stitches. We used a basic Long Tail Cast On.
Row 1: Slip 1 with yarn in front, *p1, k1, repeat from * to last stitch, p1.
Row 2: Slip 1 with yarn in back, *k1, p1, repeat from * to last stitch, k1.
Repeat Rows 1 and 2 until piece measures 3 ¼ inches from the cast on edge, ending with Row 2.
Stripe 2
Cut one strand of color A and join 1 strand of color B.
NOTES
To avoid having lots of ends to weave in, you can knit the tails in as you work. Here's how: When you join in a new yarn, simply work the first 4 to 6 stitches of the row with both the working yarns and the tails. Continue the row with the working yarns only.
When you work the first row of a new stripe, knit the first stitch instead of slipping it.
Using colors A and B and starting with Row 1, repeat Rows 1 and 2 for 3 ¼ inches, ending with Row 2.
Cut color A and join 1 more strand of color B.
Using this new yarn combo and starting with Row 1, repeat Rows 1 and 2 for 3 ¼ inches, ending with Row 2.
Remaining Stripes
Continuing in the pattern as established, start with Stripe 4 and work the remaining stripes, as follows…
Stripe 1: 2 strands color A
Stripe 2: 1 strand color A, 1 strand color B
Stripe 3: 2 strands color B
Stripe 4: 1 strand color B, 1 strand color C
Stripe 5: 2 strands color C
Stripe 6: 1 strand color C, 1 strand color D
Stripe 7: 2 strands color D
Stripe 8: 1 strand color D, 1 strand color E
Stripe 9: 2 strands color E
Now repeat the stripe sequence in reverse order:
Stripe 10: Repeat stripe 9
Stripe 11: Repeat stripe 8
Stripe 12: Repeat stripe 7
Stripe 13: Repeat stripe 6
Stripe 14: Repeat stripe 5
Stripe 15: Repeat stripe 4
Stripe 16: Repeat stripe 3
Stripe 17: Repeat stripe 2
Stripe 18: Repeat stripe 1
Bind off loosely in pattern. Cut the yarns, leaving a tail about 20 inches long.
Finish
Thread the tail onto a tapestry needle. Being careful to not twist the cowl (unless you want to!), sew the two ends together with a whipstitch, inserting the needle right under each cast-on or bind-off stitch.
Weave in any remaining ends. Block as desired. And enjoy your Gradient Cowl!