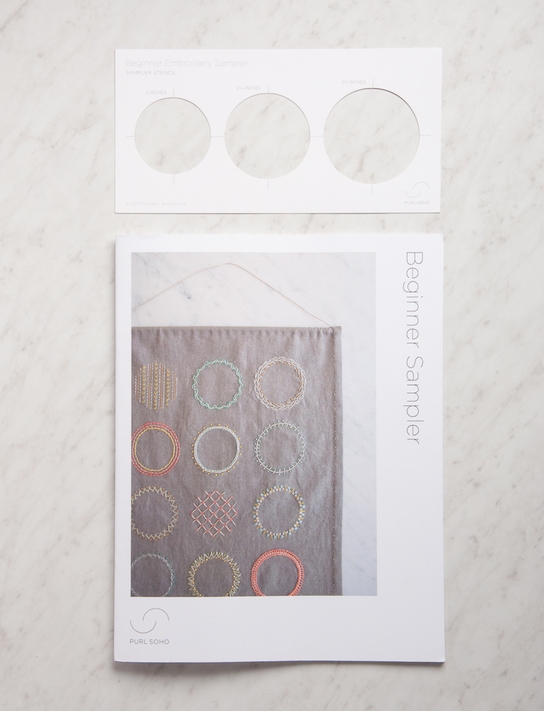 A pretty piece of fabric stitched in colorful floss is an especially lovely thing, made for no other reason than to enjoy its timeless beauty. Our Beginner Sampler Pattern is all about the satisfaction of creating such an object. Combining modern design and traditional stitches, it's a beautiful place to begin! Choose to receive your Pattern as a PDF download or a hard copy, and for more information, including a list of materials you'll need to make your Beginner Sampler, please click Product Details, above. Note that this is the same as what-we-used-to-call our Learn to Embroider a Sampler Pattern, so if you already have that pattern, please don't buy this one!
Product Details
Materials
To make one Beginner Sampler, you'll need...
1/2 yard of linen-cotton woven fabric
12 skeins of DMC's 100% cotton Embroidery Floss in 11 colors 
12 paper bobbin cards
A 4-inch wooden embroidery hoop
A 12-inch dowel (for hanging)
Masking tape
A straightedge ruler
Sampler Stencil, included with the Pattern
Another Option: All of these materials, including the Pattern, come in our Beginner Sampler Kit.
Size
Finished Dimensions: 141/2 x 12 inches
PLEASE NOTE: If you have purchased a hard copy of this pattern and would also like to receive a downloadable PDF, please email us at customerservice@purlsoho.com.
You Might Also Like...
These wooden Embroidery Hoops grip your fabric in a nice tight hold so you can embroider without fuss! Click here to see our full range of hoop sizes, or click Add To Basket to purchase the 4-inch hoop for your project!