Swedish Embroidery Panel + Pattern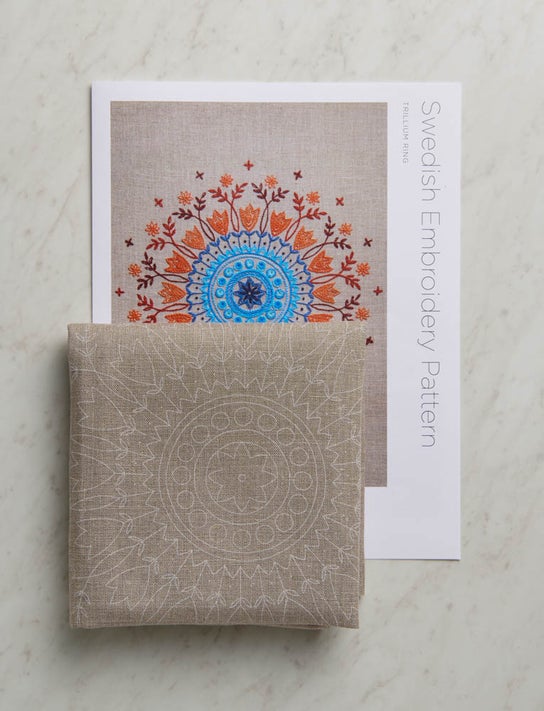 Swedish Embroidery Panel + Pattern
These Swedish Embroidery Panels are so gorgeous, even if you've never embroidered, you're going to be inspired to start! Originally designed by the classic Swedish needlework supplier, Nordiska, these reprints of their 1960s designs look as fresh now as they did then, a little bit quirky, expertly rendered, and totally beautiful! Created in a collaboration between Nordiska's archive, Studio Flax, and Purl Soho, each design starts with a hand drawn image that is used to hand screenprint onto 100% linen fabric (whose natural color may vary slightly)... No machines or computers here! Every panel comes with a pattern that shows color placement and includes a list of the stitches used. For more detailed information about which stitches we used where, find a free supplemental Stitch Guide below! And for beautiful stitch definition and glowing color, use Studio Flax and Purl Soho's lovely Linen Embroidery Thread Sets, or pick up both the all of it together with our Swedish Embroidery Panel + Linen Thread Set. And one more tip, we recommend using a size 22 chenille needle for smooth sailing!
Product Details
To complete your own Swedish Embroidery Panel, you will also need...
A Linen Embroidery Thread Set (or, in the case of Bursting Blooms and Flora Glory, two thread sets) available in 9 colors. Please Note: These Swedish Embroidery Patterns do not include thread.
An embroidery hoop (Please Note: An 8-inch hoop or smaller is perfect for stitching, and for displaying, most designs fit in a 14-inch one [September Bloom requires a 17-inch hoop, which we, unfortunately, don't carry at this time, and Flora Glory and Meadow designs would be best stretched on a frame!])
A pair of embroidery scissors
Size Of Linen: Approximately 20 x 20 inches
Size Of Finished Patterns:
Blue Blossoms: 12 x 9.5 inches
Bursting Blooms: 12 x 12.5 inches
Coronet: 10.5 x 10.5 inches
Early Birds: 10.5 x 12.5 inches
Flora Glory: 15 x 13 inches
May Flowers: 10 x 10 inches
Meadow: 15 x 11.25 inches
September Bloom: 11 x 11 inches
Sprigs: 11 x 11 inches
Trillium Ring: 12 x 12 inches
Tulipwood: 9.5 x 10 inches
For more detailed information about which stitches we used where, click on your design name below to download a free PDF Pattern Stitch Guide!
You Might Also Like...
We recommend using Frank Edmunds Embroidery Hoops with our embroidery patterns! Click here to see our full range of hoop sizes, or click Add To Basket to purchase the 8-inch hoop for your project!