Poppy Garden Embroidery Kit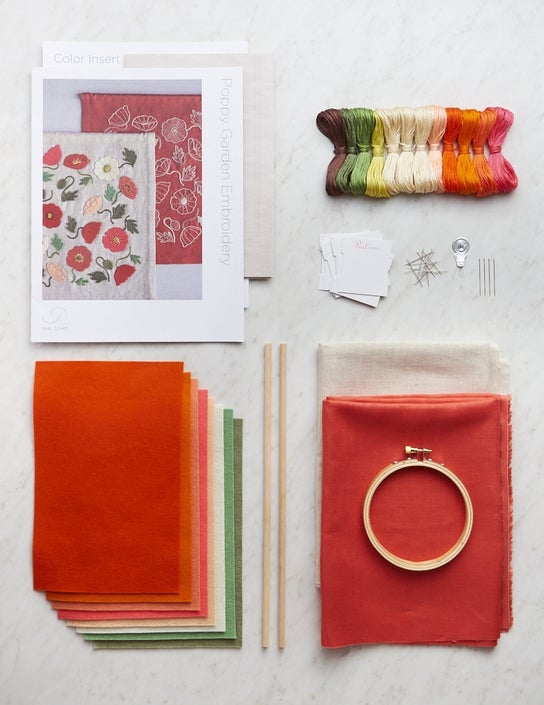 Poppy Garden Embroidery Kit
The insouciant beauty of poppies is nothing if not uplifting! Our Poppy Garden Embroidery Kit taps into the wild whimsy of these wonderful flowers, using the same beautiful design to make two totally different Samplers: an Appliqué Sampler with colorful wool felt blooms and embroidered details and an Embroidery Sampler with exquisite detail and poppy-like delicacy. This Kit includes all the materials and instructions you'll need to make both Samplers... You may be surprised by the beauty your own hands create! View Product Details, below, for a list of the Kit's contents.
Product Details
Our Poppy Garden Embroidery Kit includes everything you need to make two Samplers, each measuring 15 x 12 inches...
Two 18 x 26-inch pieces of Purl Soho's Daily Linen, in Natural Flax and Goji Berry
Eight 6 x 9-inch pieces of 100% wool felt
12 skeins of DMC's 100% cotton Embroidery Floss in 10 colors
12 paper bobbin cards
4 embroidery needles
A needle threader
Straight pins
A 4-inch embroidery hoop
Two 12-inch wooden dowels (for hanging)
A Poppy Garden Embroidery Pattern + Transfers, with step-by-step instructions and 3 sheets of iron-on transfers, including extra transfers for sowing poppies everywhere!
You Might Also Like...
Alphabet Sampler Kit In Sterling
Our Alphabet Sampler Kit gives this tradition a modern spin, honoring the past while connecting with the present. It includes all the supplies and materials you'll need to complete this piece, plus detailed instructions. To purchase the kit in the Sterling palette, click Add To Basket, or click here to see all our Alphabet Sampler Kits!