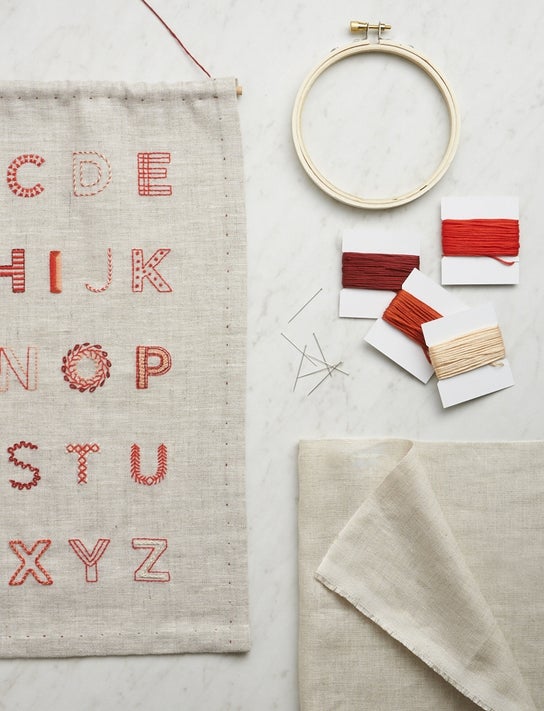 The rich tradition of alphabet samplers captures our imaginations, not only as historical records, but as a beautiful objects in their own right! Our Alphabet Sampler Kit gives this tradition a modern spin, honoring the past while connecting with the present. Available in three classic palettes, this Kit includes all the supplies and materials you'll need to complete this Sampler, plus eight more alphabet transfers to play with when you're done! Please view Product Details, below, for more information.
Product Details
Materials
Our Alphabet Sampler Kit includes…
Sterling: Ash Green
Bisque: Goji Berry
Flax: Natural Flax
7 skeins of cotton embroidery floss in 6 colors
7 paper bobbin cards
4 embroidery needles
A 4-inch wooden embroidery hoop
A water-soluble fabric marker
Straight pins
A 12-inch wooden dowel (for hanging)
6 sheets of iron-on transfers, including the Alphabet Sampler Transfer and 8 other alphabets
An Alphabet Sampler Pattern with full-color instructions

NOTE: The Alphabet Sampler Pattern + Transfers is available separately.
 
Size
Finished Dimensions of Sampler: 15 x 12 inches
 
Note
The iron-on transfers included with this Kit create lines on the fabric that are not technically erasable, and we recommend trying to stitch directly over them. However, we have found that if you lightly press the transfers with a dry iron on a mid-tone natural fabric, the lines do tend to fade with time and sun exposure.
You Might Also Like...
Poppy Garden Embroidery Kit
Our Poppy Garden Embroidery Kit taps into the wild whimsy of these wonderful flowers and includes all the supplies and materials you'll need to make two totally different Samplers: an Appliqué Sampler with colorful wool felt blooms and embroidered details and an Embroidery Sampler with exquisite detail and poppy-like delicacy. Click Add To Basket to purchase your own Poppy Garden Embroidery Kit!