It's pretty wonderful that the alphabet samplers crafted by girls and women of centuries past are now collected as important objects of history and beauty. We added our own Alphabet Sampler to this tradition a couple of years ago, and now we're so happy to introduce two new color stories into the family.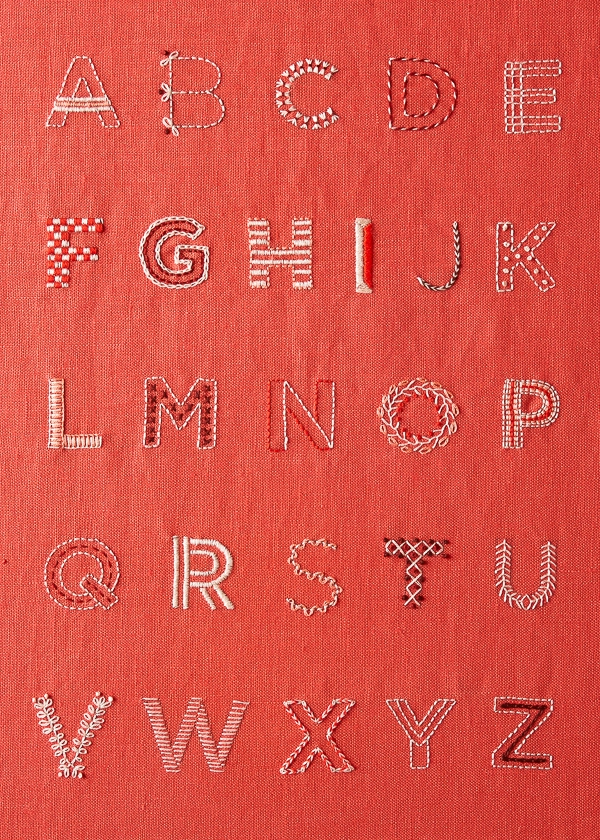 Joining our original Alphabet Sampler colors, blue-gray Sterling and rose-pink Cameo, Bisque and Flax now round out the picture with their punchy warmth. Bisque starts with a tomato-colored linen, while Flax uses a rustic neutral. Both are stitched in cream, pink, red and plum flosses… Classic!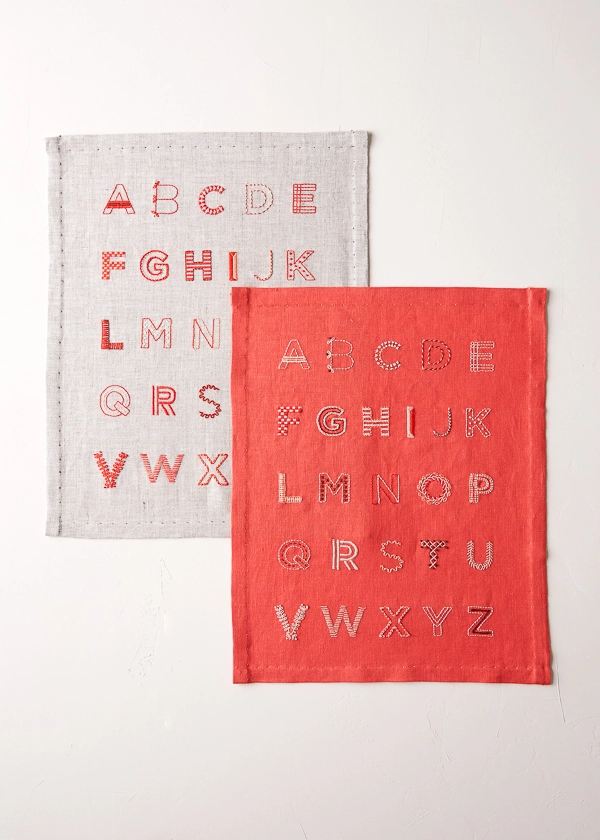 Our Alphabet Sampler Kit comes with everything you need to create your Sampler, including instructions that let beginners get in on the action, too. A full-color booklet walks you through everything from putting the fabric in the hoop to creating and combining some of embroidery's prettiest stitches.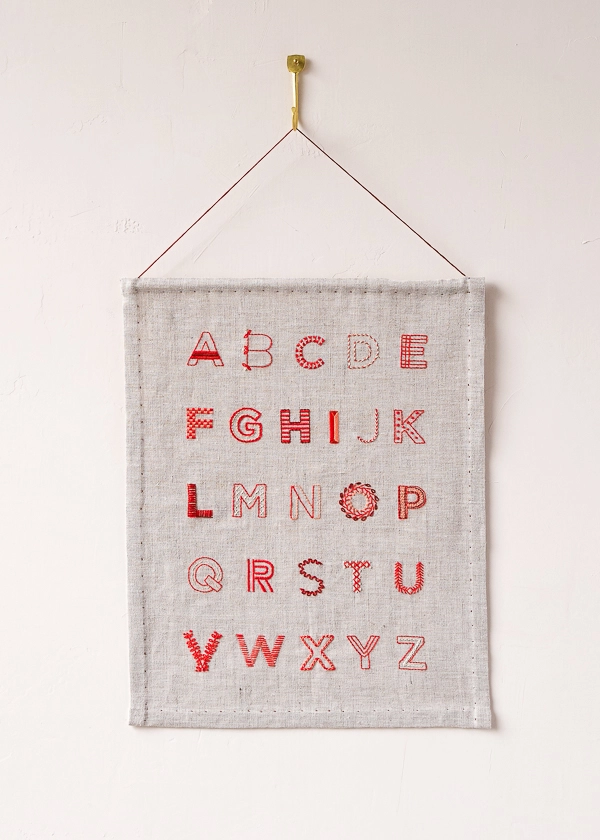 We can't say where these Samplers will end up in the annals of history, but we do know that, for now, they pay homage to the ones that came before… And to the girls and women who made them!
Designed for Purl Soho by Corinne Gill.
Materials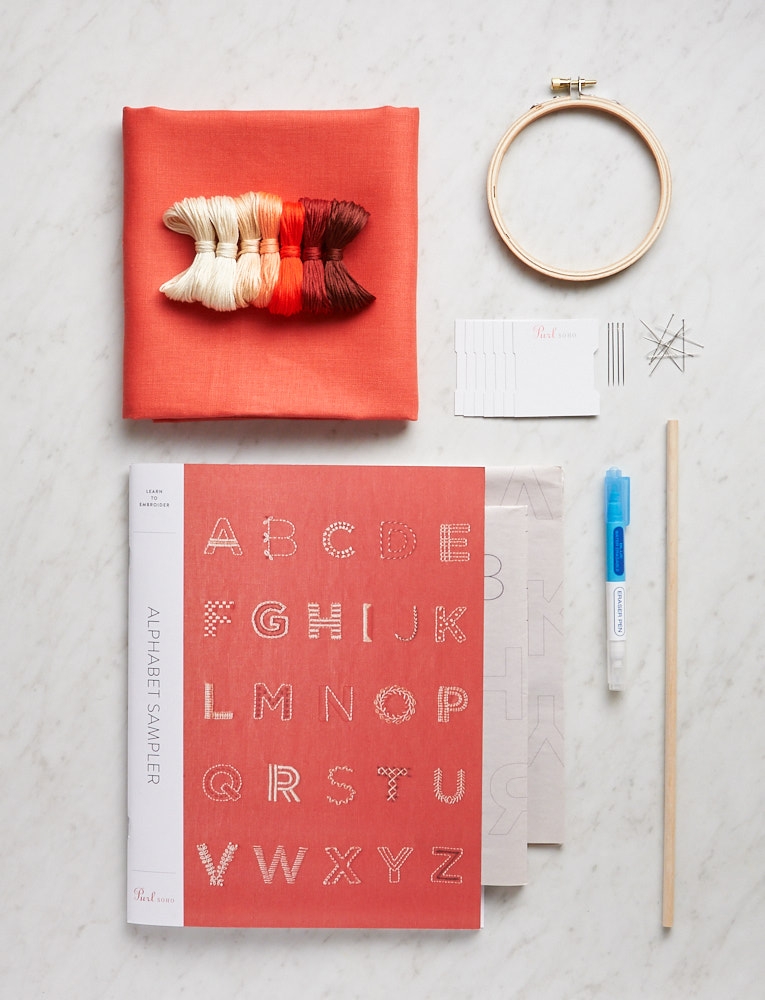 Each Alphabet Sampler Kit includes…
1/2 yard of woven fabric
7 skeins of cotton embroidery floss in 6 colors
7 paper bobbin cards
4 embroidery needles
A 4-inch wooden embroidery hoop
A water-soluble fabric marker
6 sheets of iron-on transfers, including the Alphabet Sampler Transfer and 8 other alphabets
Straight pins
A 12-inch wooden dowel (for hanging)
A full-color instructional booklet
These are enough materials to make a 15 x 12-inch Sampler (plus transfers and floss for lots more embroidery!).
Our Alphabet Sampler Kit comes in four beautiful palettes…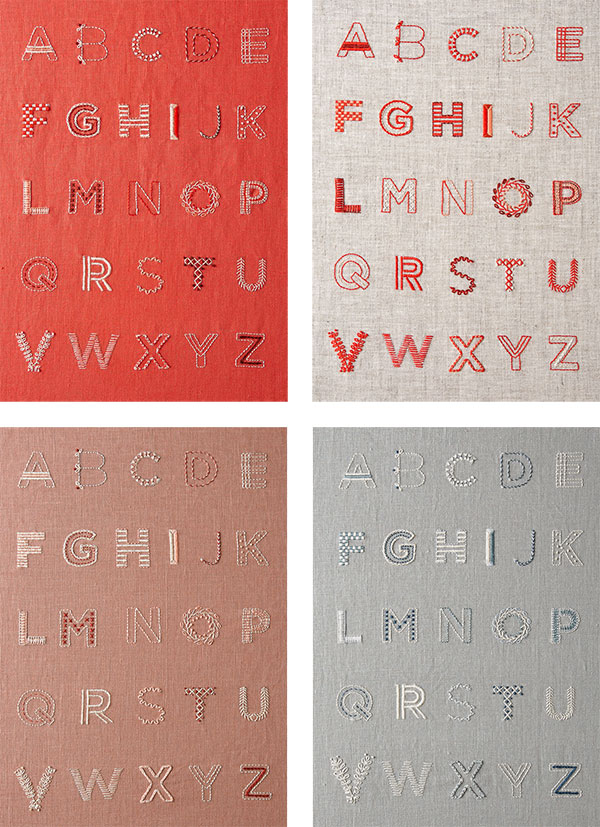 Top Row: Bisque (left) and Flax (right)
Bottom Row: Cameo (left) and Sterling (right)
Pattern + Transfers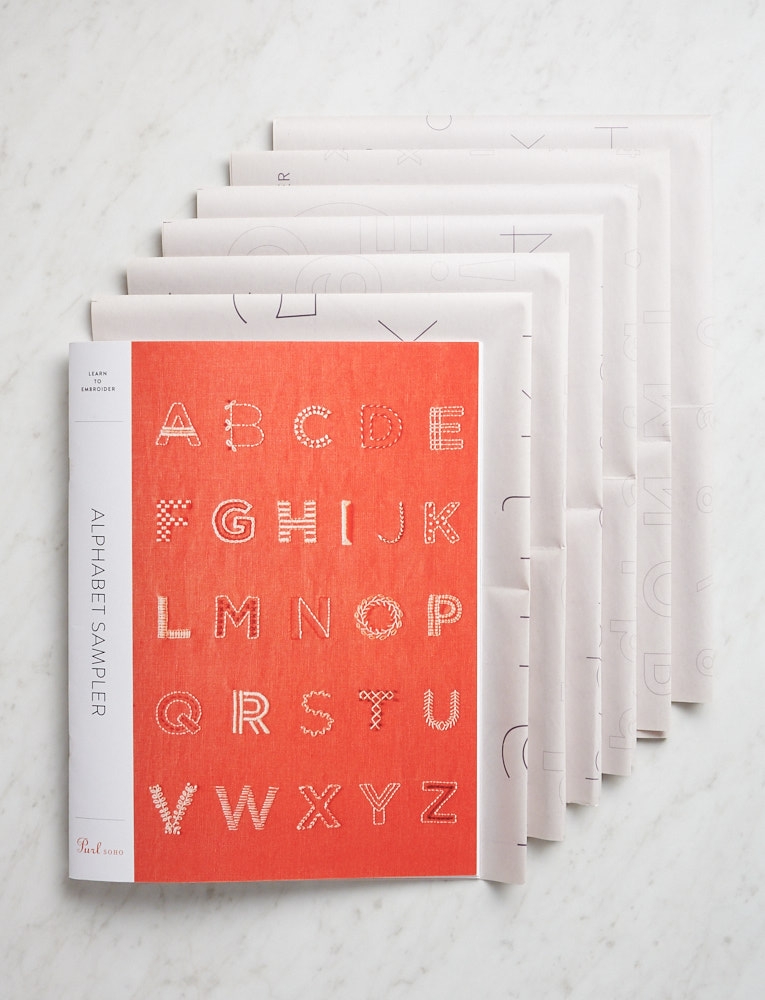 Don't need the whole Kit? Our Alphabet Sampler Pattern + Transfers packet is also available separately. It comes with…
A full-color instructional booklet
6 sheets of iron-on transfers, including the Alphabet Sampler Transfer and 8 other alphabets
NOTE: The iron-on transfers included with this Kit create lines on the fabric that are not technically erasable, and we recommend trying to stitch directly over them. However, we have found that when you lightly press the transfers with a dry iron on a mid-tone natural fabric, the lines do tend to fade with time and sun exposure.