Whenever you make a "bottom-up" sweater "in the round" there will come a moment where you have to add the sleeves to the body. For first-time in-the-round sweater knitters, this moment is always daunting! "You want me to put what stitches where and knit them with which needles?"
This video is here to help you wrap your brain around the magic. It shows you how to join the sleeves to the body of our Purl Soho Pullover, a bottom-up sweater. The process is quite similar for a top-down sweater and also for a cardigan, so hopefully this video will help with your situation, whatever it is! Follow along…
Joining the sleeves to the body happens in one single round (or row if you're making a cardigan). These steps apply to nearly all bottom-up sweaters, except that, for your sweater, the beginning of the round may be in a different place. This means that, instead of starting at the end of the Front stitches, as we do here, you may start at some other place, like the beginning of the Front stitches. Regardless, the steps are the same, just apply these concepts to your specific sweater situation!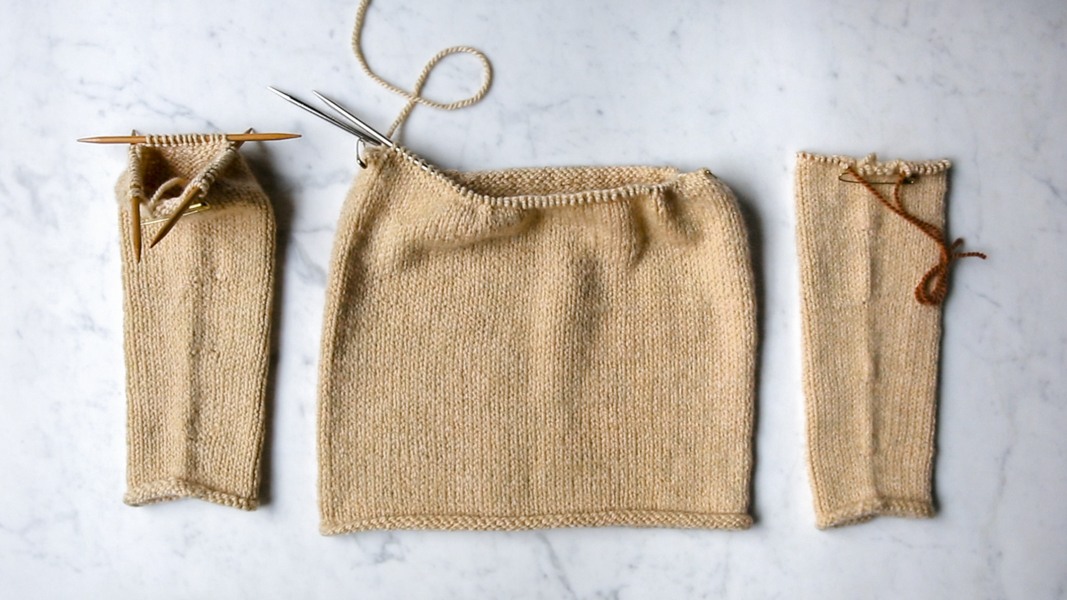 Once you have finished the body of your sweater up to the underarms, as well as both sleeves, and all four sets of underarm stitches are on holders or scrap yarn or bound off (depending on your pattern), you're reading to join the sleeves and body.
You will be working with the body needle and working yarn.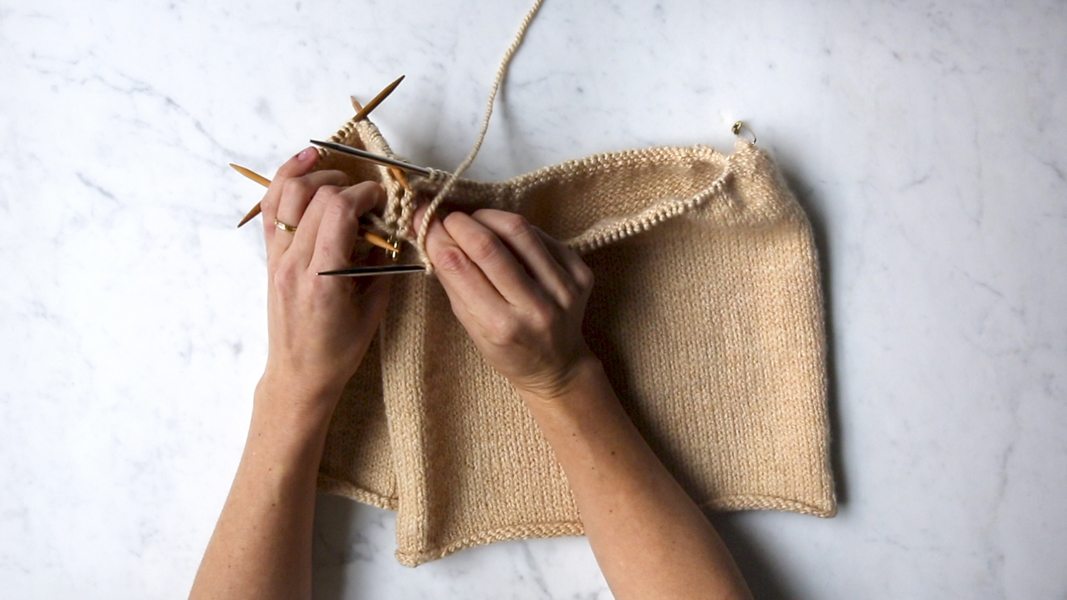 The first step is orient the body and the first sleeve you will be joining. Line up the underarm stitches of the sleeve with the body's underarm stitches that are right there at the working yarn. Positioning the underarms parallel to each other like this leaves the first stitch of the sleeve in position to knit it. Take the right-hand needle that is holding the body stitches and insert it into the first sleeve stitch. Take the working yarn from the last body stitch and use it to knit the sleeve stitch nice and firmly. Continue around the sleeve stitches, knitting each one off the sleeve needles with the right-hand body needle.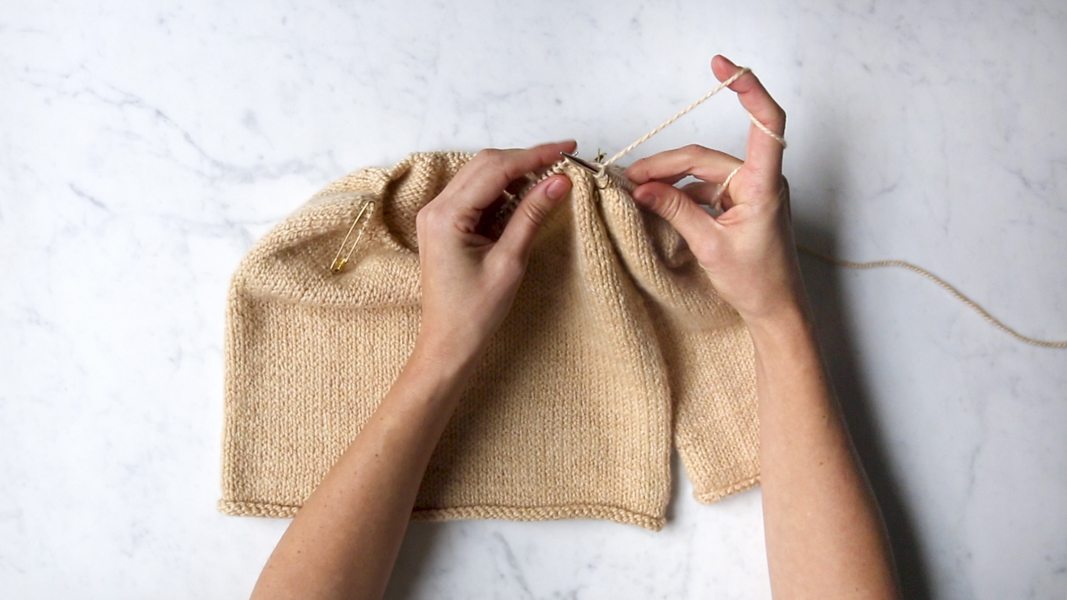 Once you've knit the first sleeve's stitches, you'll return to the body and firmly knit the stitch right after the on-hold underarm stitches. Continue, knitting across the Body stitches, all the way to the next underarm stitches.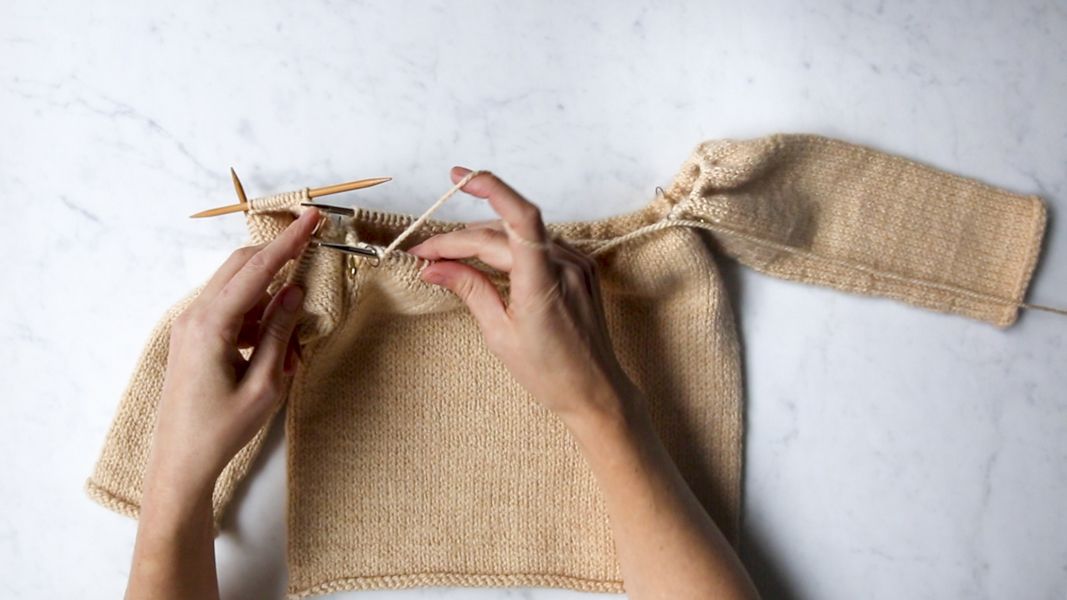 Prepare to join the second sleeve. Slip the on-hold stitches of the remaining sleeve onto some needles, either circular or double pointed, and do exactly what you did for the first sleeve: knit it on! Line up the underarm stitches and insert the right-hand body needle into the first sleeve stitch. Knit it, giving it a little extra tug to bring the body and sleeve together as much as possible. Then knit around the sleeve stitches, using the body needle, until you reach the end of the sleeve stitches, at the other side of the underarm.
Insert the right-hand needle into the first body stitch after the underarms, and to knit it good and tight. Continue to knit across the remaining body stitches.