We're head over (squeaky-clean) heels for our Corner-To-Corner Washcloths! One-of-a-kind and cheerful, yes, but behind the joy of these little beauties is the enduring satisfaction that you made them with your own two hands.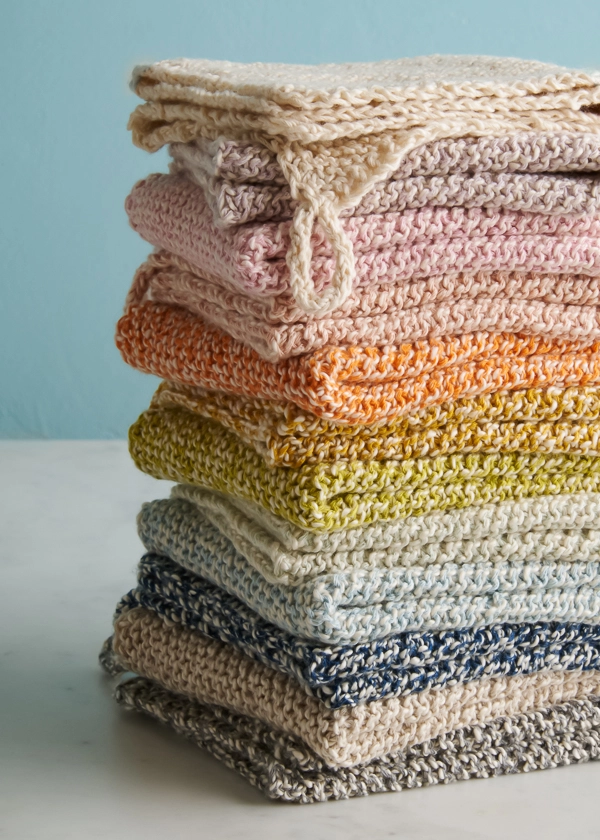 Each simple square is knit on the bias in squishy garter stitch, the perfect texture for all your sudsing and scrubbing.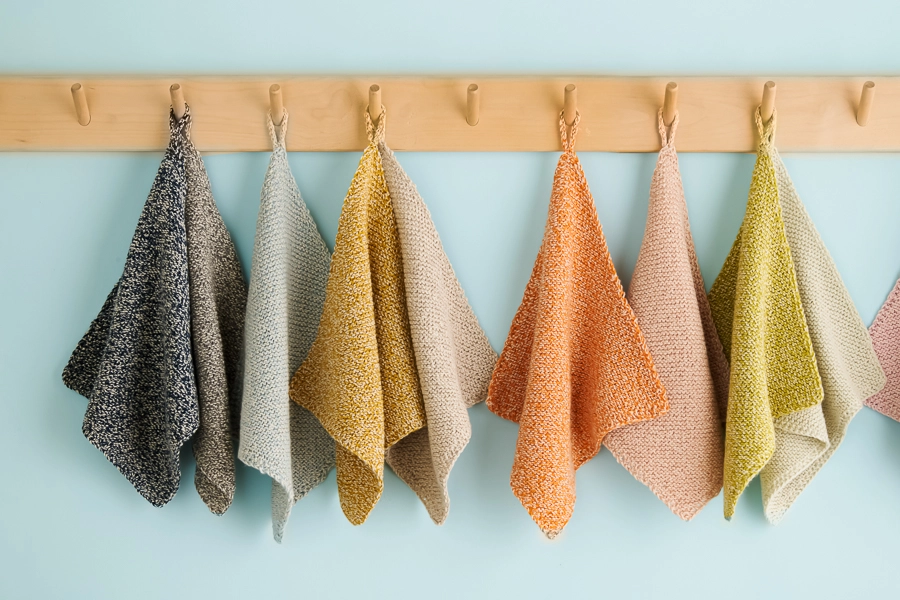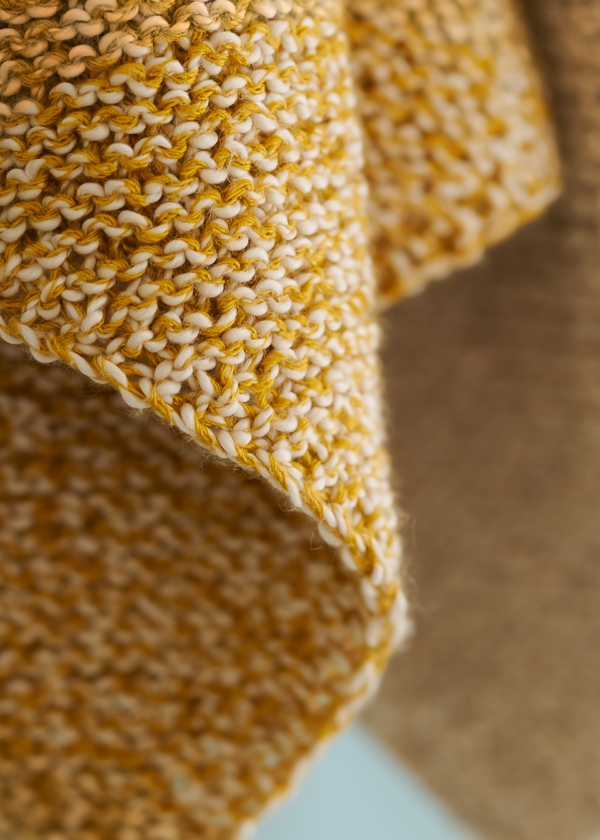 One hundred percent Peruvian Pima cotton, our Picnic Cotton is a light and airy fingering-weight yarn. It knits up into a quick-drying fabric that is so soft, you'll want to squish it up against your face … Exactly what you want in a washcloth!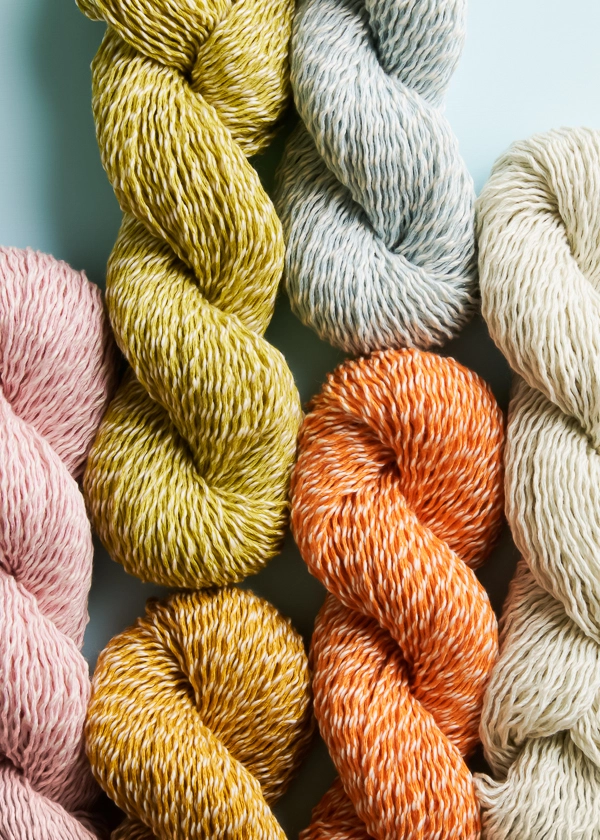 Picnic Cotton's two-color structure has a fluffy (super-duper-soft) white core wrapped in, colored threads, which creates a distinctive marled fabric and a very un-ho-hum washcloth.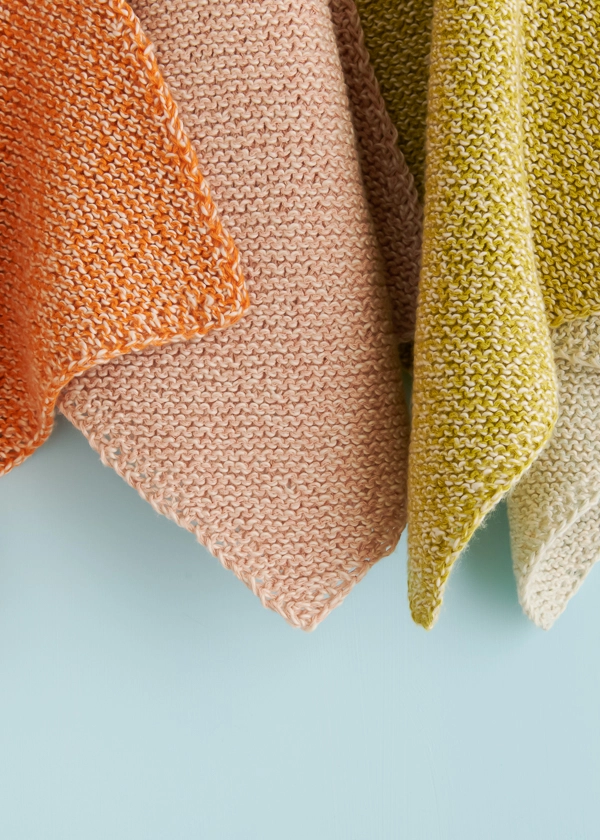 Best of all? It only takes one 50-gram skein of Picnic Cotton to make one! Or knit up a set… We've put together a selection of lovely Corner-To-Corner Washcloth Bundles, so you can pick a three-color palette, or really soak in the beauty (like we did!) and make a set of all twelve colors!
Designed for Purl Soho by Jennifer Hoverson Jahnke.
Share your progress and connect with the community by tagging your pics with #PurlSoho, #PurlSohoBusyHands, #PurlSohoCornerToCornerWashcloth, and #PurlSohoPicnicCotton. We can't wait to see what you make!
Materials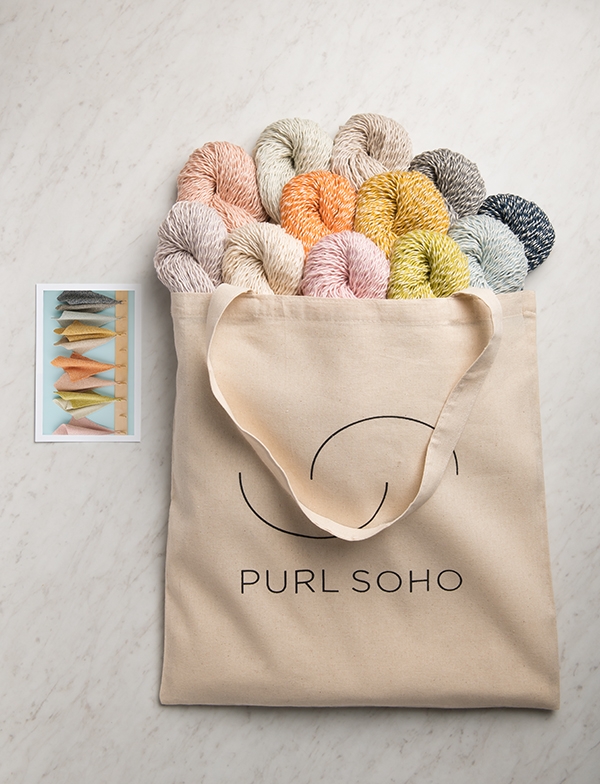 Our Corner-To-Corner Washcloth Bundle comes in an All Twelve Colors Bundle, shown up top, which makes a dozen washcloths, or in 3-skein bundles to make a set of three. Choose from four palettes, shown above: Sunrise, Field + Sky, Morning Fog, and Salt Water. To make just one Corner-To-Corner Washcloth, you'll need…
1 skein of Purl Soho's Picnic Cotton, 100% Peruvian Pima cotton. Each skein is 164 yards/ 50 grams; approximately 134 yards required.
No matter how many washcloths you're making, you'll also need…
GAUGE
26 stitches and 52 rows (or 26 "ridges") = 4 inches in garter stitch
SIZE
Finished Dimensions: Approximately 9½ inches square
NOTE
You may find that your washcloth comes out looking a bit more kite-shaped than square. Not to worry, this is normal and a result of the knit 2 together decreases being slightly looser than the knit front and back increases. A good wet-block or steam will do the trick!
PATTERN
Cast on 3 stitches. We used a basic Long Tail Cast On.
INCREASE
Increase Row: Slip 1 purlwise with yarn in front (wyif), knit front and back (kfb), knit to end of row. [1 stitch increased]
Repeat Increase Row until there are 87 stitches.
DECREASE
Decrease Row: Slip 1 purlwise wyif, knit 2 together (k2tog), knit to end of row. [1 stitch decreased]
Repeat Decrease Row until 3 stitches remain.
MAKE I-CORD
With remaining 3 stitches, work an I-Cord for 3 inches, working the last row as follows…
Bind-Off Row: K1, k2tog, pass first stitch over second stitch and off needle.
Cut yarn, leaving an 8-inch tail and pull through remaining stitch.
Thread the tail onto a tapestry needle. Make a loop with the I-cord and weave the tail into the fabric of the washcloth at the base of the I-cord, then weave it through the looped I-cord, and back into the fabric of the washcloth.
Weave in the remaining ends and block as desired.