It may look like good ol' knit one, purl one, but our Soft + Cushy Hat juices up classic 1×1 rib by throwing in a "knit into the row below." The effect is a loftier, more distinctive rib with a dose of oomph!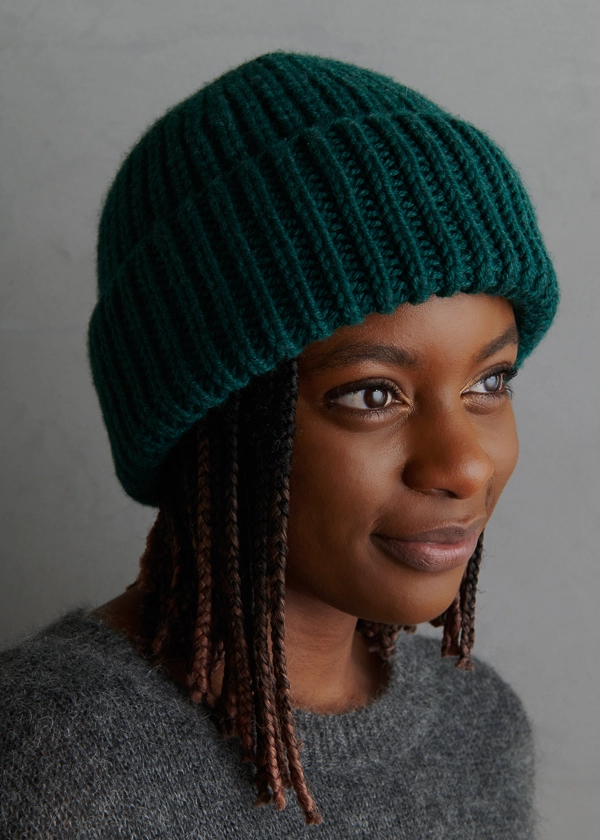 Working into the stitch below is a great shortcut to attaining some of brioche stitch's deep dimension without the challenge of brioche-specific techniques. It's easy enough for anyone willing to try something new and satisfying enough to make our Soft + Cushy Hat especially soft and markedly cushy!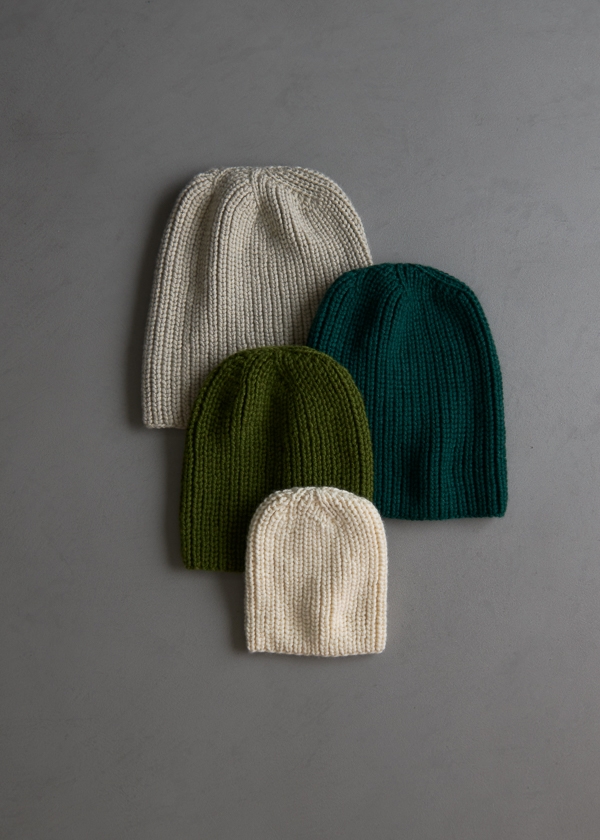 Adding to all this soft cushiness is Plenty, our brand new 100% extra fine merino. As un-scratchy as wool gets, Plenty has a sumptuous spin and very lively bounce. We love its plump and lofty sense of generosity and its overall good feeling!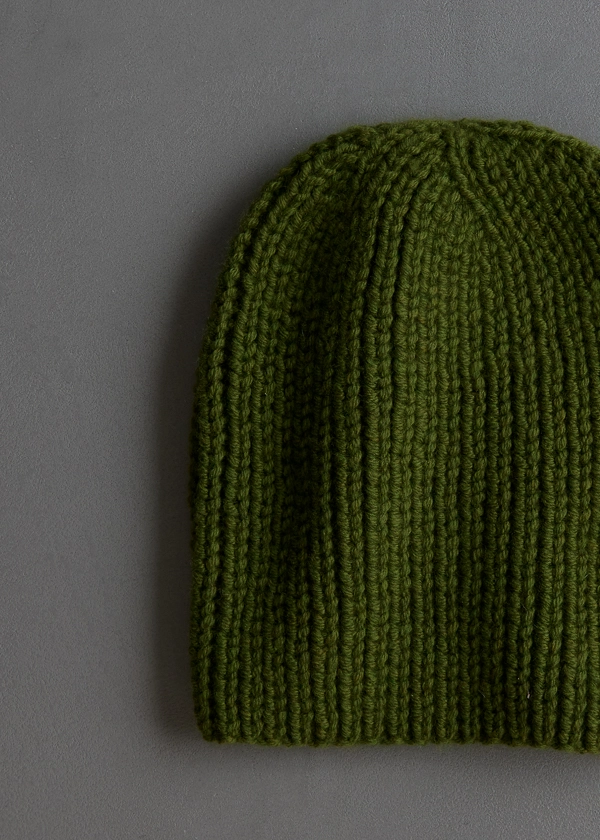 Plenty is a classic worsted weight, knitting up at a quick and toasty 4 or 4.25 stitches to the inch. It is milled in Peru, where its fiber meets the rigorous Responsible Wool Standard and is Fair Trade Certified… yay!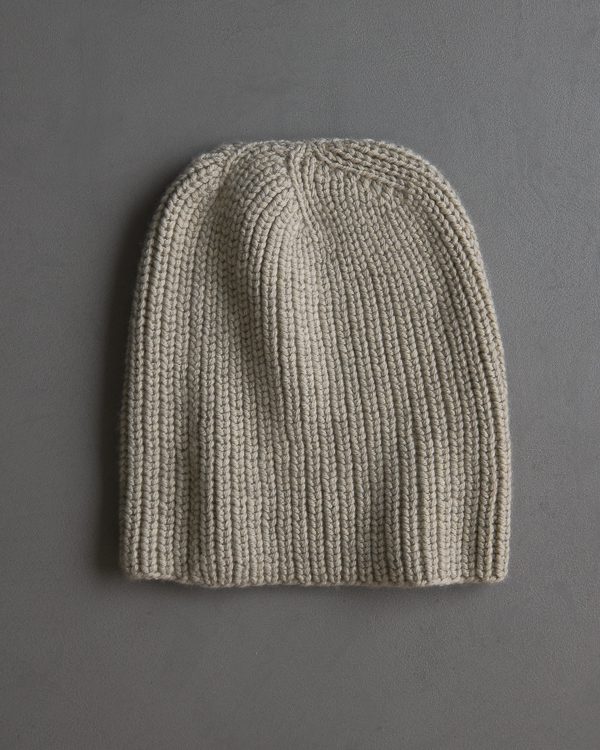 Choose from 18 colors all inspired by nature's prettiest moments, from soft Reed Gray (above) to deep Laurel Leaf (below)… Plenty of beauty all around!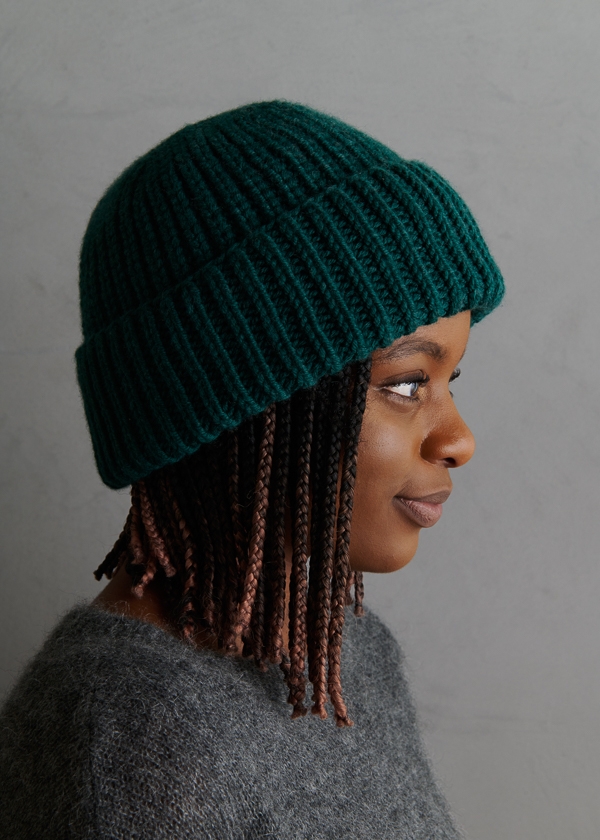 Designed for Purl Soho by Jake Canton.
Share your progress + connect with the community by tagging your pics with #PurlSoho, #PurlSohoBusyHands, #PurlSohoSoftAndCushyHat and #PurlSohoPlenty. We can't wait to see what you make!
Materials

For our samples we knit the following sizes in the following colors…
Baby: Heirloom White
Kid: Fresh Pickle
Adult Small: Laurel Leaf
Adult Large: Reed Gray
Gauge
18 stitches and 32 rounds = 4 inches in stitch pattern
Sizes
Baby (Toddler, Kid, Adult Small, Adult Large)
Finished Circumference: 13¼ (15½, 17¾, 20, 22¼) inches, comfortably stretching 1–2 inches
Finished Height: 8 (9¼, 10½, 11½, 12½) inches, uncuffed
Notes
Construction
You will knit this hat in the round with the "wrong side" facing you (the less textural side of the stitch pattern), and you'll turn it right side out before blocking. However, both sides of the fabric are beautiful, and when the hat is cuffed, both sides of the fabric will show!
Knit One Below
k1b [knit one below]: Insert the tip of the right needle into the center of the stitch below the next stitch, knit normally (wrapping the yarn around the needle and pulling it back through the stitch below) and let the stitch above fall from the left needle.
To see a "k1b" in action, check out our Working Into The Stitch Below video tutorial.
Pattern
Begin
Cast 60 (70, 80, 90, 100) stitches onto circular needles. We used a basic Long Tail Cast On.
Place unique marker and join for working in the round, being careful not to twist the stitches.
Round 1: *P1, k1, repeat from * to end of round.
Round 2: *P1, k1b (see Notes), repeat from * to end of round.
Repeat Rounds 1 and 2 until piece measures approximately 7 (8, 9, 9¾, 10½) inches from cast-on edge.
Crown
Set-Up Round: *[P1, k1] 6 (7, 8, 9, 10) times, place marker, repeat from * to end of round. NOTE: The final marker will be the end-of-round marker.
Round 1: [*P1, k1b, repeat from * to 4 stitches before next marker, p1, knit 3 together (k3tog)] 5 times. [10 stitches decreased]
Round 2: *P1, k1, repeat from * to end of round.
Repeat Rounds 1 and 2 three (4, 5, 6, 7) more times. [20 stitches remain]
Next Round: *K1, k3tog, repeat from * to end of round. [10 stitches remain]
Cut yarn and pull tail through remaining stitches.
Finishing
Weave the ends into the side of the hat that won't be showing, considering that the cuff gets folded up, and wet block.