From shadowy Ash Bark, through a scale of warm grays, to moonlit Heirloom White, our Five-Shade Chiaroscuro Wrap is a peaceful amble through a winter-y field of undyed shades.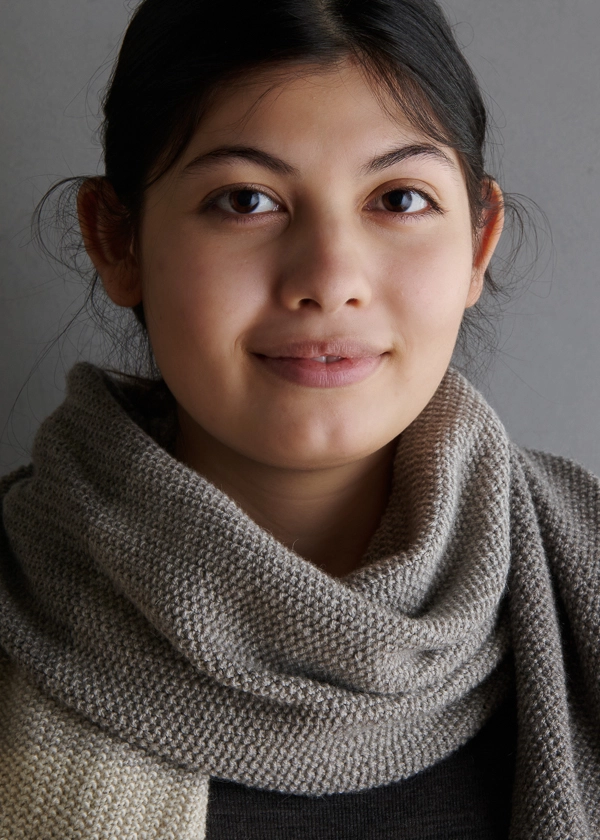 Knit up in our Cygnet, a mix of 70% undyed white cashmere and 30% natural-color alpaca, we love how close to the source this yarn makes us feel. It's also so soft and amazing to touch, you'll definitely be dreaming about a goat farm before you're done (or maybe you'll credit the alpaca… Can you get both?).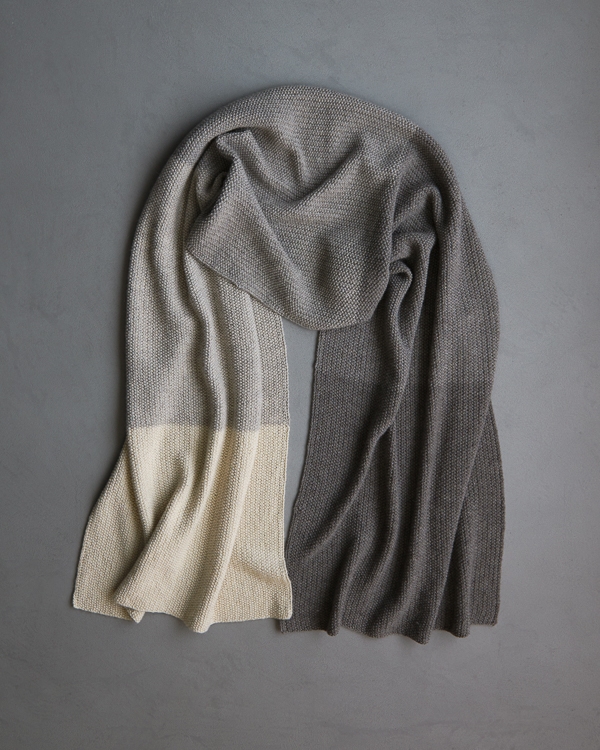 To cast on for this incredible knit, start with our Five-Shade Chiaroscuro Wrap Bundle in either a scarf or wrap size, or for narrower widths and a lower price, we have a Four-Shade option, too. Enjoy the journey from the dark into the light!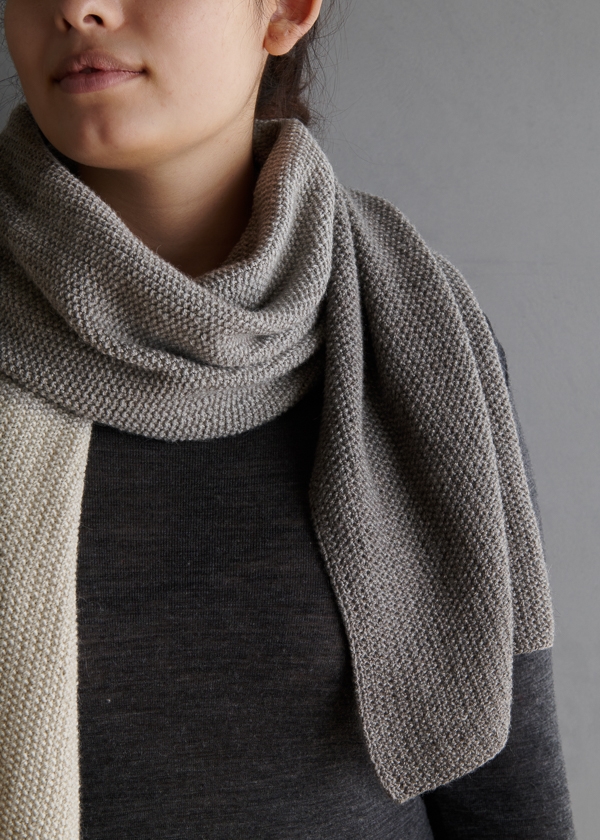 Share your progress + connect with the community by tagging your pics with #PurlSoho, #PurlSohoBusyHands, #PurlSohoFiveShadeChiaroscuroWrap, and #PurlSohoCygnet. We can't wait to see what you make!
Materials
Our Five-Shade Chiaroscuro Wrap Bundle includes…
5 (10) skeins of Purl Soho's Cygnet, 70% undyed white cashmere and 30% undyed alpaca. Each skein is 164 yards/50 grams; approximately 164 (328) yards required per color.

Color A: Ash Bark
Color B: Weathered Gray
Color C: Silver Stone
Color D: Rock Salt
Color E: Heirloom White

A Purl Soho tote bag
A postcard with an image of the finished project on it
You'll also need…
US 2 (3.0 mm), straight or 24-inch circular needles
Gauge
30 stitches and 51 rows = 4 inches in seed stitch
NOTE: To ensure all your stripes are the same length, be sure to reuse your swatch yarn.
Sizes
Scarf (Wrap)
Finished Dimensions: 8¾ (17½) inches wide x 69 inches long
Sample: The piece shown here is the Wrap size.
PATTERN
With Color A, use a basic Long-Tail Cast On to cast on 65 (131) stitches.
Row 1: *K1, p1, repeat from * to last stitch, k1.
Repeat Row 1 until you have used as much of Color A as you can (approximately 13¾ inches from cast-on edge), ending at the end of a row.
*With Color B, repeat Row 1 until you have used as much of Color B as you can, ending on the same side you ended the previous skein.
Repeat from * with Colors C through E, making sure to always switch colors on the same side. For Color E, end with a couple yards left over for binding off.
Bind-Off Row: With Color E, k1, *p1, pass first stitch over, k1, pass first stitch over, repeat from * to end of row.
Weave in the ends and gently block. Beautiful!