We love lacework because it's like drawing with yarn! In all the shapes and spaces of our Archway Lace Wrap, we see sundown walks under colonnades, tower windows with views, a little chat under a portico.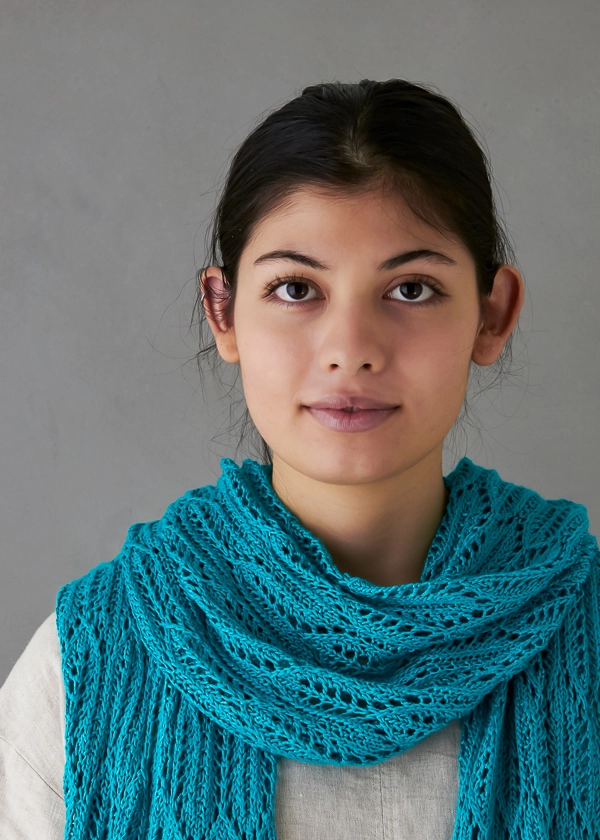 Wherever your imagination takes you with this pattern, the knitting is always engaging! A 16-row repeat is simplified with straight-up purling every other row and instructions in both written and chart forms.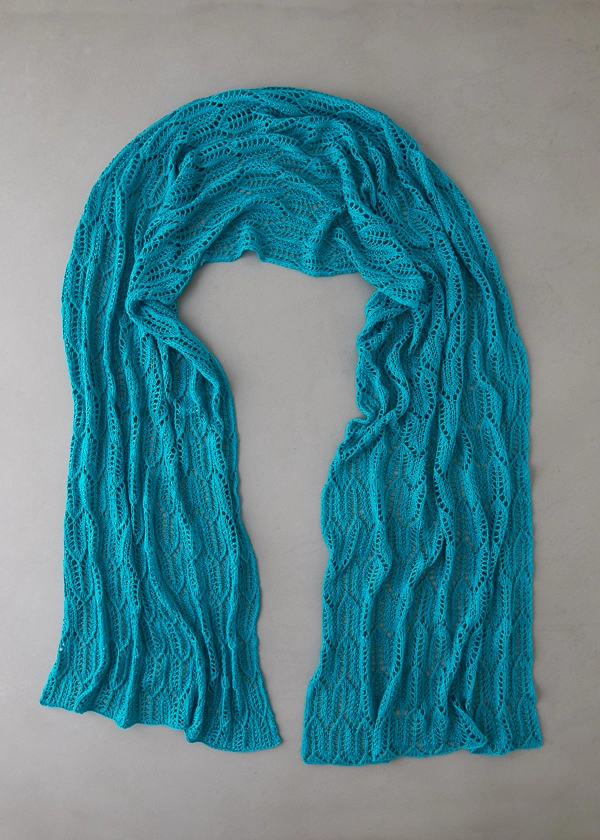 Color turns this picture into a painting, and with ten new colors of Burnish to choose from, there are lots of lovely ways to fill the canvas! Our version is rich in depth and beauty in the new color, Turquoise Sea… Stunning!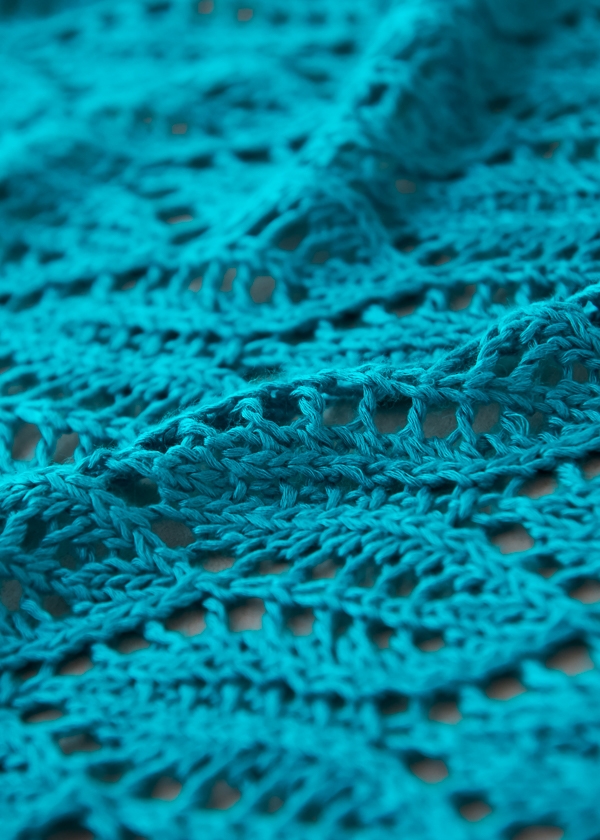 Explore the whole palette and cast on for knitting your own narrative!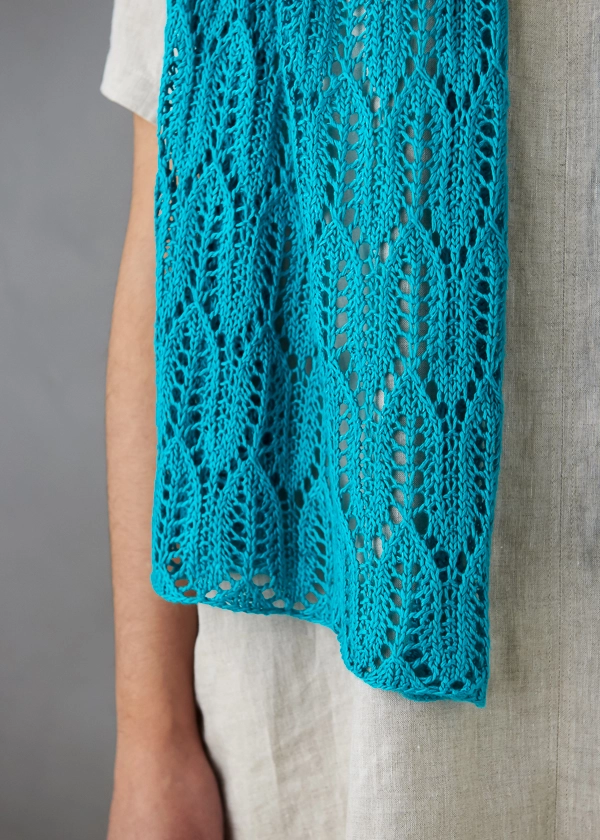 Designed by Purl Soho designer, Jake Canton. Click here to see even more of Jake's designs!
Share your progress + connect with the community by tagging your pics with #PurlSoho, #PurlSohoBusyHands, #PurlSohoArchwayLaceWrap, and #PurlSohoBurnish. We can't wait to see what you make!
Materials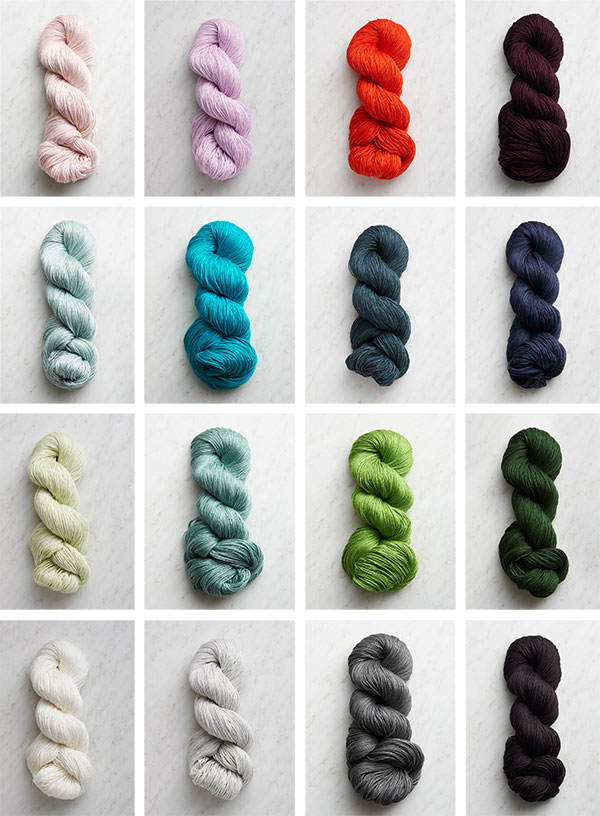 4 skeins of Purl Soho's Burnish, 100% rayon from bamboo. Each skein is 339 yards/ 100 grams; approximately 1,172 yards required. We used the color Turquoise Sea. (NOTE: We no longer offer Burnish, but choose from one of our other fingering/sport weight yarns.)
US 5 (3.75 mm) straight or circular needles
Gauge
22 stitches and 32 rows = 4 inches in stitch pattern
Size
Finished Dimensions: 18 inches wide x 72 inches long
Notes
Stitch Multiple
This pattern is worked over a multiple of 8 + 1 stitches.
Slip 1 Knitwise, K2tog, Pass
Slip 1 stitch knitwise, knit next 2 stitches together, pass slipped stitch over k2tog and off needle. [2 stitches decreased]
Pattern
Begin
Cast on 97 stitches. We used a basic Long Tail Cast On.
Set-Up Row (wrong side): Purl to end of row.
Work Rows 1-16 of Stitch Pattern (either from Written Instructions or Chart below) until piece measures approximately 72 inches from cast-on edge, ending with Row 16.
Stitch Pattern: Written Instructions
Row 1 (right side): P1, *yarn over (yo), slip slip knit (ssk), k3, knit 2 together (k2tog), yo, k1, repeat from * to last 8 stitches, yo, ssk, k3, k2tog, yo, p1.
Row 2 and every even number row (wrong side): Purl to end of row.
Row 3: P1, *k1, yo, ssk, k1, k2tog, yo, k2, repeat from * to last 8 stitches, k1, yo, ssk, k1, k2tog, yo, k1, p1.
Row 5: P1, *k2, yo, slip 1 knitwise, k2tog, pass (see Notes), yo, k2, p1, repeat from * to end of row.
Row 7: P1, *ssk, [k1, yo] twice, k1, k2tog, p1, repeat from * to end of row.
Row 9: Repeat Row 7.
Row 11: Repeat Row 7.
Row 13: Repeat Row 7.
Row 15: Repeat Row 7.
Row 16: Purl to end of row.
UPDATE May 12, 2021: We've changed Row 3 of the written instructions so it now reads the same as the chart. Don't worry, if you've been following the original written instructions, your knitting is still correct!
Chart
Start in the bottom right corner of the Chart and work right-side (odd number) rows from right to left, and wrong-side (even number) rows from left to right.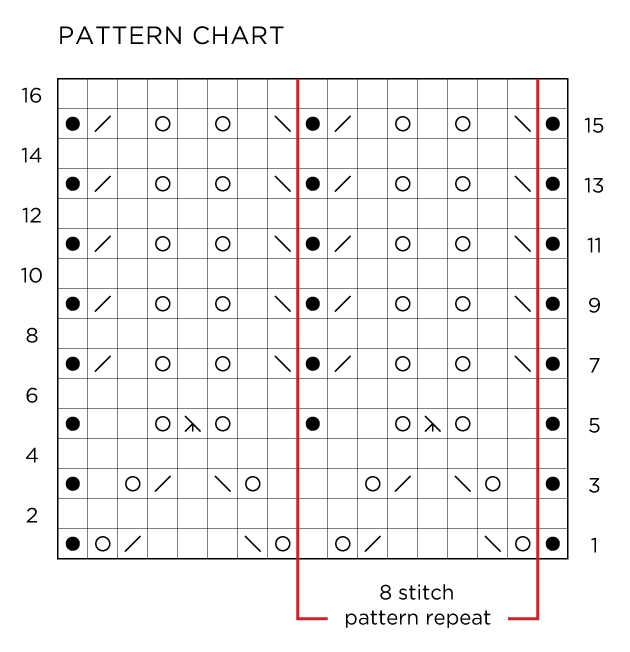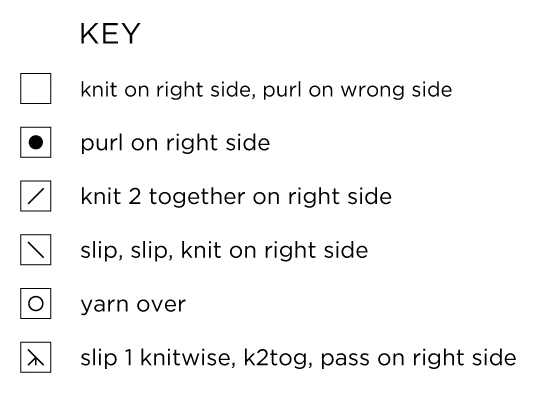 Finish
With right side facing you, bind off knitwise.
Weave in ends and wet block.