Our Swath Wrap is beautiful and functional, but just as important, hidden within its folds is a fiber surprise designed especially for those of us who live for such things!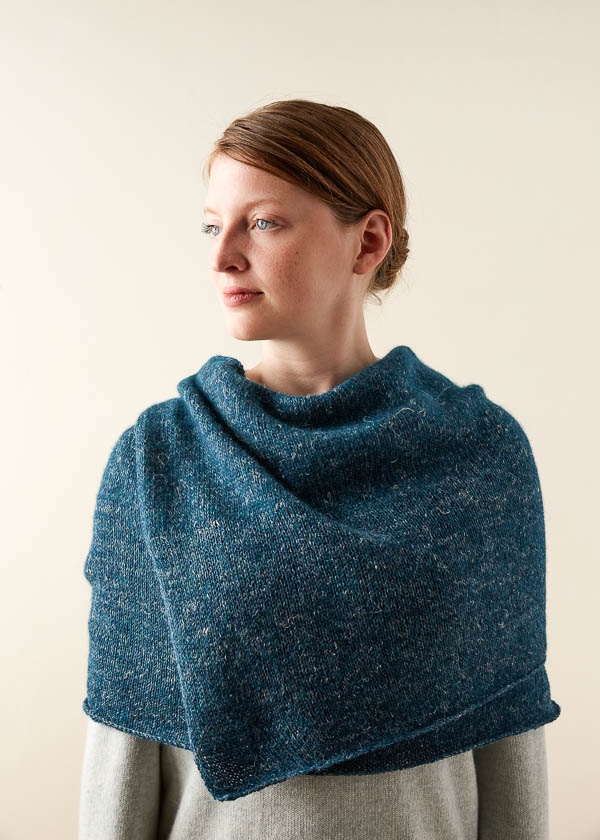 Close inspection reveals a sleight of hand, a shift from Flax Down to Linen Quill, two yarns very similar in fiber content and color but quite different in gauge. Using the same size needle, you knit two skeins of Flax Down, then one of Linen Quill, and wind up with a shift in texture from warm and cozy to light and airy, as well as a study in gauge, fiber, and fabric!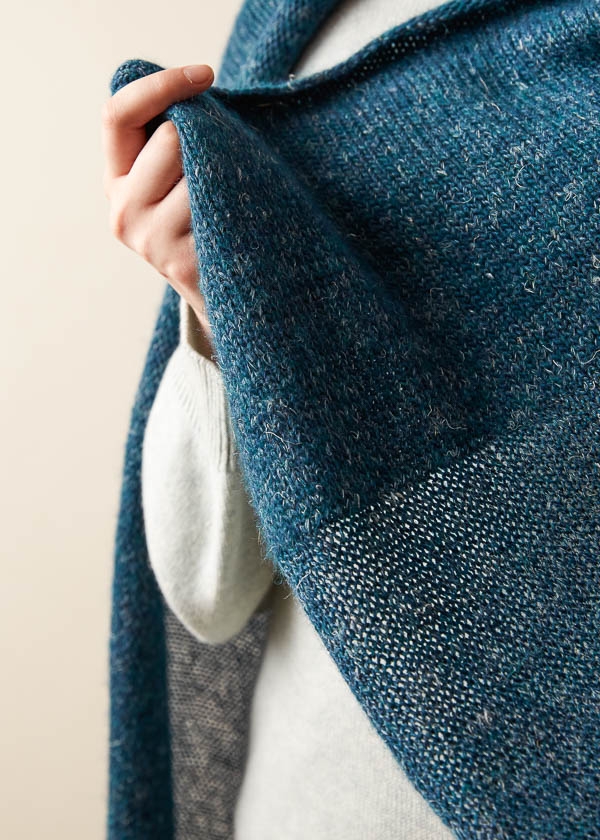 But beyond a fiber lesson, the Swath Wrap is also a wonderful multi-tasker. Wear it Flax Down side up for a toasty chill chaser or Linen Quill side up for a beautiful shoulder draper.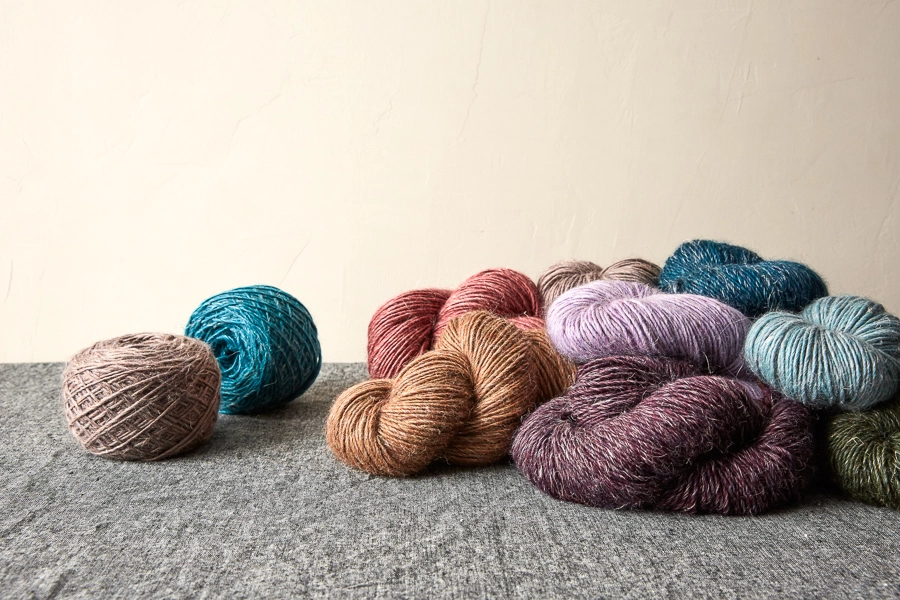 Such subtle fiber play gives the Swath Wrap a restrained sophistication, particularly when both yarns hail from the same family of color. We've added nine gorgeous new colors to our Flax Down collection, all of which pair up with a Linen Quill color for a monochromatic match.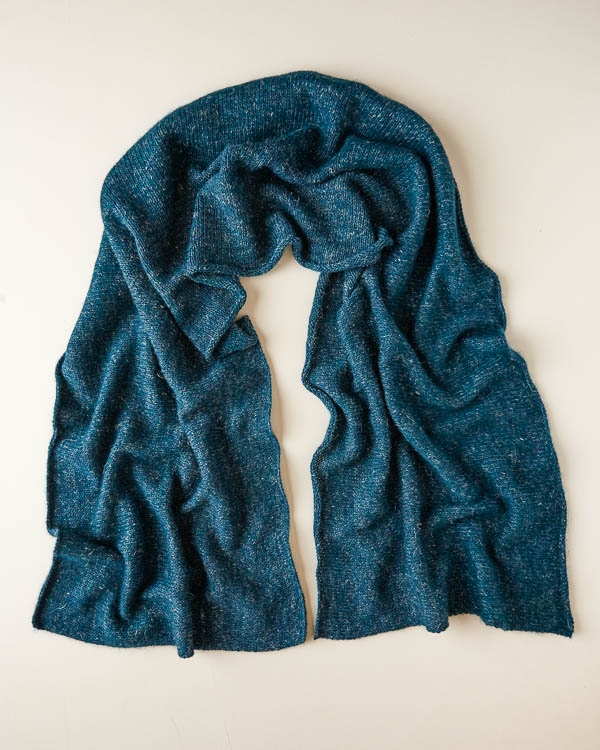 Add to that some more same-color pairings, and you have 16 different Swath Wrap Bundles to choose from! Each is just three total skeins of yarn, and all are as evocative and subtle as the Swatch Wrap itself!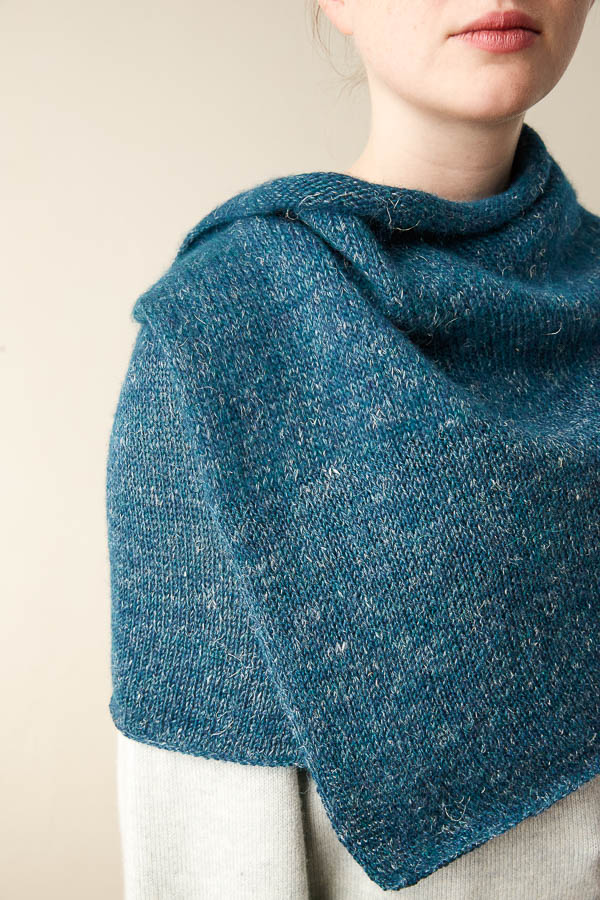 Designed for Purl Soho by Laura Ferguson.
Materials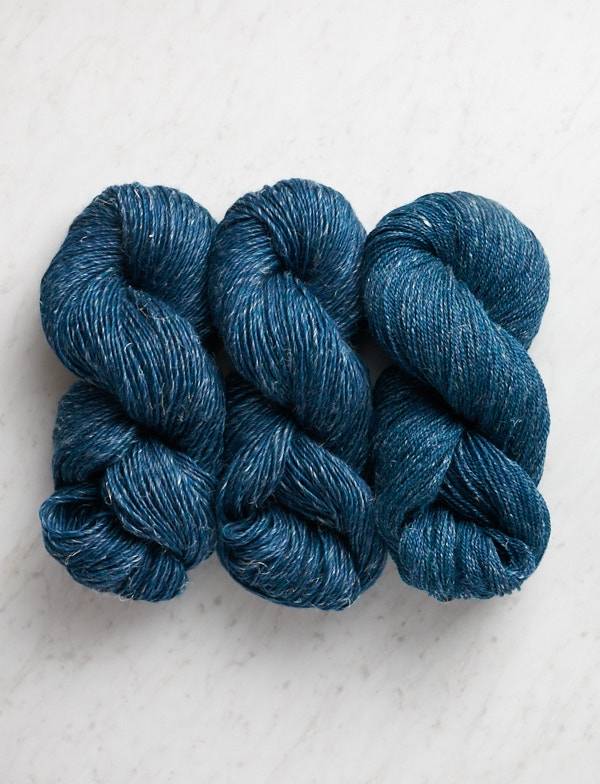 Our Swath Wrap Bundle includes…
Yarn A: 2 skeins of Purl Soho's Flax Down, 43% baby alpaca, 42% extra fine merino wool, 15% linen. We used High Tide.
Yarn B: 1 skein of Purl Soho's Linen Quill, 50% fine highland wool, 35% alpaca, and 15% linen. We used High Tide.
You'll also need…
Our Swath Wrap Bundle comes in an additional 15 palettes. They are…
Top Row: Heirloom White, Peach Stone + Fresh Nutmeg
Second Row: Rose Granite, Rosewood Pink + Kiln Red
Middle Row: Lavender Opal, Crocus Bud + Dark Iris
Second From Bottom Row: Vintage Celadon, True Turquoise + Juniper Green
Bottom Row: Stonewall Gray, Stillwater Blue + Kettle Black
Gauge
20 stitches = 4 inches in stockinette stitch, using either Yarn A or Yarn B
Size
Finished Dimensions: 17½ inches wide x 72 inches long
Pattern
Using Yarn A, cast on 355 stitches. (A little tip: When you're casting on so many stitches, it helps to place a marker or piece of scrap yarn every 50 stitches, so if you lose your place, you don't have to start counting from the very beginning! Remove them as you work the first row.)
Row 1 (wrong side): K2, purl to last 2 stitches, k2.
Row 2 (right side): K1, p1, knit to last 2 stitches, p1, k1.
Repeat Rows 1 and 2 until you've used both skeins of Yarn A or until piece measures approximately 8 inches from cast-on edge, ending with a right-side row.
Cut Yarn A, if necessary.
Join Yarn B.
Continue in pattern, repeating Rows 1 and 2, until approximately 6 to 7 yards of Yarn B remain or until piece measures approximately 17½ inches from cast-on edge, ending with a wrong-side row.
Bind off in pattern.
Weave in ends and block as desired!