There are some very compelling reasons to embark on our Botanical Yoke Pullover: the challenge of trying something new, the joy of wearing something lovely and handmade, and the satisfaction of working with beautiful yarn in your hands.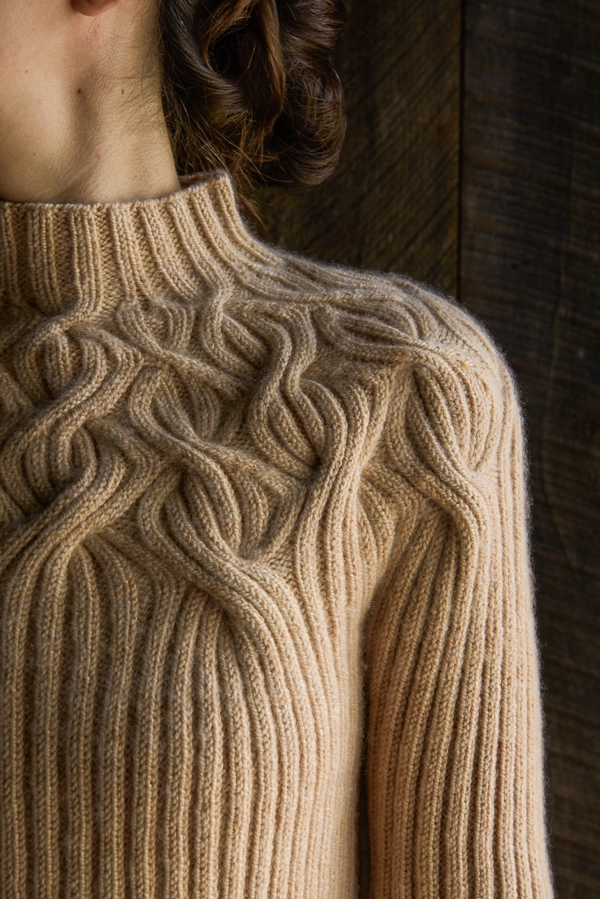 Our first reason for starting was our soft and sumptuous Cashmere Merino Bloom, a perfect blend of extra fine merino wool and cashmere. Its tidy spin gives wonderful stitch definition to all the twining cables of this sweater, while its downy halo of cashmere softens the edges.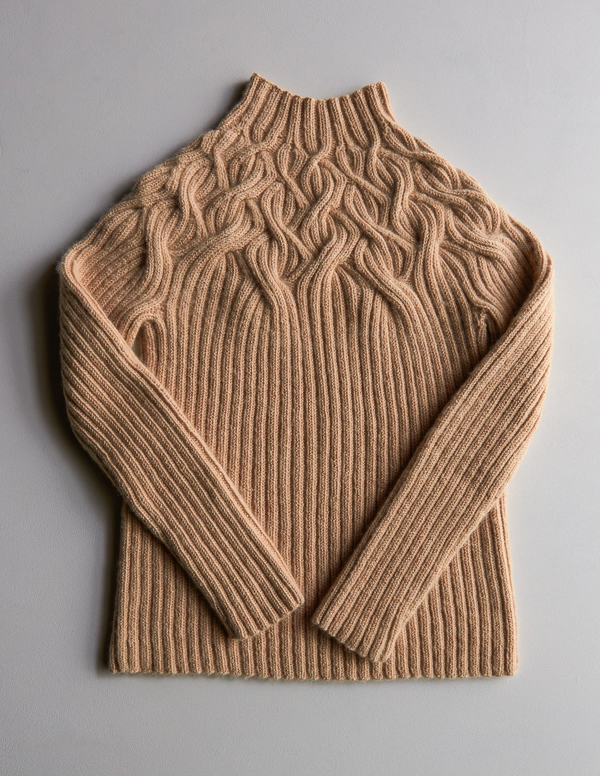 Next, we turned to a simple, bottom-up yoke construction. After a good portion of easy-going 2 x 2 rib, the excitement really begins with an engaging and intuitive cabled yoke. Our Botanical Yoke Pullover Pattern details this section in both written and chart form, and it's truly a lot less complicated than it may look!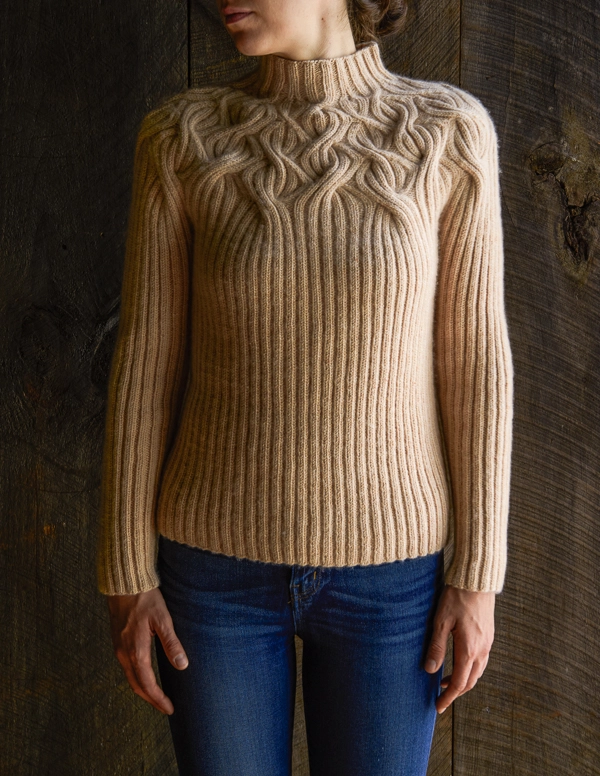 After all this, reason number one to knit our Botanical Yoke Pullover: it's absolutely beautiful! Please enjoy this knitting experience, as well as the incredible reward for having finished! -Kristy
Update: New Colors
October 8, 2021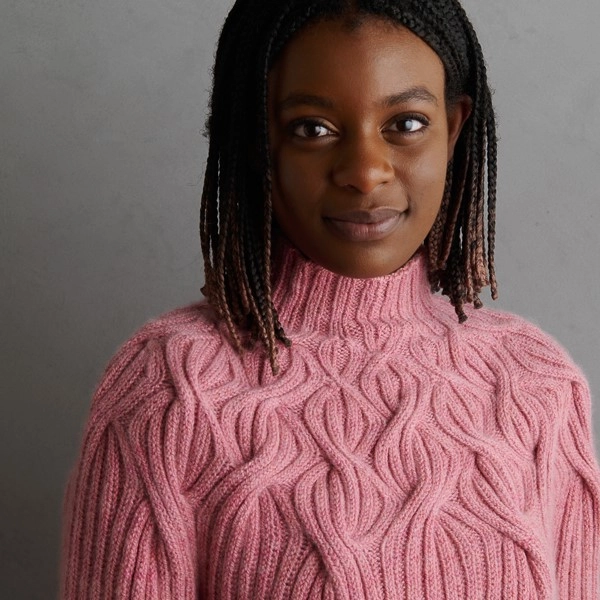 The occasion for casting on for a new version of this old classic is the arrival of nine gorgeous new colors, starting with this pretty-as-can-be Rosebud Pink. Explore the whole palette, which is now 31 colors strong, and pick the one that will be the seed for your own Botanical Yoke Pullover!
Update: Now For Dogs
November 14, 2021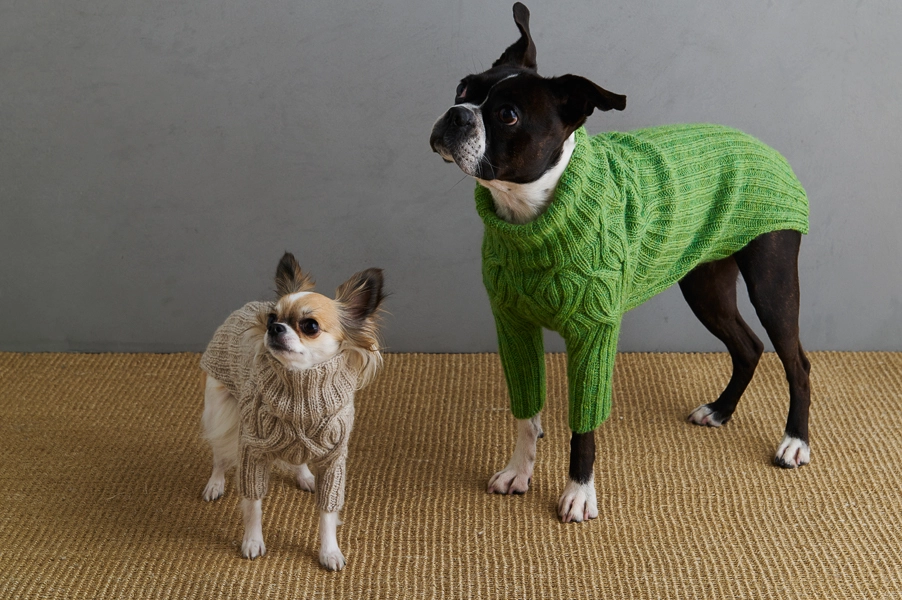 What better way to show love for our canine friends than with a sweater fit for a human? Sole Salvo has done just that with her inspired Botanical Yoke Sweater For Dogs! Choose from one of 30 gorgeous shades of natural or dyed Good Wool and you and your pet will be stepping out in matching pullovers in no time!
Designed by Purl Soho designer, Kristina McGowan. Click here to see even more of Kristina's designs!
Share your progress and connect with the community by tagging your pics with #PurlSoho, #PurlSohoBusyHands, #PurlSohoBotanicalYokePullover, and #PurlSohoCashmereMerinoBloom. We can't wait to see what you make!
Materials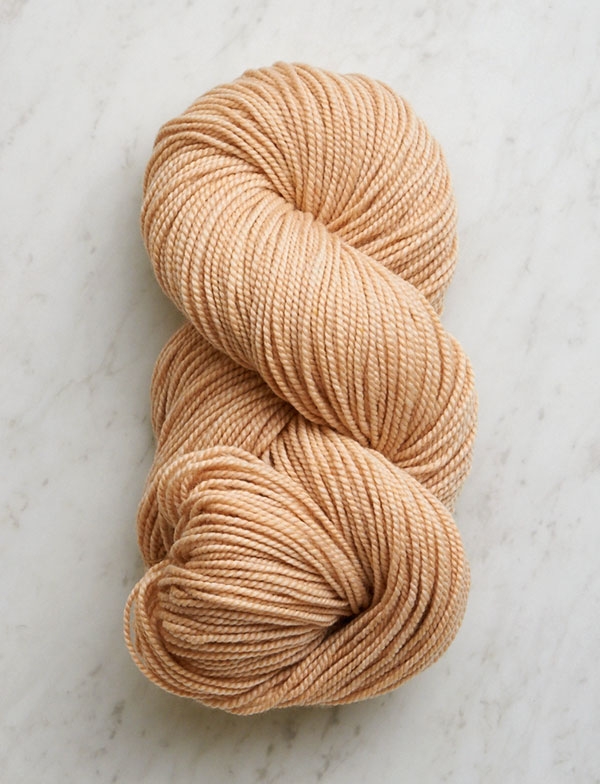 7 (8, 9, 10) (10, 11, 12) (13, 13, 14) skeins of Purl Soho's Cashmere Merino Bloom, 75% extra fine merino wool, 25% cashmere; approximately 1495 (1655, 1850, 1985) (2145, 2310, 2480) (2655, 2810, 2960) yards required. We used Honey Pink.
US 5 (3.75 mm), 32 or 40-inch circular needles, depending on sweater size
US 5, 24-inch circular needles
US 5, 16-inch circular needles
A set of US 5 double pointed needles
A cable stitch holder
Stitch markers, including one unique
Stitch holders or scrap yarn
NOTE: Looking to knit your sleeves in double-time? Swap the double pointed needles for 32-inch or longer circular needles, and check out our Magic Loop: Two At A Time Tutorial!
Gauge
28 stitches and 32 rows = 4 inches in 2 x 2 ribbing, relaxed after blocking
Sizes
NOTE For help picking a size, please check out our Understanding Ease + Selecting Size Tutorial!
34¼ (37¾, 41¼, 44½) (48, 51½, 54¾) (58¼, 61¾, 65¼)
To fit actual chest circumference of 29¼–31¼ (32¾–34¾, 36¼–38¼, 39½–41½) (43–45, 46½–48½, 49¾–51¾) (53¼–55¼, 56¾–58¾, 60¼–62¼) inches with 3–5 inches of positive ease
Finished Chest Circumference: 34¼ (37¾, 41¼, 44½) (48, 51½, 54¾) (58¼, 61¾, 65¼) inches
Finished Length from Shoulder to Bottom Edge: 24 (24½, 25, 25¼) (25½, 25¾, 26) (26½, 27, 27½) inches
Finished Length from Underarm to Bottom Edge: 15 (15, 15, 14¾) (14¾, 14¾, 14¾) (15, 15¼, 15½) inches
Finished Length from Underarm to Cuff: 17½ (18, 18, 18½) (18½, 18½, 19) (19, 19½, 19½) inches
SAMPLE: The sweater shown here is size 37¾ with 5¼ inches of ease.
Pattern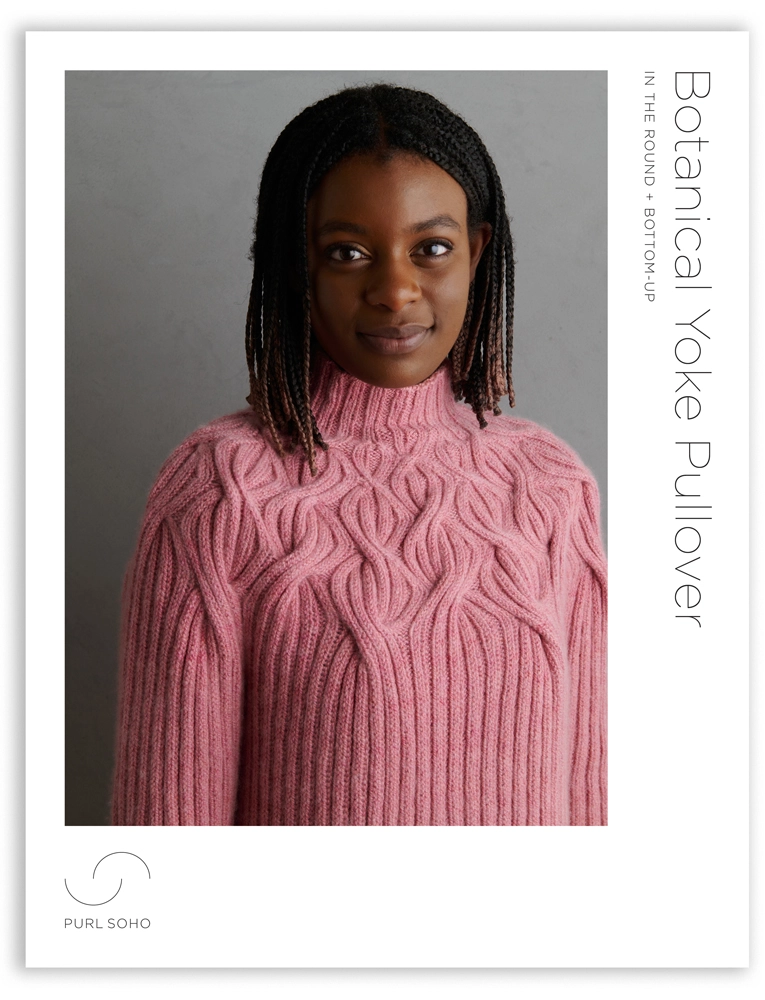 Our Botanical Yoke Pullover Pattern is available for purchase as a PDF download.
Update: More Sizes
January 2020
We've expanded the size range for our Botanical Yoke Pullover Pattern! Since last spring, all of our new sweaters fit at least a 60-inch chest. If you downloaded this pattern in the past, please update your pattern for free, either in My Pattern PDFs on your My Account page at purlsoho.com or in your Ravelry library.