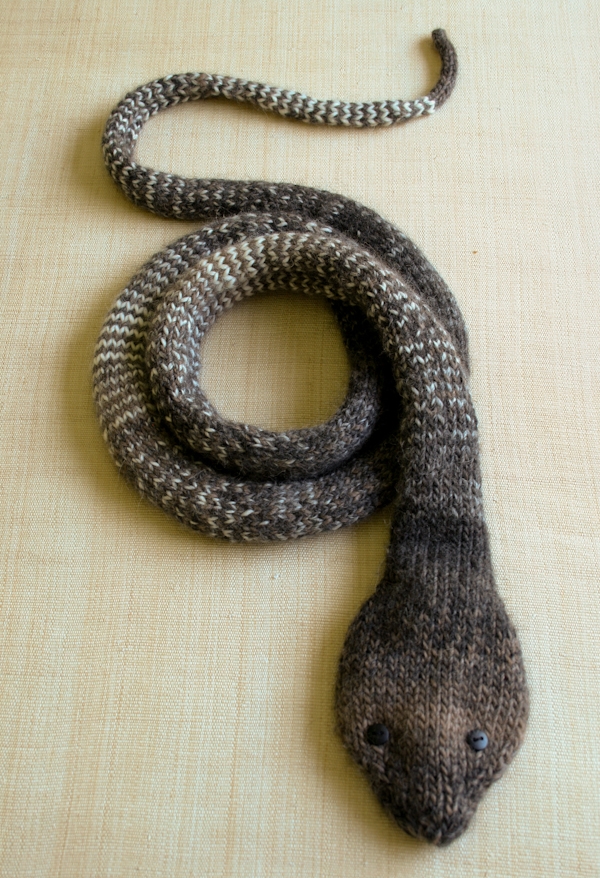 A dear friend of mine, Natalie, and I both recently became aunties, and like me, she wants to shower the new baby in her life with handsome hand-made treasures. It's been quite some time since Nat picked up her needles, and so she turned to me for some tech support and basic hand holding. Together we each knit up a Striped Stockinette Snake. For Natalie, it proved a very helpful reintroduction, and for both of us, it became the perfect present for our new family members!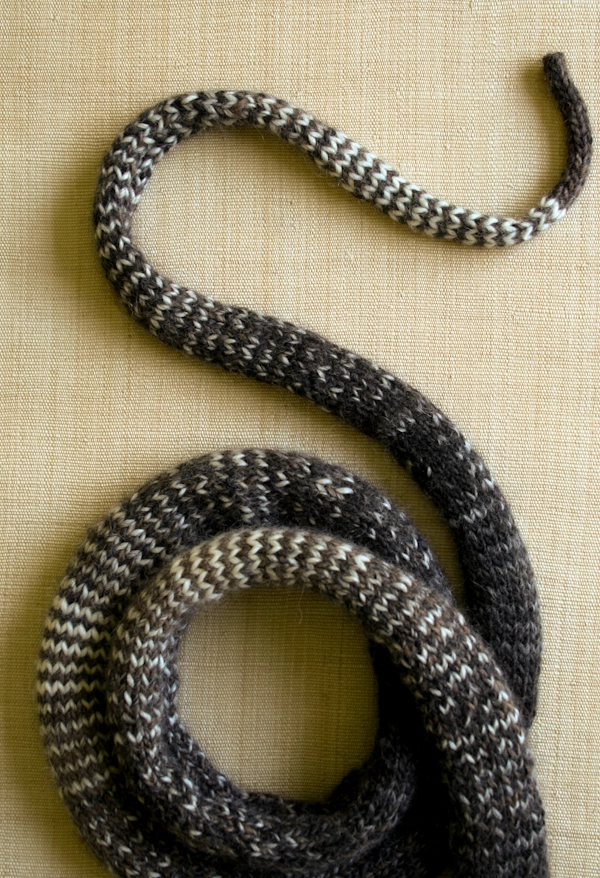 Along the way, we conquered the I-cord, learned how to increase and decrease both to the left and the right, and explored the characteristics of stockinette stitch. As seasoned knitters know, fabrics made out of stockinette stitch curl along the edges. Often stockinette is paired with another stitch pattern to keep the piece laying flat, but for our purposes here, the naturally curled edges are just what we needed! We were able to knit flat (rather than in the round) and still create a tubular, snake-like object. Pretty nifty!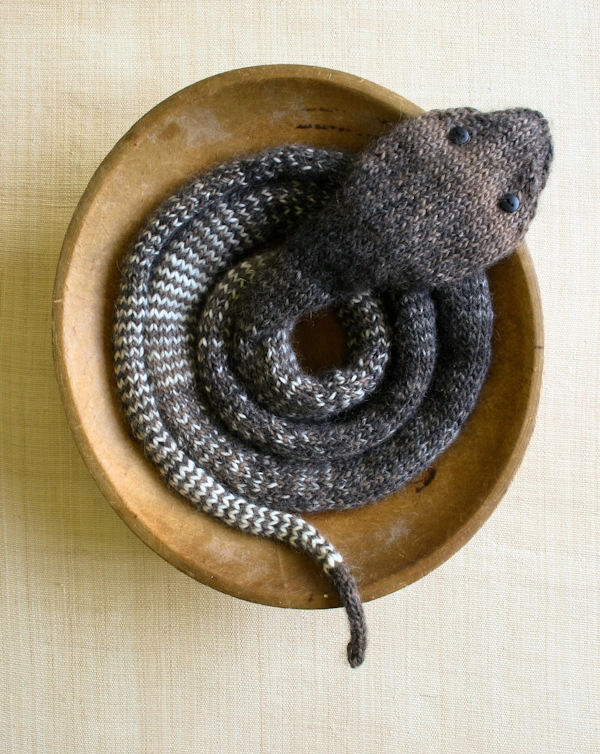 To add to some more snakiness I incorporated single-row striping, using two beautiful self-ombreing yarns, Cascade's alpaca-merino Eco Duo. With rows and rows of easy stripes, boredom never strikes as the two yarns fade in and out from darks to lights. It's nearly hypnotizing.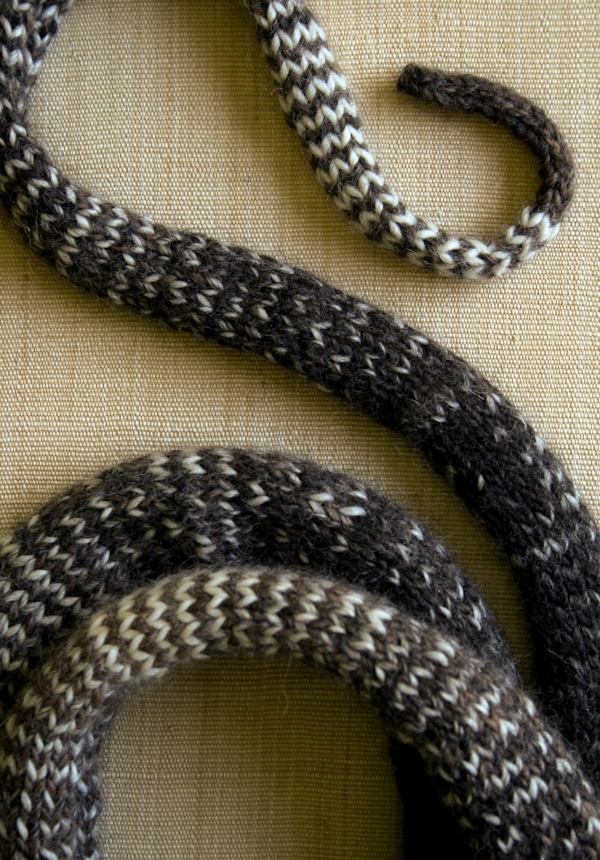 Whether it gets lovingly dragged around or slyly stacked on a shelf, this super simple Striped Stockinette Snake will slither its way into your dear little one's heart! -Zia (Aunt) Laura
Share your progress and connect with the community by tagging your pics with #PurlSoho, #PurlSohoBusyHands, and #PurlSohoStripedStockinetteSnake. We can't wait to see what you make!
Materials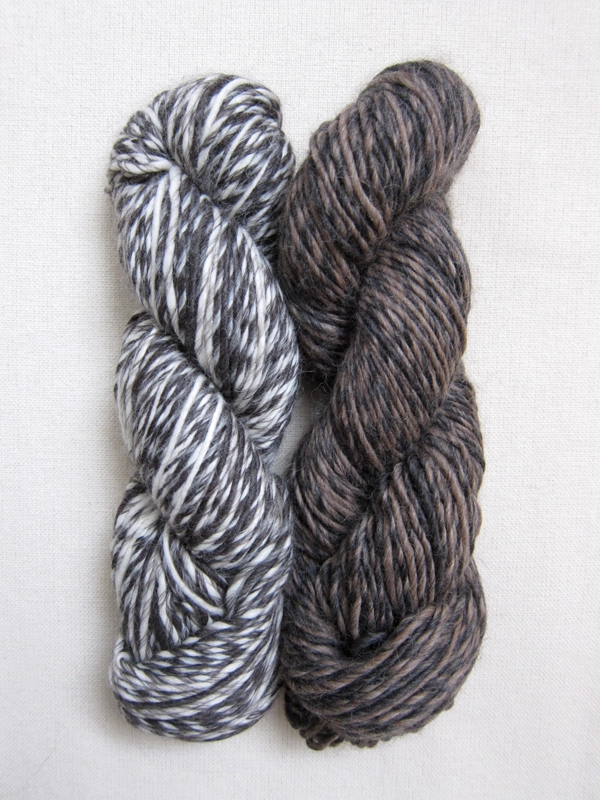 Color A: 1 skein of Cascade's Eco Duo. Each skein is 197 yards/ 100 grams; approximately 197 yards required. I used the color Chicory.
Color B: 1 skein of Cascade's Eco Duo. Approximately 197 yards required. I used the color Zebra.
US 8 (5 mm), 8-inch, 12-inch, or 16-inch circular needles or long double pointed needes
1 pack of Buttons. I used Small Buttons (⅜

-inch, 2-hole, size 15) in color Black.
Gauge
5 stitches = 1 inch in stockinette stitch
Size
68 inches long
Notes
During the stripped portion of this pattern, each row in this pattern starts with the instructions to either "Turn" or "Slide" the work:
"Turning the work" means to do what you would normally do when knitting rows with a circular needle. That is to say, put the needle in your left hand into your right and the needle in your right hand into your left, and flip the work around so the opposite side is facing you.
"Sliding the work" means to keep the same side of the work facing you, and to push all the stitches to the right end of the circular needle. Without turning the work, start the new row as you normally would.
You will know that you're doing this right if the yarn you need to complete the next row is magically there waiting for you!
Pattern
The Tail
With color A, cast on 4 stitches. We used a basic Long Tail Cast On.
Work in an I-cord for 1 inch.
The Body
Continuing with color A, you will now begin working in rows of stockinette stitch.
Row 1: Purl.
Row 2: Knit.
Repeat Rows 1 and 2 three more times.
Next Row: Purl.
Add the Stripe
Row 1: Turn work, knit with A.
Row 2: Slide work, knit with B.
Row 3: Turn work, purl with A.
Row 4: Slide work, purl with B.
Repeat Rows 1-4 one more time.
**Increase Row: Turn work, with A, K1, make 1 right (m1R), knit to last stitch, make 1 left (m1L), k1. (2 stitches increased)
Repeat Rows 2-4.
Repeat Rows 1-4 four more times.
Repeat from ** 11 more times. (28 stitches)
Repeat Rows 1-4 until piece measures approximately 65 inches. End the last repeat with Row 2.
Cut B.
Shaping the Head
Row 1: Turn work, purl with A.
Continuing with A, you will now be working back and forth in stockinette stitch.
Increase Row: K8, m1R, k1, m1R, knit to last 9 stitches, m1L, k1, m1L, knit to end. (4 stitches increased)
Next Row: Purl.
Repeat last two rows 6 more times. (56 stitches)
Next Row: Knit.
Next Row: Purl.
Decrease Row: K8, ssk, k1, ssk, k1, ssk, knit to last 16 stitches, k2tog, k1, k2tog, k1, k2tog, knit to end. (6 stitches decreased)
Next Row: Purl.
Repeat last two rows 4 more times. (26 stitches)
Decrease Row: K8, ssk, knit to last 10 stitches, k2tog, knit to end. (2 stitches decreased)
Next Row: Purl.
Repeat last Decrease Row. (22 stitches)
The Mouth
Cut yarn, leaving an 8 inch tail. Thread tail with a tapestry needle. With the right (knit) side of the fabric facing you and your tail on the left, thread the tail through all 22 stitches, starting with the far right stitch. You'll be creating a circle of stitches like the top of a hat. Pull the tail taut and weave in the end to secure.
The Eyes
Using thread to match, sew on two buttons for eyes. I placed mine low towards the mouth and fairly wide apart. Different placement will give your snake a different attitude!
Finish
Weave in any remaining ends and you're finished!