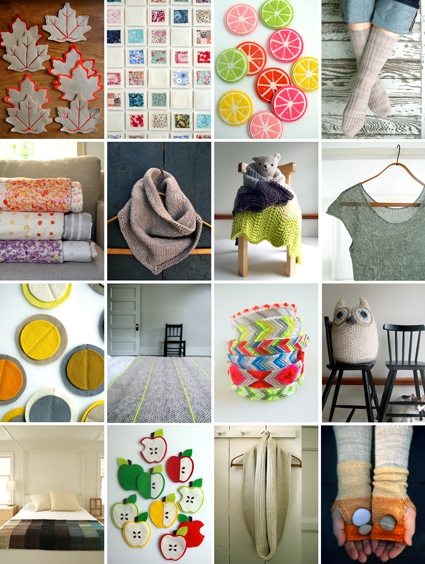 This past year at the Purl Bee has been a true joy for us and, we hope, for you too! We loved every moment spent digging through our very favorite materials, dreaming up projects, and sharing the results. This year was all about combing the world's treasures for exciting inspiration, turning to everything from nature's palette to grandma's attic to New York City street style!
It all feels like such a whirlwind! Perhaps now is a nice moment to remember some of 2011's highlights: the most popular, the most special, the most original projects from the past twelve months. We hope you enjoy them again and happy New Year! May 2012 be as fruitful!
Colorblock Hand Warmers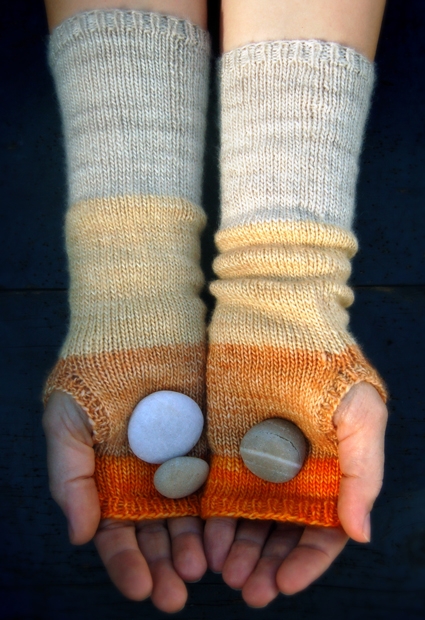 The Purl Bee has featured lots of hand warmers over the years, but one of our very favorite patterns came earlier this year with Whitney's Colorblock Hand Warmers. Their modern simplicity gives free rein to the gorgeous colors of Madeline Tosh Merino Light, allowing the spectacularly hand dyed palette to speak its own story and to create its own beauty: from moonlight gray to buttery yellow to bronzed apricot to blazing tangerine!
Bandana Cowl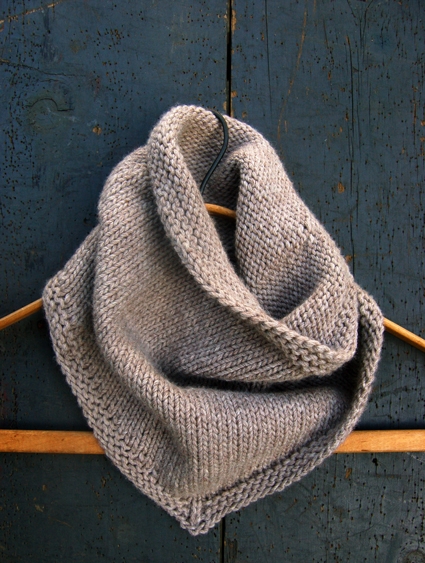 Erin's first knitting pattern for the Purl Bee was a huge success! Her super popular Bandana Cowl captured everyone's imagination with its stylish simplicity, innovative design and brilliant practicality. For classic beauty, Erin used Swan's Island Bulky, a gorgeous blend of undyed merino and alpaca. The Bandana Cowl is the best of both worlds: casual elegance and cuddly comfort!
Perfect Fit Socks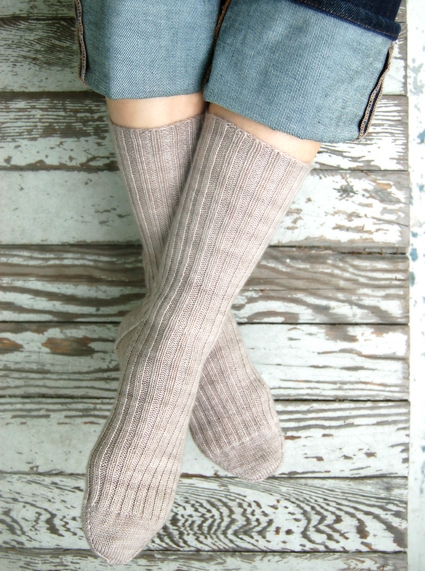 For a wonderfully simple and classic pair of hand knit socks, our Perfect Fit Socks Pattern has become this year's go-to basic! The Perfect Fit Socks are just what they sound like, gorgeous socks that wrap your feet in extra deep comfort. They're just loaded with design details that consider your feet's happiness. Made with the ineffably soft and elegant Anzula Cloud, they're a perfect fit!
Chevron Baby Blanket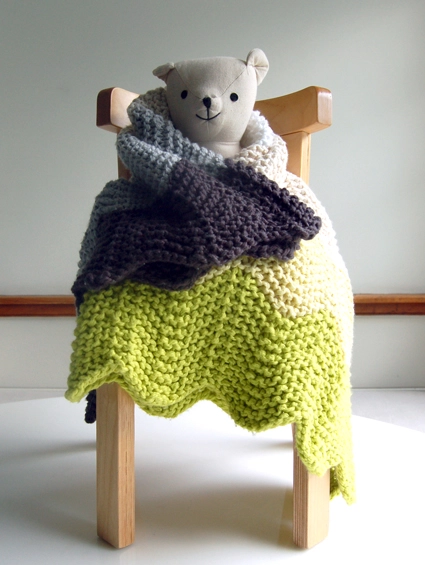 If you have a deep affection for your childhood chevron afghan- itchy acrylic, zany colors and all- you'll love this updated version, specially designed for the next generation! Our knitted Chevron Baby Blanket is 100% cotton and is as deep and soft as a cloud. The modern chevron blanket starts with Blue Sky Cotton. Loosely spun into a uniquely cozy cotton, this is one of our very favorite baby blanket yarns for one of our very favorite baby blankets!
Silken Straw Summer Sweater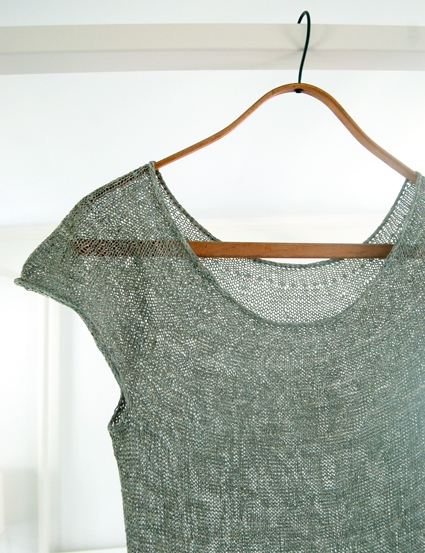 Whitney's Silken Straw Summer Sweater is designed to cover you in just a whisper of silk. A slip of a sweater, its beauty is in its understated grace and quiet confidence. The secret to the Summer Sweater's charm lies in Alchemy's Silken Straw with its one-of-a-kind texture. Rustic and elegant at the same time, Silken Straw is the perfect blend of country and city mouse, making the Summer Sweater a timeless classic!
Big Herringbone Cowl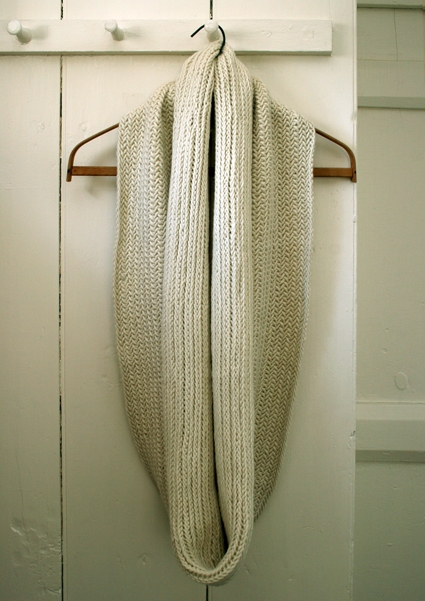 If you missed it last winter, don't let this season pass you by without the soft warmth of the beloved Big Herringbone Cowl! A long loop that you can twist and double around your neck, it's definitely a glamorous touch in an otherwise cold and gray season. Blue Sky's Worsted makes it extra special with its blend of fine merino and royal alpaca, perfect for feeling fabulous!
Granny Stripe Blanket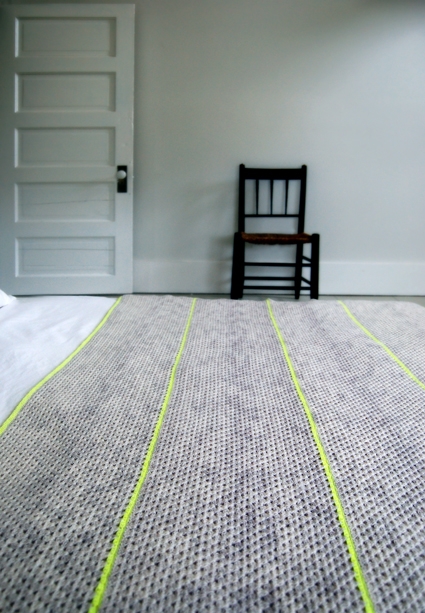 Bringing modern design to the most traditional of all crochet patterns, Joelle's Granny Stripe Blanket is a unique expression of everything Purl Soho loves! A field of hand dyed stony gray interrupted by bursts of bright lemony stripes results in a quiet intensity that is really quite extraordinary.  Made with the incomparable Madeline Tosh Merino Light, the Granny Stripe Blanket is our favorite heirloom project of 2011!
Big Snowy Owl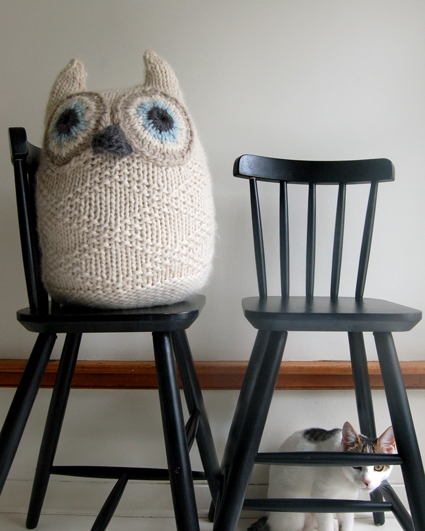 Whitney's Big Snowy Owl is the most fun knitting we did all year! With a big, pudgy belly, wide round eyes, and a cozy soft alpaca-blend yarn, it is just right for little arms to squeeze and for young imaginations to love.. although, you're never too old for an unconditionally devoted friend! You'll love the downy softness of Blue Sky Bulky, big wonderful stitch after big wonderful stitch!
Emily's Memory Game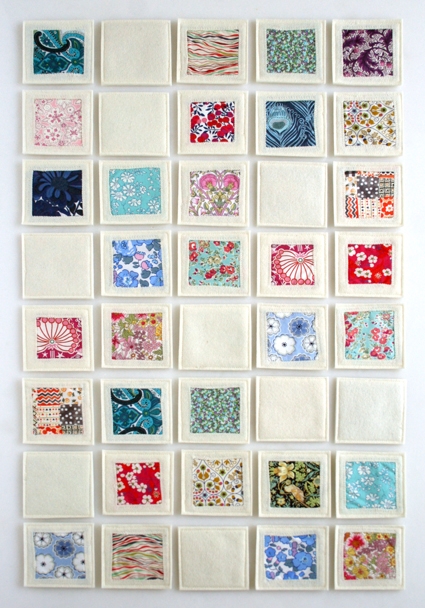 This spring, we fell in love with a charming felt and fabric memory game, discovered on a Purl Beehive blog called The Student Teacher. We were so glad that its author, Emily, agreed to share her inspiring idea with our readers, because Emily's Memory Game became a classic Bee project: beautiful, educational and fun! As an added bonus, it uses two of our favorite products in the world, 100% wool felt and a gorgeous Liberty Mini Rainbow Bundle!
Lap Duvets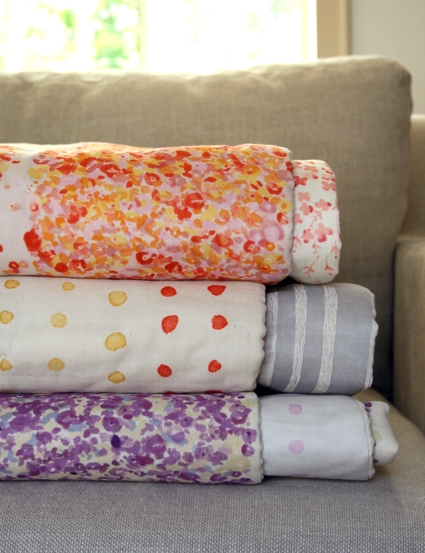 Molly's soft and cozy Lap Duvets are perfect for the couch, a great new book and a cup of tea! Using a quick and clever technique from Joelle's Last Minute Patchwork and Quilted Gifts and some incredible Nani Iro fabrics, Molly created the ultimate snuggly duvet: simple to make, beautiful to use! So many customers have told us how much they love their Lap Duvets that they were a shoo-in for the Best of 2011!
Felt Coasters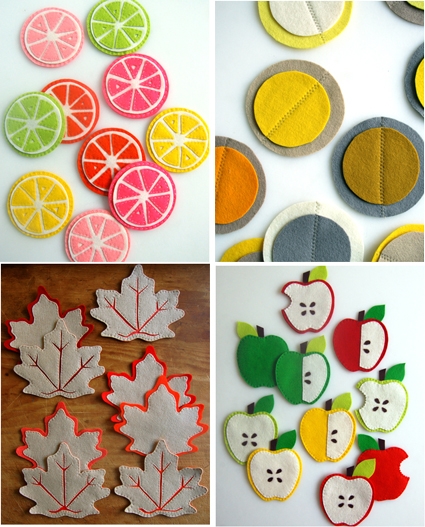 Two thousand and eleven was The Year of The Felt Coaster here on The Bee! Molly started her series with summer's refreshingly bright Citrus Coasters. Next, shetapped into fall's crispy flavor with her sweet Apple Coasters, and then moved on to the beauty of autumn's last gasp with her delicate and refined Fall Leaves Coasters. Finally, Molly finished off the collection with her bubbly fun and easy Gold and Silver Coasters. All four sets strike the perfect balance of whimsy and practicality, making them this year's hand sewn winners!
Friendship Braceletes
After we started carrying DMC embroidery floss in every conceivable color (including fluorescents!) Molly knew it was time to conquer her childhood fear of Frienship Bracelets. It turns out they were remarkably simple and fun to make.. and to share! With easy-to-follow photographs and such an amazing array of colors to choose from, this project turned into a real summer favorite!
Felted Patchwork Throw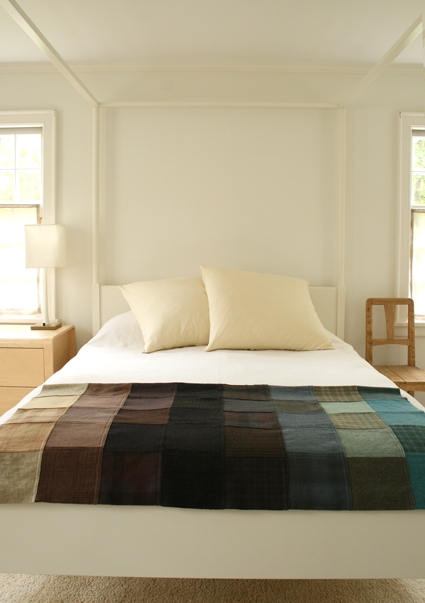 Inspired by Page's 2010 Felted Wool Patchwork Quillow, we put together this year's larger Felted Patchwork Throw using a stunning assortment of one of our favorite new products, Mary Flanagan's Mini Textured Felted Wool Bundles.  Expanding on Page's original ingenious construction, this throw is a snap to make. It's amazing to be able to whip together a big, toasty throw in just a weekend! Best of all, because it's made from such special materials in such a cozy palette, it comes out looking absolutely beautiful!