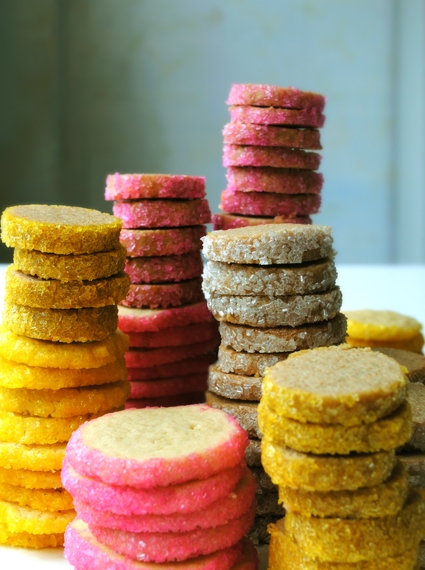 Sharing a holiday cookie recipe with our readers has become something of a Purl Bee tradition. This time of year can slip into a frantic blur of hurried knitting, sewing and finishing, so it's nice to take a little break from the stress in order to come together to create something simple and tasty. Recently, Joelle, Page, Laura and I met up to make these delightful little Coin Cookies, to talk about our holiday plans, and yes, we'll admit it, to weave in the ends on a last minute baby sweater too!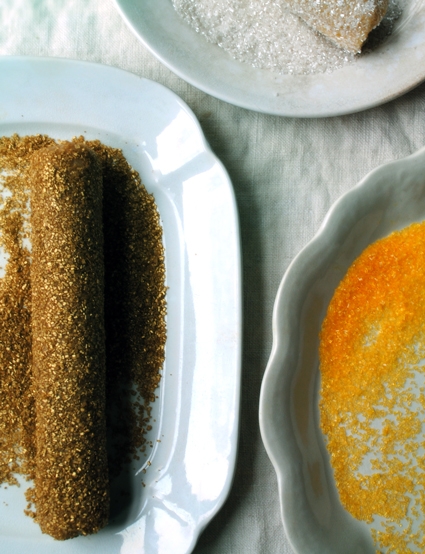 Last year's Glittering Sandwich Cookies were so sparkly and special that, this year, we turned again to brightly colored sanding sugar. This stuff is like fairy dust! It takes a simple (but delicious!) sugar cookie and turns it into something spectacular! We also decided to try a healthier whole wheat flour variation, in addition to a traditional white flour version. Both were great! The whole wheat cookies were nutty with a gorgeous parchment color that set off the glittering sugar beautifully, while the white flour cookies were sweet, decadent and classic. Either kind will make a lovely last minute gift all stacked up in a pretty tower of coins and slipped inside a cellophane bag.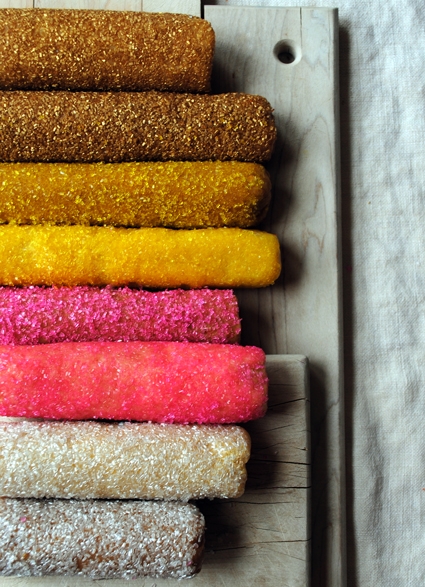 We used Martha Stewart's Icebox Butter Cookie recipe and substituted almond extract for the vanilla extract. We like that you can make this dough ahead and keep it in the freezer for up to three weeks before baking it.
Sparkling Coin Cookies
(adapted from the Icebox Butter Cookies in Martha Stewart's Baking Handbook)
Makes approximately 5 dozen
Ingredients:
2 Sticks unsalted butter, room temperature
3/4 cup granulated sugar
1 large egg
1 teaspoon almond extract
2 1/2 cups plus 2 tablespoons sifted all-purpose flour (or whole wheat flour)
1 teaspoon salt
1/2 cup sanding sugar of each color for rolling
You will also need:
Parchment paper
Electric mixer
To make cookies:
With electric mixer, beat butter and sugar until fluffy. Add egg and almond extract and mix to combine. Add flour and salt and mix on low until combined.
Divide dough into quarters and roll each piece into a log approximately 1 1/2 inches in diameter. Wrap each log in parchment and refrigerate until firm. If freezing, wrap well in plastic and parchment.
Preheat oven to 350 degrees.
Line baking sheets with parchment. Let dough stand at room temperature until soft enough to slice, but firm enough that it won't lose it's round shape when cutting. Roll logs in sanding sugar until they are thoroughly coated and slice into 1/4-inch-thick rounds. Place the rounds approximately 1 inch apart on baking sheets. Bake for 15-20 minutes until slightly golden on edges and bottoms. Remove and place on cooling racks.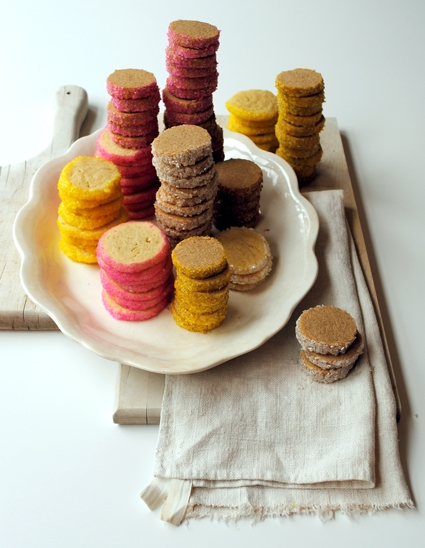 We hope your holiday is filled with friends, family, fun, and sweet treats like these. From all of us at Purl Soho to all of you, Happy Holidays! – Molly