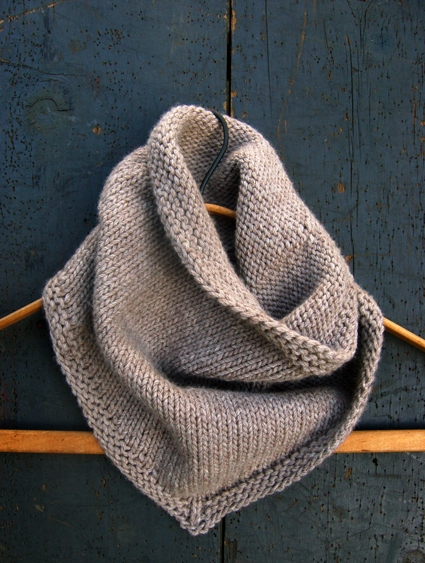 Working at Purl Soho, I have a front row seat to the parade of effortlessly chic people that give our neighborhood its renowned style. From here I can report that, for men and women alike, this season's prevailing trend in neckwear is the bandana. Jauntily tied around the neck, it tops off everything from Sunday's T-shirt and jeans to Friday's night-on-the-town dress! The bandana is a sassy, casual touch that suggests that the wearer possesses an innate stylishness. It's the perfect accessory  for those cool mornings when you've hit snooze a few too many times and need to turn "thrown–together–in–a–rush" into "casually glamourous"!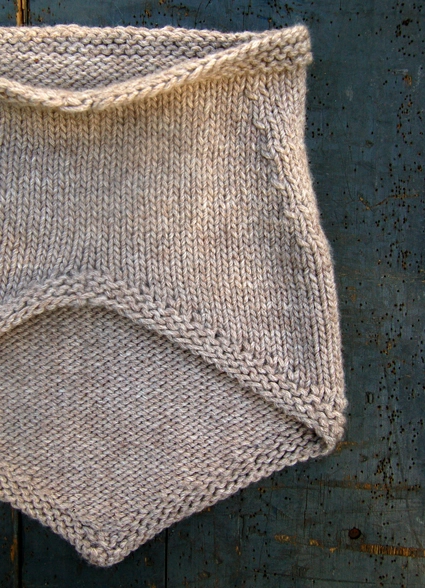 My Bandana Cowl is inspired by my desire to make "effortlessly chic" even more effortless. I was so excited to create something with the same freshness as the tied bandana but without the fiddly aspect of actually having to tie anything!
I chose to make my Cowl out of Swan's Island Bulky, a brand new yarn made from a beautiful blend of undyed merino and alpaca that feels wonderfully soft against the skin. The yarn creates a dense, rich fabric that's cuddly perfection for the chilly days of fall!
Update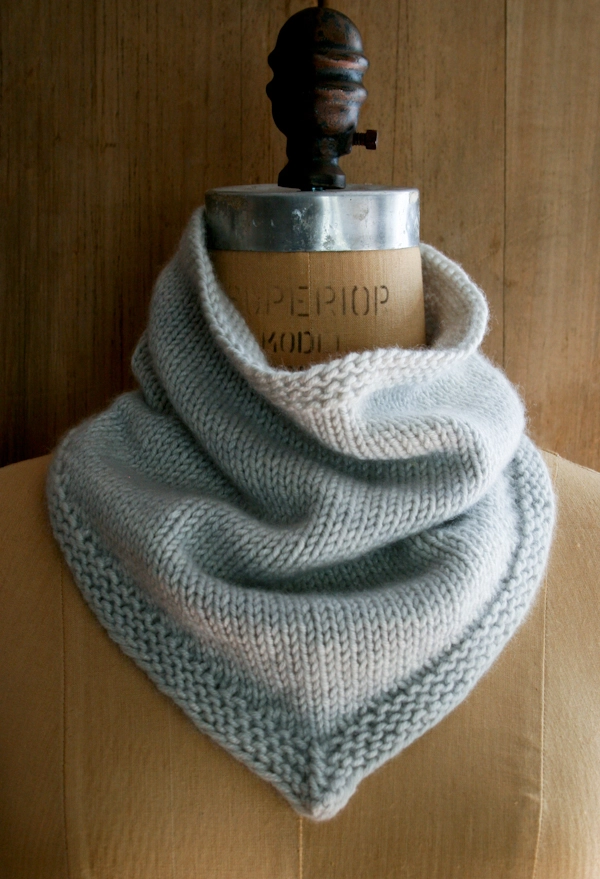 OCTOBER 14, 2012
Our original Bandana Cowl is a Purl Bee favorite, knit up in Swans Island beautiful merino Bulky. We love it too! But we couldn't resist the temptation to get even cozier with the help of
Jade Sapphire's extraordinary 8 Ply 100% Mongolian Cashmere
. Carefully selected, gorgeously spun and lovingly hand dyed, it doesn't really get any better than Jade Sapphire's cashmere!
Materials

1 skein Swans Island Bulky, naturally dyed colors are 

100% Organic Merino and undyed colors (Natural, Oatmeal and Seasmoke) are 85% Organic Merino and 15% Alpaca. (This color is Oatmeal)

.
A US #10, 16-inch circular needle
Jumbo Locking Stitch Markers, 3 total 

(optional)
For a truly cozy cowl, here is another beautiful option:
Gauge
4 stitches and 6 rows = 1 inch in stockinette stitch
Size
19 inches in circumference and 12 inches from top to bottom. 
Notes
S2KPO: Slip 2 stitches together knitwise, knit 1, pass the 2 slipped stitches over the knit stitch. (This makes a centered double decrease.)
Pattern
Cast on 89 stitches.
Place a marker and join for working in the round, being careful not to twist the stitches.
Set-up Round: Purl all stitches.
Round 1: K43, S2KPO (see Pattern Note, above), knit to end of round. (87 stitches)
Round 2: P42, S2KPO, purl to end of round. (85 stitches) 
Round 3: K41, S2KPO, knit to end of round. (83 stitches) 
Round 4: P40, S2KPO, purl to end of round. (81 stitches) 
The next section is worked back and forth in short rows, building from the point of the bandana to the back of the neck. You'll be turning the work between each row instead of continuing around the needle. For a great Short Row Tutorial, click here!
Row 5: K42, wrap and turn. 
Row 6: P3, wrap and turn.
Row 7: Knit to the wrapped stitch, knit the wrapped stitch making sure to pick up the wrap, k1, wrap and turn.
Row 8: Purl to the wrapped stitch, purl the wrapped stitch making sure to pick up the wrap, p1, wrap and turn
Repeat Rows 7 and 8 eighteen more times. Don't worry if you lose count; you'll know you're done when you wrap and turn the stitches right next to the marker!
You've finished the short rows! 
Next Round: With the knit side facing you, knit to the marker, making sure to pick up the wrapped stitch.
Continue with the knit side facing you, working again in the round. Knit 2 rounds, picking up the wrap of the first stitch.
Set-up Round: K18, place marker, k45, place marker, knit to end of round.
*Decrease Round: Knit to two stitches before the first marker, k2tog, slip marker, knit to the next marker, slip marker, ssk, knit to end of round. (2 stitches decreased)
Knit 3 rounds (or for 1/2 inch).
Repeat from * five more times. (69 stitches)
Next Round: Purl
Next Round: Knit
Repeat the last 2 rounds once more. 
Bind off very loosely in purl. (I like to go up several needle sizes to bind off. In this case, I bound off with a US #15 needle.)
Weave in your ends and block as desired. Blocking isn't strictly necessary for this project, but it significantly improves the drape and softness of the yarn. I'm personally convinced that Soak wash makes anything short of a Brillo Pad feel next–to–the–skin cuddly!
Enjoy your Bandana Cowl on all the brisk fall days to come! -Erin