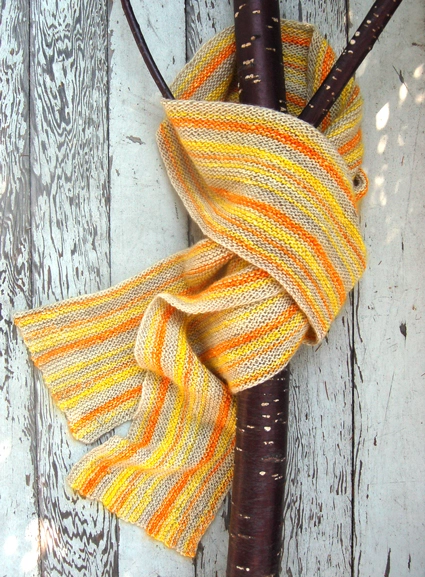 I feel a little guilty divulging this information, as if I'm betraying the whole rest of the spectrum, but I have to admit that I have a favorite color… yellow. And not just any yellow, not baby yellow or lemon yellow or mustard yellow, but deep and bright and clear sunshine yellow, the kind of yellow that emits its own light and whistles its own carefree tune.
When it comes to this kind of yellow, Alchemy is the master, hands down. Alchemy's yellows are saturated and fresh, like pollen-soaked blossoms. Using them to make a scarf in August feels like the perfect way to bring the heat of summer into the upcoming crisp nights of autumn.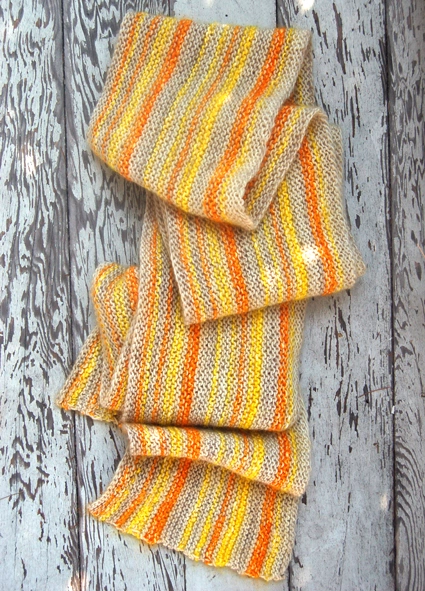 While Madeline Tosh's beautiful Tosh Merino Light serves as the soft, neutral ground, Alchemy's Kozmos provides the entertainment, not only with its splash of intense color, but also with its play of texture: a little fuzzy, a bit shiny, and a lot gorgeous!
Share your progress and connect with the community by tagging your pics with #PurlSoho, #PurlSohoBusyHands, and #PurlSohoSushineScarf. We can't wait to see what you make!
Materials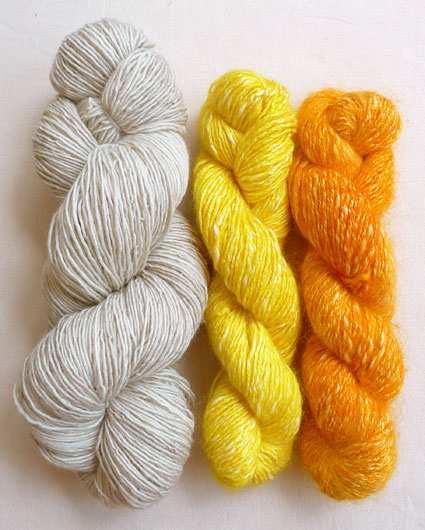 1 skein of Madeline Tosh's Tosh Merino Light, 100% Superwash Merino Wool. Approximately 420 yards required. This color is "Flour Sack" ("Luster" would be a very similar option…).  (I used almost the entire skein.)
2 skeins of Alchemy's Kozmos, 30% Silk, 26% Mohair, 13% Wool and 31% Cotton. These colors, from the left, are "Canary" and "Michelle's Marigold".  (I used 25 grams of each 45 gram skein.)
A US 6 (4 mm), 32 inch circular needle.
Gauge
6½ stitches = 1 inch of garter stitch in the Tosh Merino Light (before blocking)
Finished Size
84 inches long and 5 inches wide (after blocking)
Notes
HOW TO DEAL WITH THE TAILS
Although you can weave in all the ends when you're finished, I decided it would be much easier to knit the tails into the scarf as I worked. Here's how…
When you're done with a yarn, cut it, leaving a 5 or 6 inch tail. Then knit the first stitch of the new row with the new color. Knit the next inch or two holding together the new yarn and the tail of the last yarn you used. Complete the row with the new color. Finish the next row and when you start the next row, pick up the tail of the new color that you left behind and knit along with it for the first inch or two of the row.
If, on rare occasion, you find yourself with more tails than this method can accomodate, leave a tail or two to weave in at the end.
YARN AND COLOR ABBREVIATIONS
In the pattern, I call the Tosh Merino Light the "Main Color" or "MC", and I call the Kozmos Canary, "Yellow" or "Y" and the Michelle's Marigold, "Orange" or "O".
Pattern
With the Main Color, cast on 415 stitches. Be sure not to cast on too tightly; your stitches should easily slide along the needle. We used a basic Long Tail Cast On.
Knit 5 rows.
With Yellow, knit 1 row.
With MC, knit 3 rows.
With Orange, knit 3 rows.
MC: Knit 9 rows.
Y: Knit 3 rows.
MC: Knit 3 rows.
O: Knit 1 row.
MC: Knit 3 rows.
Y: Knit 1 row.
MC: Knit 5 rows.
Y: Knit 1 row.
MC: Knit 9 rows.
O: Knit 3 rows.
MC: Knit 3 rows.
Y: Knit 1 row.
MC: Knit 1 row.
Y: Knit 1 row.
MC: Knit 3 rows.
O: Knit 1 row.
MC: Knit 5 rows.
Y: Knit 1 row.
MC: Knit 1 row.
O: Knit 1 row.
MC: Knit 3 rows.
With MC, bind off loosely.
Gently block your scarf, and then wrap yourself in a burst of sunshine!