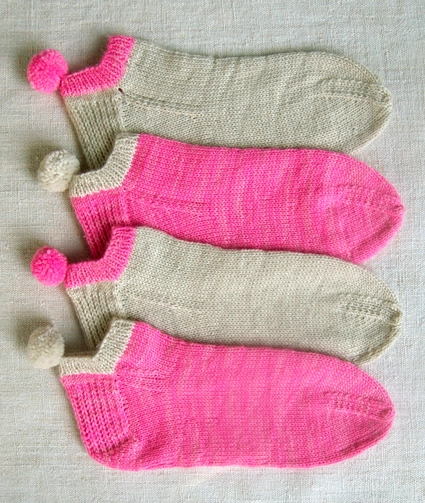 I have been working on the Purl Bee team for only a short while (6 months, last week!), but the Purl Bee has had a place in my life for years. I have been a faithful reader and follower of the blog almost since its creation!  My crafting bag of tricks is filled with techniques picked up from this very site. I can remember my first foray into hand hemming with Page's beautiful Rolled Hem Handkerchiefs, just as I remember feeling that Whitney was holding my hand right through my very first pair of socks, the Pom Pom Socklets.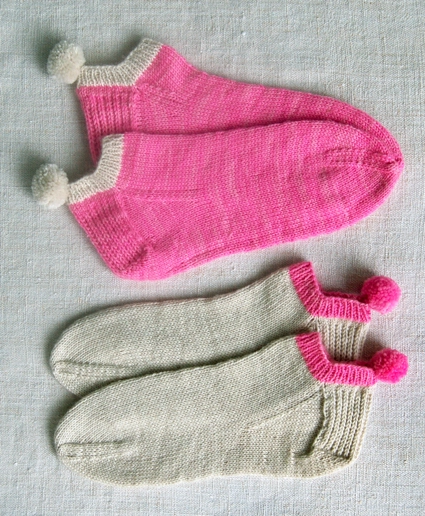 The Pom Pom Socklets were my first hand-knit socks, and to this day, they remain my favorite! Whitney describes the pattern as being perfect for beginner sock knitters and short attention span knitters. How right she is! The first time I knit them, all my fears and insecurities about sock knitting flew out the window. Now these little socks are my go-to pattern for last minute gifts or for short subway rides. I have turned to this pattern again and again due to its simple construction and super friendly instructions.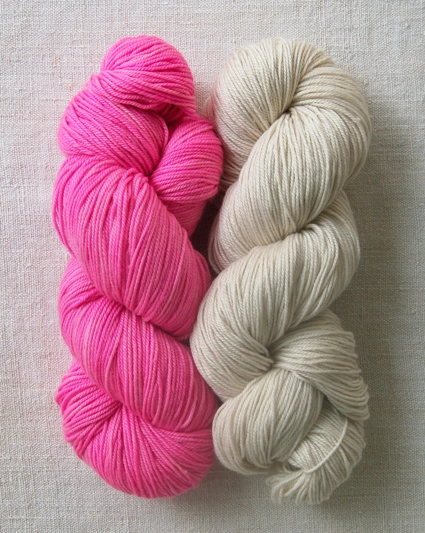 So when I set my eyes on the new Purl-tastic color of Anzula's Squishy, Hyacinth, I knew exactly what I was going to knit: my old friend, the Pom Pom Socklets in Hyacinth and Natural. Squishy has been a Purl Soho favorite for a little over a year now. Joelle used it to make her 'Squishy' Log Cabin Baby Blanket and her Stirrup Socks, and Whitney used it to knit her Ribbed Hand Warmers, but I still can't help thinking of Squishy as the new kid on the block. I am constantly astonished by how amazing it is, as if I am encountering it for the first time, every time. Its lofty spin of merino and cashmere not only makes it sumptuous to wear, but also luscious to knit. Plus, Squishy comes in a range of gorgeous hand dyed colors, from petal soft Dusty Rose to high octane Ducky to toasty warm Coco.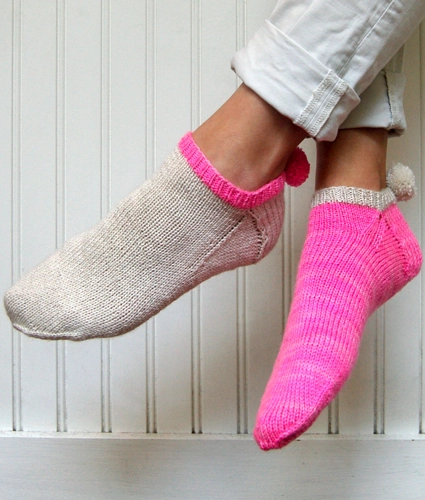 Two of these generous 385-yard-skeins (one in each color) are enough for four pairs of Pom Pom Socklets as long as you are conservative with your tails and pom poms. Worst case scenario, you'll end up with three socks in each color to mix and match at your whim!  Hope y'all enjoy these socks as much as I do. Thanks for the great pattern, Whitney! To make your own pair visit Whitney's original Pom Pom Socklets post by clicking here.  -Laura