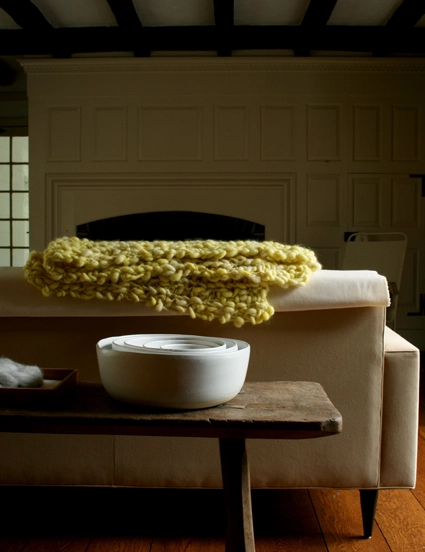 2010 was an exciting year around the world, and also for us right here at Purl Soho! While the shop was busy relocating to its new beautiful digs, The Purl Bee was working hard to deliver a whole year's worth of original patterns. The theme of our year was Timeless Design. We really thought hard about bringing you ideas that would actually fit into your lifestyle not just this year, but next year and the year after that and after that… We hope we succeeded, and we look forward to filling 2011 with our Purl touch! Here's a look back at some of our 2010 favorites…
Pixie Dust Lap Blanket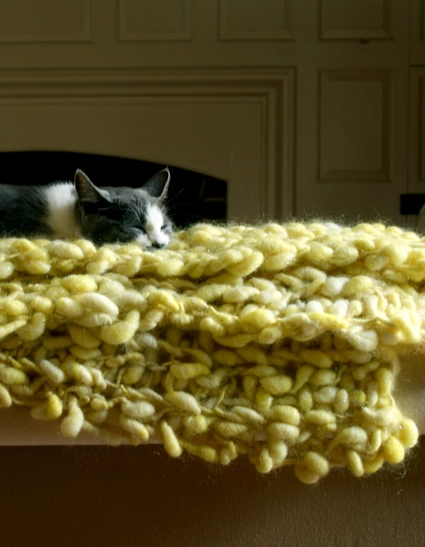 One of our most popular projects this year was the magical Pixie Dust Lap Blanket. It's no wonder why! Big, loopy stitches; hand dyed, extraordinary color; and smatterings of sparkly "pixie dust" all conspired to make this no ordinary blanket. Knit Collage's amazing Pixie Dust yarn is a handspun, ultra bulky yarn that transports you right into the land of fairy tales!
Stirrup Socks with Loeffler Randall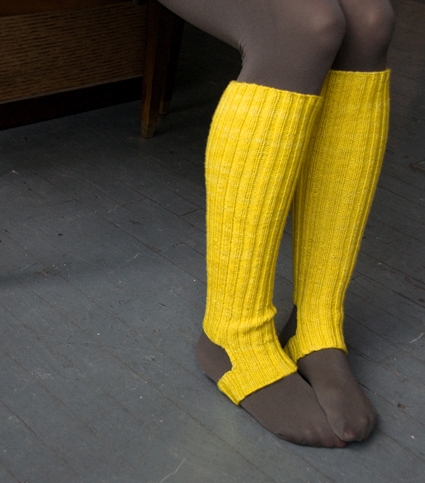 These Stirrup Socks we created in collaboration with Loeffler Randall remain our favorite one skein project of the year. We also happened to make them with our favorite new yarn of the year, Anzula's Squishy, an irresistible blend of superwash merino (for structure and softness), cashmere (for luxurious warmth) and nylon (for durability). A simple rib pattern is all these stirrup socks needed to become a timeless classic!
Little Urchin Crochet Covered Sea Stones
We were so lucky this year to have Margaret Oomen contribute this amazing pattern to the Purl Bee. Crafter extraordinaire, Margaret splits her time between doctoring, mothering, blogging, and creating precious treasures like these Little Urchin Sea Stones. Delicately enshrined in Valdani Pearl Cotton Embroidery Thread, these stones have a story book quality that makes them so intriguing. A beautiful pile of them is just the kind of mystery we love!
Baby Leg Warmers for Mila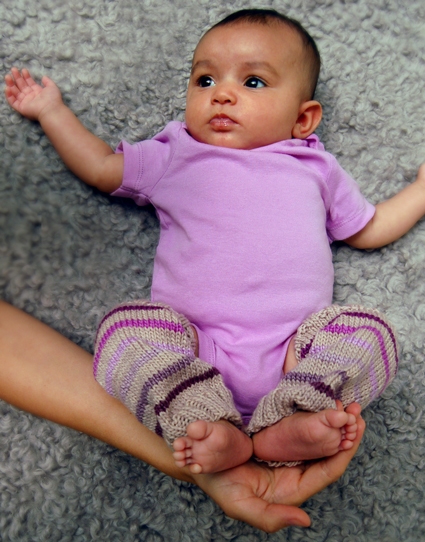 Mila doesn't need any help looking cute, but her mom Faye put the cherry on top with these adorable Baby Leg Warmers. She used Koigu's Kersti as a pretty neutral backdrop for the wonderful play of purpley silk and wool stripes. Happily, Brown Paper Package's Trio is a needlepoint yarn that comes in tiny skeins, making stripes unusually affordable. It's a challenge to keep babies warm and mobile all winter. Over cozy little leggings, Baby Leg Warmers are the perfect solution!
Felt Flower Winter Wreath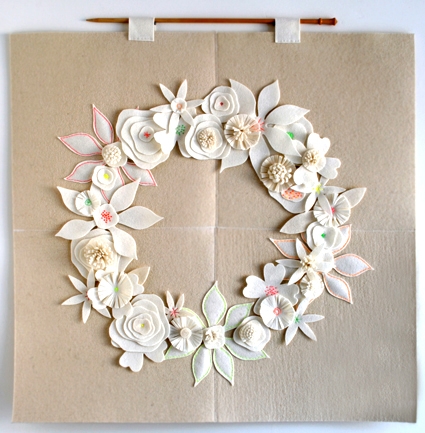 Page's magnificent Felt Flower Winter Wreath hangs by the registers at our shop in Soho and people are constantly commenting on how lovely it is. They can't believe it when we tell them that it's a free pattern available on the Purl Bee and that it's not that hard to make. It's such a special piece that we can see why it's hard to believe! Page designed it using our natural colored 5mm thick wool felt as a background, pieces of the ecru 1mm wool felt for the flowers, and some bright neon thread as embroidered accents. The effect is elegant, modern and totally gorgeous!
 

Mother's Day Embroidered Scarves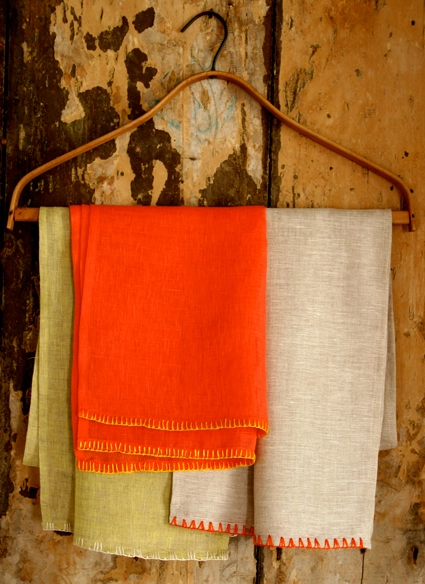 Our Mother's Day Embroidered Scarves are the definition of a simple, elegant project. They would be a great gift not only for Mother's Day but for any time you'd like to make a wearable and lovely handmade present for a special woman in your life. They are made out of beautiful sheer linen and accented with lumious silk embroidery thread. Currently we are out of stock of some of the linen Molly used in the original project but we have some incredible alternatives like the stunning Global Weave Duo Weave Linen, the drapey and silky, Kokka Linen, and the light as air Shot Cotton.
New Year's Garland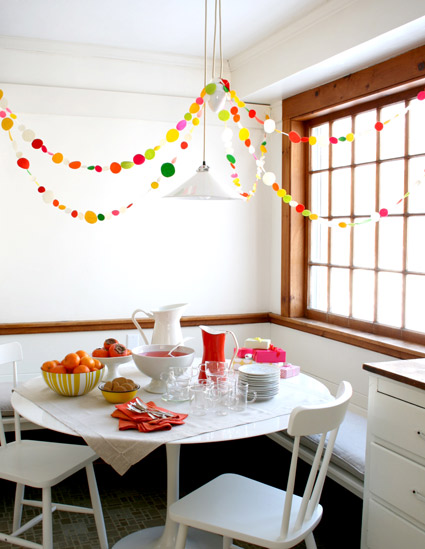 In many ways 2010 was the Year of Felt for all of us at The Purl Bee. We just couldn't get enough of it! So it was fitting that we started 2010 with one of our favorite felt projects to date, the New Years Garland! This project is so festive and fun. It's made with a bright array of 18-inch wool felt pieces that have been cut into circles and then sewn together down their centers with invisible thread. It would be a perfect project for a birthday party or just to add a pretty accent to any room.
Sewn Stash Baskets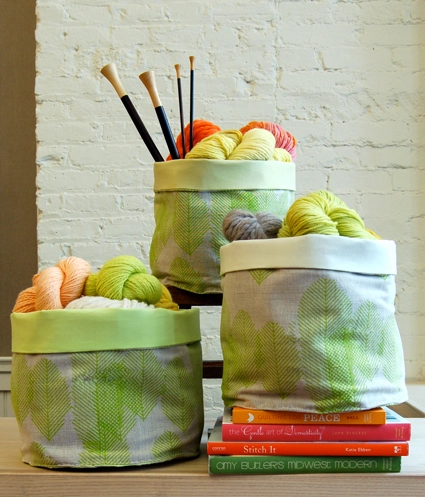 Molly's Sewn Stash Baskets are great storage solution for those of you with piles of yarn, fabric and needles laying around. They are stiff enough to stand up on their own but soft enough to fold away when you're not using them. They are made with sturdy, beautiful Block Printed Linen and lined with simple solids. What a great way to store and display all of your craft supplies!
Hawaiian Style Felt Throw Pillows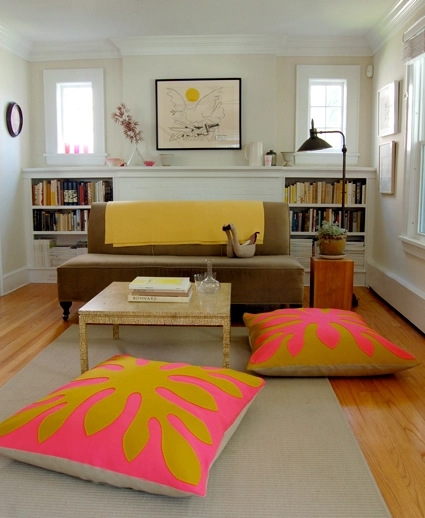 This being "The Year of Felt" it only seems fitting that we end this list with one of our most unique, stunning, and popular felt projects to date, the Hawaiian Style Felt Throw Pillows! We used the Felt Yardage which is 2-yards (!) wide to create these big bold pillows. The large floral inspired design is sewn on with vibrant Trebizond Silk Embroidery thread. Since this story first ran many people have come into the shop to pick out colors to make their own and it's been so inspirational to see the colors people choose, from subtle sage greens, to graphic black and white. It's always such a pleasure to see what our readers do! Thank you so much for sharing your ideas, pictures, and comments with us this year.
Here's to a creative and inspiring 2011!  –Happy New Year from all of us at Purl Soho!