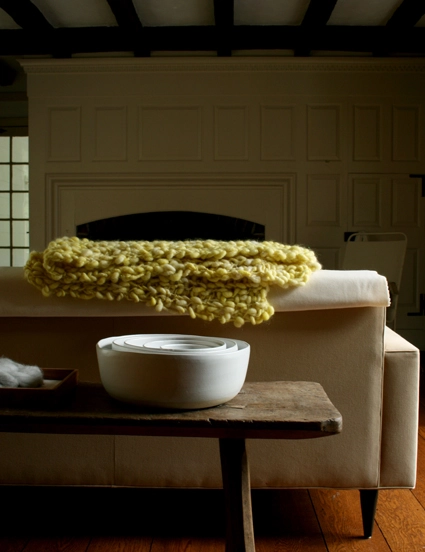 This is a where-did-you-get-this?! kind of blanket. Big, loopy stitches; hand dyed, extraordinary color; and smatterings of sparkly "pixie dust" all conspire to make this no ordinary blanket.
The yarn comes from the incredibly creative yarn company, Knit Collage. We used their super funky Handspun Yarn to knit up the Fun Kid's Hat last spring, and now we're turning our attention to their more subdued (relatively speaking!) Pixie Dust yarn. A blend of wool and mohair, Pixie Dust is a handspun, ultra bulky yarn that really sparks the imagination. I'm transported right into the land of fairy tales. With this color (Lemon Meringue), I can't help but think of Rapunzel and "Let down your golden hair!".
You won't be the only one who thinks your new blanket is awfully cuddily. While I was making the Pixie Dust Lap Blanket, my cat Butterfly stalked my every move, waiting for the moment I would set down my needles so she could finally claim her rightful place deep inside the blanket's soft stitches. Now that the finished blanket is at Page's house her cat, Sylvy, has taken up right where Butterfly left off! -Whitney
I can't think of an easier way to makeover a room than to whip up this show stopper. Provided you can wrest it from your cat, it may even keep you toasty warm all winter!
Update: New Color
October 18, 2012
We knit up the Pixie Dust Lap Blanket in a cool white "Snowflake" version. It's equally gorgeous!
Update: New Yarn
Try doubling up Knit Collage's Sister…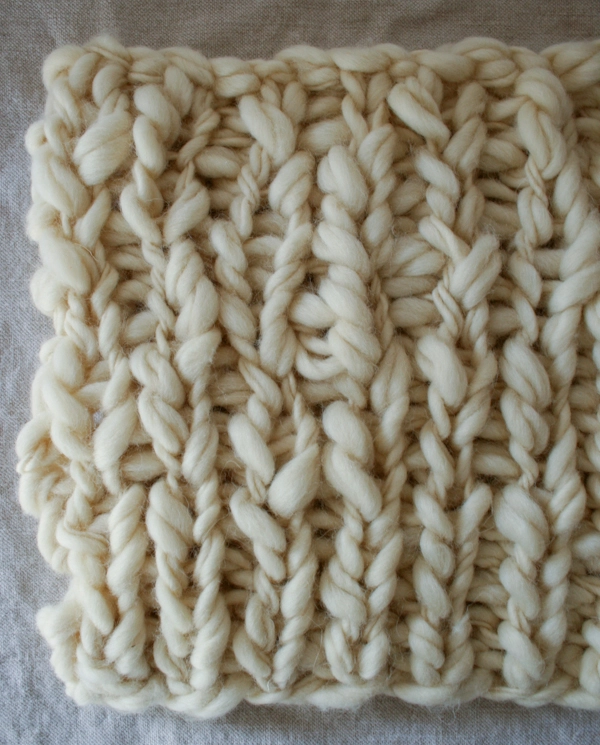 Same size needles, same pattern, same textural adventure, a Sister Lap Blanket is a beautifully affordable 100% wool alternative. You'll only need five skeins (you could even get away with four if you don't mind losing a few inches!). Here's a swatch (pictured above).
Designed by Purl Soho designer, Whitney Van Nes.
Share your progress and connect with the community by tagging your pics with #PurlSoho, #PurlSohoBusyHands, and #PurlSohoPixieDustLapBlanket. We can't wait to see what you make!
Materials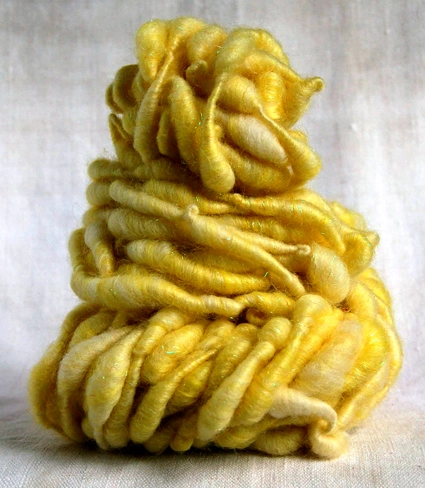 7 skeins of Knit Collage's Pixie Dust, a blend of Wool, Mohair, and Pixie Sparkles. Approximately 245 yards required. This color is "Lemon Meringue".
A US 36 (19/20 mm), 32, or 40-inch circular needle.
Gauge
4 stitches = approximately 4 inches in 1 x 1 rib
Size
Approximately 26 inches wide by 56 inches long
Pattern
Cast on 27 stitches. We used a basic Long Tail Cast On.
Row 1: *K1, p1, repeat from * to last stitch, k1.
Row 2: *P1, k1, repeat from * to last stitch, p1.
Repeat Rows 1 and 2 until you have used all 7 skeins minus about 4 yards (or until piece measures 56 inches).
Bind off in pattern and weave in the ends. (Little Tip: Rather than wresting this yarn through the eye of a tapestry needle, just use your hands to weave in the ends. It's easy – you'll see!)