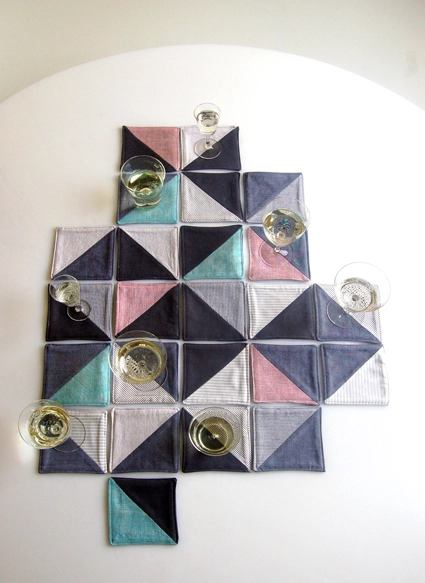 A New Year's Eve party can be a hopeful, fun, and bubbly celebration, it's a great excuse to toast the passage of time and the good things yet to come.  I created these coasters to add a bit of sophisticated fun to any New Year's Celebration.  Page and I had both just taken the little girls in our lives to see the Nutcracker and came away completely inspired by the soft, elegant and magical palette of the Sugar Plum Fairies.  We picked our palette of silvery gray, lavender, pink and turquoise to share that magic.  We think they'll be beautiful and festive with sparkling champagne sitting atop them!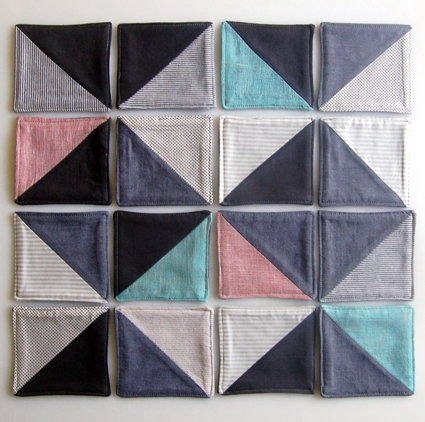 Each coaster is pieced like a quilt square, with two half square triangles, one dark grey, and one lighter color. The resulting simple, graphic design lends itself to so many pretty display options that are a lot of fun to play with.  After they were done I spent a lot of time just arranging them in different patterns.  It's so amazing how many shapes simple triangles can make!
Materials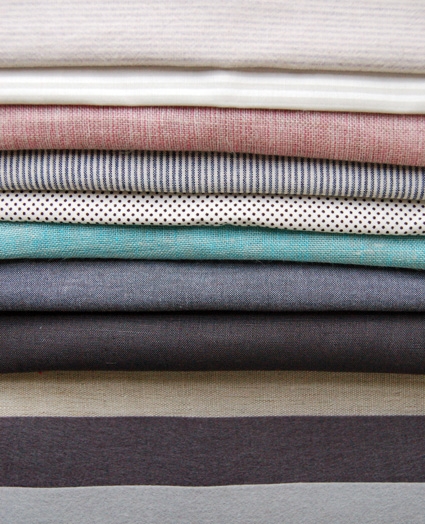 To make a set of twenty-four coasters:
Dark Fabrics:
1/4-yard of Kokka Linen in Grey. (This particular fabric is no longer available, but please check out all of our current linen fabrics for some great alternatives!)
1/4-yard of Carolina Chambray in Black. (This particular fabric is no longer available, but please check out all of our current solid fabrics for some great alternatives!)
Light Fabrics:
Felt Backing Fabrics:
Size
4-inches square
Pattern
Cutting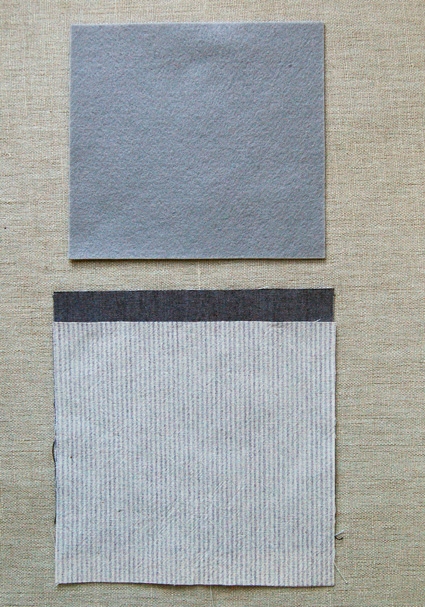 Cut all of your fabrics before you begin sewing:
Cut six 5 5/8-inch squares from each of the two Dark Fabrics.
Cut two 5 5/8-inch squares from each of the Light Fabrics.
Cut twenty-four 5 1/8-inch squares from the Backing Felt
To make this project go swiftly you will probably want to sew the coasters in an assembly line fashion but make the first one on it's own so that you can make sure you're doing everything correctly.
Sewing the Triangles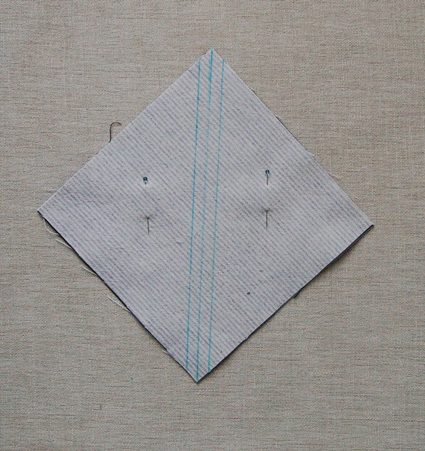 Place a light square on top of a dark square right sides together so their sides line up exactly.
Using a pencil or fabric marker, mark a line diagonally across the middle of the square. Then mark a line 1/4-inch to the right of the middle marking and another a 1/4-inch to the left of the marking as shown above.
Pin the squares in place inside their right and left hand corners.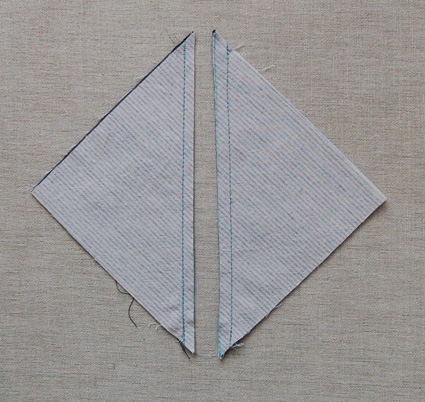 Sew across the right and left markings and cut the piece apart along the center marked line.
Press the resulting two pieces open with the seam pressed towards the dark side to form two squares consisting of a dark and a light triangle.
Snip off the corners so that you have a neat square as shown in the bottom of the photo above.
Sewing the Coasters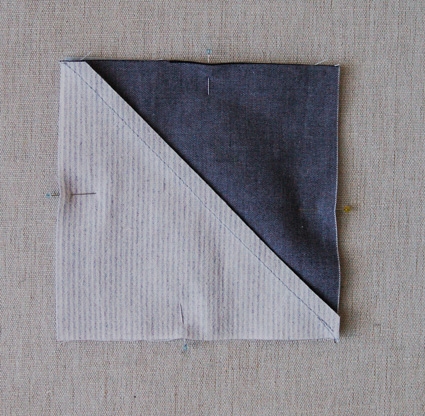 Pin the dark/ light square to a Backing Felt Square, right sides together.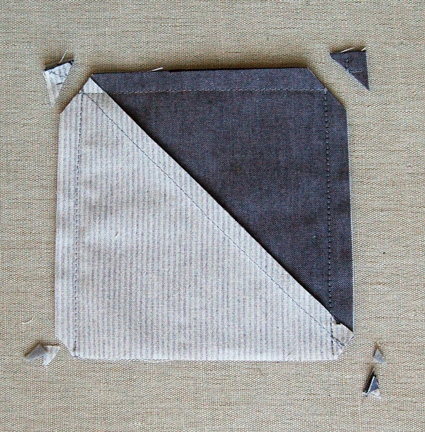 Sew them together with a 3/8-inch seam allowance across three sides only, leaving one side completely unsewn.  Snip off the corners.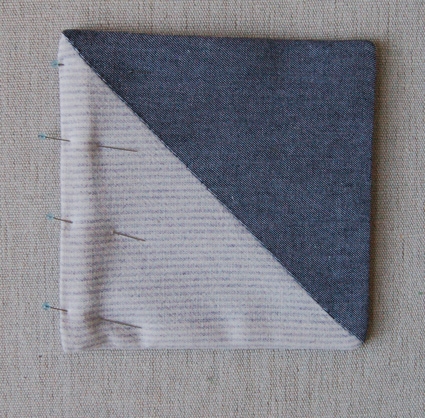 Turn the coaster right sides out and press it flat making sure to poke out the corners.
Turn the unsewn edge of both the fabric and the felt inside of itself 3/8-inch to hide the raw edges. Pin it closed.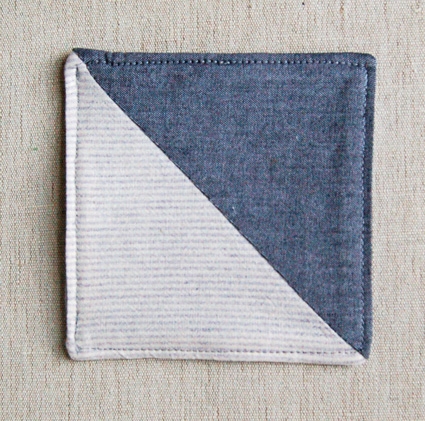 Using your sewing machine's walking foot, top stitch around the entire coaster with a 1/8-inch seam allowance, thus closing the open side.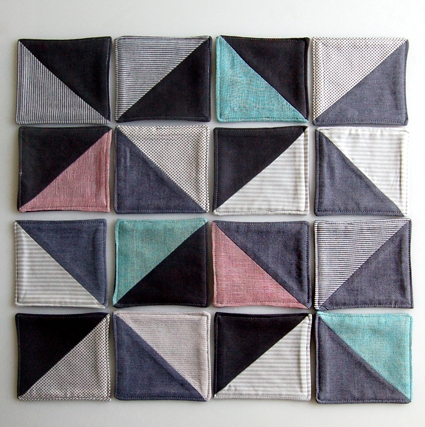 Repeat these steps for the remaining fabrics using a different dark fabric for each of the light fabric squares so that each light fabric will eventually yield two Kokka Grey Linen coasters and two Carolina Chambray Coasters.
Happy New Year! –Molly