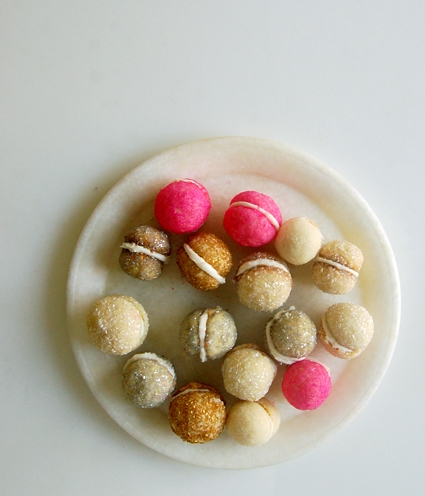 When the new Gourmet Cookie Book came out just in time for the holidays this year, we ran out to our favorite local bookstore, McNally Jackson, to get it. Since many of us here at Purl Soho grew up with Gourmet Magazine, it holds a special place in our hearts and we deeply miss its presence in our lives. The new cookie book is a compilation of the most delicious cookie recipe from each year of the magazine's 68-year existence which spans 1941-2009. It seems almost too good to be true!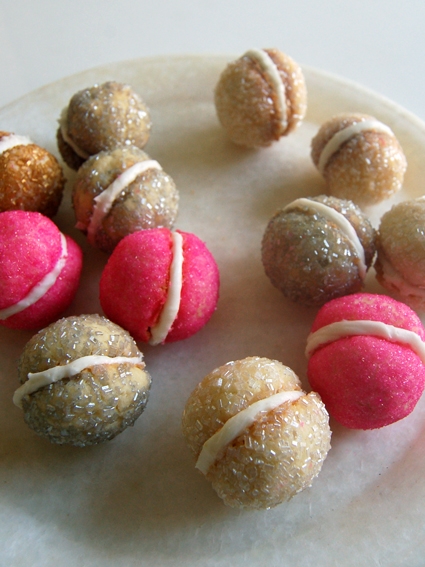 We were so excited about the book that we decided to adapt one of the recipes for our Purl Bee readers to enjoy over the holidays. Since we share a common love for anything almond flavored here at Purl Soho, we turned their Glittering Lemon Sandwich Cookies from the book into our Glittering Almond Sandwich cookies. Yum! To adorn the cookies, we wanted to find the sparkliest sanding sugars possible. We were thrilled to find these at Williams-Sonoma. The large granules of sugar really catch the light and make the cookies sparkle before your eyes. Each cookie truly looks like a gem.
Glittering Sandwich Cookies
(adapted from The Gourmet Cookie Book)
Makes approximately 5 dozen cookies.
Cookies
2 2/3 cups all-purpose flour
1 1/3 cups cornstarch
1/2 teaspoon salt
4 sticks unsalted butter, softened
1 cup confectioners' sugar
1 teaspoon vanilla
1 teaspoon almond extract
Sanding sugars in various colors
Filling
2 cups confectioners' sugar
2 tablespoons almond extract
1/4 cup light corn syrup
1 stick unsalted butter, softened
You will also need:
Parchment paper
Electric mixer
Offset Spatula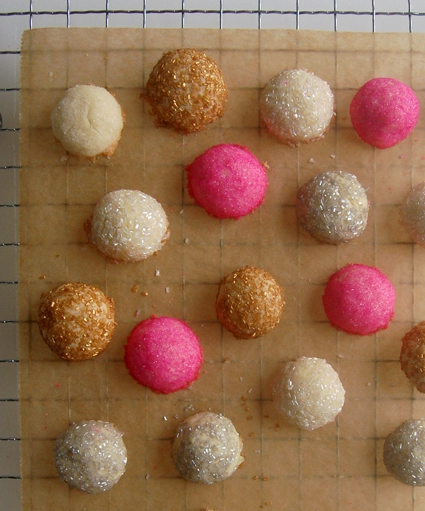 To Make Cookies:
Preheat oven to 350 degrees.
Place flour, cornstarch and salt in a bowl, mix togetgher and set aside.
With electric mixer, mix butter, confectioners' sugar, almond extract and vanilla until fluffy.
Add flour mixture and mix on low until dough forms.
Place each sanding sugar into a small bowl.
Roll dough into balls, 1/2-inch in diameter, then roll balls in sanding sugar. Place balls on parchment lined baking sheet, 3/4-inch apart.
Bake for 9-11 minutes. Bottoms should just be turning golden. Remove and place on cooling racks.
To Make Filling:
With electric mixer, mix all filling ingredients on medium until combined.
Complete Cookies:
With offset spatula place approximately 1/4 teaspoon of filling on half a cookie, sandwich the other half to form a ball.
Cookies will keep in an airtight container for up to 3 days.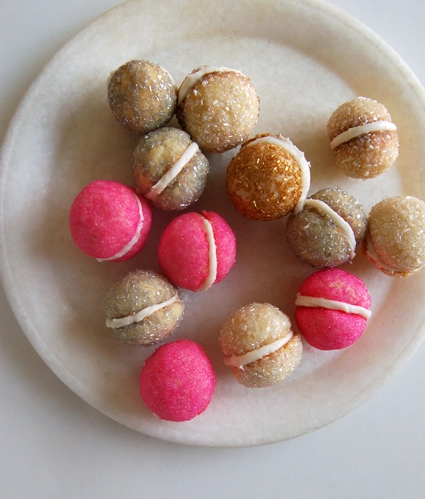 Happy baking and happy holidays from all of us at Purl Soho!