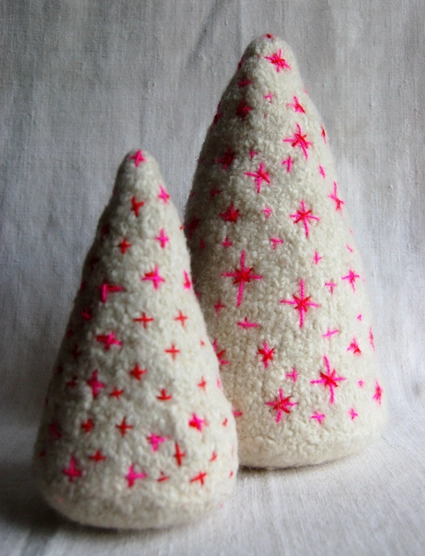 Last year Whitney created a wonderful heirloom Felted Christmas Tree pattern that I've had my eye on for this Christmas.  As you no doubt have noticed if you are a regular follower of The Purl Bee, we just can't get enough of pink, red and white at Christmas so I thought it would be fun to revisit Whitney's pattern in our favorite holiday color palette (plus it just so happens that this color palette looks great in my own house!).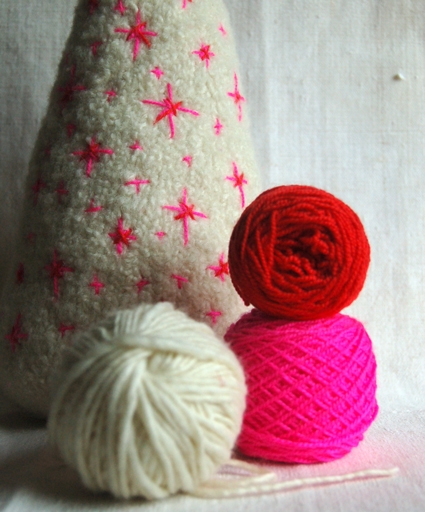 Last year's felted trees were knit with Cascade 220, a great basic yarn that is wonderful for felting.  This year's felted trees were knit with Manos Del Uruguay Handspun in Natural, one of my all time favorite yarns,  (two skeins made one large tree and one small tree) and it worked beautifully for this project.
Please note, for this year's trees, I felted them BEFORE decorating them.  Once they're felted the tall tree is approximately 11-inches tall, the small tree is approximately 6-inches tall.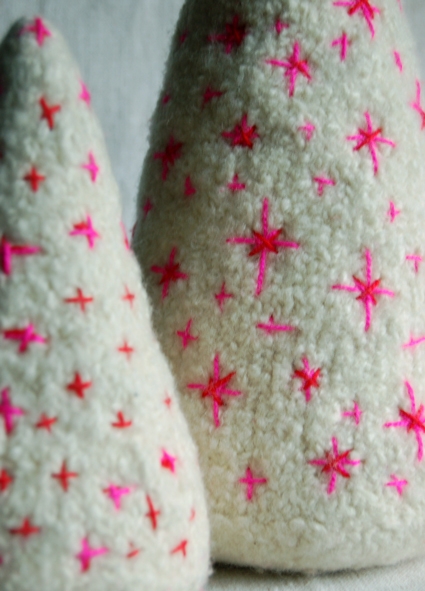 I decorated the trees with Koigu KPM in hot pink, color #1150, and bright red, color #2229 (one skein each is enough to decorate about 12 trees).  I love the way the two colors work together, glowing like real ornaments on a tree.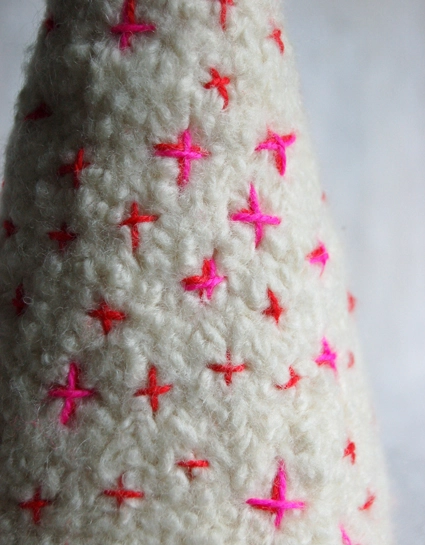 The embroidery stitches I used to decorate the trees are very, very simple.  The challenge of the embroidery is finding a needle that is sharp enough to get through the felted wool, but big enough to accommodate the yarn.  I found several that did the job in this collection of needles.  A thimble for pushing the needle through the felted wool was also a big help.
To decorate the little tree I made little plus marks (in the neighborhood of 1/4-inch wide and 1/4-inch tall) in bright red all over the tree, then went back over a few of the larger plus signs with hot pink.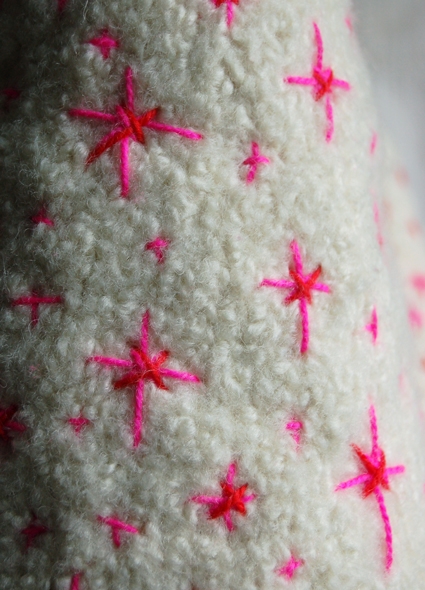 On the big tree I first made big plus signs (around 1/2-inch wide x 1/2-inch tall) all over the tree and then went over those again in the center with a diagonal plus sign, both in hot pink.  Then I went over the diagonal plus signs again with bright red.  To finish the large tree I made small plus signs (about 1/4-inch wide by 1/4-inch tall) in hot pink all over between the large motifs.
I did the motifs on both trees totally freehand and without any attempt at uniformity which gives the design a lively quality that I am really fond of. Also, there is no need to cut the yarn between shapes (just bring the needle back out wherever you want the next motif to be) so the decorating goes very quickly.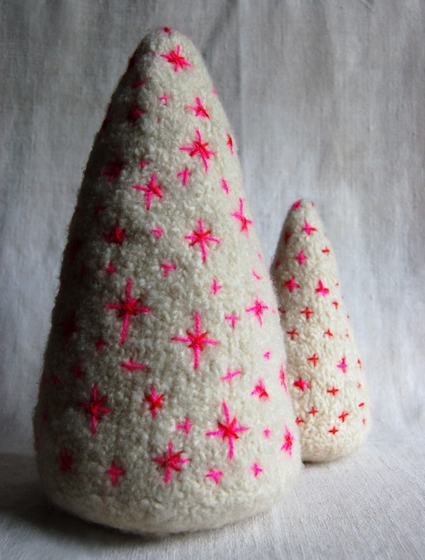 I was so delighted with the way these trees turned out.  They have a sweet simplicity and happy quality that makes me smile every time I look at them.  They make great gifts too! -Joelle
Share your progress and connect with the community by tagging your pics with #PurlSoho, #PurlSohoBusyHands, and #PurlSohoNewFeltedChristmasTrees. We can't wait to see what you make!
Materials
Tree: 2 skeins of  Manos Del Uruguay Handspun (2 skeins make two trees – 1 large, 1 small)
Decorating: Koigu KPM (one skein each in two colors, I used colors 1150 and 2229)
Sharp, large embroidery needle
Pattern
Visit our original, free Felted Tree Pattern!