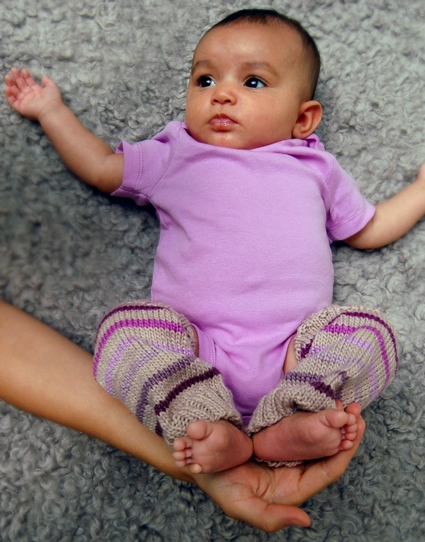 I've always been a sucker for all things Koigu, so I was super excited to see one of my favorite solid Koigu colors in their DK weight yarn, Kersti, for the first time, a lovely soft purlple-gray (#K2360.5). I paired the Kersti with stripes of 6 different purple shades from our Trio Needlepoint yarn collection (and since Trio comes in tiny skeins for needlepoint I didn't feel like this was too extravagant).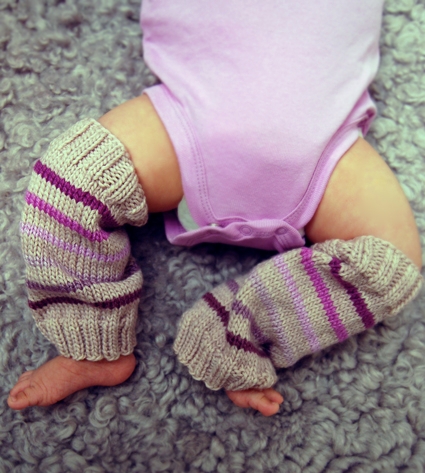 I'm so pleased with the result! These little legwarmers are great for keeping Mila warm now when there is too much air conditioning, and they'll still fit her this winter, too. -Faye
Share your progress and connect with the community by tagging your pics with #PurlSoho, #PurlSohoBusyHands, and #PurlSohoBabyLegWarmers. We can't wait to see what you make!
Materials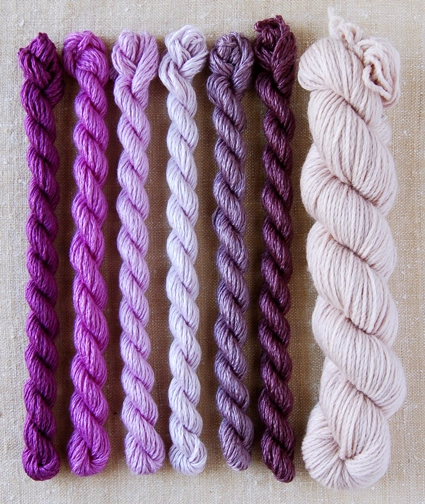 6 skeins of Brown Paper Packages Trio, 50% Wool and 50% Silk. These colors, from the left, are #195 Aster, #194 Petunia, #116 Shrinking Violet, #157 Phlox, #28 Wisteria and #53 Plum. Please Note: We no longer carry Trio but a fun substitution would be our Appleton Tapestry Wool Bundles (Note: No longer available)!
1 skein of Koigu's Kersti Merino Crepe, 100% Merino Wool. This color is K2360.5.
A set of US 5 (3.75 mm) double-pointed needles
Gauge
24 stitches = 4 inches in stockinette stitch
Size
Approximately 8 inches in circumference x 7 inches long
Pattern
With the Kersti (Main Color), cast on 48 sts. We used a basic Long Tail Cast On.
Join for working in the round, being careful to not twist the stitches.
Round 1 : *K2, P2; repeat from * to end of round.
Repeat Round 1 seven more times.
Knit 4 rounds in MC.
*With the Trio (Contrast Color), knit 2 rounds.
With the Main Color, knit 4 rounds.
Repeat from * five more times, using a different Contrast Color each time.
Repeat Round 1 eight times.
Bind off loosely in pattern stitch and weave in the ends.