Thistle Yoke Pullover Pattern Download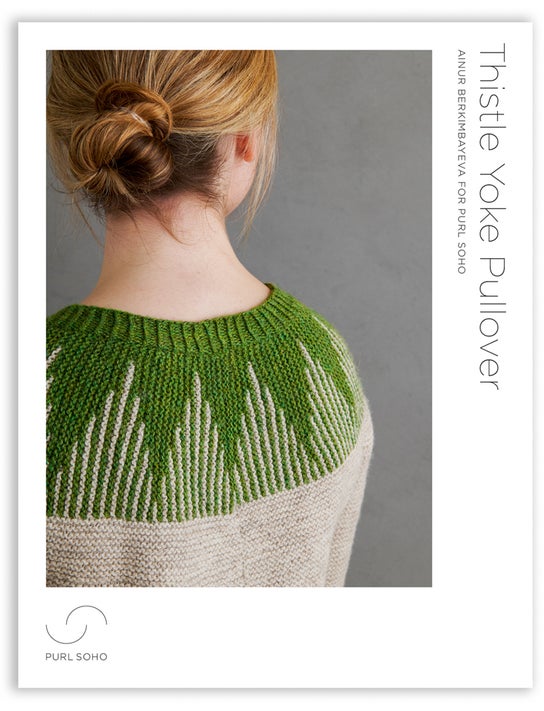 Thistle Yoke Pullover Pattern Download
Ainur Berkimbayeva is a form-follows-function kind of designer, in wonderful evidence here with her Thistle Yoke Pullover, designed especially for Purl Soho. A stunning ring of thistle-y petals backdropped by garter-ridge stripes, the yoke is a short-row tour-de-force. Knit sideways and flat, this part may look a bit intimidating, but super-easy German Short Rows simplify the knitting gymnastics. Graft the yoke together at center back, then pick up along its bottom edge to continue à la your usual top-down sweater... But in the end, so not usual! With all this action, Ainur kept the yarn naturally understated. One hundred percent undyed Andean highland wool, our Good Wool fits the bill, settling the design into a cozy world of wood grain, pine cones, rays of sunshine, and yes, the beautiful blossom of a thistle! Please view Product Details, below, for more information about materials, gauge, and sizes.
Product Details
Materials
Purl Soho's Good Wool, 100% Andean highland wool. Each skein is approximately 383 yards/ 100 grams.
Main Color (MC): 3 (4, 4, 5, 5, 5, 6, 6) skeins; approximately 1080 (1210, 1375, 1545, 1705, 1870, 2045, 2170) yards required.
Contrast Color (CC): 1 skein; approximately 190 (200, 215, 215, 230, 230, 245, 255) yards required.
We used the following colors...
MC: Heirloom White; CC: Hickory Nut
MC: Walking Stick; CC: Winter Grass
MC: Winter Grass; CC: Fern Green
MC: Teal Twilight; CC: Periwinkle Gray
You'll also need...
GAUGE
22 stitches and 44 rows = 4 inches in garter stitch
SIZES
NOTE Need help deciding on a size? Check out our Understanding Ease + Selecting Size Tutorial!
34½ (38¼, 42½, 47, 51¼, 55¾, 60, 64¼)
To fit actual chest circumference of approximately 30–33 (34–37, 38–41, 42–46, 47–50, 51–54, 55–59, 60–63) inches, with 1–4 inch(es) of ease
Finished Chest Circumference: 34½ (38¼, 42½, 47, 51¼, 55¾, 60, 64¼) inches
Finished Length From Neck To Bottom Edge: 21¾ (22½, 23½, 24½, 25¼, 25¾, 26¾, 27) inches
Finished Sleeve Length From Underarm: 18 (18, 17½, 17½, 17, 17, 16½, 16) inches
Samples: Heirloom White and Hickory Nut versions are size 38¼, worn with 4 inches of ease. Winter Grass version is size 34½, worn with 2½ inches of ease. Teal Twilight version is size 47, worn with 1½ inches of ease.
You Might Also Like...
Addi Rocket US 3, 24-Inch Circular Needles
Addi Rockets are the ultimate circular needles for speedy, snag-free knitting! Click here to see our full range of sizes and lengths, or click Add To Basket to purchase these US 3, 24-inch needles for knitting up your very own project!