In our gorgeous 100% organically grown Tulip Cotton, knitting our Fair + Square Washcloth pattern is so quick and fun, it almost feels like cheating!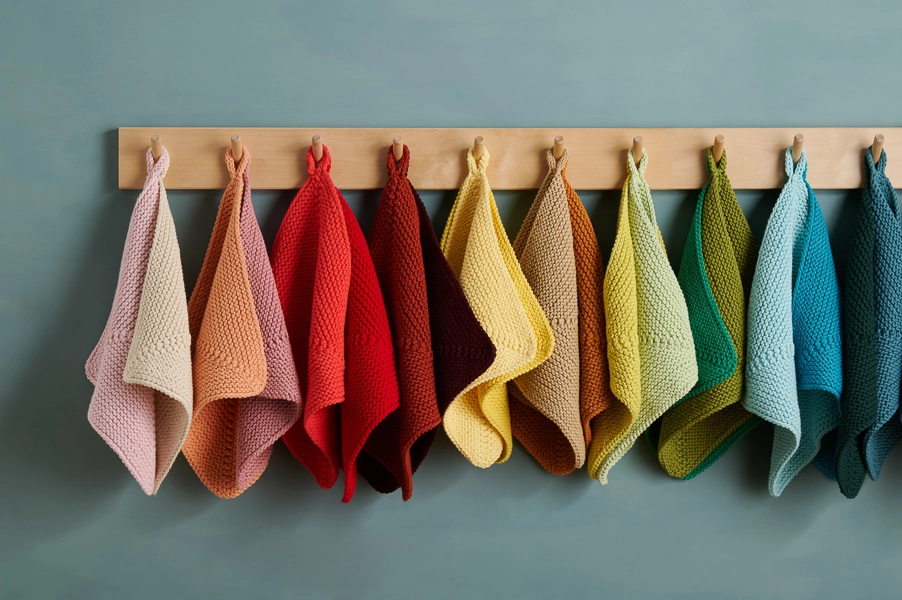 The game plan? This pattern starts at the outer edge, with a simple, little technique to work the hanging loop by binding off a section of cast-on stitches.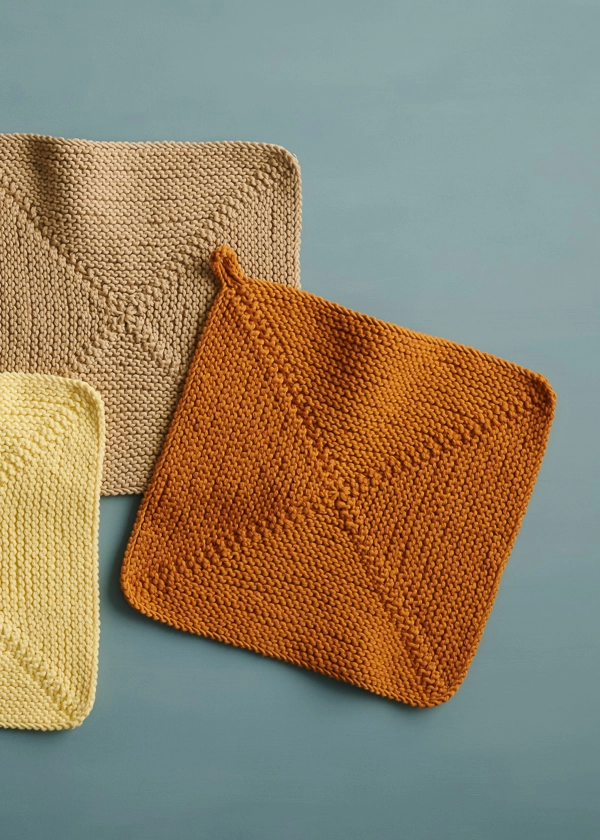 As you continue knitting and purling your way around the circle, four sets of decreases create neat diagonal lines that crisscross the center of the square.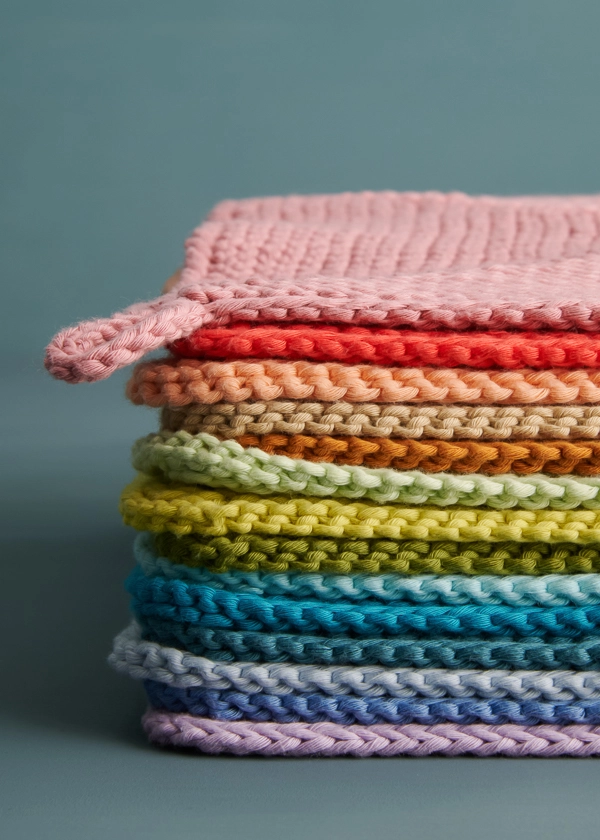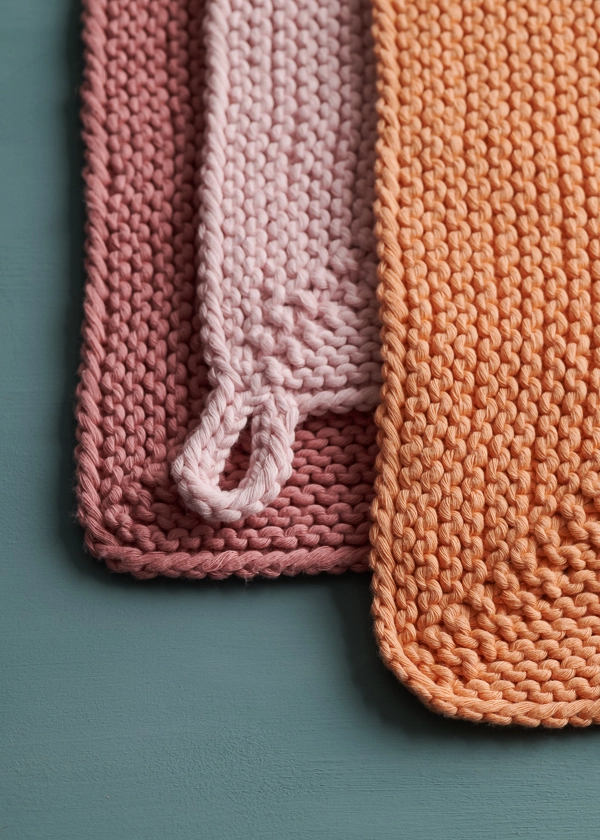 Tulip Cotton is a lovely choice for any washcloth, thick and plush, quick to knit and wonderfully soft. Its 100% Turkish cotton is a long-staple fiber, which is extra strong, very smooth, and grows softer with age and wear.
It's spun into twenty-eight very fine plies, a construction that creates a durable, pill-free fabric. And Tulip Cotton is unmercerized, ensuring a beautiful, matte finish and absorbent quality … All in all, a winning match for handknit washcloths.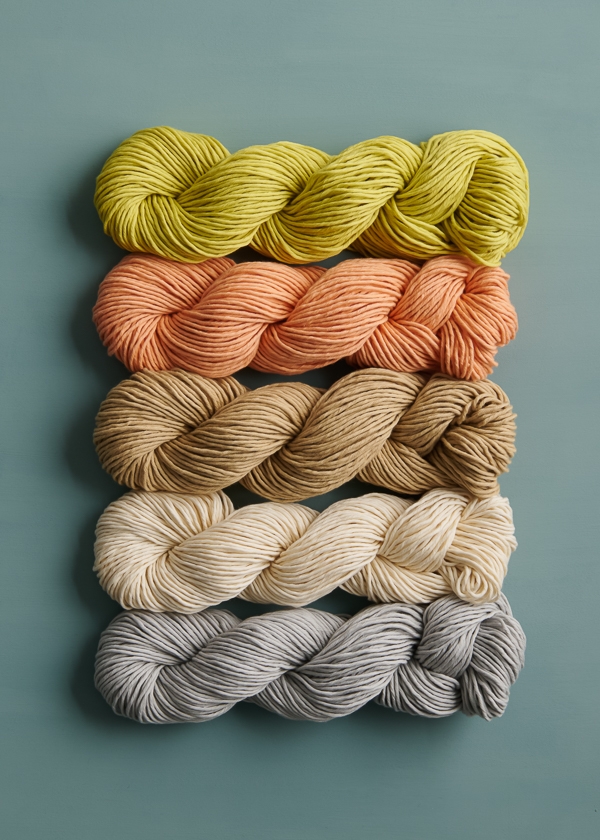 And the ace up our sleeve: It takes just one skein of our gorgeous Tulip Cotton to knit each Fair + Square Washcloth!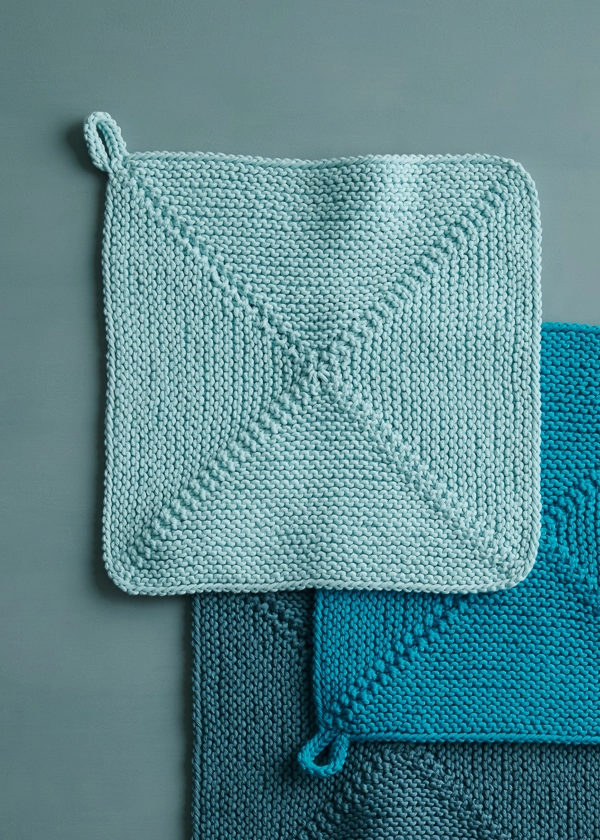 We've had a field day with Tulip Cotton's palette of gorgeous colors. We've put together seven 4-skein color palettes, or do what we did and make a slew of washcloths with our ginormous 28-Color Rainbow bundle!
Play by the rules with a Fair + Square Washcloth Bundle, or strike out on your own with individual skeins of Tulip Cotton. Either way, it's all fun and games with our cute and easy Fair + Square Washcloths!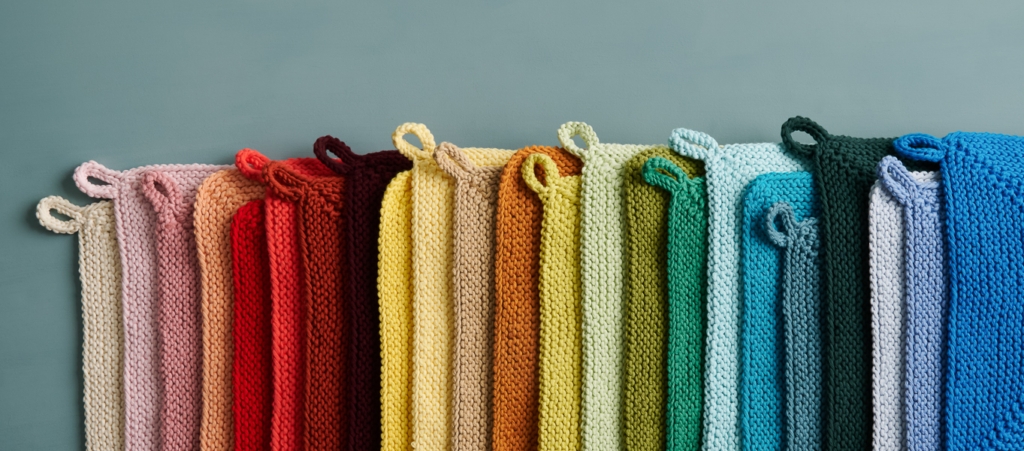 Designed for Purl Soho by Purl Soho designers Keith Foster and Gaby Bush based on our Fair + Square Blanket, originally designed by Purl Soho designer, Jake Canton. Click here to see even more of Keith's work!
Share your progress and connect with the community by tagging your pics with #PurlSoho, #PurlSohoBusyHands, #PurlSohoFairAndSquareWashcloth, and #PurlSohoTulipCotton. We can't wait to see what you make!
Materials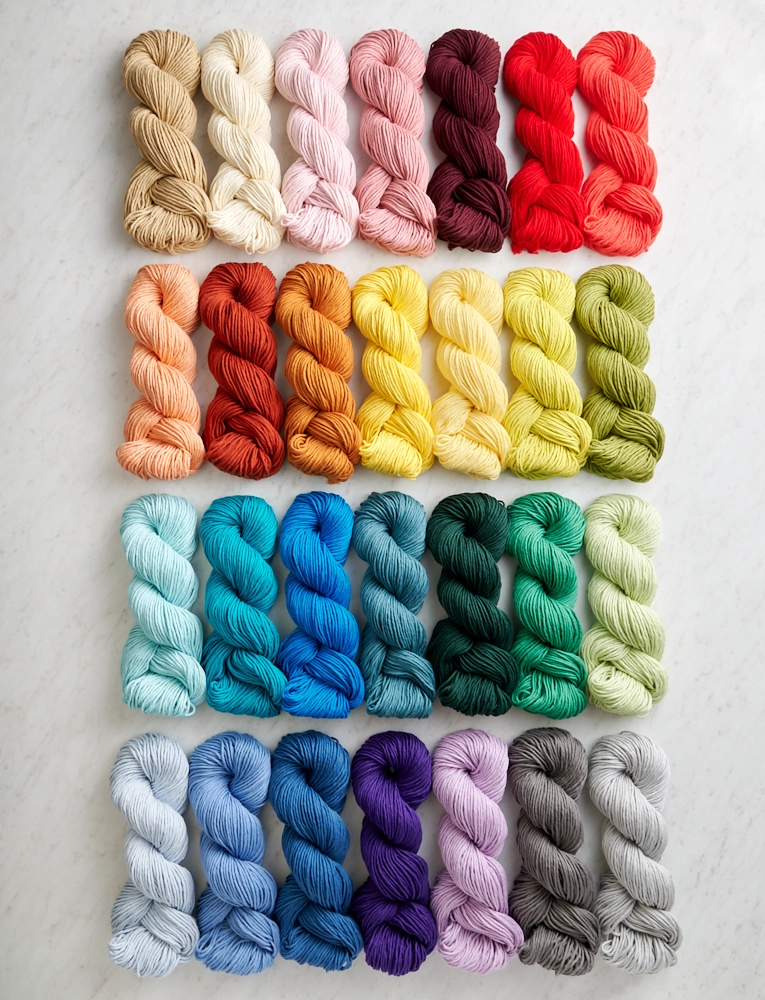 To make just one Fair + Square Washcloth, you'll need…
1 skein of Purl Soho's Tulip Cotton, 100% organically grown cotton. Each skein is approximately 131 yards/ 100 grams; approximately 130 total yards required.
You'll also need…
Our Fair + Square Washcloth Bundle comes in a 28-Color Rainbow (shown above), which you can use to make the same 28 washcloths we made. Or pick up a 4-skein bundle to make a color-coordinated set of four washcloths. Choose from… (NOTE: The Fair + Square Washcloth Bundles are no longer available.)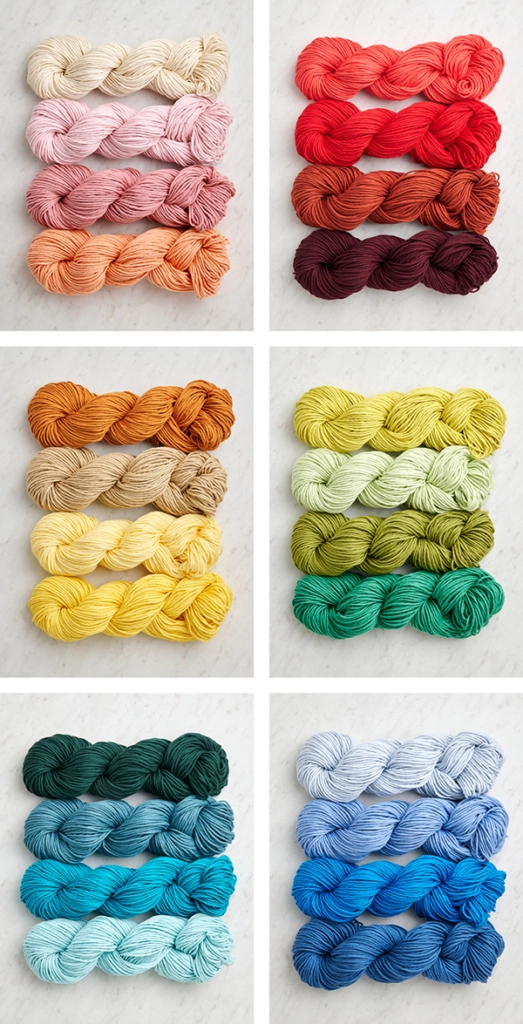 TOP ROW
Seashell: Heirloom White, Icy Pink, Pink Cliff, Fresh Peach
Dahlia: Wild Watermelon, Gladiola Red, Red Sequoia, Mulled Wine
MIDDLE ROW
Cornfield: Amber Honey, Sesame Seed, Mimosa Yellow, Yellow Marigold
Pear: Yuzu Yellow, Fresh Honeydew, Caper Green, Spring Leaf
BOTTOM ROW
Verdigris: Pine Bough, Blue Spruce, Aqua Sea, Icecap Blue
Denim: Blue Talc, Faded Blue, Deep Sky, Ocean Blue
NOT PICTURED
Oyster: Garden Pansy, Gray Frost, Pale Iris, Tin Gray
GAUGE
17 stitches and 34 rounds = 4 inches in garter stitch
NOTE: You'll use every last bit of your skein for this project! To be sure you don't run out, we recommend that you check your gauge (but do not cut the yarn so you can use your gauge swatch yarn for your washcloth!) and be sparing with tails.
SIZE
Finished Dimensions: 10¼ inches x 10¼ inches square
PATTERN
Using a basic Long Tail Cast On and the 24-inch circular needles, cast on as follows…
Cast on 15 stitches, place a unique marker (this will become the end-of-round marker after creating the hanging loop), [cast on 44 stitches, place marker] 3 times, cast on 44 stitches. [191 stitches]
Without placing a marker, join for working in the round, being careful not to twist the stitches.
CREATE HANGING LOOP
Knit first stitch of next round, then pass last stitch of cast-on over to bind off. Place a removable marker on bound-off stitch.
Bind off 14 more stitches to unique marker and slip remaining stitch back to left needle…
…then, with left needle, pick up back leg of marked stitch (indicated with pink arrow above) and knit 2 together (back leg of marked stitch and remaining stitch from last bind-off). Remove marker from bound-off stitch. Unique marker is now end-of round marker. [176 stitches remain]
CONTINUE
Set-Up Round: Knit to end of round.
Round 1: Purl to end of round.
Round 2: [Slip slip knit, knit to 2 stitches before next marker, knit 2 together, slip marker] 4 times. [8 stitches decreased]
Repeat Rounds 1 and 2 until 8 stitches remain, changing to smaller circulars, then double pointed needles, as necessary and removing markers on final round.
Cut yarn, leaving an 8-inch tail, and thread tail onto a tapestry needle.
Sew tail through remaining stitches. Pull taut and bring tail to back of piece and weave in.
FINISH
Weave in remaining cast-on tail, securing Hanging Loop further as needed.
Gently wet block, or machine wash and dry as desired.