Knit in our beautiful, new Serif cotton, our Heel Stitch Hand Towel is right in step with classic sock knitting. Durable but soft, thick and absorbent, it's easy to see why the heel stitch is for hands, too!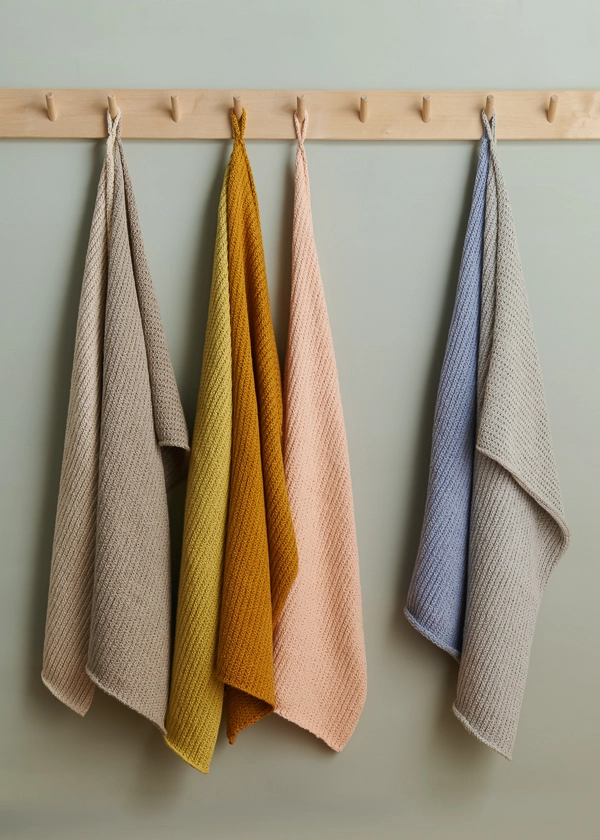 Known for adding a bit more strength to hard-working sock heels, this simple knit one, slip one stitch pattern creates a cushiony towel that has the relaxed beauty of an heirloom… Simple in the very best way.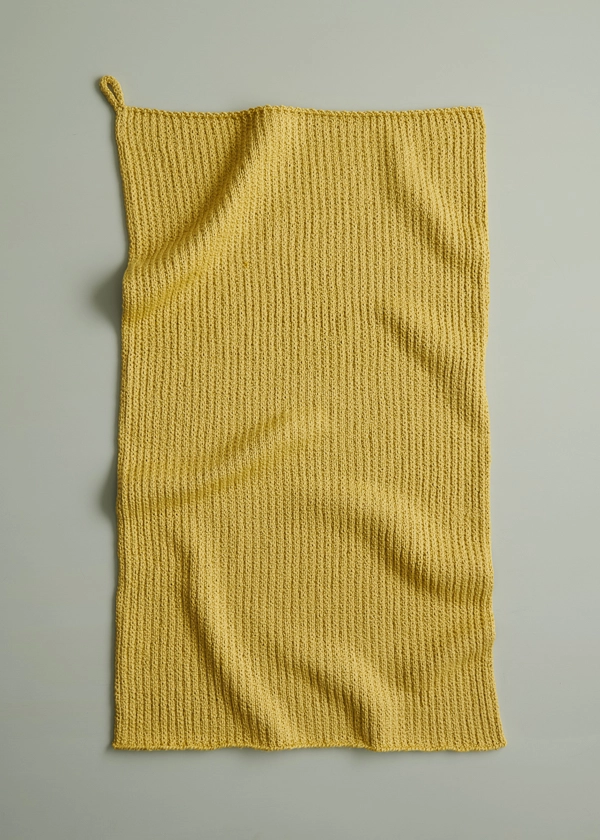 We used our new 100% Peruvian Pima cotton Serif, whose extra-long staple fiber spins into a yarn that is long-lasting, smooth, and silky. Also known for soaking up moisture, it makes hand towels that are particularly good at their job!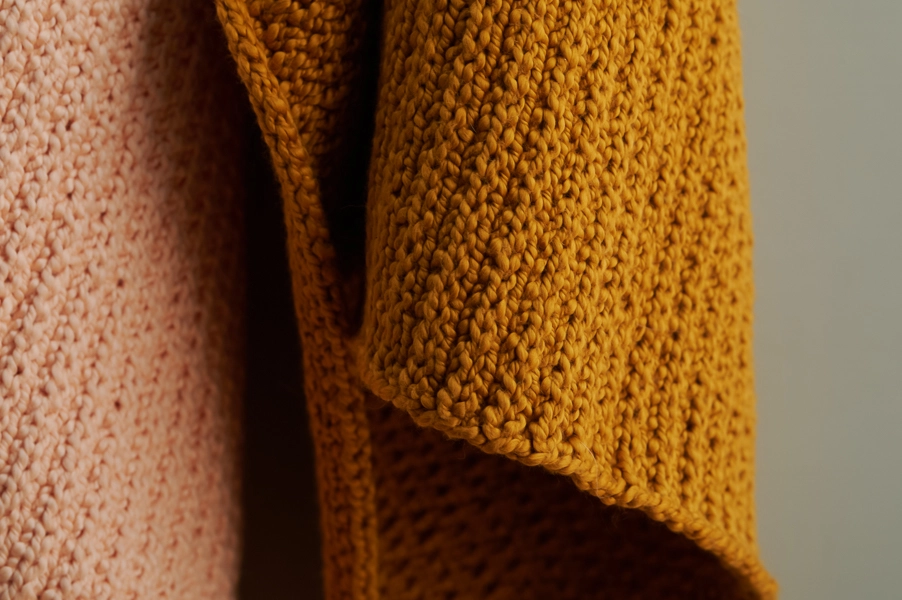 With one thin thread wrapped around a fluffy, soft core, Serif's lively structure creates a wavy strand that adds depth and texture to hand knits, a little bit nubbly and refreshingly natural.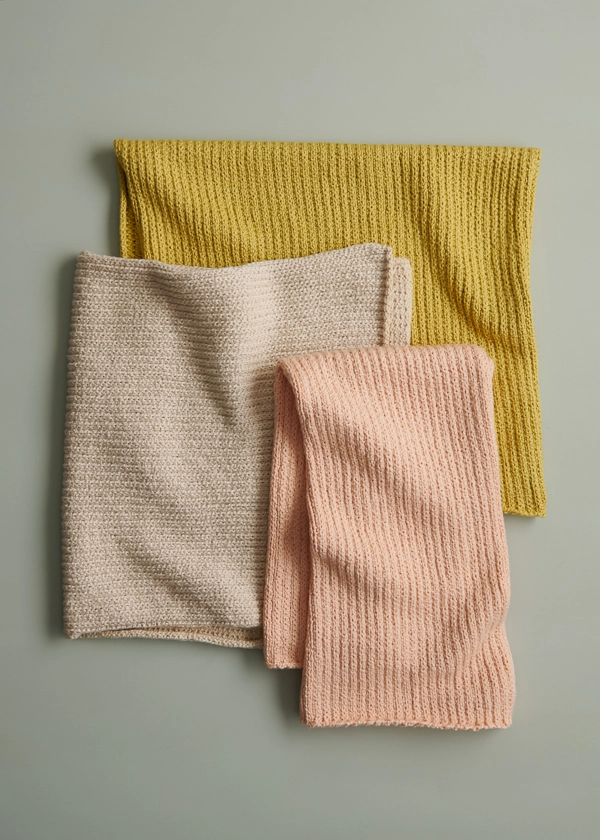 Serif's palette of sixteen colors is both grounded and uplifting, with gorgeous neutrals, like the Heirloom White above, and laid-back beauties, too, like Summer Melon and Yellow Haystack, also up top.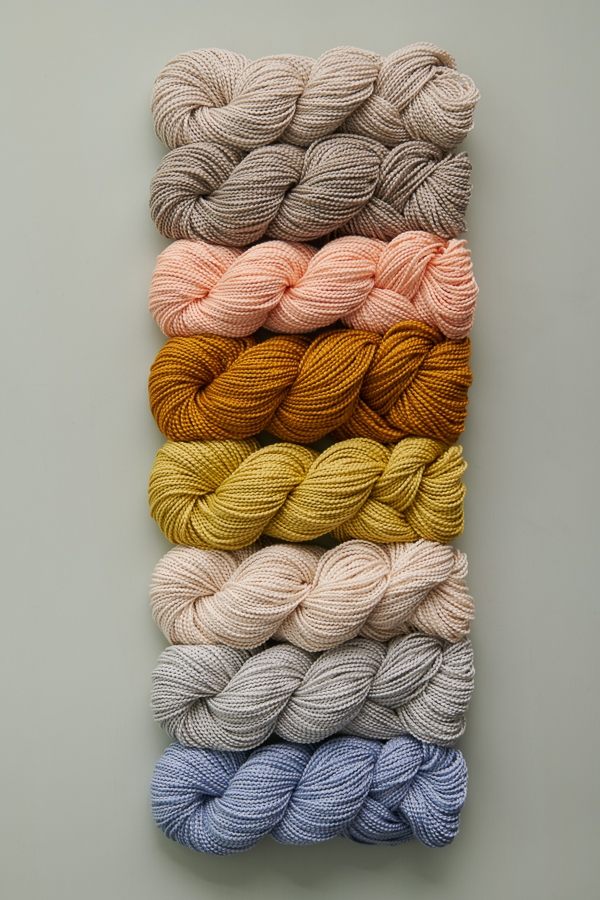 Whether you're knitting for yourself or making a gift, try our wonderfully satisfying new Serif and ease into next season's knitting with these homey housewares!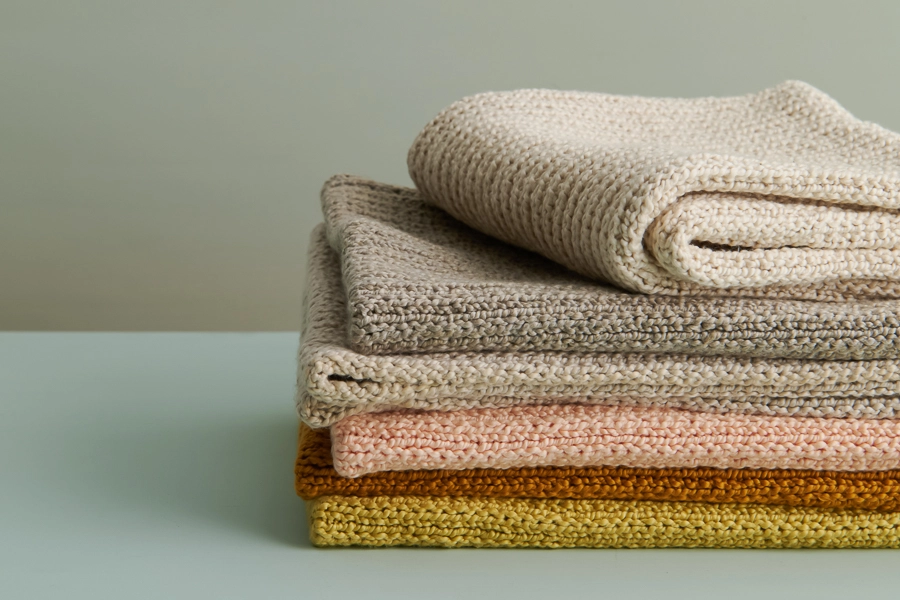 Designed for Purl Soho by Purl Soho designer, Hiromi Glover, based on our Heel Stitch Hand Towel, originally designed by Jake Canton. Click here to see even more of Hiromi's work!
Share your progress and connect with the community by tagging your pics with #PurlSoho, #PurlSohoBusyHands, #PurlSohoHeelStitchHandTowel, and #PurlSohoSerif. We can't wait to see what you make!
Materials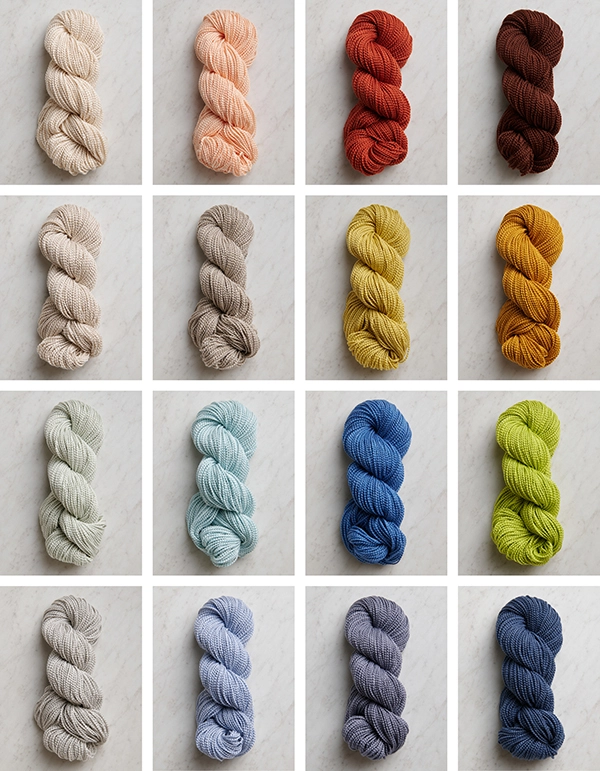 To make one Heel Stitch Hand Towel, you will need…
3 skeins of Purl Soho's Serif, 100% Pima cotton. Each skein is approximately 164 yards/ 100 grams; approximately 492 total yards required. We used the colors Heirloom White, Warm Rock, Gray Birch, Alabaster Cream, Yellow Haystack, Blue Overalls, Yellow Ochre, and Summer Melon.
US 5 (3.75 mm), straight or 24-inch circular needles
If using straight needles: Two US 3 double pointed needles for I-cord
GAUGE
24 stitches and 38 rows = 4 inches in stitch pattern
SIZE
Finished Dimensions: Approximately 17 inches wide x 28 inches long
NOTE
SLIP STITCHES
Slip all stitches purlwise.
STITCH MULTIPLE
This pattern works over any odd multiple of stitches.
PATTERN
Cast on 101 stitches using a basic Long Tail Cast-On.
Row 1 (wrong side): Slip 1 (see Notes) with yarn in front (wyif), purl to last stitch, slip 1 wyif.
Row 2 (right side): *K1, slip 1 with yarn in back (wyib), repeat from * to last stitch, k1.
Repeat Rows 1 and 2 until piece measures 28 inches from cast-on edge, ending with Row 1.
Bind-Off Row (right side): K1, *slip 1 wyib, pass first stitch over, k1, pass first stitch over, repeat from * to last 2 stitches, k2, leaving 3 stitches on right needle.
MAKE I-CORD
With the remaining 3 stitches, work an I-Cord for 3 inches, working the last row as follows…
Last Row: K1, knit 2 together, pass first stitch over the second stitch and off the needle. Cut yarn, leaving an 8-inch tail and pull through remaining stitch.
Thread tail onto a tapestry needle. Make a loop with the I-cord and weave tail into the fabric of Hand Towel at base of I-cord, then weave it through looped I-cord and back into fabric of Hand Towel.
Weave in the remaining ends and block as desired.