Like a ray of light breaking through the clouds, our Sunburst Pot Holders in our new Serif brighten your day with their clever construction and vintage charm!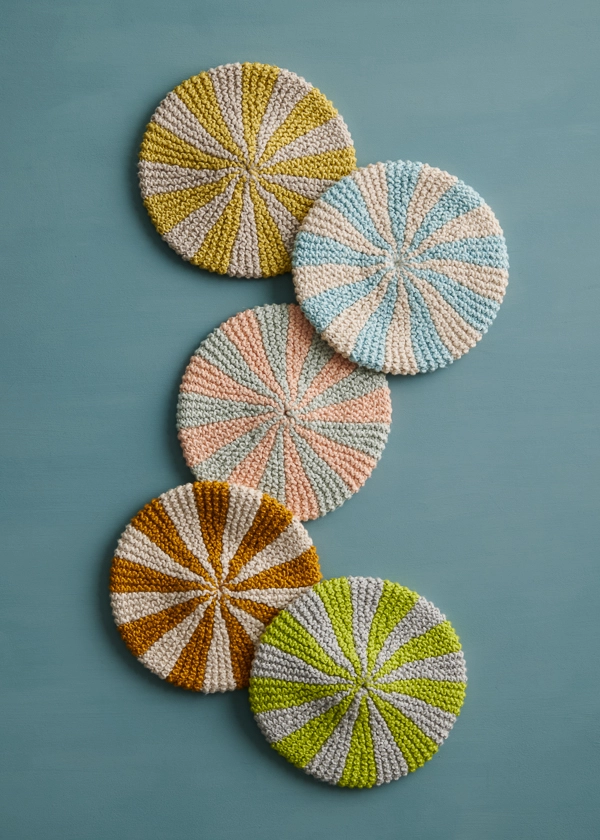 As fun to make as they are fetching, these pot holders are actually formed from a rectangular piece of garter-stitch fabric. As you knit it, you use simple short rows to shape the rays, and once you finish them, you connect the two ends of the rectangle with a 3-needle bind off.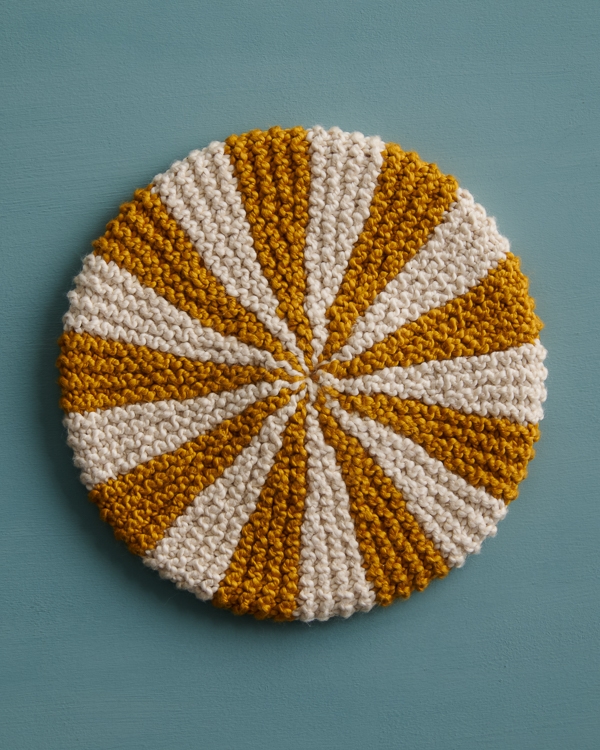 Now with your loop of fabric, you cinch up the selvages to form the sunburst centers, squash the whole thing flat, and tada… Your double-thick pot holders are ready for their day in the sun! (Hard to imagine? Check out designer Hiromi Glover's beautiful rendition in the pattern below!)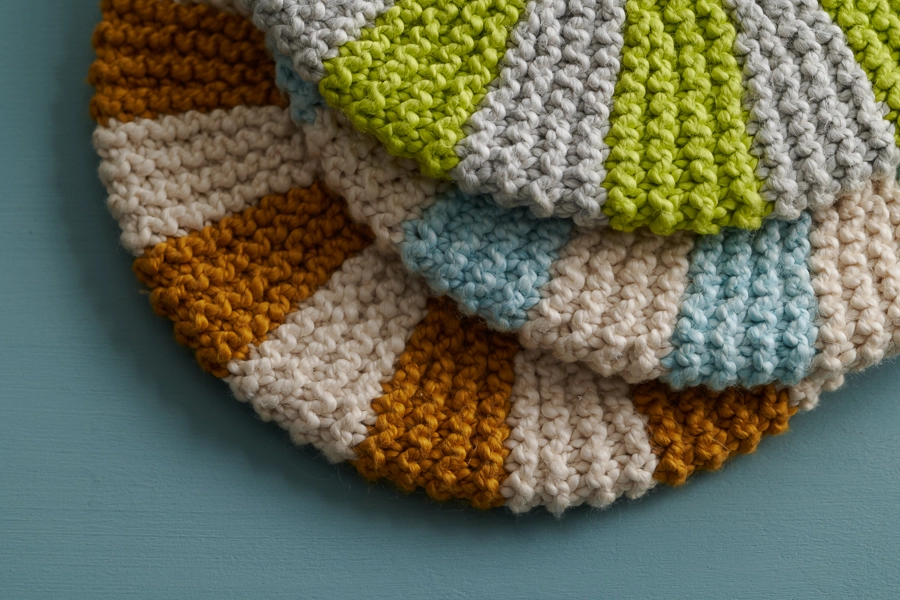 All this is in our glorious new Serif, with a clever construction of its own. A super soft and supple single ply of cotton wrapped with a thin cotton thread, Serif's undulating strand knits into a slightly knobbly fabric, the perfect texture and thickness for a pot holder.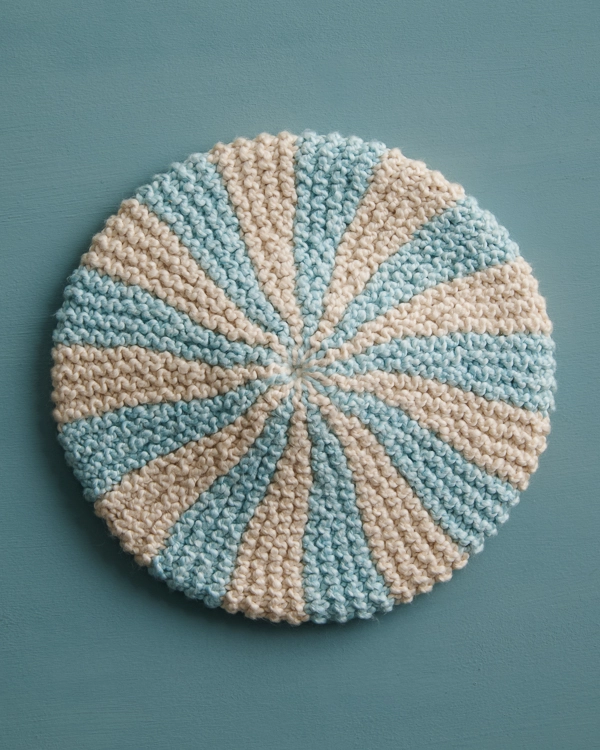 Serif's cotton is 100% Peruvian Pima, whose long, smooth fibers create a yarn that is remarkably strong, soft, and absorbent. And its subtle shine adds an extra dose of beauty to Serif's sixteen gorgeous colors.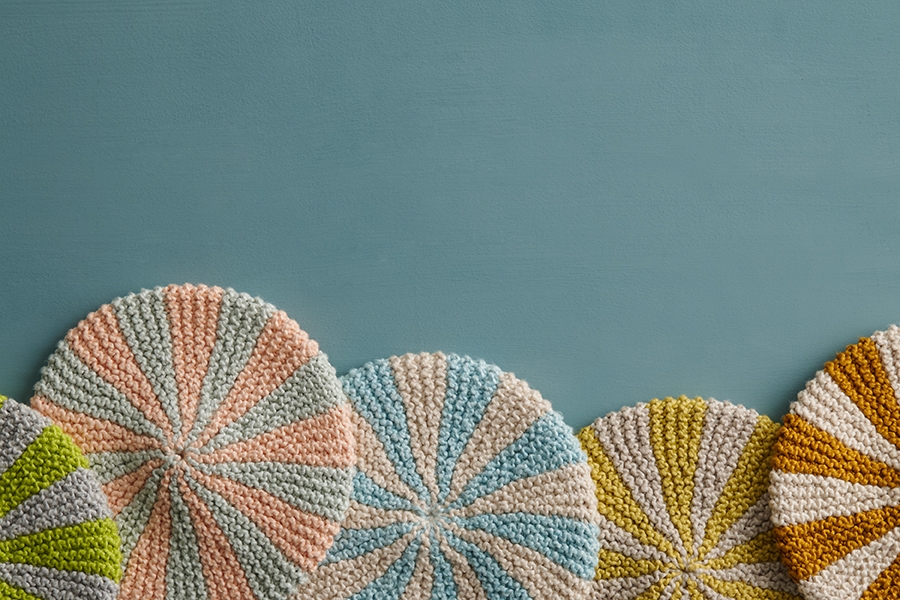 We've paired up colors for thirteen beautiful Sunburst Pot Holder Bundles. Each one gives you enough yarn for three pot holders… Pick your favorite and knit up your own little pile of sunshine!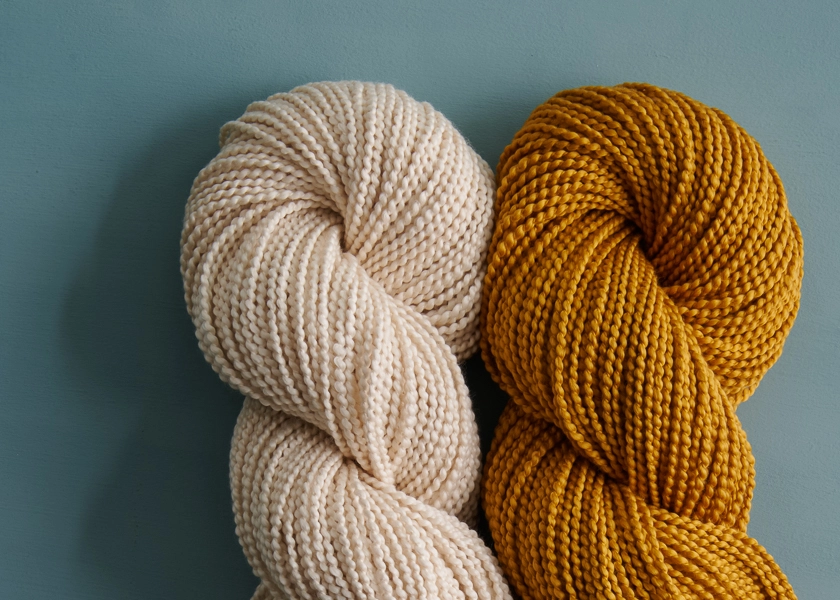 Designed by Purl Soho designer, Hiromi Glover. Click here to see even more of Hiromi's work!
Share your progress and connect with the community by tagging your pics with #PurlSoho, #PurlSohoBusyHands, #PurlSohoSunburstPotHolder, and #PurlSohoSerif. We can't wait to see what you make!
Materials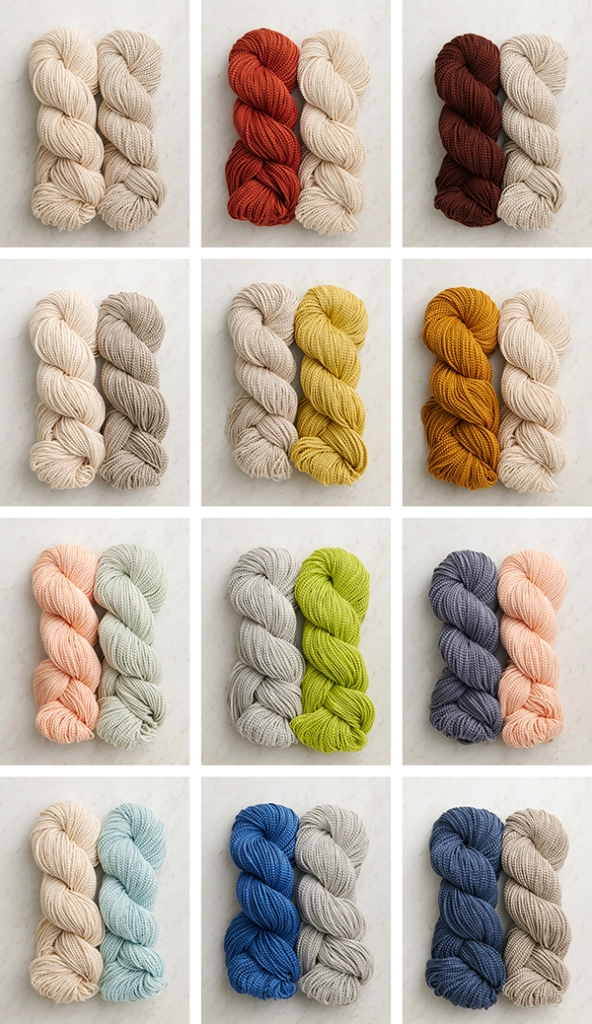 Our Sunburst Pot Holder Bundle includes…
2 skeins of Purl Soho's Serif, 100% Pima cotton. Each skein is approximately 164 yards/100 grams.
Color A: 1 skein; approximately 45 total yards required
Color B: 1 skein; approximately 40 yards required
NOTE: 1 bundle will make three pot holders!
You will also need…
US 5 (3.75 mm), straight or 24-inch circular needles
Spare circular or double pointed needles, US 5 or smaller
A crochet hook and scrap yarn for Provisional Cast On
Choose from thirteen bundles…
Top Row: Heirloom White + Alabaster Cream; Cedar Wood + Heirloom White; Horse Chestnut + Alabaster Cream
Second Row: Heirloom White + Warm Rock; Alabaster Cream + Yellow Haystack; Yellow Ochre + Heirloom White
Third Row: Summer Melon + Soft Aloe; Gray Birch + Lemongrass Green; Gray Fedora + Summer Melon
Bottom Row: Heirloom White + Turquoise Tint; Quiet Lake + Gray Birch; Creek Blue + Warm Rock
Not Pictured: Blue Overalls + Heirloom White
SAMPLES: We knit our samples in Summer Melon + Soft Aloe, Heirloom White + Turquoise Tint, Alabaster Cream + Yellow Haystack, Yellow Ochre + Heirloom White, and Gray Birch + Lemongrass Green.
GAUGE
20 stitches and 40 rows = 4 inches in garter stitch
NOTE: The row gauge at the outer edge of the finished project stretches to 34 rows per 4 inches, due to the unique construction. If you can get the gauge listed above in a flat swatch, your pot holder will turn out just fine!
SIZE
Finished Dimensions: 7 inches in diameter
NOTES
CONSTRUCTION
You knit this piece back and forth in rows, using simple short rows to create shaping. You then use a 3-Needle Bind Off to join the Provisional Cast On stitches and your last row. To finish, you thread the tail along the selvage and pull taut to close the center hole on each side. Here's Hiromi's beautiful drawing of the process!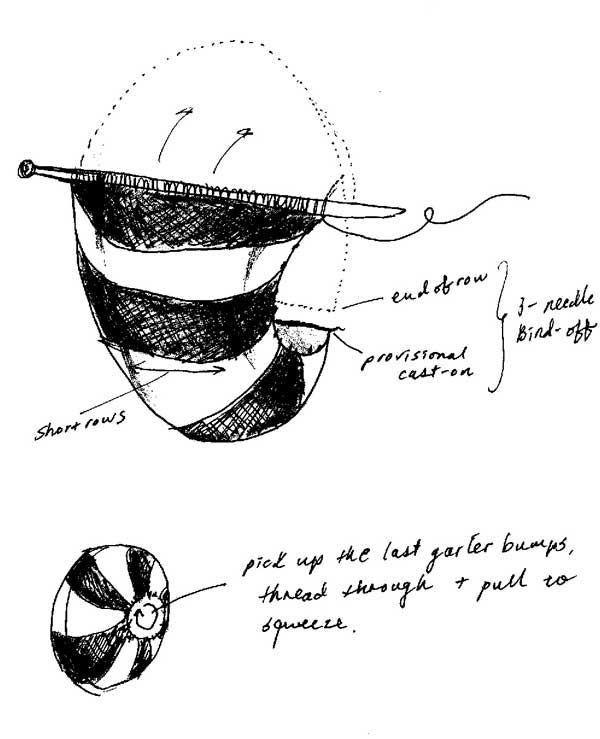 PROVISIONAL CAST ON
For assistance, including how to put live stitches back onto needles, please visit our Provisional Cast-On: One-Step Method tutorial.
SHORT ROW SHAPING: WRP-T (WRAP + TURN)
On both right and wrong sides: Keeping yarn in back, slip next stitch purlwise from left needle to right needle. Bring yarn to front. Return slipped stitch to left needle. Turn work so other side is facing you.
See this technique in action in our Short Row Tutorial at 0:30 seconds, except do not bring the yarn to the back before you turn. Also, because you'll be working in garter stitch, there's no need to pick up the wraps when you get to them (except one wrap at the very end). Just knit the wrapped stitches as usual!
CARRYING UP THE YARN
When you switch colors, be sure to carry the old yarn up the selvage in front of the new yarn.
PATTERN
With scrap yarn, cast on 35 stitches using a Provisional Cast On (see Notes).
Row 1 (right side): With Color A, knit to end of row.
Row 2 (wrong side): Knit to last 10 stitches, wrp-t (see Notes).
Row 3: Repeat Row 2.
Row 4: Knit to last 7 stitches, wrp-t (see Notes).
Row 5: Repeat Row 4.
Row 6: Knit to last 4 stitches, wrp-t (see Notes).
Row 7: Repeat Row 6.
Row 8: Knit to end of row.
Do not cut Color A; join Color B, carrying Color A up the side (see Notes).
Rows 9–16: Repeat Rows 1–8 with Color B.
Repeat Rows 1–16 eight more times.
Cut Yarn B.
Carefully remove scrap yarn from Provisional Cast On, slipping stitches onto spare needles as you go.
Fold piece in half so right sides are facing each other and needles are parallel, with spare needles in front and working needles in back. With working yarn, bind off using a 3-Needle Bind Off, working remaining wrapped stitch with its wrap when you come to it.
Cut Yarn A, leaving a one-foot tail for gathering center.
FINISHING
Weave in all ends except for long tail.
Turn piece right side out.
Thread long tail onto a tapestry needle, then thread needle through each outermost garter bump along selvage all the way around. Pull tight to close center hole, then bring tail through center to other side to close the same way.
Weave in remaining end and gently wet block.